Distant Peak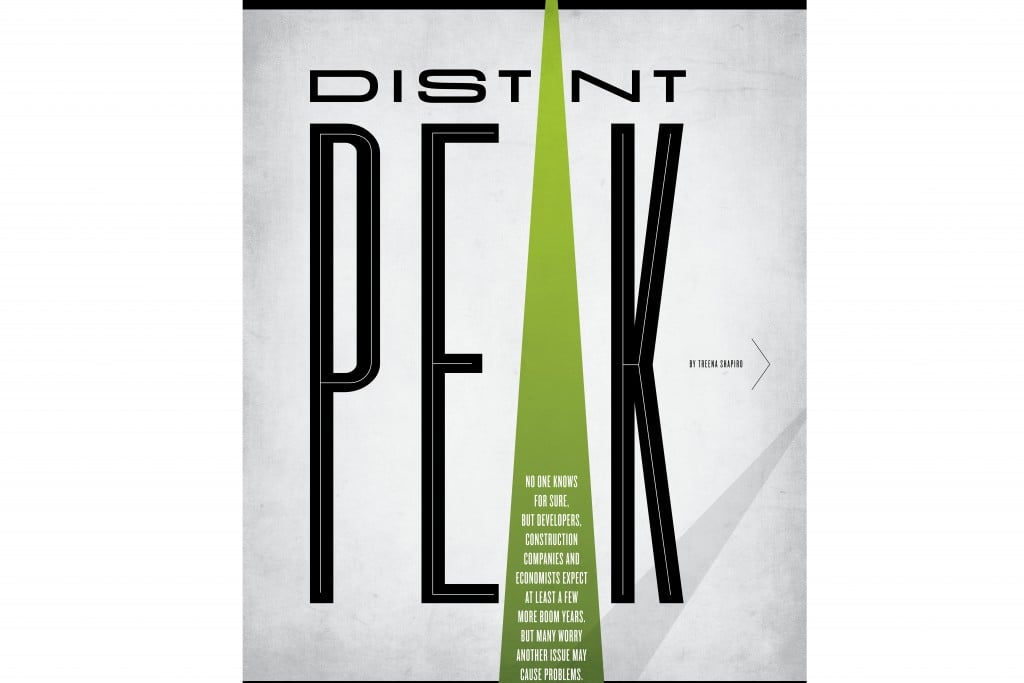 High-rises in Kakaako, condos and a new wing at Ala Moana Center, development in and around Kapolei, rail, sewers and a host of other projects are keeping developers and construction companies hopping.
However, they know from long experience that what goes up must come down, so they wonder when the construction boom will peak, a concern that factors into their planning. But some companies worry less about when demand will peak and more about whether the supply of skilled construction workers will meet demand.
Jack Suyderhoud, a professor of business economics at UH Manoa's Shidler College of Business, doesn't see the construction cycle peaking in the immediate future. "I see 2016 probably just as good" as 2015, he says, pointing out that companies tell him they have backlogged jobs that will carry them into the next year.
The more pressing concern he's heard from construction companies is they can't hire enough workers, since many left the industry during down times. "It's feast or famine, it seems, for these guys. When things are bad, people are sitting around. A lot of people get tired of these ups and downs and leave it behind," Suyderhoud says. "They're reluctant to drop a steady job in favor of carpentry or another related job unless they're sure it can last for a while."
John White, executive director of Pacific Resource Partnership, a union-industry alliance, says the carpenters union lost about 1,000 members during the recession from 2009 to 2012, but PRP is working with contractors to make sure there's no shortage during the current boom. "The manpower crunch has not hit yet," White says. "We still have workers on the bench."
Dozens of carpenters were hired on the spot at a recent job fair and White is confident that PRP's working relation-
ship with contractors will help keep the supply of workers ahead of demand, which he expects will grow as master-planned communities in West and Central Oahu get approved. "We're lucky to have some of the bigger contractors in the state working to manage their construction schedules to make sure they have the kind of manpower in the pipeline that they need," he says.
Byron Gangnes, senior research fellow at UHERO, the UH Economic Research Organization, predicts the construction peak is still a ways off. "We think we're still on an upward path in building momentum in the industry," he says. High-rise construction in urban Honolulu is leading the upswing, Gangnes notes, but with the real estate market as tight as it is currently, single-family homes construction should pick up, as well.
"We think we're still on an upward path in building momentum in the industry."

— Byron Gangnes, UH Economic Research Organization
The fundamentals of demand plan-ning indicate there should be room for growth in sales over the next several years, Gangnes says. But he also notes that this part of the construction cycle has been stingier on job creation than the corresponding part in the 2000s, which was dominated by Neighbor-Island building. One reason is high-rise construction requires fewer workers. However, he does predict moderate job growth will continue, especially with more single-family homes on the horizon.
Kathy Inouye, COO for the Kobayashi Group, says development projects at Park Lane in Kakaako, Kapiolani Hospital and the Hilton Garden Inn in Waikiki are keeping her firm and its partner construction companies busy. In fact, Inouye says, "We're the busiest now we ever have been."
As for how long the boom will last, Inouye says, it's too difficult to guess, but adds, "I don't think that anyone thinks it's going to be several years of hot growth."
Many in the industry predict another two years of growth, Inouye notes, but "so much depends on what's happening around the world." She also says growth will depend on whether there are enough skilled workers to do the work.
Sharon Thom, senior VP and Hawaii area manager at Kiewit Building Group Inc., says, "The construction industry today is experiencing modest, but steady growth driven by both private and public investments."
Kiewit has a solid roster of projects, she says, spanning markets that include infrastructure and education. The company's size allows it some leeway in the projects it chooses, while partially insulating it from fluctuations in certain sectors, she points out. "We have the flexibility to take on large, megaprojects, as well as small, shorter-term projects, which allows us to truly optimize our assets and resources," she says.
Some of Kiewit's current projects include the Farrington and Kamehameha rail guideway projects, the Honolulu rail operations center, the Lihue Mill Bridge on Kauai, Hookele Elementary in Kapolei and an interim car rental facility at Honolulu International Airport. Thom sees the biggest areas for growth in education, hospitality and transportation industries.
Gerry Majkut, president of Hawaii Dredging Construction Co., says Maui has major developments underway or planned, and expects that island to see more growth in coming years. In addition to its many Oahu projets, his company's Maui projects include work at the Westin Kaanapali Ocean Resort Villas, the Kahului airport and Maalaea Small Boat Harbor.
Asked for his thoughts on when the construction cycle might peak, Hawaii real estate analyst Ricky Cassiday, principal of Data@Work, says "Overall, construction will soften as interest rates rise gradually and as costs rise faster than prices, revenues and profits."
Overall, construction will soften as interest rates rise gradually and as costs rise faster than prices, revenues and profits.

— Ricky Cassiday, Principal of data@work
Cassiday anticipates there will be another two to four years before that happens and, in the meantime, he expects construction activity to rise, along with housing prices, particularly on Oahu, where the rail transit project will stimulate new middle-range housing and a slew of high-end condo towers. On the Neighbor Islands, he expects strong activity as resorts expand and homes are built.
"I don't see interest rates rising over the next two years and I do see prices rising significantly, especially housing prices over the next two-plus years," Cassiday says. "I expect construction overall to be good for two to three years, maybe four, since the industry always overestimates, meaning overshooots, the top of the market."
Even after the market turns, Cassiday says, he doesn't anticipate a sudden drop. "Construction should slow down a bit, but stay positive for the following two years as rail builds out, the large master plans in Central and West Oahu produce their infrastructure and houses, and as ADU (accessory dwelling unit) construction grows."