Do Your Om-Work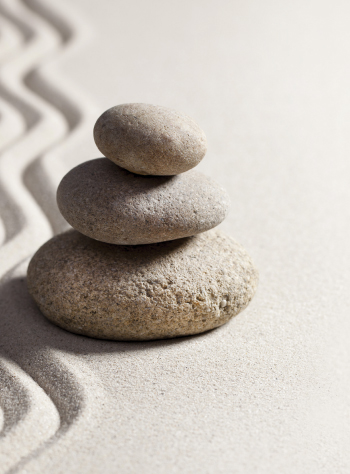 There was a time when the term "mindfulness" evoked visions of a man in a loincloth, sitting serenely atop a mountain. But the corporate world is changing and, today, mindfulness can mean a Reyn Spooner-clad manager serenely sitting atop … a desk chair. Companies such as Apple, Google, Coca- Cola, Safeway, Deutsche Bank, and Proctor and Gamble have incorporated mindfulness programs, which can involve a number of options, such as in-house meditation training, yoga, qigong, sound therapy or tai chi classes.
That's because the modern workplace calls for employees with "high morale and creativity," says Kevin Kraft, president and founder at Soundshala, a Honolulubased company that focuses on corporate wellness programs. The sea change, he says, is an "understanding that the employee is an asset, and putting energy into supporting the culture of the employee, as well as the health and mindset of the collective employee group."
Kraft says that research published in 2010 by the American Institute for Preventative Medicine Wellness found that for every $1 invested in mindfulness techniques, companies see a $5.82 return, in the form of reduced absenteeism, lower employee turnover, increased productivity and decreased healthcare costs. There's also a positive ripple effect. "If you change a company," says Kraft, "you not only affect that company but also other companies in the same industry, you affect families and you affect a community."
"YOU'D THINK HAWAII WOULD BE ENLIGHTENED, BUT A LOT OF TIMES IT'S, 'I DON'T HAVE TIME TO TAKE CARE OF MYSELF.' "

— ROGER EPSTEIN
PARTNER, CADES SCHUTTE
Okay, but what is mindfulness? Renowned meditation teacher Jon Kabat-Zinn defines it as "payingattention in a particular way; on purpose, in the present moment and nonjudgmentally." One can do many things mindfully, such as eating or listening. But, in practice, mindfulness often starts with a simple form of meditation, observing the breath.
"Mindfulness meditation is the foundation for all meditation practices. You learn that first and can then go on to more advanced things," says Roger Epstein, a partner at the law firm Cades Schutte.
Epstein has a decades-long meditation practice and has studied Tibetan Buddhism and Chinese Taoism. "For most of us, in a business or legal career, the mindfulness is all you really need. You can learn it in 20 minutes. I consider meditation as essential as sleep, good nutrition and exercise. I'm 70 this year and still very still focused and energetic. Meditation is one of the keys. When you don't have your mind jangling all your senses, you're more effective and people know it."
George Kinder is a resident of Hana and the author of the book "Transforming Suffering into Wisdom: Mindfulness and The Art of Inner Listening." He says there's mindfulness we do privately, but also mindfulness practice we do externally, to the benefit of others. "That external practice is done with compassion, trying to help others live with meaning and freedom."
Kinder has led general mindfulness programs at Ala Kukui, a retreat in Hana, and he also teaches a five-day course on mindfulness techniques specifically geared for financial planners. "The people coming out of the financial-services training tend to go on to have very successful businesses, because they put the client first. They listen. Empathy is the business skill. It really improves the quality of service."
Despite the recent buzz about mindfulness, the practice is still new in most business settings. "I've been doing this for 40 years and it's just in the past five or 10 that it's becoming mainstream," says Epstein. "You'd think Hawaii would be enlightened, but a lot of times it's, 'I don't have time to take care of myself.' "
Eventually, he predicts, everyone will be meditating. "Because they need to. It's basically just taking the time to stop and breathe."
---
HOW TO START A MINDFULNESS PROGRAM
First, do a wellness audit. "Every company is different, so look around and see where the pitfalls are," says Soundshala's nutrition coach, ChelseaNewman. "For example, if there are a lot of employees suffering from diabetes, I'd recommend a group nutrition class. Or maybe people are calling in sick a lot, and you can address anxiety."
Ask around. Network with peers at companies that have done programs, and connect with people in your own company who already practice mindfulness techniques. For example, Alicia Brown, grant coordinator at UH-Leeward Community College, had a good experience with some brainstorming workshops and sound therapies at Soundshala, so she's going to bring the idea up to her college's wellness committee. "Part of the mission is to no longer separate work life and self-care," she says.
Research the Affordable Care Act. The ACA has incentives for companies to offer wellness programs and support healthy workplaces. "People who take steps to lower their cholesterol, for example, have the opportunity for lower insurance premiums," says Newman.
While executive teams and support staff may have different concerns, Kraft says, "If you do mindfulness together, top down, the effects are pretty remarkable."