Don't Let Social Media Control Your Company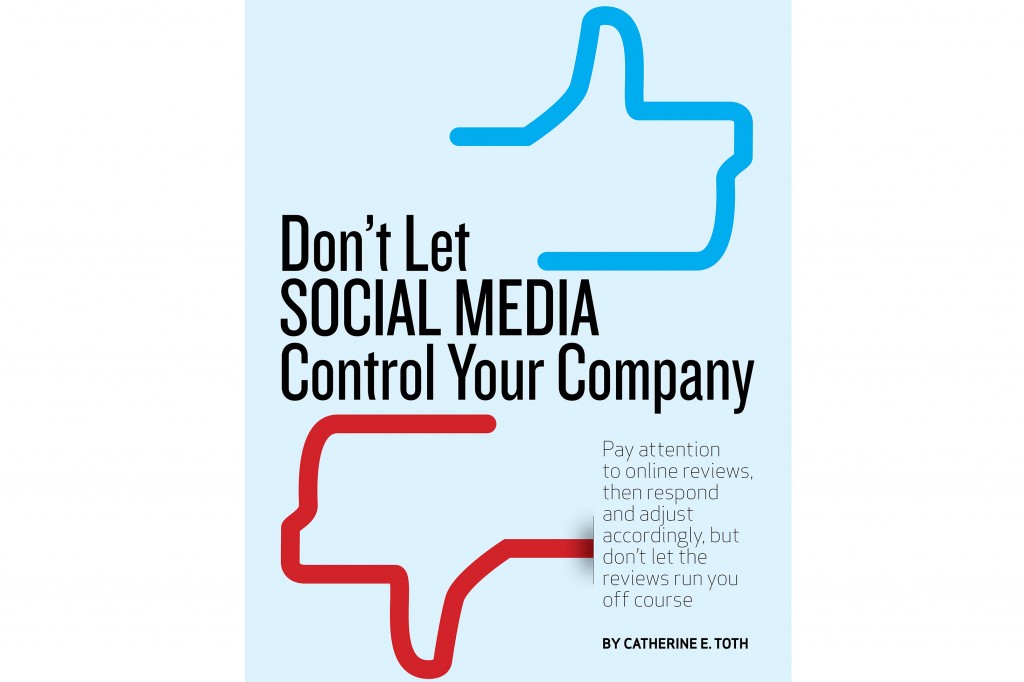 Jason Cohen, marketing manager for the Kona-based Hawaii Forest & Trail tour company, checks user-review sites such as Yelp and TripAdvisor whenever he is notified of a new review. He also monitors the company's Facebook page daily for comments.
If anything arises, he springs into action. A good example was when a travel agent posted a negative review on Facebook, claiming the outfitter had bumped a tour she had booked for some clients to make way for a corporate party.
That wasn't the case, and Cohen and another co-worker spent two hours tracking down the travel agent to explain what happened.
"She thought her clients got pushed out for a corporate group, but we had cancelled the tour because of our company Christmas party," Cohen says. "By the time we were done talking to her, she had actually pulled her review on Facebook. We went from a one-star review back to getting potential customers in the future. That shows how important it is to reach out."
Millions of people visit rating sites such as Yelp, Angie's List, TripAdvisor and Google before they choose whether or not to patronize a business. Companies from architecture firms to hotels, from restaurants to day spas, are finding these reviews both helpful and frustrating.
"For all the love-hate feelings business owners have with Yelp and their digitally masked commenters and members, I understand and utilize it as a tool to stay in touch with my customer base," says chef Lee Anne Wong of Koko Head Cafe in Kaimuki, which boasts a four-star rating with nearly 400 reviews since it opened in March 2014. "For as good a job as we think we're doing, there is always room for improvement and we value the perspectives of all of our customers."
Businesses, their owners and their employees are publicly critiqued on these sites. Reviewers don't hold back: They'll write, sometimes in great detail, about the meals they've had, the hotel rooms they've stayed in and the service they've received.
These reviews influence millions of people.
"The reason these rating services are still around is because they're so popular with the public," says Tara Coomans, social-marketing expert and founder of Akamai Marketing. "And that's a positive for both the consumer and the business owner."
Businesses can gauge how they're doing by reading reviews and comments on social media. It's what you do with that information that matters, Coomans says.
"Every business owner knows that, with customers, you're never going to make everyone happy," she says. "You have to approach it from a balanced point of view. It's just one piece of your business, it's not your entire business."
Owners and managers should keep in mind the goals of their businesses, and focus on what's helpful and relevant in the reviews, Coomans says.
"Make sure you're utterly clear about what you're providing and what you're not providing," she says. "If you're a drive-in, you're not providing a white-tablecloth experience, and there's no shame in that."
Case in point: Rainbow Drive-In has been serving local-style plate lunches in a casual atmosphere in Kapahulu since 1961 – decades before online rating sites. The restaurant focuses on fast service, affordable prices and hefty servings of hearty, starchy foods.
While it has a good rating on Yelp – 4.1 stars when we checked –some negative reviews mentioned things that aren't part of its brand. One reviewer said the food "is not the healthiest in the world" and another said it didn't "have a great selection for pescatarians," that is people who eat seafood but not meat.
The staff at the drive-in monitors these reviews, looking for opportunities to improve the business in relevant ways.
"I think it's a good gauge of how we're doing and how people accept us and our food," says owner Jim Gusukuma, sitting outside the busy drive-in on a Saturday morning. "For Rainbow's, we're not going to change our recipes or preparations. If it's about service issues or inconsistencies in our food, then we'll pay attention. But we don't pretend to please every palate."
He says reviews about poor customer service matter to him. That's something that can be changed or improved through training. But there are other things people complain about that he can't change, such as adding more parking stalls or opening more drive-through windows.
"We tend to stay within ourselves and not worry too much about public opinion," he says. "As long as we're satisfied with our preparation, our food and our standards, and we're giving good service, we're not too concerned."
Marie Owens Mull admits she doesn't often check ratings sites that review her boutique, Owens & Co., in Chinatown. But she does gauge customer interest in the products she sells via Instagram, where she posts what's new in her store to more than 3,900 followers.
"I can post a pic of a new Samudra bag or a jewelry piece (on Instagram) and I'll have people in the store 15 minutes later asking for it," Mull says, laughing.
"We take them all seriously, the good and the bad."

–Charlene Goo, Ooutrigger vp of brand services, referring to online comments.
Some customers seek out her 1,000-square-foot space on Nuuanu Avenue because of reviews on Yelp, where the store gets 4.5 stars. She sees the obvious value of Yelp in broadening her market and, though she doesn't check it often, her husband does and the feedback is valuable.
"It's a great way to see what others think about your business," she says, admitting she's afraid of reading bad reviews. "If I see anything that's even slightly negative, it really bums me out. It's my business. It's totally personal."
Even large corporate chains such as Outrigger Enterprises Group, which owns or operates more than 40 hotels in Hawaii and overseas, monitor their presence on rating sites. Outrigger subscribes to an online service that aggregates and tracks reviews from Yelp, TripAdvisor, Booking.com, Expedia, Priceline and other sites. The service notifies key managers whenever new reviews are posted. The company has a policy that most reviews – whether positive or negative – get a response.
"We take them all seriously, the good and the bad," says Charlene Goo, Outrigger's VP of brand services. "People are reading these reviews and they're also paying attention to the properties that respond. Everybody knows you can't have 100 percent positive reviews, but most people want to see how the property responds to negative reviews."
For example, it received negative feedback on the Internet speed in some guest rooms, so the chain is looking at upgrading its WiFi systems.
"With all the tablets and smartphones that people are traveling with these days, there is a certain expectation of accessing more bandwidth," she says.
Goo says most people who post on these sites aren't fishing for free hotel rooms, refunds or major changes. They just want their opinions to be heard.
"They're looking for acknowledgement," she says. "This is the new word of mouth. Other people are reading and listening to social media. This lets people know we're engaged and we're paying attention. Ultimately, we're just trying to create the best experience we can."