10 Ways to Draw More Visitors to your Store or Restaurant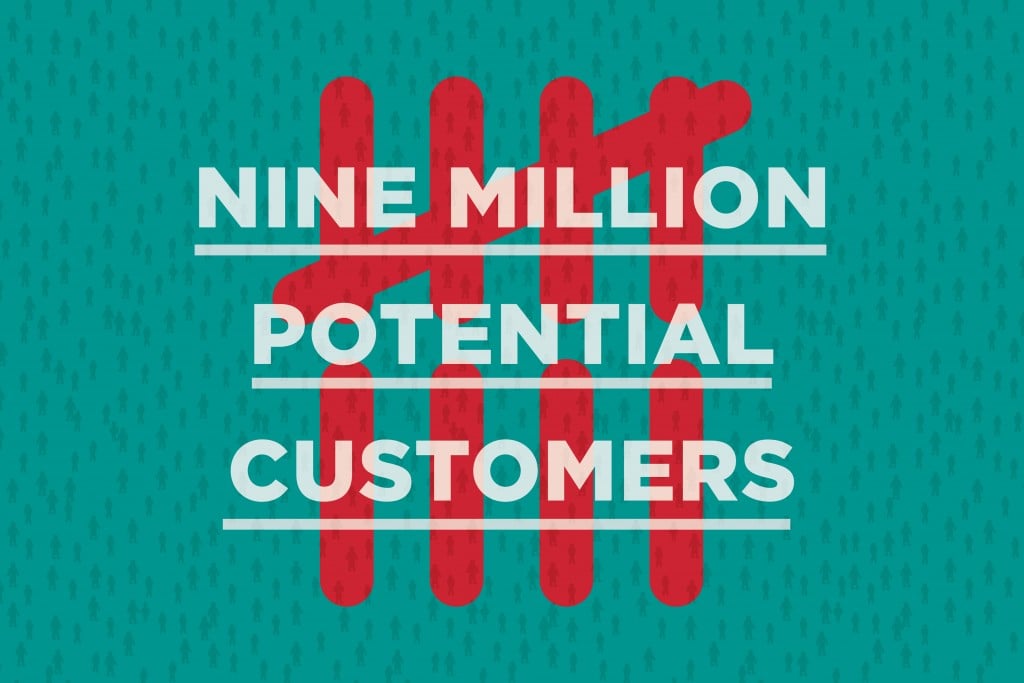 "Off the beaten path" means different things to different people, but overall, visitors to Hawaii are more sophisticated and going farther afield than ever before. That has been good news for many businesses that used to depend exclusively on local customers but now draw lots of tourists.
There are many factors behind this, but one driving force is the rise in repeat visitors. Only a third of visitors to Hawaii are coming for the first time, according to data from the Hawaii Tourism Authority – 3.1 million malihini compared to 6.1 million repeat visitors in 2017, with repeat visits on the upswing. These "repeaters" are independent, with 3 out of 4 making their own travel plans, and savvy to what the Islands have to offer. Their average number of trips to Hawaii: 7.21.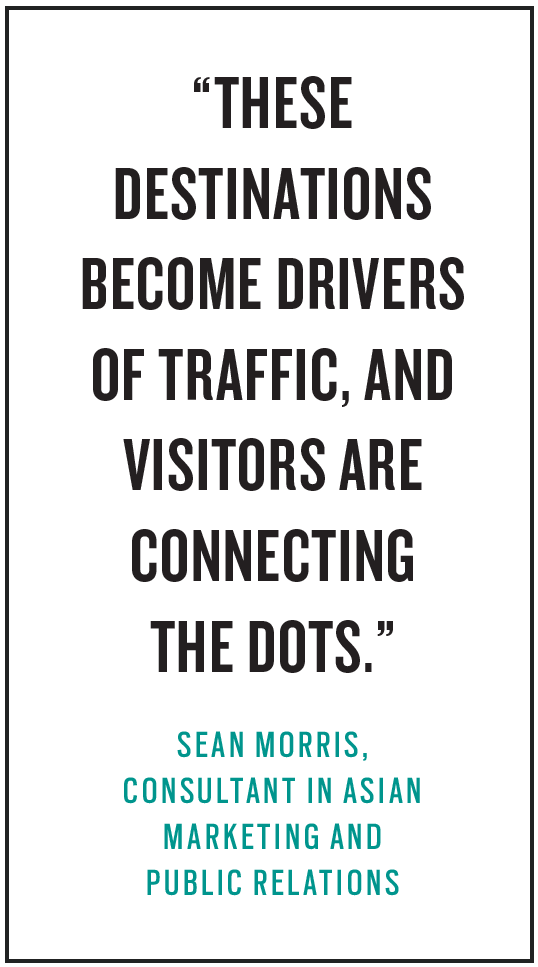 This is good news for businesses not smack dab in the traditional "touristy areas." As visitors become more familiar with the area and more adventurous, "They want to see what the locals do and their lifestyle," says Sean Morris, a Honolulu-based consultant in Asian marketing and public relations.
"You see the evolution, with them going from Ala Moana, then to Ward, then to SALT." Attractions such as the Polynesian Cultural Center and expanded bus and shuttle service sprinkle visitors all over Oahu, and food culture has also played a pivotal role in drawing people out of their hotel shells. As Morris says, "Who doesn't love garlicky buttery shrimp on the North Shore? Or Ed Kenney's Town, which brings them into Kaimuki. These destinations become drivers of traffic, and visitors are connecting the dots."
Some dots are harder to predict. Whole Foods Market in Kahala Mall has become a must-visit among Japanese visitors, Morris reports, because of the selection of eco-friendly tote bags. "It became a thing."
What can a business owner do to entice visitors when situated in a less-than obvious spot? Let's look at what works.
1. Research, research, research.
The first step is looking at HVCB's website for data, suggests Valerie Moore, an independent PR professional based on Oahu. (hvcb.org/insights) There, you'll find information such as how many people fly in from Phoenix and how long they stay. Compare that with who you want to attract to your business, because, "If you think you want to market to the general public, you aren't going to win," Moore says. "You need to figure out if you're marketing to Asian groups, teens, elderly from the Mainland. Everything is about targeting, especially if you're buying ads somewhere like Facebook."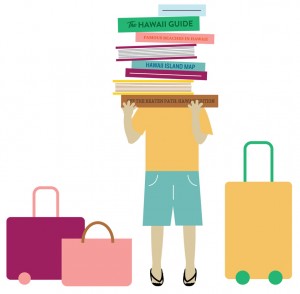 Many visitors will have been researching you as well. Americans take less vacation time than they did in decades past, and want to make the most of their days. But they are still flexible. "A Mainland guest asks, 'Where do I eat?' but a Japanese visitor will rarely ask the concierge that," says Morris. "Japanese visitors have the magazines with the special Hawaii section published twice a year and their guidebooks. They come to the Islands having done their research based on their affinity and price point already."
2. Become Insta-genic
To get fast-tracked to fame and popularity, it's all about being Insta-bae – the Japanese term for being photogenic on Instagram. "In the age of social media, you are really forced to get into it," says Carrie Gebb, founder and owner of the trendy boutique, Driftwood, in Makawao on Maui. She says she generates a lot of business through Instagram.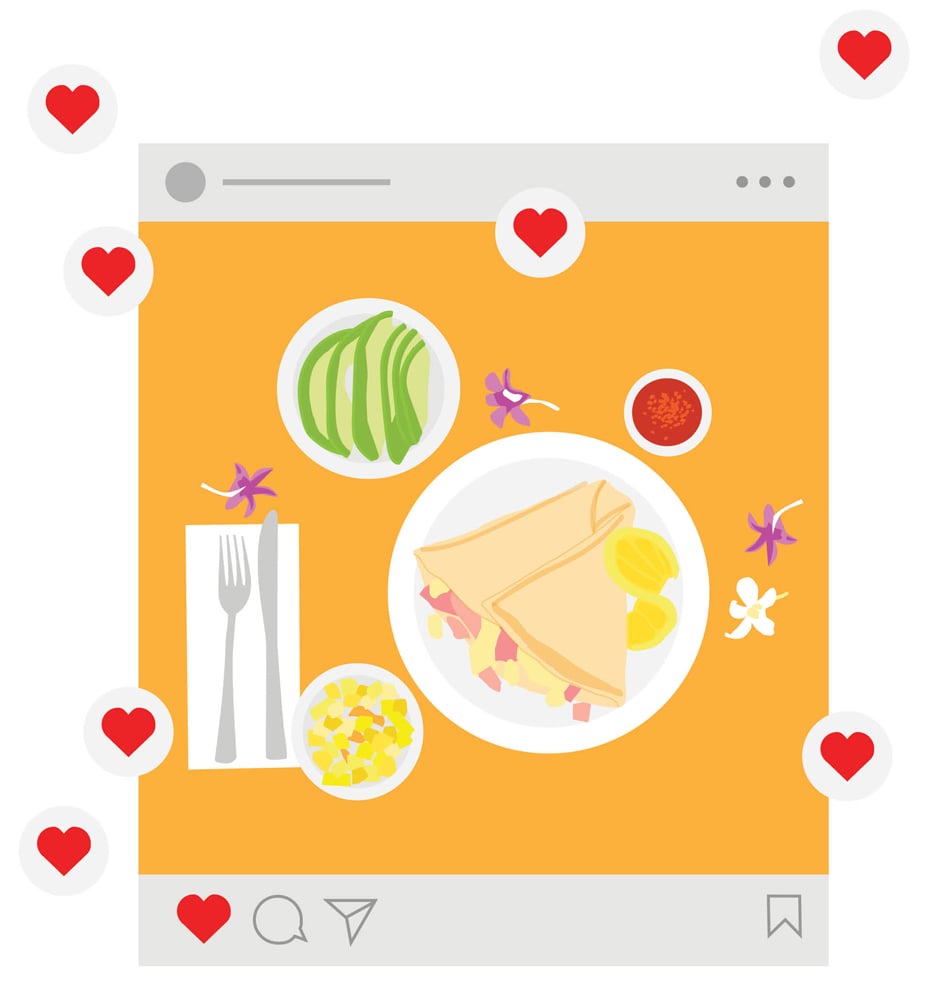 In her store, Gebb carries women's clothing and home goods, and some items simply aren't going to fit into a suitcase. Instagram, she says, allows past visitors to remain as clients. "We get calls like, 'I can't get that rug out of my mind; can you ship it?'" Toward that end, Gebb oversees a few photo shoots a month, creating lifestyle content.
"It all comes down to Instagram," agrees Morris. "If a restaurant dish isn't attractive enough, it won't be shared with friends and family via Instagram." But what if you serve up a humble dinner, like chili? Augment, he says, with tropical fruits and flowers, or create a compelling backdrop in the store or restaurant, such as a mural or signature wallpaper that encourages patrons to snap (and share) pics.
3. A little shtick helps
An unusual dish or experience can create buzz with tourists. Burger Hale at International Market Place was having trouble finding its groove, Morris says, but became a top performer after it created a Hawaiian BBQ Burger with a crispy cheese "hula skirt," and a strawberry shave ice milkshake. "Now that is Instagram-able!" he says. The restaurant's mural, by Hilo-born artist Aaron Kai, doesn't hurt, either.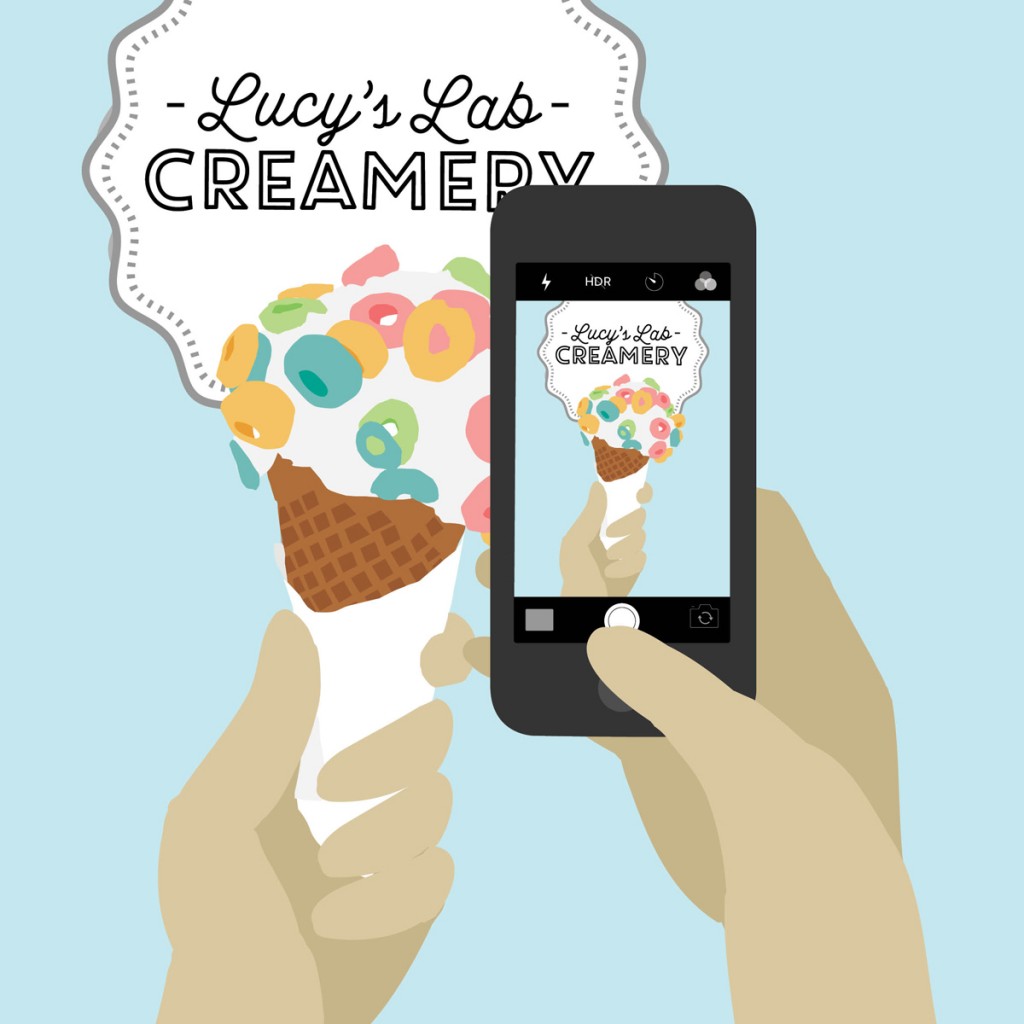 Another example: Of the three creameries at Ward Village's South Shore Market, Morris notes, Lucy's Lab Creamery gets the most play on Instagram. "Their shtick is to take a scoop of vodka or whiskey-based ice cream, and they put this crushed cereal on there, encrust the scoop with it. Most of the Instagram on this is a hand holding up the ice cream cone, in front of the Lucy's sign. It's become an experience. For Japanese visitors, it's like, stamp, I did it. For them, it's all about checking something off a list." Visitors from Japan, Morris notes, especially love replicating experiences they've seen in magazines or online.
4. Think food categories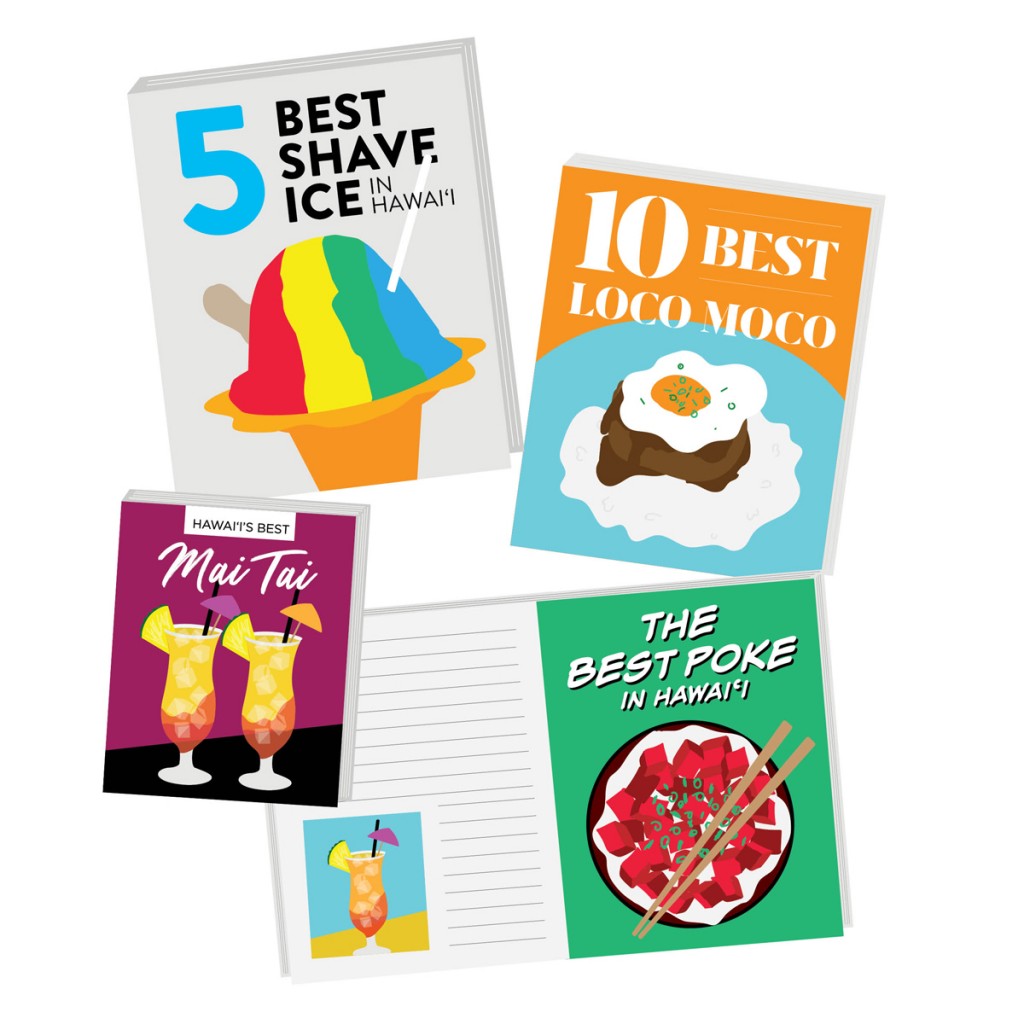 Also consider how guidebooks and websites sort their food content; having a dish or dishes that fit into these predetermined categories makes it easier to get coverage. The Japanese guidebooks are very much broken down into "steak, local foods like loco moco, sweets," says Morris. But for other visitors, this is important too. "Ten Best Hamburgers in Hawaii" or "5 Best Mai Tais" type stories are pervasive online. When he was working with Giovanni Pastrami, Morris says, the restaurant enticed Japanese visitors with a triple play entrée of pancakes, mini loco moco and eggs Benedict. "It was a nightmare for the kitchen but sold 50 a day."
5. Curate and refresh inventory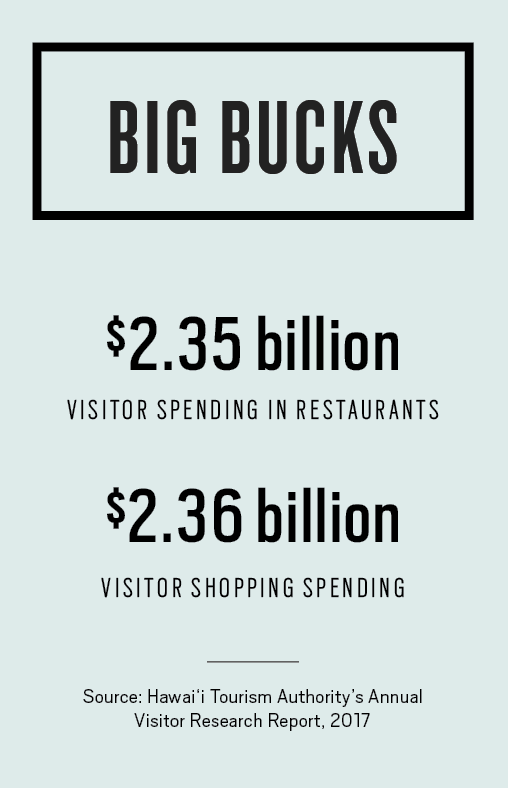 When she started her boutique 3½ years ago, Gebb's goal was to have a small, curated selection that changed frequently. That recipe works not only with visitors, she finds, but also with her local clientele, who account for about 50 percent of her business. Makawao is not exactly on the beaten path. "You don't go there unless you are specifically going for a purpose," says Gebb. "We don't get a lot of tourists. We get a lot of travelers." Her customers are the type who would rather go on a hike than climb aboard a tour bus, and are seeking curated experiences, like they find at Driftwood. "People are short on time and want to be specific about where they are going," Gebb says. Her merchandise matches.
6. Is there an app there?
According to the HVCB publication, "Market Insights United States: July 2018," half of all visitors use mobile apps to plan at least part of their trip, and 37 percent use a travel-related app once they arrive. So how about a custom app for your business, guiding people along, and perhaps tying into your business with a comment like, "Cocoa beans have been grown here since 1880."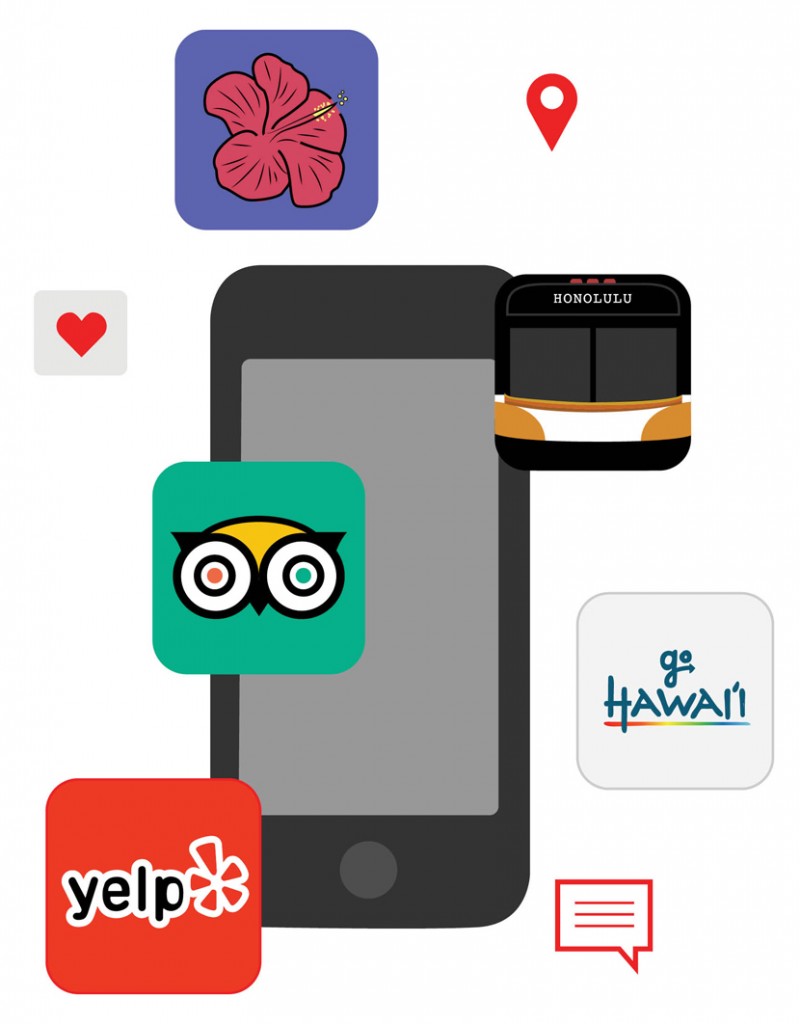 "I'm working with a client now on an app," says Moore. "We're getting an official historic byway on the road, and then we're creating a free app and as you drive along the points of interest, there will be descriptors." A hard copy guide instead of an app is another option, Moore says. "But again, don't focus on the general public. Think specific target audience."
7. Appeal to influencers
Beyond a business's own reach, there's a whole world of outside influencers. You can reach out to bloggers and vloggers and paid Instagram influencers, but Moore warns: "They need to have a big experience. Sometimes it's helpful to partner with another business or businesses. Do an event or host them for a progressive meal."
Celebrities can certainly help. It doesn't get better than when someone like Matthew Fox name-drops Lanikai Juice on the "Oprah" show during the height of his "Lost" TV fame.
For her business, Gebb has found that well-known influencers on social media can "charge $3,000 to post a picture of your outfit. We've tried a few things here and there. That doesn't work necessarily for our business. For us, for both gaining followers and gaining business, it's just regular people posting and saying, 'I got this at Driftwood.' "
Another angle: Court the concierges, Moore says. "They have an understanding that people want to go off the beaten path, so bring them in for a tasting, or get them a sample of the product."
8. Donʻt blow off local business
"Local business is what drives visitor business," says Moore. Remember that visitors want to check out the local hot spots. It can be a delicate balance, though, because too much success with visitors can turn off locals. "If they have to wait in line for an hour, it's no longer their place," warns Morris. "Eggs 'n Things, Boots and Kimo's, they are a cautionary tale."

One solution is having half the restaurant be first come, first served, and half the seating for reservations only, so locals can call ahead for a table. Another is that restaurants that are very popular with tourists may be approached to be franchised, either locally or abroad, which could help fuel an expansion. "You can turn your business into a thriving one, so try not to focus on the down aspects of tourism," he says.
9. Put on your event-planner hat
If your business is far from where visitors stay or far from tourist attractions, it can be hard to entice them with one signature item. The solution: Partner with nearby businesses and create an event. Think Hanapepe's Friday Night Festival and Art Walk on Kauai, which can attract several hundred people per event, or the Hawaii Island Festival of Birds, which brings in a niche market of bird watchers during shoulder season.
During Makawao's annual Ladies Night Out, Driftwood and other stores in town, such as The Mercantile, give discounts, serve cocktails and do giveaways.
10. Count your lucky stars
If your business isn't on a main drag, that can work to your advantage. "I'm grateful we're not in a touristy area," says Gebb. "A lot of my friends have shops in places like Paia and they talk about throngs of tourists coming through." She enjoys closely interacting with her customers. "And I think my customers are more conscientious about what they are going to do in our hometown and that's nice that they are thinking about their footprint," she says. "We clearly need visitors, but I know it's a balance. Ideally, we can direct people to have an authentic experience with a local business they may or may not have heard of. That is what has made our business successful."