Editor's Note: What If?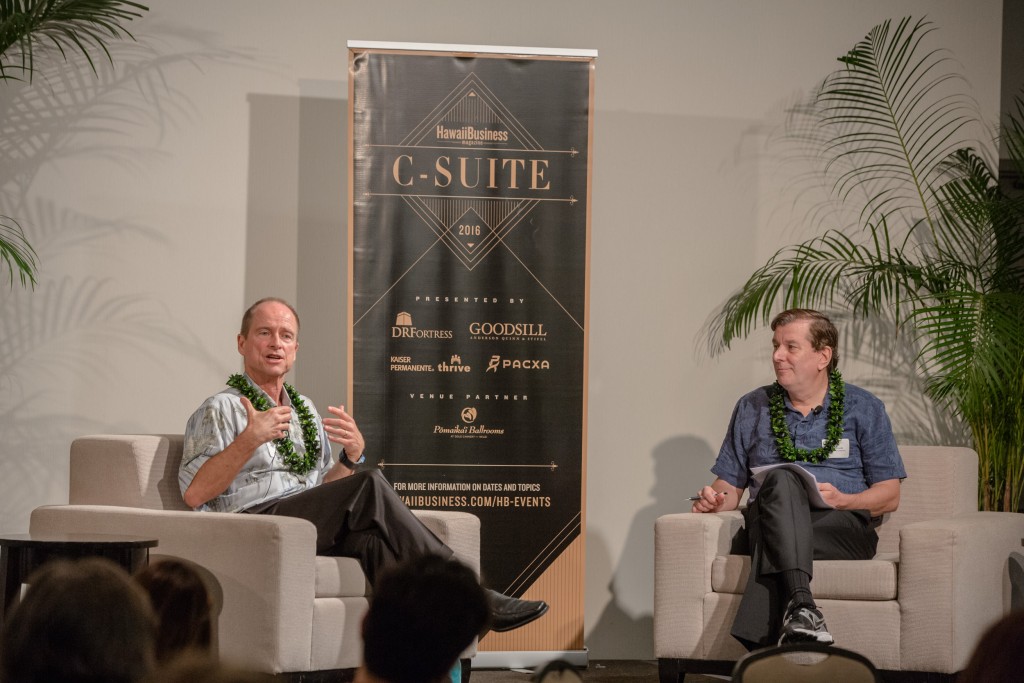 If you are a fan of alternate realities and parallel universes, welcome to one of our annual discussions: Who should be CEO of the Year?
Each fall, when the editorial team at Hawaii Business considers candidates, we look for outstanding leaders who have contributed immensely to Hawaii's economy for many years. We ask: Would this important company or nonprofit have succeeded so well with a different leader? Would it even exist? Would Hawaii be worse off?
Choosing Patrick Sullivan was easy. Without him, there's no Oceanit, and without Oceanit, today's innovation sector in Hawaii looks a lot more sci-fi than reality.
Let's travel back in time to 1985, the year Sullivan founded his moonshot company. Hawaii's plantation economy was continuing to wind down, and tourism had taken its place as the main driver of jobs, business revenue and tax dollars. The military was then and still is yuge in Hawaii, but the Pentagon has a long-term vision of a lean fighting force, so military manpower is clearly not a growth industry for the Islands. Construction was then and still is a major economic engine, but Hawaii has never matched its homebuilding boom of the 1960s and 1970s.
In 1985, as now, one of Hawaii's biggest exports was sending bright kids to the Mainland for college and careers. Sullivan, always a contrary thinker, moved the other way, coming from the Mainland to Hawaii to earn his Ph.D. in electrical engineering at UH. Even crazier, he decided to stay and set up a high-tech company on Fort Street Mall. That was great news for Hawaii. To quote the late, great Leonard Cohen, "Hallelujah!"
Over those 31 years, a lot of super-smart local kids got to exercise their genius at Oceanit instead of on the Continent, and a lot of brainy mainlanders got to innovate there, too. Good-paying jobs for them and lots of local spending in the economy.
Granted, Sullivan did not do it on his own. The late Dan Inouye helped Oceanit get a lot of its contracts for military research, but it was clearly an effective partnership, not just the senator's pull that made it happen.
Oceanit and other ground-breaking local companies proved you could innovate in Hawaii, and that inspired and drew others here. Today, without Sullivan and Oceanit's pioneering efforts, it's hard to envision all the energy and enthusiasm of Hawaii's nascent Startup Paradise, the Energy Excelerator and so much more.
As federal government and military research contracts ebb, Oceanit is focusing more on turning its dual-use inventions to the second possibility: civilian applications. You can read about those many inventions in senior writer Beverly Creamer's profile of Sullivan, which starts on page 36. Every time I visit Oceanit or learn about its latest creation, I think, "Wow!"
After talking about alternative realities and parallel universes, I won't try to predict the future of Oceanit. That's impossible to know. But what's clear from history is that technological breakthroughs like those that are common at Oceanit usually take years or decades to be widely applied. So it's likely we will continue to measure Sullivan and Oceanit's impact on Hawaii and the world for a long time to come. Mahalo, Patrick.