Editor's Note: What We All Want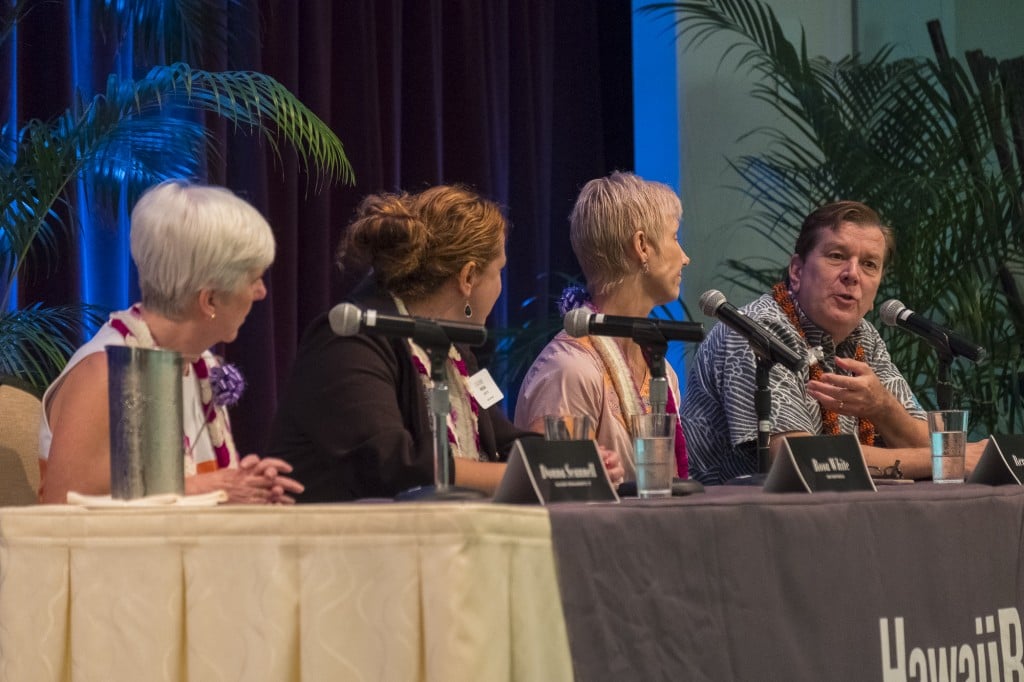 "What Do Women Want?" was a condescending question often asked (and answered) by men when I was young. It is also a question Gallup set out to answer in a report called "Women in America: Work and Life Well-Lived," based on surveys of more than 323,500 American adults. I had the privilege of hearing Gallup COO Jane Miller speak about the report at last month's Wahine Forum and, in the closing session, we discussed what companies should do with that information.
If you help run a company and wonder, "Why should I care what women want in the workplace," I probably should first provide you with a guide to navigate your way from the 1970s to the year 2016. But let me answer the question: Women comprise almost half of Hawaii's workforce and, in some industries, as much as 90 percent of the employees. Plus, Miller points out, the aspirations of women closely align with those of Millennials, and Millennials will form half of the workforce in the next decade. So if you want to recruit, retain and engage the best and brightest women and Millennials, this report is a good place to learn how.
It's full of surprises. Miller says she asked four male CEOs this question: What percentage of working women with children under the age of 18 would prefer to stay home? The men estimated 90 percent. She also asked a female reporter and got an estimate of 10 percent. In fact, Gallup's survey found that 54 percent of working women with children under the age of 18 would prefer to stay home, but 40 percent said they would rather work outside the home.
One thing that shouldn't surprise you is that both women and Millennials want flexibility at work, but you may struggle to figure out how to make it happen at your company while maintaining productivity and profits. Gallup starts with a few caveats.
"No organization is going to get flexibility perfect. And not all job roles lend themselves to flexible or work-from-home schedules," the report acknowledges. And the transition won't be easy. "When organizations begin to break down their traditional work structures, they often have to reframe their policies and – more importantly – their cultures. These changes require conviction and courage. Leaders have to have confidence in their people and trust that they are making the right decisions for employees, teams, managers and customers."
Here are Gallup's seven recommendations for leaders who want to start making their work culture more flexible:
1. Set expectations, accountability and rewards for performance. Hold accountable both traditional employees and employees with flexible schedules, but realize outcomes may differ.
2. Give employees reasonable flexibility to come and go when they need to, provided it does not interfere with doing their jobs.
3. Be clear about requirements for each position, and create flexibility where it works. In some jobs, flexibility might seem impractical, but try to be creative. Don't give up because there is no obvious and simple solution.
4. Create an environment of trust and transparency. Understand that coworkers may become angry and resentful when managers do not oversee and communicate flexible work arrangements effectively.
5. Move ownership of flex policies from human resources to managers. HR policies can be too one-size-fits-all; managers know the needs of their departments and their people.
6. Establish options for employees who want to work more – or less – than 40 hours per week, which could mean increased or reduced pay and benefits. But remember: Outcomes, not hours, should be the main measure.
7. Consider "open" vacation and time-off policies. "The majority of employees will take time off based on their deadlines and workload – and to recharge when they need to," the report says.
I have streamlined the recommendations, so I suggest reading the full report. Use this shortcut to get to it: tinyurl.com/womenworkreport.
Of course, no matter how much we love our jobs, we all crave work-life balance. So no matter our gender or age, it makes sense to be flexible.