Sustainability Called a Key New Trend in Investing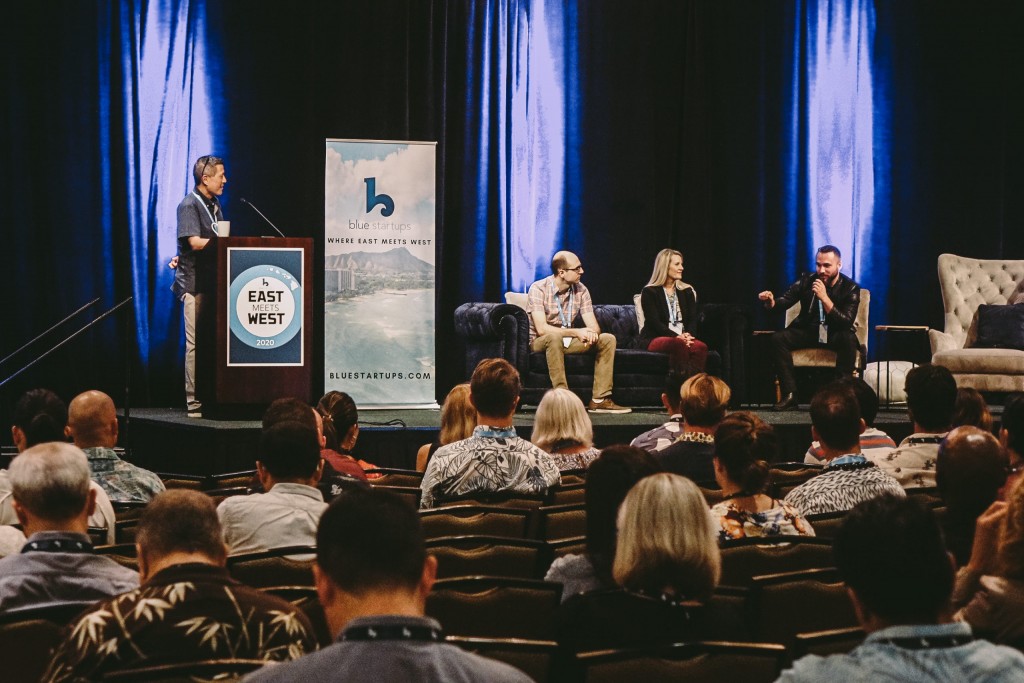 It was also a major theme at the East Meets West conference, which brought together investors, entrepreneurs and professionals from around the Pacific
Venture capital's investments in startups will focus more on sustainability in the coming decade, according to a diverse mix of investors, entrepreneurs and experts who gathered in Waikīkī for the sixth annual East Meets West conference.
"We've come to realize that the model of Silicon Valley has very profound impacts on our community, on our environment, on our democracy and on our culture," says Mara Zepeda, CEO of the Portland based startup Switchboard.
Zepeda says she focuses on creating companies that are not based on a traditional "hyper-growth" model but a more socially or environmentaly conscious model. "All the founders I've met here have been really socially conscious," which she says is unique and especially relevant in the Hawai'i market.
Not Growth at All Costs
Tim Young, a founding general partner of venture capital firm Eniac Ventures, says the next decade will see more investing in companies with a sustainable profit model over companies with a "growth at all cost" model. Companies with environmental sustainability goals or companies that are involved in health tech are two types that are likely to be more attractive to investors. He was one of the panelists at an East Meets West session on investment trends.
The conference, hosted by Blue Startups, was held at the Hilton Hawaiian Village in Waikīkī on Jan. 30 and 31.
Casey Lau, the entrepreneur in residence at Blue Startups from 2016 to 2018, continues to support the conference and its mission though he is now based in Hong Kong and the co-host of international tech conference RISE.
"This conference is very good for people who live in Hawai'i. When else are you going to get all these people from around the world to come here and talk about this stuff and you don't have to get on a flight and fly yourself to California or Hong Kong," Lau says.
Building Beyond Hawai'i
For startups with ambitions to go global, Kyle Corbitt recommends starting on a local scale but building in a global mindset from the start. Corbitt is a lead software engineer for Y Combinator's Startup School. He says establishing connections in networks that will facilitate global growth and building a platform that will allow it once your company is ready, is a realistic way to get going and leave the door open for that growth.
Hawai'i-based businesses planning to expand into other markets should look for where they have an edge, John Kaaiohelo says. Kaaiohelo is the CEO and chief investment officer of Myanmar-based BOD Tech Ventures. He says ag and tourism tech are two fields where he sees Hawai'i having an advantage in Southeast Asia.
"Because the amount of iterations you have with a (tourism-focused) product here due to the number of tourists visiting is tremendously high, that's an edge you would have over Silicon Valley," Kaaiohelo says. He cited the local startup Shaka Guides as having an app that could easily be scaled and tailored to tourism markets abroad.
"I think the idea of East meeting West … frankly is a mental idea," Kaaiohelo says. With the mobility of business in the tech industry, or any industry for that matter these days, companies from the East can meet companies from the West to do business anywhere. East meets West can be anything you dream it to be, he says. And he encourages entrepreneurs and businesses from Hawai'i to take that mindset and venture out from the Islands to establish connections and build opportunities abroad.
Innovating from Within
Hawaiian Telcom chose to support East Meets West this year to promote innovation within itself through interacting with the talented people the conference attracts, says Jason Thune, director of strategy and innovation at the technology company. "You can't innovate within your own company until you start talking outside of your own company … talking about challenges you face as a company, and some of the solutions they have."
Lauren Nahme, Kamehameha Schools' VP of Strategy and Transformation, was an intrapraneurship panelist. "As a leading educator, investor, and landowner focused on the well-being of Native Hawaiians, Kamehameha Schools is looking for more ways to stimulate entrepreneurship, capital investment in Hawai'i as a means to sustainable economic development that is inclusive of and good for Native Hawaiians," Nahme says. "Blue Startups and East Meets West have been a great catalyzer that our local ecosystem has come to rely on."
Managing Director of Blue Startups Chenoa Farnsworth says, "I like to think that East Meets West plays a big part in engaging our entrepreneurial community and promoting Hawai'i as a business destination, so seeing people excited about the event – and Hawai'i in general – really validates the work that goes into planning it."