Farmers Find Paradise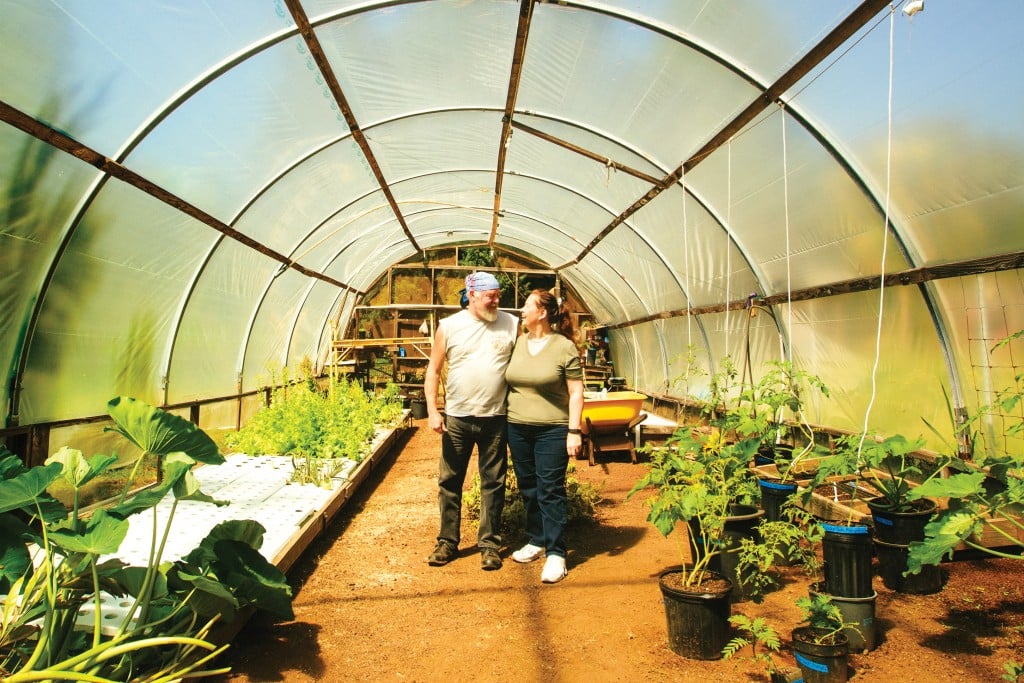 Life and business partners Scott Buske and Megan Collins have adventurous souls that led them to an overgrown orchard on the Big Island and a whole series of tasty foods they are selling to locals and the world.
"I always want to be active," Buske reflects. "I'm always looking for opportunities. It's almost like being guided by the universe."
Buske, 66, a Texas native, has a colorful history of business ownership and involvement – from a barbeque restaurant he opened in Wahiawa in 1978 to manufacturing Lego table toys in Texas during the 1990s ($10 million in annual revenue at its peak), he says.
Collins, 52, is from Maine and the former technical analyst also paints and sells her art. They met online and Collins joined Buske on Oahu in 2002. As the couple sought to buy property, they found Oahu too expensive, and started looking on the Big Island.
"One day in 2004, our Realtor pulled a key from her file cabinet and said, 'I know what you want,' " Buske recalls. "We ran out to look at it, and it was horrible. The grass was 20 feet tall and everything was overgrown. But she told us it used to be a fruit orchard, and I could see in my mind that it was this beautiful place."
It took three years to clear the 75 acres of Paradise Meadows Orchard and Bee Farm in Kau and make it habitable, rescue the fruit trees and plant more coffee trees. In the process, they discovered bee hives at the back of the property and became experts at beekeeping, bee removal and, of course, honey-making.
"The flavor of the honey is determined by what type of flowers the bees choose to feed on."
— Scott Buske
Co-owner, Hawaii's Local Buzz
In 2007, they created The Local Buzz and sold the honey at street fairs and farmers markets. The honey – since rebranded as Hawaii's Local Buzz to appeal to Mainland and global buyers – is today sold at a showroom in Honolulu, on the Internet, at craft fairs and trade shows, and through retailers such as Foodland, Don Quijote, Marukai, Whole Foods and Island Naturals.
"The flavor of the honey is determined by what type of flowers the bees choose to feed on," explains Buske. "So in the spring it may be our citrus flowers or lehua blossoms; in the summer it may be our Christmas Berry tree; in the winter it may be our avocado, macadamia nut, coffee or eucalyptus trees."
In 2009, Buske and Collins expanded the Buzz's brand to include the award-winning Kau coffee they grow. In 2011, Buske says, the product line added macadamia nuts grown by Paradise Meadows and other Hawaii Island farmers, that are dehydrated – not roasted – to preserve flavor. And, in 2013, the company launched
into chocolate.
"Although we like to source locally as much as possible, there's not enough chocolate produced here to make it affordable," Buske says. He chose Guittard chocolate out of San Francisco for its reputation, taste and quality.
"If it's not the best stuff, we don't want to make it," he says.
The farm and all its packaging are run by a workforce of about 15 employees, mostly part-timers. Buske's grown son, Chris, is the "IT guy and chocolate-tempering expert" – which is the process of heating bulk chocolate so it will have an attractive, shiny finish.
The Buzz's customer base is about 60 percent local and 40 percent visitors, according to Buske. One of those local customers is Nora Muramoto, 69, a part-time secretary at a Waipahu construction firm and president of a Korean drama social club, who discovered Hawaii's Local Buzz last year at its former showroom in the Samsung Plaza on Keeaumoku Street in Honolulu.
"Jan Tsue, the store manager, did some beautiful gift baskets for our door prizes and our club members really liked them," Muramoto says. "Then I purchased gift baskets for my relatives on the Mainland for Christmas and the products she chose were so 'local' and they all loved it.
"I bought their macadamia nuts and loved their dark chocolate ones, too. I'm going back to try their honey products from Kau, because this is the next best thing to sugar.
"The items in the store are just what I like – all the yummy chocolates and cookies! And she had samples for customers to taste, too."
---

Spring Blend Hawaiian Honey
A seasonal blend – the bees do all the "blending" by pollinating the farm's different spring flowers.
Nuts in the Nude
Macadamia nuts grown on the Big Island and dehydrated – not roasted – for the freshest flavor possible, Buske says.
Cinnamon Sugar Shortbread
Buske's own recipe because he likes his shortbread moist. "Once you take that first bite, you'll regret finishing it," he says. "It must be 'moan-a-liscious' or we'll refund your money."
---
Local-Kine Biz tells the story behind a Hawaii small business.
If you know a business we should cover, email localkinebiz@gmail.com.