Feedback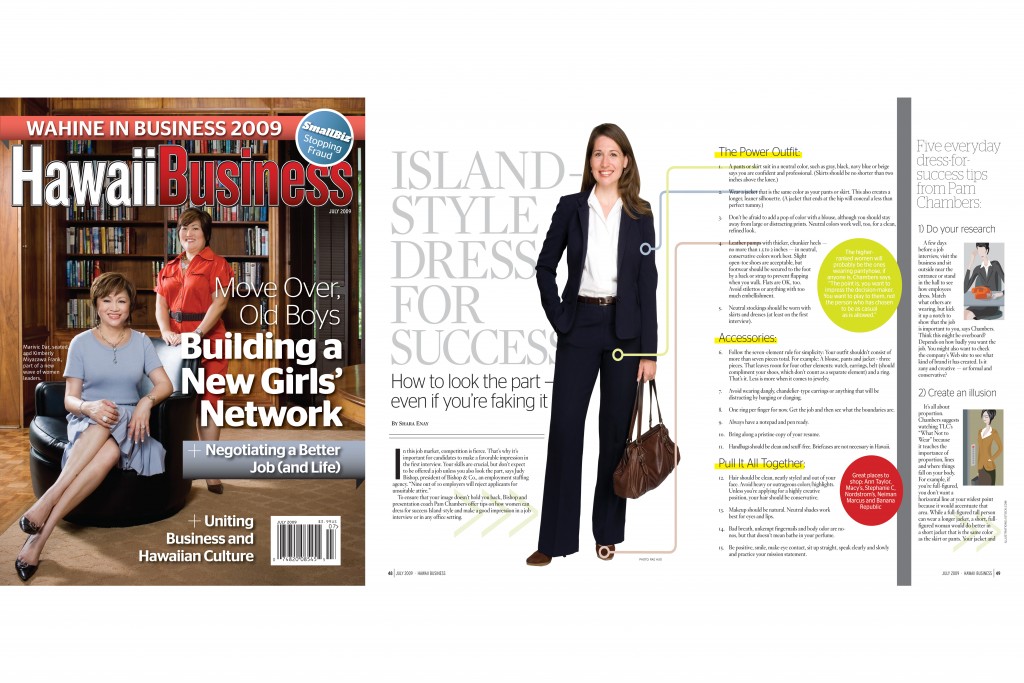 > Send letters to feedback@hawaiibusiness.com
Dress up
I enjoyed the article "Island-Style Dress for Success" (July 2009). I thought it gave some good basic tips on how to achieve an effective professional image.
Although probably one of the "lighter" articles I've read in your magazine, it was nonetheless important, as appearance is often the first impression someone gets of us and our capabilities. I thought the "seven-element rule for simplicity" was particularly interesting because I had never heard that tip before.
In business school, they teach you all the academics of business — finance, economics, marketing and management — but rarely discuss the soft skills like business etiquette and professional imaging. I think people just assume everyone knows what to do, or at least thinks they know what to do, but this is not always the case.
The basic philosophy is to dress for the position you want, but what does that really mean? So the office intern should dress like the president if that's the position she's aspiring to? Is that realistic? For one, the intern cannot afford to dress like the president, and two, she will look like an idiot because it is not appropriate for her since she doesn't do the same work as the president.
This is the kind of rationalization I've struggled with in determining whether I'm dressing effectively or not and I'm sure other young professionals have, too. As a business publication, I think it's great that Hawaii Business magazine includes articles on these topics, as well as the serious business issues.
E-mail from Joelle Mascarenas
Dress down
I was distressed to read your Wahine in Business 2009 feature of July. I could overlook its general lack of substance, and I can assume that the "What Men Don't Get" quiz was created in the vein of satire (if not, it is an unbelievably condescending condemnation of the attitudes of men in the workplace).
I was, however, disappointed to see the article titled "Island-Style Dress for Success." It would be unthinkable, in an annual feature on men in business, to have a feature article on fashion, let alone one in which the subtitle is: "How to look the part — even if you're faking it." Such an article capped off a string of
articles that seemed hopelessly out of touch with women leaders in business. The last thing I needed from Hawaii Business, as a woman or businessperson, was tips on the shades of makeup I should use.
I believe that Hawaii is a great place to be a woman business leader, and that our community is filled with exciting role models. Sadly, your features did more to implicitly illustrate the parochial attitudes that hamper women in the workplace than they did to explicitly celebrate our women of strength and acumen.
E-mail from Tara Young
Great article! (Island-Style Dress for Success) We need to get more people to use these guidelines in the workplace.
Posted online by crafty808
Correction
Islanda Tech's web site is www.islandatech.com, which was misidentified in "Cloud storage" (Innovation, August 2009). Hawaii Business regrets the error.