Feedback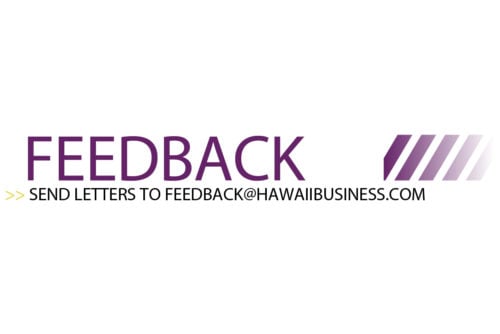 Aloha United Way changing with the times
While it is true that the dynamics of charitable giving have changed ("New Culture of Giving," November), it is important not to understate the value that Aloha United Way provides to the community and the ways in which AUW has changed in order to remain relevant to our next generation of donors.
In 2009, AUW and its partners served more than 829,000 beneficiaries. We:
• Helped screen more than 600 children on the Leeward Coast for conditions that could prevent them from being ready for school.
• Helped 293 homeless families transition back into a home and more than 1,250 families maintain safe and stable housing.
• Provided much-needed services to more than 510,000 low- and moderate-income beneficiaries through AUW and its partner agencies.
The proven system of asking and giving represented by Aloha United Way is smart, efficient, effective and community-based. Donors can give to a community fund, issue areas or specific agencies. Payroll deduction and other financing choices make it simple to donate, and to direct where donations go.
Three quarters of our 60,000 donors choose to give to the community fund, which addresses pressing issues in a focused and strategic way, guided always by independent volunteer input and deliberation.
Aloha United Way's inclusive way of collecting and distributing resources helps to increase giving, and gets the kind of results we all want to see.

Susan Au Doyle
President/Chief Professional Officer
Aloha United Way
Many positive examples exist
Your story ("Nonprofit Boards: Confused or MIA?" November) is certainly a wake-up call for many nonprofit boards across the state to reflect upon the governance of their organizations. While the story sheds light on the most egregious of cases, it would have been fair and constructive to also feature examples of good governance. We know many stories exist of those doing their due diligence, even in small to mid-size nonprofits.
As a voice for the sector, HANO values transparency and good governance, promotes professionalism and conducts numerous board trainings so that the more than 7,000 charitable nonprofits in Hawaii can gain and maintain the trust of their constituencies: government, corporate and private trust and foundation partners, individual donors and volunteers.
While not the most flattering of spotlights for our sector, it certainly will spark needed conversation amongst us.
Lisa Maruyama
President and CEO, Hawaii Alliance of Nonprofit Organizations
TheBus 'Lousy, Poorly Managed'
I read Steve Petranik's love note to TheBus (Editor's Note, November) with amusement as, obviously, we don't use the same bus system. The bus system I know and loathe is lousy, inconvenient and poorly managed.
Petranik claimed to be able to find a seat 98 percent of the time. That might apply to the express routes, but, in the inner-city, 98 percent of the time you're going to be standing. It's impossible to use your laptop when one hand is clinging to those metal hangers or you're squeezed like sardines.
Reduced stress? Give me a break! There are usually 10 Waikiki buses for every Route 1 bus, so, if I miss the bus, the wait for the next one is interminable and I've been late to work more than once. The people who run TheBus clearly commute to work by car.
Oh, and the part about leaving the planet cleaner: I guess Petranik never notices the cloud of black soot from the bus's diesel engine.
James Ko
Making fashion work in Hawaii
As designer for our start-up, ETSIS Hats & Apparel, I can relate in so many ways ("The Business of Local Fashion," October). I recently returned from a specific mission to Los Angeles: to source fabrics we find difficult to find on-Island.
As a small business, we're in between retail & wholesale: too big for retail but haven't grown into wholesale britches yet. We'd like to keep manufacturing on-Island. As we grow, we hope we can develop processes that will make this possible and grow the industry as a whole.
Posted online by Alina
Need energy from many sources
What we need is lots of modern energy sources, employing the people of Hawaii, not just the big companies and unions. This needs to be broad-based and without impediments from the powers that be that are scrapping to "get theirs" in this tough climate.
Posted online by Solar
Civil unions benefit Hawaii
I know marriages/unions or honeymoons in Hawaii are a leading source of income to the state and businesses alike. Any unions in Hawaii, including civil unions, are an economic advantage. This is the feeling of every business I have spoken to.
Posted online by konalani
Clarification
The Hawaii Alliance for Nonprofit Organizations, using data from the National Center for Charitable Statistics, created the information contained in the chart about the issues and fields covered by Hawaii nonprofits (page 64, November). Hawaii Business failed to appropriately credit HANO and NCCS.