Financial Problems at Hawaii Pacific University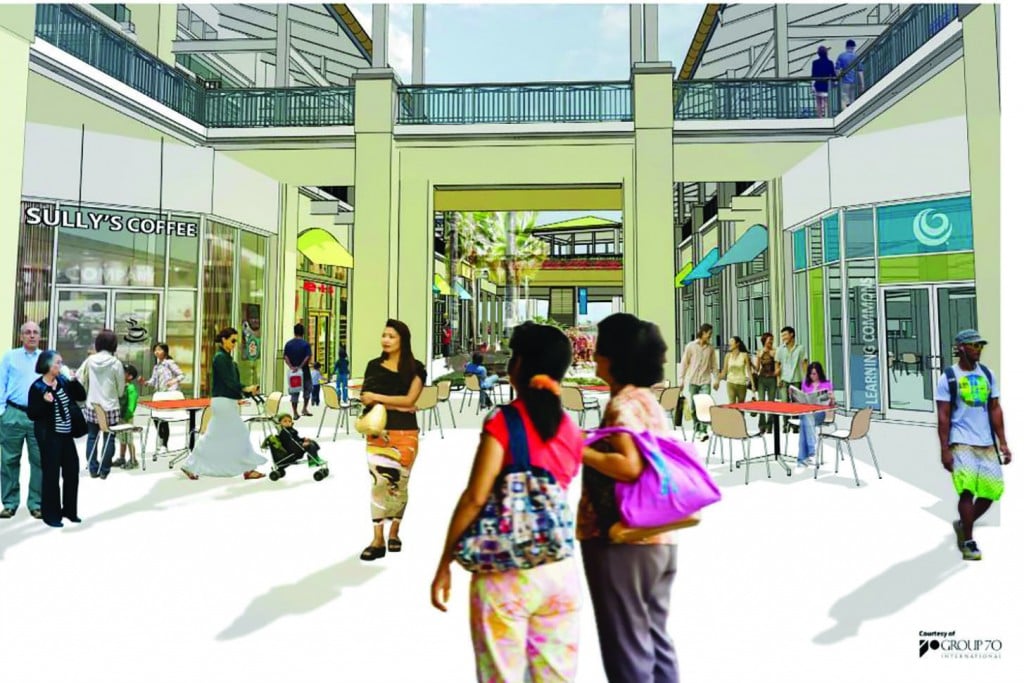 Hawaii Pacific University is suffering financial problems that have prompted layoffs of more than 100 faculty and staff, and major cuts in the scholarships that for decades have encouraged local students to attend the state's largest private university. Meanwhile, the number of Hawaii students and the overall number of students have declined significantly in recent years.
Revenue was projected to be $10 million short of expectations for the 2014 fiscal year that ended June 30, according HPU's VP and chief financial officer, D. Bruce Edwards, speaking at a meeting with faculty and staff on June 7. Hawaii Business was not able to determine HPU's budget for 2013-14, but Edwards says the budget for 2014-15 is $81.4 million; a $10 million shortfall would be 12.3 percent of a budget that size.
HPU President Geoffrey Bannister acknowleges that the university is suffering from financial difficulties that forced it to lay off faculty and staff, and make other changes. He says his goal is to create a "smaller, better, smarter" college – an institution that is "sustainable" for the long term.
This Hawaii Business investigation of HPU's financial difficulties is based on internal documents; audio recordings of meetings of administrators, staff and faculty; interviews with 10 different administrators, faculty, laid-off employees and alumni; and other information and sources.
For the 2014-15 school year, HPU is charging $20,930 in tuition – a 51 percent increase from the 2008-09 school year, but still a relative bargain compared to many other liberal arts colleges on the mainland.  In the last few years, HPU has ranked well on Bloomberg Businessweek magazine's "Best Colleges for Return on Investment" and other national lists of so-called best value liberal arts colleges.
HPU also reported above-average enrollment through the financial crisis, but its reported enrollment has declined 19 percent since the fall of 2010 – a year in which HPU and many other universities enjoyed high enrollment because many people went back to school when they could not find jobs during the recession and its aftermath. The drop in HPU's enrollment can also be attributed to other factors, including reduced enrollment in HPU's Military Campus Program, which was at least partly due to cuts in federal military spending. The decline in the number of students was a major factor in the $10 million revenue shortfall.
Gauging the exact effects of HPU's budgetary problems is challenging. Hawaii Business spoke with seven current and former salaried members of the faculty and staff, who spoke only on condition that their names not be used. Those who were still working feared retaliation from administrators; those who took early retirement packages say those packages came with orders not to speak to the media. Even those who were let go without any compensation declined to speak on the record, saying they are negotiating with HPU to receive a severance package.
All seven painted a picture of an insecure, stressful work environment. Those who still have their jobs say uncertainty about their future at HPU, coupled with recent turnover among staff and administrators, makes it challenging to get even basic tasks done. "It's creating huge instability at the university," one source still employed at HPU says. "Trying to get an organizational chart is impossible. Nobody knows where to go or who to speak to."
In interviews and audio recordings from faculty meetings, those at the university frequently referred to a "culture of fear."
It isn't easy getting firm counts of how many employees were laid off, took early retirement or otherwise left. Despite repeated requests by Hawaii Business, the university would not confirm how many employees it has let go or have left the institution in the last two years. However, numbers presented to faculty and staff at the June 7 meeting showed at least 110 have gone between January 2013 and May 2014. That's a 7 percent cut in full-time faculty and a 20 percent cut in staff. It's not clear whether HPU will hire new people to fill those positions or if they're gone for good.
The school currently has about 1,300 part- and full-time employees. Roughly 700 are faculty, and around 250 of those were full time before the cuts, according to a university spokeswoman.
Most of the faculty and staff let go were notified at the end of the school year in May or June, often with just a few days to clean off their desks, surrender their university ID cards and leave, according to faculty sources. Faculty job cuts started after grades for the spring semester were submitted in mid-May.
Bannister, who has served as the university's president since 2011, says letting faculty and staff go with little notice was a necessity.
"Unfortunately, when you have significant numbers (of people), it is the best way to do it. It doesn't feel like the kindest way to do it," he said in an interview with Hawaii Business, adding most universities that spread out cuts end up not making them in time to deal with their budget challenges.
The timing of the layoffs also coincided with the end of the fiscal year – the time when contracts for HPU employees come up for renewal. Unlike the University of Hawaii, its state-funded competitor, HPU doesn't offer its faculty or staff tenure. They can't unionize, either, because of a 1980 U.S. Supreme Court ruling in NLRB v. Yeshiva University  that faculty at private colleges have "managerial status" because of the academic and personnel decisions they make.
The absence of tenure and unionization theoretically makes it easier for the university to hire or fire at will, and the faculty that Hawaii Business spoke to said the lack of long-term job security has been a longstanding issue at the university. That insecurity, faculty say, makes them less likely to speak out because of concern that they might upset administrators.
"Open dialogue is important," one faculty member says. "The real threat. … is a complete lack of security, a complete lack of people feeling free to express themselves. It's linked to no tenure, no security and, therefore, it feels like (there is) very little respect for faculty."
That insecurity was demonstrated in May when 18 faculty members were sent letters saying their contracts would not be renewed, and that their employment at HPU would end with the fiscal year in June. The decision was especially galling, faculty say, because those 18 faculty had been notified by letters two months earlier of their status for the next school year. Those earlier letters assured professors that they would have jobs for the foreseeable future, especially since university policy at the time mandated that administrators notify faculty by March if their contracts were not going to be renewed. "A reasonable person reading (that notification) would assume they have a job next year," one faculty member says.
It was a stark contrast with the past, according to one faculty member, who says the university's administrators usually chose not to renew faculty contacts only for serious offenses or deficiencies.
Even before the layoffs began, administrators had looked for ways  to tighten belts at the department level. One option they pursued was increased class sizes, especially in the humanities and for online courses, according to faculty members.
Although the one-instructor-to-14-students ratio had been a calling card for HPU, class sizes had been creeping up for a few years. Some online courses in spring 2014 ran with caps as high as 49 – just shy of the 50-and-above cutoff that could pull down HPU's ranking under the U.S. News and World Report criteria. "If you have huge online classes, it requires a different pedagogy," one professor says. "There are headaches for professors, but, ultimately, it's much worse for the students."
Smaller classes generally allow students and faculty to get more out of the course, says Deborah Crown, dean of HPU's business school, which has put particular emphasis on keeping sections small in the last few years. "We want to make sure that all of those classrooms are engaging, so it's not just that they have projects, but that there's a dialogue, a discussion."
The layoffs have had a clear impact on remaining faculty-supervisor relationships – especially considering Hawaii's close-knit culture. "You try to be careful not to burn bridges, because we're on an island," a faculty member says. "A lot of people who had good faith in management are losing that."
Missed Opportunity
While the faculty were hit hardest this spring, the impact on students – particularly those from Hawaii – appeared as early as 2011.
Before that year, some of the most valuable scholarships at HPU were reserved specifically for students who graduated from Hawaii high schools. Among these was the President's Scholarship, a four-year, full-tuition award based on academic merit. Another was the Spirit Scholarship, which covered half of tuition for four years; in return, recipients were required to plan activities for students at basketball games and other sports events.
Scholarships aside, all HPU students pay the same tuition, whether they come from Hawaii, the mainland or foreign countries. Tuition for local students is substantially lower throughout the University of Hawaii's publicly funded system. For instance, at UH's flagship Manoa campus, tuition for local students this coming school year ($9,840) is 34 percent of that paid by mainland and foreign students ($28,632).
For Jamie DeMello, who received HPU's Spirit Scholarship from 2007 until 2011, the funding reserved for Hawaii students was crucial to her education. "A lot of people, especially local kids, are looking for scholarships because we can't afford (college)," she says. "Getting the scholarship was a really big deal for me. That's the only reason I went to HPU."
Jessica Caraang, who went to HPU on the President's Scholarship from 2008 until 2012, says getting a free ride was pivotal in her post-high school plans. "Without the HPU scholarship, I probably wouldn't have gone to school."
At least 20 President's Scholarships were given to incoming freshmen each year, Caraang says. Meanwhile, the number of students studying at HPU on the Spirit Scholarship was as high as 100 in 2007, according to DeMello.
While she was finishing her final semester in 2011, DeMello found out the Spirit Scholarship was being eliminated entirely. By that point, Caraang says, the President's Scholarship had been replaced with the President Scholarship (the s was dropped) and set at its current value of $12,500 per year. Tuition for the 2014-2015 school year will be just under $21,000.
In addition, the President Scholarship is now open to all incoming HPU freshmen, whether or not they are from Hawaii, according to the university's scholarship office.
Bannister says that change is part of a larger redistribution of HPU's annual $8 million scholarship budget that now takes financial need as well as academic achievement into account when awarding scholarships.
"You would frequently find the best student from the best school from a relatively wealthy family getting a free ride, and a deserving student from Waimanalo not getting the help," he says. "What this does is spread scholarship funds more evenly across a larger number of students."
What's more, he says, large scholarships specifically for local students weren't something the university could continue to fund. They also didn't fit in with HPU's goal of creating a student body divided equally in thirds between Hawaii, mainland and international students.
DeMello, now in law school at Gonzaga University, says that plan eliminates options for a lot of local students who want to stay in Hawaii.
"A lot of the local talent and the local minds will go to the mainland," she says. "HPU has a real opportunity to be a school for kids who don't want to be in the UH system, who don't want to go to Chaminade, who can't go to BYUH. They're not taking it."
But HPU is actually planning for fewer local students. The university's long-range strategy, as embodied in the strategic plan developed soon after Bannister arrived in 2011, holds the university firmly to the one-third goal with an initial objective of lowering the number of Hawaii students at the university from 52 percent in 2011 to 47 percent in 2016-17.
A Smaller University
HPU was founded as Hawaii Pacific College in 1965, although it wasn't until 1972 that the school graduated its first seven students. The school added programs throughout the 1970s and 1980s, including a business school and classes for English-language learners. It also absorbed Honolulu Christian College in 1966 and Hawaii Loa College in 1992.
The nucleus of the current university is in downtown Honolulu, complimented by the former Hawaii Loa campus in Kaneohe and the Oceanic Institute at Makapuu Point.
Even as operating budgets remain tight and faculty are let go, Bannister says, expanding HPU's physical presence – especially to offer students more infrastructure and facilities – is  a priority.
Leading that effort is the $40 million Aloha Tower Marketplace redevelopment, which the university began in June. Bannister says the project will add much-needed dormitory space, because HPU has roughly 6,700 undergraduates but accommodations for only 200, all located in residence halls at Hawaii Loa.
While the president insists he's trying to create a "smaller, better, smarter" college, multiple faculty say Bannister has also used the phrase  "smaller, richer" university when discussing HPU's future.
That vision appears different from the one Bannister promoted when he came to HPU. In an interview in the May 2011 issue of Hawaii Business, published shortly before he assumed the presidency, Bannister said he wanted to recruit "at least 150 new, internationally based faculty members," including both full-time and adjunct positions.
In an interview with Hawaii Business last month, he clarified that he meant to hire that many new faculty for existing positions and not to add that many positions.
Yet, at the June 7 meeting with faculty and staff, Bannister indicated that enrollment projections made before he came to HPU may have given him and others at the university a false sense of what was possible.
In 2009 and 2010, "This place got far too optimistic and lost some track of reality," he says. "Numbers were changed to make everything look reasonable, and lots of numbers were made up in terms of how many students we had and how things were going. That was not to our long-term advantage."
The notion that Bannister may have been given incorrect information about the health of the school by administrators under former President Chatt Wright is shared by some faculty. Whether those exaggerated figures were the result of intentional deception or foolish optimism isn't clear.
"I believed wholly that he meant and believed what he was saying," says one faculty member about Bannister's initial plans to expand liberal arts programs at HPU. "Either somebody didn't tell him everything he needed to know or the people under Chatt Wright didn't know."
Regardless of how it came to be, Bannister told Hawaii Business he's focused on making HPU economically sustainable.
"We have to be very tough in our assessment of all of our cost structure. We don't have a Legislature and a milking machine for that cow," he says. "We just have to do it (based) on what our (students') families can afford and what gifts we get from the community."
Number of Students
Annual enrollment of undergraduate and graduate students at HPU, measured each fall: