Follow the Money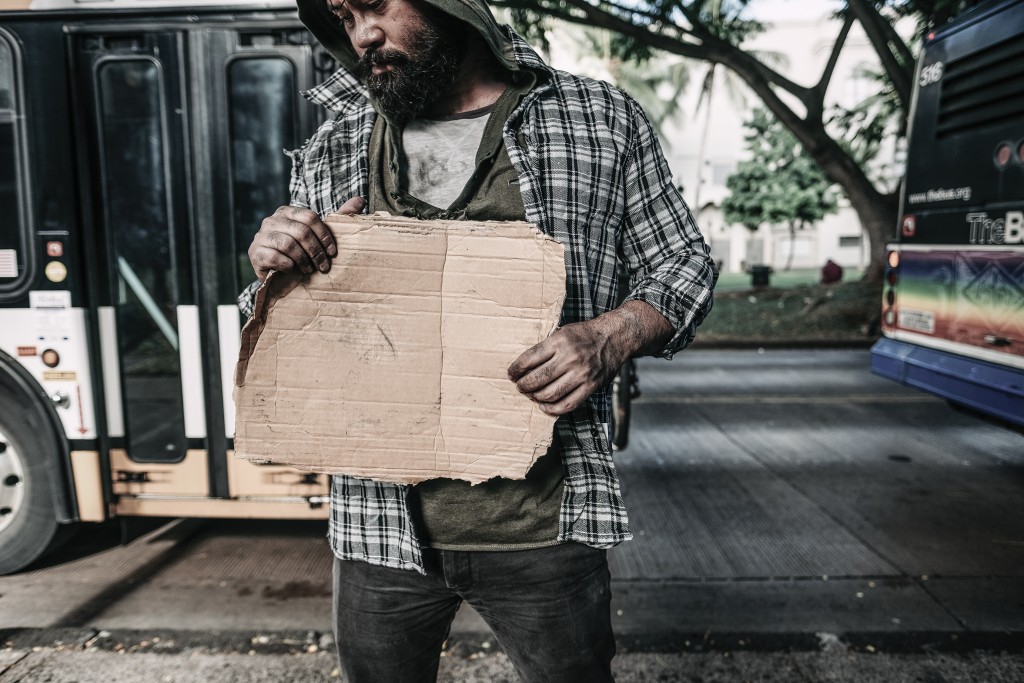 Dozens of local charities work with homeless people. All have boards of directors and staff. Most have an office and equipment, like a bus or kitchen, to maintain. And almost all face the same need to raise funds and provide services. Sometimes it gets to be too much.
The people who work or volunteer for these nonprofits are usually resilient, optimistic people trying their best, but the morass of homelessness can get to them, and even they ask, "Is this really the best way to do this work? Is there too much duplication of effort? Would it be more effective to just give the homeless money for rent?"
To understand this sentiment, and to begin to answer these questions, it helps to follow the money.
The Feds' Role
Many of Hawaii's most familiar programs for the homeless – emergency shelters, mental health counseling and medical treatment – are partly supported by an alphabet soup of federal funding. Scott Morishige, the governor's new coordinator on homelessness, gives examples.
"HUD, the Department of Housing and Urban Development, generally funds homeless services through the COC, the Continuum of Care, as well as ESG funds, Emergency Solutions Grants. The VA, Veterans Affairs, also puts in funding separately. They have a variety of different services for veterans, including employment services, as well as what they call SSVF, Supportive Services for Veterans and their Families, which is a short-term targeted rental facility. There's also something called HUD VASH, which is like a Section 8 housing voucher for veterans that comes with case management services."
Almost all this federal money passes through state and county agencies to the nonprofits that do most of the actual work with the homeless. By far, the largest source of federal funding is HUD. In 2014, HUD's Continuum of Care program paid a total of $9.79 million to fund 24 projects in Hawaii.
Morishige also points out that the state's Homeless Programs Office, the part of the Department of Human Services that oversees most of the state's direct services to the homeless, acts as the pass-through for federal funds going to the Neighbor Islands. "We receive about $1.6 million in federal funding that flows through DHS for homeless services on the Neighbor Islands. This includes our Emergency Solutions Grants, Continuum of Care and also HOPWA funds (Housing Opportunities for Persons with AIDS)."
One big source of homelessness funding: The federal Department of Housing and Urban Development's Continuum of Care program paid a total of $9.79 million to fund 24 projects in Hawaii.

Those are just examples of funding for direct services to the homeless. Countless other federal programs have a real but less direct impact on the homeless: job training through Department of Labor grants, affordable housing construction funds through Community Block Development Grants, and health care through Medicaid and Quest. None of these are traditionally thought of as homelessness programs, yet they are essential to improving the lives of homeless people.
The State's Role
Despite this steady flow of federal money into Hawaii's programs for the homeless, it's easy to over emphasize the amount.
"If you're looking just at direct funding, things like shelters or outreach programs," Morishige says, "I think there's more money coming in from the state, through general funds, than there is through federal dollars." This is also true for the City and County of Honolulu, he adds.
"In total, the state spends a little over $20 million on these various services. I think the bulk of that goes to our shelters program. Out of that $20 million, $13.3 million is spent on shelter operation, both emergency and transitional, statewide."
But it's not just shelters. One of the signature pieces of the state's homeless policy is a program called Housing First. The traditional approach to helping the homeless has been to put them in a shelter. Then, after assessing their needs and giving them counseling, they're moved to transitional housing. Eventually, if they qualify and space is available, they're moved into permanent housing. This approach works fine for people who are just down on their luck and simply need a hand up; but, for the chronically homeless, those with disabilities or mental illnesses, it's rarely effective.
Housing First turns that process on its head. In this approach, the first step is housing. Studies show that taking the chronically homeless off the street and putting them directly into stable, permanent housing dramatically improves the likelihood they remain housed, particularly when that housing is paired with counseling and other services.
Like many mainland jurisdictions, the state has high hopes for Housing First (as does the city), and has dedicated funding for it.
"For the state's Housing First program," Morishige says, "we've budgeted $1.5 million. Right now, we have a contract with U.S. Vets for $1.25 million to run the program on Oahu, and I believe the remainder is designated for Neighbor Islands."
It's clear that Housing First and shelter funding are homeless services, but there are less obvious examples.
"For example," Morishige says, "under the McKinney-Vento Act, the state Department of Education has to provide services to support homeless students in our public schools. That includes things like helping with transportation costs. I also believe they have homeless outreach workers within the DOE. Of course, within the mental health system of the Department of Health, there's also a percentage of individuals with serious and persistent mental illness who are also homeless, whether they're unsheltered or in some sort of homeless shelter. Some of that cost could be considered homeless service cost as well."
When you factor in all these direct and indirect costs, the state likely spends much more than $20 million on homelessness.
The City's Role
The biggest source of government funding for homeless services on Oahu isn't the federal or state government; it's the City and County of Honolulu.
Like the state, the city has embraced Housing First; Mayor Kirk Caldwell's administration has been planning its own Housing First program since at least 2013, according to Jun Yang, executive director of the mayor's Office on Housing. The goal is to get the chronically homeless – those who require the most help and cost the most money to serve – off the street. The original plan, Yang says, had been to fund the program from proceeds of the sale of the city's affordable housing projects in Chinatown. When that sale didn't go through, the city administration asked the City Council for money to get the program started. Finally, $3 million for operations was appropriated for the fiscal year that began July 1, 2014.
"Roughly $2.3 million went to actually running the Housing First program," says Gary Nakata, director of the city's Department of Community Services. "Of that $2.3 million, about half goes to rental subsidies, and half goes to the provision of support services, like case management for the clients."
All of this Housing First and affordable housing funding, Yang emphasizes, is in addition to the federal money that passes through city agencies.
"Traditionally," he says, "this community spends $9.5 million to $10 million every year on homelessness through the federal grants we get through HUD. It comes through the Department of Community Services and goes to all of our service providers, especially those in Partners in Care, which is a network of all the service providers on this island. We're talking about the funding programs for families, for youth, for transitional housing, for emergency shelter, for outreach. These are all programs that we haven't stopped paying for."
But the real game-changer came when the City Council voted to approve the sale of general obligation bonds to create more affordable housing. This created a pool of $64 million: $32 million each for fiscal years 2014-15 and 2015-16. On top of this, the Council budgeted another $12 million for affordable housing.
Collectively, all these private funds are dwarfed by government spending. The real contribution private charities make toward solving the homeless crisis is as contractors: They run most of the programs funded by government money.

These funds represent a rare opportunity to deal with homelessness at its source, but the structure of the funding presents challenges. That's because both the bond money and the separate affordable housing money came with restrictions.
"This funding can only be used on projects for people making less than 50 percent of area median income," says Sandy Pfund of the city's new Department of Strategic Development. "The housing also has to be in perpetuity. These clauses combine to make it tough for that money to be spent."
Another problem with using general obligation bonds is that none of this money is available for program operations. By law, the money can't be used to provide housing vouchers, for example, even though this is the quickest way to get the homeless housed. Instead, general obligation bonds can only be used for capital improvement projects, things such as the planning, design and construction of affordable housing, as well as the acquisition of property and building infrastructure.
There's one more restriction. "When we purchase something, we also have to have a budget to maintain it. That's also a requirement of the funding structure," Yang says.
Naturally, those operating funds can't come out of the $64 million from the bonds.
"It's actually a race against time," says Pfund, "because we need to spend the first $32 million by June 30, 2016. But it isn't that easy to spend this kind of money on projects that are fair and reasonable, and would be acceptable for the community."
So far, the city has put in a few container modular units on Sand Island and is looking at some similar projects in Waianae. According to Pfund, two other properties are under a "letter of interest," which means the buyer and seller have agreed on a price, but haven't closed the deal. Other deals are in the offer stage, but the city still has a long way to go to spend the first $32 million.
"I think we've roughly committed about $9 million of that money," Pfund says.
Private Money's Role
Not all the funding for homelessness comes from the government, but private funds are more difficult to quantify than government money. Much of this private funding comes from small, faith-based organizations, largely in-kind contributions such as food, clothing and temporary shelter. Plus, aid such as food and clothing is often split between the homeless and other needy people who do have housing. Little of that can be accurately tabulated.
One major exception is the Hawaii Community Foundation's Housing ASAP program, a $4 million initiative aimed at family homelessness. This three-year, capacity-building program uses coaching, training and networking to improve the efficacy of the state's largest shelter providers. Its main goal is to help these nonprofits adapt to the Housing First approach. Housing ASAP is funded by 13 of HCF's largest donors, including some of the state's most prominent family trusts, as well as the Aloha United Way.
The AUW is also an important source of private funds for homeless services. Although it doesn't typically run its own programs, homelessness falls into two of its three "impact areas." The money it raises for these areas isn't as dramatic as government funding for the homeless, but it's significant.
"We have about $555,000 that's actually meeting the needs of homeless individuals," says Aloha United Way COO Norm Baker. "That's shelter, food, those types of things. We spend another $180,000 or so on preventive stuff. That means things like utility bills, first and last month rent; things that keep people in their homes."
This Aloha United Way funding plays a key role in the work of dozens of charities that serve the homeless. Although it's rarely a significant part of their budgets, it typically comes as unrestricted funds, which means the agencies can use it as they see fit.
Baker notes there are other nongovernmental organizations that play important roles in funding homeless services.
"There are the private groups," he says, "the bank foundations, and the HEIs and HMSAs of the world. They probably fund things, but I think they're mostly preventive kinds of things."
Possible Savings:
By some estimates, chronically homeless individuals cost the city $40,000 to $60,000 a year in emergency room and other services. Housing First budgets a total of $25,000 per person.

Collectively, though, all these private funds are dwarfed by government spending. The real contribution private charities make toward solving the homelessness crisis is as contractors: They run most of the programs funded by government money. For example, IHS administers the city's $3 million Housing First subsidy program, doling out rental vouchers to the chronically homeless and coordinating the wraparound services designed to keep them in homes. And, as Jun Yang points out, IHS also contracts out much of the work to other charities.
"IHS brings the team together," Jun says. "They provide services, but they also coordinate others. In Waianae, they work with Kealahou West Oahu. In the urban Chinatown region, it's with the Chou Project. And in the Waikiki area, it's with Waikiki Health.
Similarly, Helping Hands Hawaii and Catholic Charities, two of the state's largest nonprofits, partner to administer a grant from the state's Substance Abuse and Mental Health Services Administration. This HUD-funded grant provides Section 8 rental vouchers and case management for homeless people with substance abuse issues.
Even Aloha United Way, which mostly acts as a fundraising entity for other charities, administers the City and County of Honolulu's rental assistance program.
Coordinating It All
That, in a complicated nutshell, is how homeless services are organized in Hawaii. Government provides most of the funding. In the case of the federal government, it hands those funds to a state or local agency, which usually devolves authority to a smaller agency, which contracts a charity to create and run the programs. This is typically done through the request-for-proposal process, and the state's nonprofits have historically contorted themselves to respond to the shifting goals and strategies of the agencies that fund homeless programs. Many nonprofit executives say privately the result of this system is a plethora of highly professional agencies, but also a lot of duplication and a lack of strategic focus.
That may be improving. Scott Morishige's position as the governor's coordinator on homelessness is partly an attempt to address these problems. "My job," he says, "is more about policy and strategic direction for the state; making sure, as best possible, we're able to align the state's homelessness initiatives with that of the counties as well as any federal government support. I think coordination is key to our approach, because we know there are resources at every level of government. We want to make sure we're drawing on all the resources available and they're all aligned as much as possible, so we can try to avoid any duplication of effort and we try to better leverage the funding streams that are available."
Part of this coordinated approach, Morishige says, is the governor's leadership team on homelessness, which includes decision-makers from all levels of government.
"So, we have the governor, the mayor and the Council chair from Honolulu, the budget chairs from the House and Senate, director Rachael Wong of the Department of Human Services, as well as the our entire Congressional delegation on the leadership team."
In theory, that means it should be easier to reach decisions and make plans. But this kind of super-committee can also be another layer of bureaucracy. For example, in addition to his role as the governor's coordinator on homelessness, Morishige serves as chair of the state's Interagency Council on Homelessness. This organization, modeled on the U.S. Interagency Council on Homelessness, works to "align funding across all the multiple levels of government," Morishige says. But isn't that essentially what the governor's coordinator on homelessness is supposed to do?
Similarly, some people in the nonprofit community believe that Partners in Care was created, in part, to coordinate HUD's COC activities. That, too, represents another level of oversight.
Some Advances
It's not that the welter of programs, committees and coordinators has had no effect. Scott Morishige, who not long ago ran an advocacy group for the state's nonprofits, says there has been more coordination in recent years among agencies working on homelessness.
"I think we're starting to see some of that alignment happening here," he says. "We now have a very close dialogue with the city, as well as with the federal representatives from HUD and the VA. That's helped us target our community's resources so we can really meet some of our goals."
As an example, he cites the community's effort to "end veterans' homelessness by the end of this year."
Technically, the goal is to reach "functional zero." Experts acknowledge it will likely be impossible to get all the homeless vets off the streets, especially those with mental illnesses. Instead, the goal is to have enough housing, counseling and other services so any homeless vet willing to accept help can get it.
"I think there's more money coming in from the state, through general funds, than there is through federal dollars."

— Scott Morishige, governor's coordinator on homelessness
That's not the same as completely ending veterans' homelessness, but it's still a lofty goal, Morishige points out. "And my understanding is that we're on track to do that by the end of the year," he says.
Such coordinated effort is what Housing First is supposed to accomplish for the chronically homeless. In this case, the program's goal is to end chronic homelessness in Hawaii by the end of 2016.
Gary Nakata reminds us that the IHS contract with the city only started a year ago. "We've already served over 100 chronically homeless individuals," he says. "And some of them brought family with them, so about 140 people have benefited from the program up until now. When we did our point-in-time count of the homeless last year, we counted 400 to 500 chronically homeless individuals on Oahu. At this point, we've already helped 25 percent."
That's big. By some estimates, each chronically homeless individual costs the community $40,000 to $60,000 a year in emergency room and other services. Housing First budgets a total of $25,000 per person. Those are real savings.
And programs like Housing First are also a step closer to taking the complexity out of how we provide services to the homeless. They present slightly fewer hurdles to jump through for those who need help. But can we simplify the process further? Can the linkages among programs be made more seamless?
Other states have made such progress. In Seattle, Los Angeles and San Francisco, communities have begun to use "funders collaboratives," says Morishige. "That's where they pool funding from government as well as the private and philanthropic sectors."
This sort of cooperation already happens on the other side of the table, where contractors like Helping Hands and Catholic Charities pool resources to create better programs. The same kind of collaboration among funders could be even more effective.
Of course, collaboration isn't the same thing as just giving people money. Homelessness is always going to be a complicated issue, but aligning the goals of the funders and the agencies that actually carry out the work can't help but make the process better.
"As federal, state and city organizations," Jun Yang says, "we're all talking about how do we fund so we don't step on each other's toes, but actually work in concert together. I think that's an important piece. What we're seeing in other communities is that they're doing RFPs together. They'll have an agreement among each other and they'll put the RFP out together. That way, all the outcomes will be clearly expressed and people are not pulling each other in different directions."
"Think about it. If you took the city's Housing First program, maybe were able to tie it together with some of the services from the Department of Health and Human Services altogether in one RFP, then you would have fully funded an excellent program.
"I'm just saying, 'What if?' "