My Job: Giving an Arm and a Leg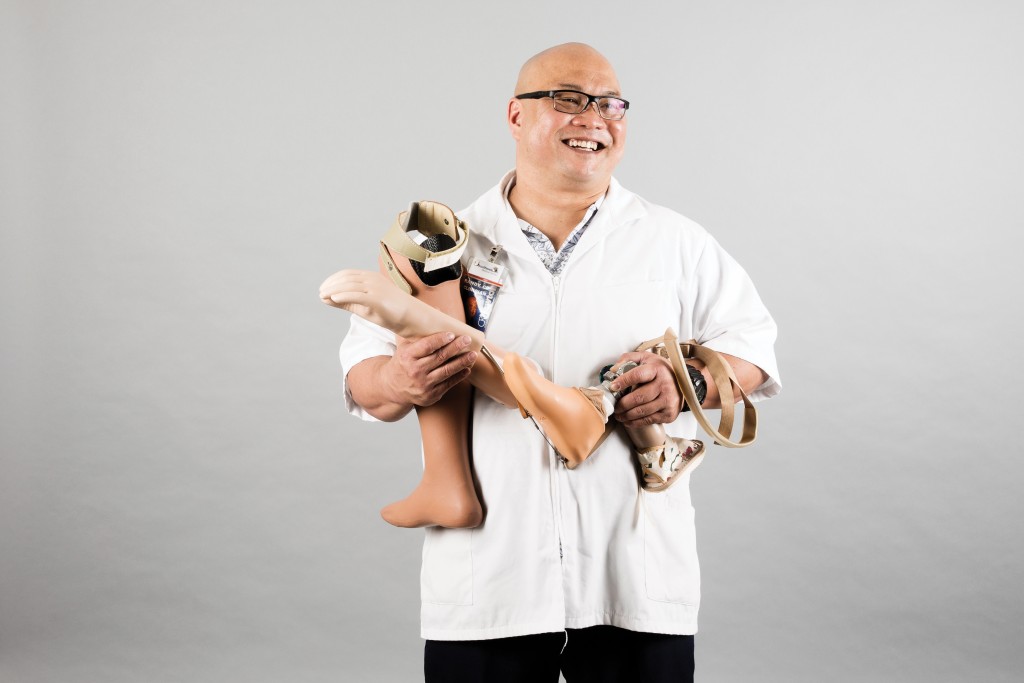 NAME: Randall Pang
AGE: 51
JOB: Certified prosthetist, C.R. Newton Co. Ltd.
START: Randall Pang was born in San Jose, California, but moved to Kaneohe with his family when he was 8. While at Mid-Pacific Institute's high school, he began working as an orthotic technician for his aunt and uncle, who owned Honolulu Orthopedic Supply.
"I enjoyed working with my hands and became interested in prosthetics while watching my uncle," Pang remembers.
"Working with amputees and watching them recover is rewarding for me. Every prosthesis is different and challenges me to think of the client's need."
The Makiki resident received a bachelor's in allied health, with a certificate in orthotics and prosthetics, from the University of Texas Southwestern Medical Center in 1991. Certification now requires a master's degree.
WHAT IT TAKES: A physician must prescribe all prosthetic devices, then a prosthetist designs and fits the artificial limbs for patients. "I traditionally hand cast and fabricate each prosthetic socket, but technological advances are also making computer-aided design and manufacturing possible."
First, a preparatory prosthesis is made with a thermoplastic sheet formed over a plaster mold under vacuum pressure, to get the shape of the client's limb. "As the shape of the residual limb matures, and if the client becomes more active, we use more exotic materials such as acrylic resins, carbon fiber or titanium to make the definitive prosthesis.
"A special technology uses a variety of input sensors that allow the users to open and close the prosthetic hand, while simultaneously activating other motions in the arm, like the shoulder and elbow."
INSPIRATIONAL: "I had an amputee who lost his arm in a shark attack create his own below-elbow prosthesis out of fiberglass and surfboard foam with ridges like a surfboard that made it look neat. Another surfer amputee made a ridge on his below-knee prosthesis to hold his surfboard leash."
IMPORTANT FACTS: "A prosthetic device cannot be worn all day and night. Residual limb care is essential to ensure that no skin breakdown occurs.
"A prosthetic device weighs less than a real appendage, but feels so heavy because of the weight attached to the shorter arm."
ADVICE TO NEWBIES: "Try our field by becoming a technician first to get exposure; a technician performs the manual work and assists the prosthetist."
PAY RANGE: "A technician's salary starts at around $18,000 a year. An experienced prosthetist could earn $50,000 to $145,000."
This interview has been edited for clarity and conciseness.