Got a Complex Problem? Map It Before Trying to Solve It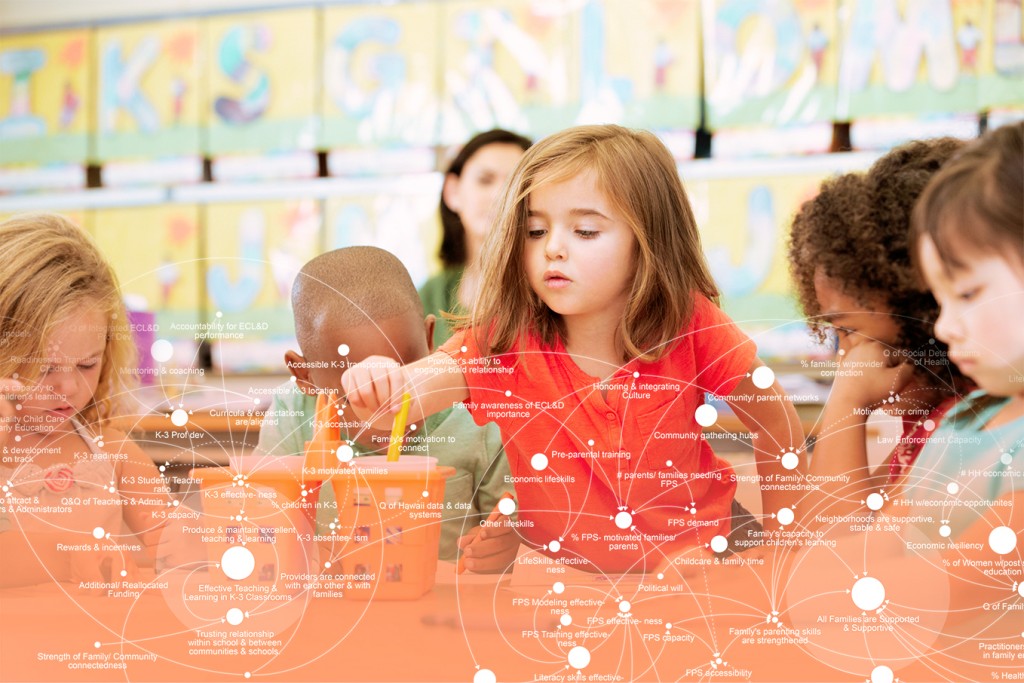 Overlaid on this picture is part of the Early Childhood Action Strategy systems map.
TO TRANSFORM A system as complex as energy in Hawaii, dynamic thinking is needed, Dawn Lippert says. Systems maps and systems thinking help guide that dynamic thinking.
"The way we see systems thinking for energy is that it's bridging across space, but then also trying to forecast across time. So longtime transformation is a very complex set of systems," says Lippert, the director of the Energy Excelerator, a nonprofit that supports innovative energy startups.
"You start looking at solutions, and if you don't take the time to actually look at the system first, you might create more problems with your solution."

— Aubrey Yee, Systems Thinking Consultant
By mapping Hawaii's energy system, the Energy Excelerator has identified gaps and challenges – such as how the state can reduce energy costs and continue to reduce the use of fossil fuels in vehicles.
The Excelerator's systems map then helps guide the agency as it selects which startups to support, including companies that might help fill gaps in the energy system.
"The map is to communicate to others, outside of our organization, how and why we select companies and how we are using innovation to solve problems," says communications manager Lauren Tonokawa.
Kunoa Cattle Co. is one of those potential gap fixers. Cattle born on Hawaii Island are shipped to the mainland for fattening because of the high cost of energy, and mainland beef is imported to Hawaii to meet the demand. To help remedy this, the Excelerator has taken Kunoa under its wing as it develops a vertically integrated beef production process that employs renewable energy so more Hawaii-born cattle can be raised here.
Visualizing Systems
A systems map offers a holistic perspective that reveals connections which aren't always intuitive. There are many methods for constructing these maps, says systems thinking consultant Aubrey Yee. One way starts with looking at the factors in play regarding an issue. Feedback loops – where factors, impacts and causes are feeding each other in positive or negative ways – are then diagrammed.
"Once you start to see those feedback loops, you can start to link the loops together to see where they actually connect and so you can make a bigger map," Yee says.
These maps also help illuminate unintended consequences before a solution is tried. "You start looking at solutions, and if you don't take the time to actually look at the system first, you might create more problems with your solution," she says.
Improving Quality of Life
When Ulupono Initiative works with systems mapping, it takes into consideration the physical, financial and social elements of the system. General partner Kyle Datta says, "It's not just what has to be done and it's not just how much you have to invest, and what order and sequence, and what are returns, and what has to work for the investment to make sense. But then also, which groups do you want to invest with, because they will help support that change in the system to really make this whole thing be an initiative."
Ulupono's work with chicken feed is an example of the relationships needed between actions to achieve a result: "Since the majority of the cost of raising a chicken is feed, we need to lower the cost of local feeds in order to expand the feed industry," Ulupono communications director Amy Hennessey says.
Ulupono funded a poultry feed trial – which is needed before a feed can become commercialized – on Maui that sought cost-effective ways to incorporate local products into the feed. The study used algae to substitute for animal protein. Currently, Ulupono is partnering with Hawaii Pacific University, Oceanic Institute and the state Department of Agriculture to build a pre-commercial scale research feed mill in Hilo.
Datta says systems maps can show where the vulnerabilities are: "We saw that every animal – chickens, fish, hogs – that eat imported feed have this enormous vulnerability to the cycles and vagaries of the global grain markets … So we said we have to find a way to fix that locally."
Mapping Early Childhood
In 2012, when the state's Executive Office on Early Learning was established, 80 to 90 experts and advocates were brought together to view Hawaii's early childhood system through the eyes of its users, the families of young children, to see what the state needs to do to ensure Hawaii's young children receive support, are developing optimally and are ready for school.
By mapping the system, the group saw itself as part of a larger network. "We found that many partners did not know the breadth of resources available, even in their immediate communities," says Kerrie Urosevich, the governor's early childhood coordinator. "So when it came time to refer families and children to services, they felt stuck."
One of the biggest strategies that came out of this mapping was the creation of a virtual one-stop shop for early childhood issues, called Keiki Central, which is scheduled to be available by the end of the year on multiple platforms, including smartphones, tablets and computers.
Urosevich says mapping the system accomplished four goals:
reduced redundancies;
targeted investments by identifying which "levers" would create the most improvements;
leveraged existing resources across the system; and
identified gaps in services and supports so they could be filled.
The early childhood mapping demonstrated that, despite the challenges, Urosevich says, mapping in Hawaii can be done. "You really can do the mapping statewide pretty easily," she says. "We have approximately 108,000 children from prenatal to age 5 – this is a manageable number to map around and plan for."