Graduating Into Uncertainty – Part II
This is the second in a series of reports about the challenges facing high school and college seniors in Hawai'i. Here are brief profiles of four full-time UH Mānoa seniors, each facing different challenges.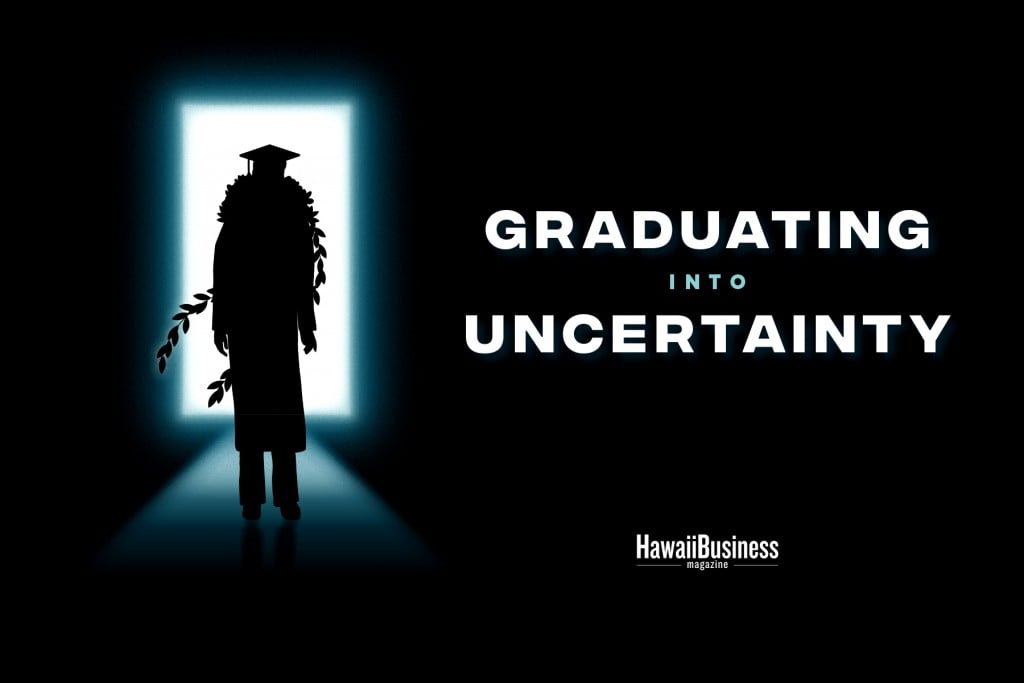 Single Mother and Aspiring Teacher
Shannon Velligas is a single mother and education major who was also working part-time as a clerk at an elementary school and as a cashier at a Korean barbecue restaurant. Many nights when she returned home to her parents' house, her 1-year-old would be asleep.
She has been furloughed from both jobs and now worries about paying for day care. "It will be pretty difficult paying for it after next month," she says.
"I tried to apply for unemployment benefits, but the process is much more difficult than I thought it was. I tried emailing them … but they're so busy I haven't gotten a reply yet. There was a relief fund for restaurant workers that started last week, but the site kept crashing. It kept saying it was too busy. For the whole week, I couldn't get past the apply button."
Velligas, who has about $60,000 of student loan debt, had planned to start a career as a teacher after graduation. She gained valuable experience working past summers as a student aide and was supposed to get a similar job this summer, but that is uncertain now.
She plans on applying to be a substitute teacher or an emergency hire "to get my foot in the door." Her long-term goals are simple: "Acquiring an actual teaching job. Paying off my loans. Getting enough money to maybe move out. I would like to just aim for having my own place for me and the baby, but I think that won't come for another five-plus years down the road after graduation."
Concerned About His Startup
Austin Yoshino is a mechanical engineering major worried about his medical technology startup, Manaola Innovations. He and his partners have pivoted since the COVID-19 crisis began.
"Everything now is meetings through Zoom. It kind of forced us to focus more on the engineering process," he says about himself and his eight partners, all of whom are students, six of them at UH.
"We were planning to travel. They were really crucial trips: One was to compete for $100,000. One was $50,000. One was to meet with our potential partner in Japan. Funding opportunities, economies, markets are all taking a bit of a hit right now. We have to be creative to find opportunities."
He says Manaola Innovations still plans to launch its first product in June, though that may get pushed back a month or so. "The goal would be to generate enough revenue to be able to pay ourselves and then be able to dedicate full-time effort to the company." Pay is a concern because Yoshino has about $30,000 in student debt.
He remains focused on the business. "My ambitions haven't changed. I want to focus on continuing to grow the company. My concerns would be about the market, investors, things that are just out of our control."
Incoming Law School Student
Kanani Smull is less concerned about her finances than she is about her first semester at UH's William S. Richardson School of Law. In addition to her studies as an English major, she currently works from her one-bedroom apartment as an unpaid intern for Nella Media Group, attends meetings virtually and doesn't have to worry about relocating in the fall.
"My main concern would be that my first semester of law school would be online, just because everything's so uncertain. We even got an email from the admissions director saying that for now we don't really know. It would be a pretty big difference" from attending classes in person, Smull says.
She tries not to worry about COVID-19. "I'm more concerned about what our economy is going to look like, but it's hard for me to see exactly how I'm going to be impacted as an individual."
Teaching Overseas Now Uncertain
English major Siraj Ali is unsure what to expect as he enters the workforce. "Because of the virus I've moved back to California. My parents are worried about me infecting them if I get it so I'm renting a place while we wait for everything to get better."
Ali had planned to complete a program in San Diego called the Certificate in English Language Teaching to Adults, and then teach English abroad.
"All of those plans are up in the air right now. I'm not sure about flying to San Diego in September. I don't know if the program is going to go on," he says.
"After the training, I was going to Japan. International travel right now is totally disrupted and I'm not sure how commercial travel is going to be after this all blows over."
Ali is lucky enough not to have any debt, but he's increasingly anxious about his future.
"My plan is to teach abroad for a year or two and then go into a Ph.D. program in either Japan, Hawai'i or California," he says.
"I've kind of worked my whole career around the idea of globalization.  Teaching English in another country is what I want to do, but after this, I don't know exactly what that job market is going to look like at all. It's making my anxiety skyrocket."
---
Read other reports in this series written by college and high school students called "Graduating Into Uncertainty."