COVID-19 Crisis Disrupts College Plans, Learning and Much More for High School Seniors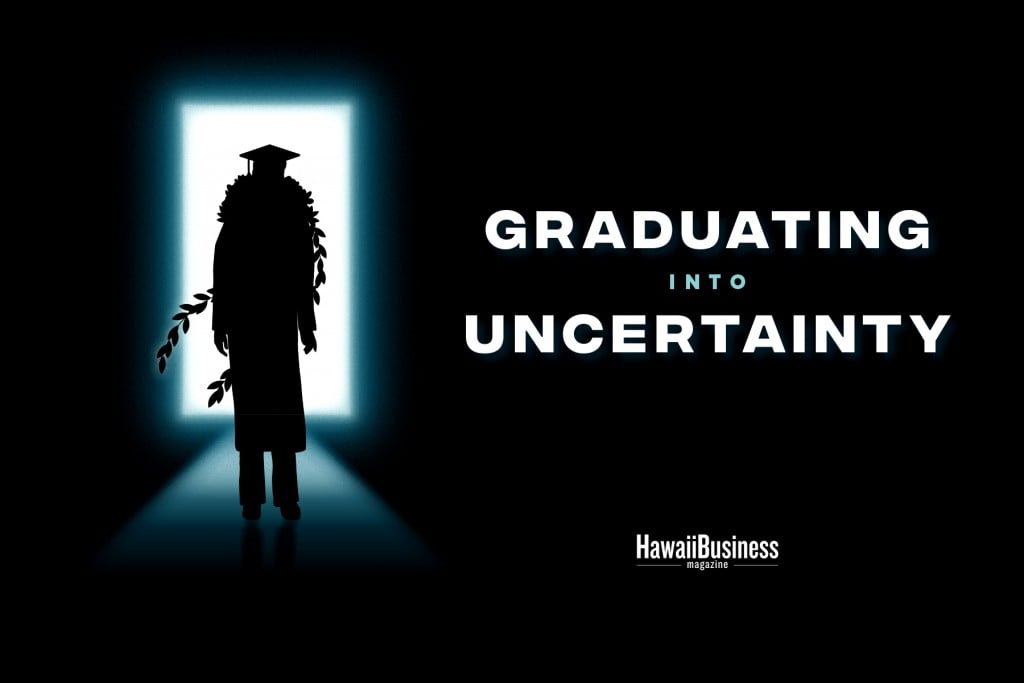 This is Part I in a series of reports about the challenges facing high school and college seniors in Hawai'i
High school seniors are facing the harsh reality that many of their college plans, jobs, trips abroad and other important parts of their lives are being changed or canceled. They feel they have lost control and feel less prepared for life after high school than they were two months ago.
There were three things I wanted to achieve before I graduated from high school: I wanted to walk across the graduation stage and into a neck full of lei, go to prom and, most importantly, organize a massive Earth Day event at the state Capitol. Unfortunately, none of these things will happen before I get my diploma in the mail.
Although it sucks, it's for the greater good and safety of the people in communities across the world. However, cancelled events are just one way the pandemic has affected high school students.
Before the pandemic, Jay Anne Torres, a senior at Waipahu High School, was working two jobs to save for upcoming expenses at a Mainland college. "As the issues with COVID-19 started getting more serious, both jobs decided to temporarily put operations on hold," Torres says.
"I was really excited (about) leaving for college because there were offers that were doable for my family and I," Torres says. However, the loss of both jobs has made it increasingly difficult for her to commit to a college.
"Many of the schools I applied to, especially the ones here, haven't changed their enrollment deadlines. … With the situation we're in, we can't really plan for college like we'd hope to. And with the deadlines not being pushed, it really makes it hard to think each college offer through."
Anna Strain, who will begin her senior year at Kahuku High School this summer, had worked as a babysitter, but because of the pandemic, she is also out of a job. "We're tight on money, so that adds on extra stress with not having a job. And especially with my career choice (being) a lawyer, which is a heck of a ton of school, that makes me question if I'm going to be able to afford (college)."
Strain had hoped to reduce her college costs by taking online courses in the fall at Brigham Young University-Hawaii, where her parents work. "But because my church shut down all their services, I can't get my bishop's recommendation to take classes at BYU. I'd have to do online classes at another university, which is going to be harder for me because that will be more expensive."
Strain is a member of The Church of Jesus Christ of Latter-day Saints and had hoped to go on a mission trip right out of high school. "(The church) pays for our flight out, they pay for where we stay. But we pay for food, and we chip in a little bit at the start," she says. "That's something that has me really worried, because if I want to afford college and a mission … it's looking like it's one or the other."
As for me, I'll be attending American University in the fall. I connected with another incoming AU freshman, Gabrielle Levy of Virginia, who told me about another group of high school students especially hurt by the COVID-19 crisis. She works with several students who have autism spectrum disorder.
"A lot of our students need a lot of repetition to help them continue to grow," she says. "Missing one week of school is hard enough, so seeing them missing months at a time is really dragging everyone backward."
Levy says COVID-19 has made it harder for students with ASD to meet their requirements for graduation and to move on to the next grade. "Many students who are in special-needs classes have teachers who have resources, backgrounds in ADA, (and the students) see different therapists throughout the day," she says.
"It's kind of impossible to ask a parent to be all those things. So when students are on their own, it's not going to be the same as with all of the training and all of the support that those teachers have."
COVID-19 is hurting communities around the world. So it's increasingly important to look at local communities and to understand their struggles with empathy and compassion. Students' difficulties are much bigger than canceled proms and graduations, and they can often be overlooked.
So it is important to highlight their stories. And it's comforting, to an extent, to know that my struggle is not one that is special or unique. I'm OK with having events canceled, because I know my struggle is not the worst it could be. I believe that by accepting our situation for what it is, and sharing the many uplifting stories of this pandemic – stories that need to be heard – we can slowly get through this together.
---
Read other reports in this series written by college and high school students called "Graduating Into Uncertainty."