College Seniors' Last Year Cut Short by COVID-19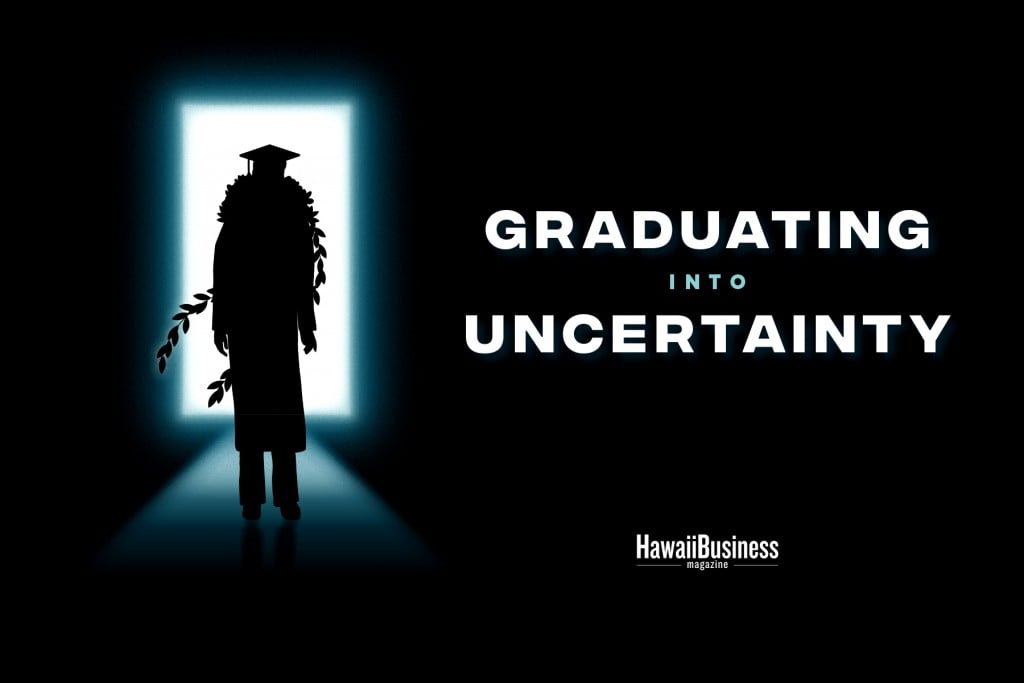 Kaleiu'i Hosaka is only a few days away from graduating from Chaminade University with a bachelor's degree in nursing.
She was supposed to do her clinical immersion in person at Saint Francis Hospice this semester, which is valuable hands-on experience for someone studying to be a nurse. Instead Hosaka and her nursing classmates are finishing their clinicals and classes virtually, including 270 immersion hours in online simulations.
She had been offered a nursing job at St. Joseph Medical Center in Tacoma, Washington. Working so close to the COVID-19 hot spot of Seattle would be daunting, but she says she's ready.
"I want to help. It makes me that much more excited and willing to help people," says the Kaua'i native and Kamehameha Schools Kapālama graduate. However, she adds, "It makes me nervous to get out into the field after this because I'm missing out on clinical experience."
Now the job offer from St. Joseph is up in the air. Before she could start working there, Hosaka would have to first pass her board certification exam, but that's been postponed.
Many other college seniors are going through similar uncertainty. Sharlene Insong, an 'Ewa Beach resident and a women's studies and political science major at UH Mānoa, had many plans for after graduation, but is now unsure due to COVID-19.
"I was debating for a long time to work at the place that I interned at or going to law school, and I decided to work at the place I was interning at."
Insong volunteered at Legal Aid Society of Hawaii for six months before joining the Americorps program at Legal Aid, where she is currently employed. She is now unsure of her plans to stay there after graduation.
"That's what I hoped to do, but I didn't know if it was a for sure thing," said Insong. "I'm unsure of what the job market will be like after all of this."
Prior to the COVID-19 crisis, Insong considered many options for after graduation, including going to UH's law school. But the COVID-19 shutdown complicated law school admissions and she dropped that idea.
She is also "super sad" about not having a traditional college graduation. "I even considered doing another major because I wanted to have a graduation ceremony. I was hoping they would postpone the ceremony to the end of July when everything dies down, but I don't think that's going to happen."
One challenge faced by local students attending Mainland schools is the time difference.
Brenda Huyhn, a senior at Creighton University in Omaha, Nebraska, but now home in Kapahulu on O'ahu, used to wake up at 6 a.m. every day to prepare for her physiology class at 7 a.m.
"The time difference really takes away from the learning experience, and now I have to readjust from a classroom setting to achieving virtually as soon as I roll out of bed."
Her professors call Huyhn and her Hawai'i classmates their "Hawaiʻi friends." Huyhn's physiology professor ended up changing the class time to 10:30 a.m. Hawai'i time, to accommodate her local student.
"They have been very understanding since I'm the only Hawaiʻi kid in my class. Essentially changing the entire class time for me," Hyunh says.
But she wishes she was still back in Omaha finishing her time in university. "You spend 3.5 years trying to build relationships with the peers in your class and this thing comes and takes away the opportunity to walk and leave one last mark on your university."
Hosaka hopes for at least one positive outcome from the COVID crisis: that people emerge with more appreciation for everyone's health care needs.
"I hope better policies will come out of this where disaster relief funds can hopefully aid those who lose their jobs and now don't have health insurance – people who might want to get tested or get medical treatment but they can't because they're not going to be able to afford it."
---
Read other reports in this series written by college and high school students called "Graduating Into Uncertainty."