Student Entrepreneurs Compete In State Qualifiers: Kolohe Ocean Gems Owner Advances to Nationals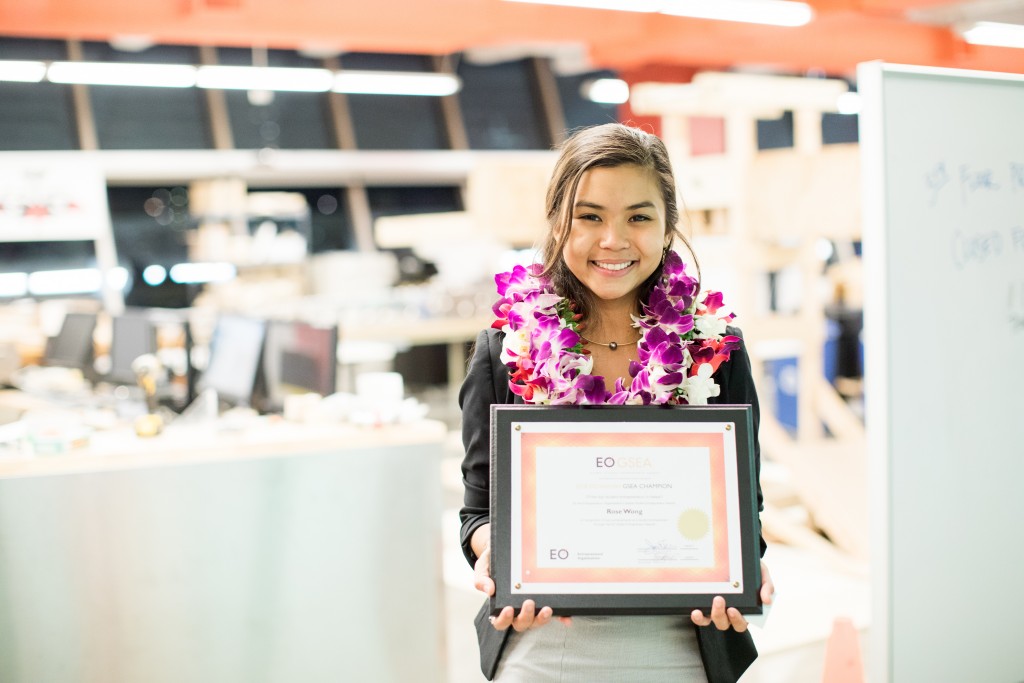 Rose Wong started her jewelry business while a junior at Kaiser High and now that she's in college, she's launching a line of fine jewelry that she hopes will become "the next Cartier."
Wong won the Global Student Entrepreneurs Awards state qualifier last night advancing to the national competition in Dallas, Texas next month.
"I think the most motivating thing is being able to provide for myself through my business. I also like to share those resources that make me successful with other entrepreneurs. I think it's great to help everyone out" said Wong.
Competition judge and keynote speaker Bernard Uy of Wall to Wall Studios said, "what really impressed me about Rose was she seems like she was born to be an entrepreneur, it's in her blood. She's very hands on, very driven, but she's also seemingly willing to learn from others and those traits will carry her very far"
Wong is a triple major in entrepreneurship, marketing and finance, at UH Manoa's Shidler College of Business. She also serves as president of the Hawaii Student Entrepreneurs organization. With help from her twelve siblings, Wong manufactures all of her product. Last night she presented plans for Rose Gold, a new line focused on fine jewelry and higher end clientele. "Now that I've seen what it's like working for myself, that's what I want to stick with and I hope Rose Gold will be the next Cartier."
Entrepreneurs' Organization Hawaii held the state Global Student Entrepreneur Awards last night at Iolani School's Sullivan Center. GSEA is a competition for students who own and operate a business while attending college. It is organized by Entrepreneurs' Organization and advances standout student entreprenuers to a global final competition. Participants vie against peers presenting their background and business to judges who weigh in on the student's entrepreneurial acumen and potential of the business.
This year's Hawaii GSEA saw four competitors; Nneka Brown-Massey from Wayland Baptist University, Kalin Uluave from BYU Hawaii (last year's winner), Elvin Jerome Laceda from BYU Hawaii, and Rose Wong from UH Manoa.
"GSEA is a great proving ground for young talent" said Sean Tadaki, EO Hawaii 2018-2019 president elect. "To be a member in EO you have to have a certain level of business, be hitting certain milestones. We reach out into the community and help bring people up to that greater level of small business, to help cultivate [small business success]."
EO is an international nonprofit which focuses on engaging entrepreneurs to learn and grow from its global network of members leading to greater business success. The Hawaii chapter of EO was formed in 1999 and currently has 50 active members.