Honolulu Rail Columns Tell Stories
Engraved columns depict legends and unique elements of each station area.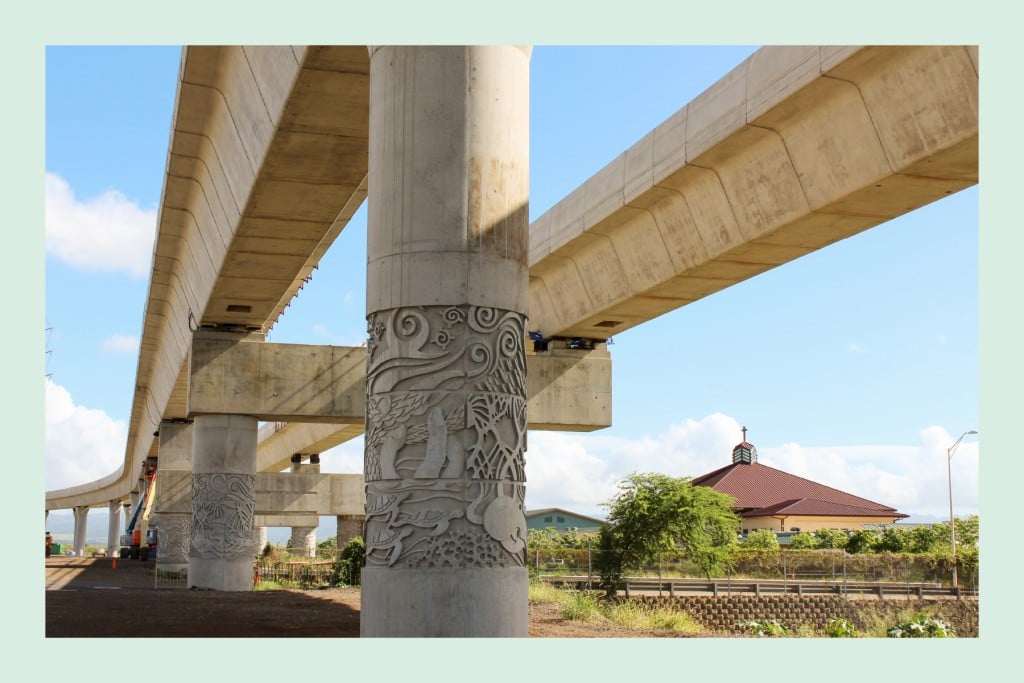 What the Engravings Show
Some of the columns under the rail's 21 stations do more than just provide support – they tell stories.
Daniel Kanekuni, executive VP at WCIT Architecture, designed the images that appear on the embossed columns. Each station's 12-panel embossing is based on storylines, legends or other elements unique to the particular area. He says the research behind the designs was done by WCIT and DTL, a Hawai'i company that creatively interprets culture through planning and design.
The engravings appear in three rows: The top reflects elements of the sky and heavens, the middle reflects life of plants and animals, and the bottom reflects elements of the earth and sea.
Some panels under the UH West O'ahu station depict the rising sun; pueo, an 'aumakua found in the Hono'uli'uli preserve; and the rich fishing grounds of Hono'uli'uli.
---
Read More
That was a lot, right? We just told you why the rail's price tag has continued to increase, what the largest contracts are and whether Honolulu is the only rail project with such a large cost overrun. We also documented the project's major milestones and some of the past attempts to build a rail on O'ahu. Click the images below to explore the series, or click here to go back to the beginning.
Back to the Beginning: We sorted through more than a decade of cost overruns, audits and reports to explain how the price soared and why completion fell behind schedule. Click here to read more >>
---
We looked through the project's publicly available documents to identify the biggest contracts and how much they cost. Click here to read more >>
---
It's common for rail projects to have cost overruns, but few are as large as Honolulu's. Click here to read more >>
---
We tracked some of the project's major milestones, including cost increases, funding deficits, lawsuits and voter input. Click here to read more >>
---
Go Back: Honolulu has talked about building a rail system since 1967. Click here to read more >>
---
Interested in how the writer put this story together? Read "Inside My Reporting on Honolulu's Rail Project" to learn about her process.