Hawaii Business CEO of the Year 2013: Stanley Kuriyama of Alexander & Baldwin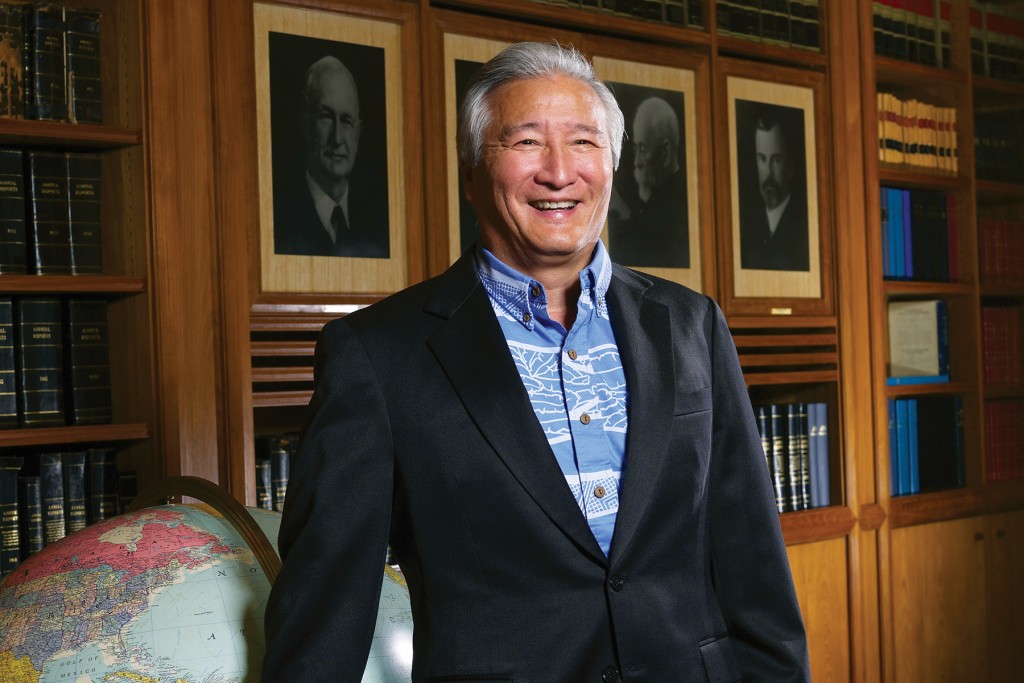 Stanley Kuriyama did something all too rare for a CEO: He put his company's success ahead of his personal interests.
A lot of people think Stanley Kuriyama is a local hero. As chairman and CEO of Alexander & Baldwin, he and his team are bringing the far-flung assets of the $1.6 billion company back to reinvest in Hawaii. "The objective is to bring substantially all of it home," says Kuriyama of the company's mainland investments in eight states. "We want to position A&B as the best vehicle for people to invest in Hawaii's future."
A&B's new investments range all over Oahu, from the Waianae coast and Pearl City to Kakaako, Kahala and Kailua, and to the West Maui resort of Napili. There's also A&B's purchase of construction company Grace Pacific and Kuriyama promises there will be more property acquisitions in the future.
Kuriyama's selfless and deft handling of the split with Matson in June 2012, plus his guidance and repositioning of A&B since then are the reasons Hawaii Business named him its CEO of the Year.
As this issue went to press, A&B was finalizing its latest blockbuster purchase: commercial properties from Kaneohe Ranch Co. and the Harold K.L. Castle Foundation for $373 million. The sale covers more than 600 acres and includes four Kailua shopping centers that are anchored by grocery or drug stores; 10 retail strip centers and eight light-industrial properties in Kailua; 22 properties with commercial improvements; plus agriculture and preservation-zoned Kailua land. The sale is expected to close in late December.
Financial analyst Cris Borden, president of Kobo Wealth Conservancy, applauds the Kailua sale to a local company with a deep understanding of local values. "I think they would be great stewards," he says. "They do good things with their properties."
Hawaiian Telcom President and CEO Eric Yeaman calls the latest deal an important step for A&B. "This allows them to diversify their investment portfolio and keeps it (Kailua) in local hands and the hands of a proven local real estate developer. If it was sold to some mainland company, it would be a tough situation for the community to accept."
(Yeaman sits on the boards of both A&B and the Castle Foundation, so he excused himself from board discussions of the Kailua purchase.)
Yeaman says A&B is already a hero in Kahala for rescuing the neighborhood's appearance and property values from the eccentric ownership of Japanese billionaire Gensiro Kawamoto. The Japanese tycoon, who was arrested in Tokyo in March for tax evasion, bought a reported 160 Hawaii homes starting in the late 1980s, and then let many slide into decay and even ruin.
In September, A&B finalized the purchase of 27 of Kawamoto's Kahala properties, plus three on the Windward side and 146 acres zoned for agriculture in Kihei, Maui.
Included in the deal were statues, furniture, art, an SUV and two vintage Jaguars discovered in a garage. The deal cost A&B $98 million – a fraction of what Kawamoto paid.
After the separation with Matson, Kuriyama says, the company started shifting its investments from a diversified national portfolio to properties mostly in Hawaii, to take advantage of the company's local expertise.
"What changed was thinking about how we're going to identify ourselves on Wall Street as a much smaller company. That's where the Hawaii focus came back into play. What Wall Street would appreciate most and where we can create the most value is in Hawaii, hence our strategy of moving our investments in mainland commercial properties to investments in Hawaii commercial properties."
Currently, the ratio of mainland to Hawaii properties is about 60/40, but Kuriyama says that will gradually change. Though there's no timetable for finishing A&B's redeployment, the company is constantly hunting for attractive local properties, chiefly on Oahu because of the population concentration and because of the company's substantial deployment already on Neighbor Islands.
"Because Hawaii is a much smaller market, with fewer commercial properties available compared to the mainland, you can't just sell on the mainland and hope to find something in Hawaii. What you have to do is find the Hawaii property first, secure it, and then find the mainland property to sell."
"A&B is reverting to Hawaii … and reinvesting in Hawaii," says A&B director Walter Dods, with admiration for both the plan and the man leading it.
At A&B, Kuriyama's leadership style hovers between very calm and utter calm. He joined the company in 1992 as VP of A&B-Hawaii – the division for local property management and development, as well as food products – and steadily rose through the leadership ranks, with some of his titles overlapping each other:
1999: Named a VP of A&B and executive VP of A&B-Hawaii;
2000: vice chairman and CEO of A&B Properties;
2005: president and CEO of A&B Land Group;
October 2008: president of A&B;
August 2009: chairman of Matson;
January 2010: CEO of A&B; and
June 2012: chairman of A&B.
Kuriyama has always been laid back, says attorney Nelson Chun, in-house A&B counsel for the past decade and a friend for 35 years. The two men met while law clerks right after graduating from law school: Kuriyama from Harvard and Chun from Northwestern, both class of 1977. (Kuriyama got his undergraduate degree at UH-Manoa.)
They shared office space clerking for the late federal Judge Dick Yin Wong and became good friends, with Kuriyama serving as best man at Chun's wedding during the year they clerked together. They both joined the law firm of Cades Schutte Fleming & Wright and both became partners, with Kuriyama specializing in real estate and real estate financing, and Chun in corporate law.
"He's low key, very thoughtful and very smart," says Chun. "He thinks things through, but is decisive. And he's got the kind of personality people feel comfortable with."
Since taking the reins at A&B it's Kuriyama who has orchestrated the flurry of landmark deals, including the separation from Matson and the acquisition this year of Grace Pacific LLC, a construction company that specializes in the building and repaving of Hawaii's roads.
Grace Pacific provides A&B with some of the construction muscle needed for the refurbishment of the Kahala properties and two big developments A&B has planned for Kakaako: a partnership with Kamehameha Schools to build a residential community at 600 Ala Moana, and the 341-unit Waihonua tower near Ala Moana Center.
The Kawamoto acquisition had been in the works for years. In fact, A&B made its first offer four years ago, says Kuriyama. "This is not an overnight deal," he adds, relishing the understatement.
With an agent in Japan handling A&B's interests – Kuriyama never met Kawamoto in person – the deal was completed in September and already some of the properties are in the process of being sold.
As for the cars and household items included in the deal, "We're assembling everything in one of the larger homes," he says. "We'll sell it all off at an estate auction. The sad thing is he (Kawamoto) had either torn down many of the homes or left them in a very dilapidated condition. We're probably going to have to tear down a few homes that can't be salvaged and then rehab homes that can be.
"It was a very nice side consequence to (save a neighborhood,) but because we saw property values were being suppressed there, it created an opportunity. Because the market has been suppressed for several years now, I don't think anyone knows what the true market value is. Rather than trying to guess at what that number should be, we'll try and let the market inform us."
Kuriyama's close associates call him selfless and unassuming. Indeed, according to an informed source, in at least three of the last seven years he has given back to the company pay raises worth hundreds of thousands of dollars. But Kuriyama won't tell you about that himself.
"That's just his style," says the source, who asks not to be identified. "It's a mark of his character."
The most recent A&B proxy statement reports Kuriyama's total annual salary for 2012 at $581,601, with another list of options he can exercise. That brings his total calculated compensation to $2.3 million. (That includes stock awards for 2012 pegged at $629,966; his option awards pegged at $270,004; his nonequity incentive plan compensation at $248,000; and his nonqualified deferred compensation earnings at $563,889.) The documents reveal Kuriyama's give-back to the company, showing that his salary dropped from its 2010 level of $615,000 with stock options that gave him a total of $3.67 million.
A&B spokeswoman Suzy Hollinger notes that it was Kuriyama who requested that reduction "considering the (smaller) size of the company following separation from Matson."
While Kuriyama acknowledges that his wife is a Family Court judge – Christine Kuriyama – and his son is in graduate school at the University of Hawaii, he deflects most questions about his personal life. And, though he is firmly in the driver's seat at A&B, Kuriyama prefers to give his leadership team most of the credit for successes. That's a key part of Kuriyama's management style, says Yeaman.
"As he will tell you, his team played a significant role in all of these transactions," Yeaman says. "(But) as the CEO, you're the visionary and the one leading the team."
A&B's decision to pivot back to Hawaii came after the decision to spin off Matson. "In looking at the separation, we had to think about what each company was going to look like," explains Kuriyama.
"On the real estate side, we knew that as a much smaller company, engaged in a cyclical business on the investment side, we had to answer two questions as we thought about who we would be and look like as a stand-alone company: One, What are our competitive strengths and advantages? And, two, Why would an investor buy stock in a real estate company in the middle of the Pacific Ocean?
"In both cases the answer led back to Hawaii. Our strengths and advantages are clearly Hawaii-based. It's our home. It's where we have our relationships, a deep understanding of the market and the economy, and the brand we've built up over many years. So that question was an easy one to answer: Hawaii is where our strengths lie.
"But in asking the second question – Why would an investor buy stock in a company in the middle of the Pacific? – the answer is usually because it's something about Hawaii they like. They see something in Hawaii's future that makes them interested in investing in Hawaii, whether it's a turnaround of the economy, the intrinsic value of Hawaii or something else. That's why all roads led back to Hawaii. So one of the key things is to position our company as a great vehicle for people who want to invest in Hawaii."
Some might think the decision to separate Matson from A&B would go against Kuriyama's personal goals – after all, he would be left as CEO of a much smaller company – but he says that wasn't a factor.
"There are a number of important qualities that go into the making of a good CEO, and those qualities differ depending on the company's business needs and objectives at the time," Kuriyama explains. "But if I had to choose just a single quality, I think it would be the ability to place the company's interests above your own.
"A CEO has to do what's best for the company and its various constituencies, and this sometimes may not be consistent with what's in the best personal interests of the CEO. A good example of that would be our decision in 2012 to separate A&B's shipping business from its real estate business. That was the best decision for the company, but it personally meant that I was now going to be the CEO of a much smaller company."
Dods says Kuriyama's decision took a lot of character. "Very few CEOs would give up the position and the power – cutting his position in half to create another giant for Hawaii. That takes a special kind of person," he says.
Kuriyama says the separation established clearer identities for both companies, and thus a better chance of attracting investors.
"Separation enabled investors and Wall Street to have a better understanding of each business. Very few investors or analysts are comfortable following both a transportation company and a real estate company."
Dods, who continued as a director of both companies after the split, says the separation has paid off.
"When the deal was split, A&B's (combined) market cap was roughly between $1.6 and $1.7 billion," Dods says. "One year later, as a result of the split, if you were to combine the two market caps, it would be over $3 billion. The investment community loved the transparency (and) he has enriched his shareholders by over $1 billion."
Right after the company was split on June 29, 2012, the price of A&B's stock was $25.17 a share. On Nov. 19, 2013, when this story was being finalized, the price per share was $37.31 – a 48.2 percent increase during a period in which the S&P 500 rose 38.6 percent.
Investment analyst Borden says investors are impressed with the decisions made by A&B's management team and by Kuriyama at the top.
Dods, who has known Kuriyama for more than two decades, calls him "a model for the community."
"From the University of Hawaii to Harvard Law School is not a bad way to go. He's an exceptional CEO, but he never takes credit. He's just very low key," Dods says.
Even before he joined A&B, Kuriyama caught the attention of Meredith Ching, who was then VP for government relations at A&B. She remembers working with him as an outside attorney as he came to the A&B board with real estate proposals. "I remember him having a great sense of humor," she says.
Now, as part of Kuriyama's leadership team, Ching says she sees the depth of his integrity and the high quality of his character.
"He just has this ability to get the best performance out of everybody on his team," Ching says. "He has the knowledge of what we all do and everyone's roles because he's not afraid to do it himself. Nothing is too big or too small. He doesn't see strata. It's just everybody working to get a common result.
"For me, it's a person's core values that lead to respect for them," she says. "With Stan, it's his personal qualities that you admire and respect. He's hard working and takes complete responsibility if something goes wrong. And he shares attribution when something goes right."
Even one of the leaders of ILWU Local 142, which is in a constant back-and-forth tug of war as it represents A&B workers, has many positive things to say about the man at the top. Guy Fujimura, secretary-treasurer for Local 142's Hawaii Division, calls Kuriyama's leadership style "very effective, less formal and more collaborative.
"He respects the people he leads and, I believe, inspires trust," Fujimura says in an email.
He calls Kuriyama "the best kind of business leader for Hawaii. While very aware of his corporate responsibilities, having been born and raised in Hawaii and well steeped in Island tradition and values, he has an awareness that with great power comes great responsibility. He has continued A&B's tradition of giving back to the community, not only a share of the company's profits, but also their participation.
"And while there are those who disagree, I also believe (that) in making their corporate decisions, there is great awareness and concern of the effect of those decisions on their employees, the employee families and the communities in which they do business."
Kuriyama's Vision
For A&B's repositioning in Hawaii to work, Kuriyama says, the company will have to succeed in key areas over the next five to 10 years. Those areas include:
Selling mainland investments to buy Hawaii assets. Currently, the company owns about 6.3 million square feet of commercial properties in the western U.S. out of a total portfolio of about 8 million square feet.
Making superior investments in Hawaii real estate.
Building a pipeline of development projects that can be launched when warranted by market conditions.
Building value in the properties A&B already owns in Hawaii. The company owns about 88,000 acres of land, most of it in Hawaii, including the land containing its commercial properties.
Looking for ways to grow and leverage complementary businesses, such as Grace Pacific.
---
A&B's Nine Big Deals in Less Than Two Years
Separating A&B and Matson in June 2012.
Acquiring Grace Pacific for $235 million in cash and shares, and assuming $42 million of the company's projected net debt.
Buying 31 properties for about $98 million from Japanese billionaire Gensiro Kawamoto.
Purchasing 600 acres for approximately $373 million, including half of downtown Kailua, Pali Palms Plaza, Windward City Shopping Center and Kaimuki Shopping Center.
Acquiring Waianae Mall for $29.8 million,
Buying Pearl Highlands Center in Central Oahu for $141.5 million.
Buying Napili Plaza in West Maui for $19 million.
Creating a partnership with Kamehameha Schools to build a residential community at 600 Ala Moana in Kakaako called "The Collection," which will include a 43-story tower, a four-story building, townhomes, stores and restaurants. A&B says the project is designed for the local market with prices ranging from $300,000 for one-bedroom units to the mid-$700,000s for three-bedroom units.
Construction of the $200 million, 341-unit Waihonua condominium tower near Ala Moana Center. Prices ranged from $375,000 to $2 million, with the average price at around $725,000. All units were sold by August of 2013.