Hawaii Loves Horses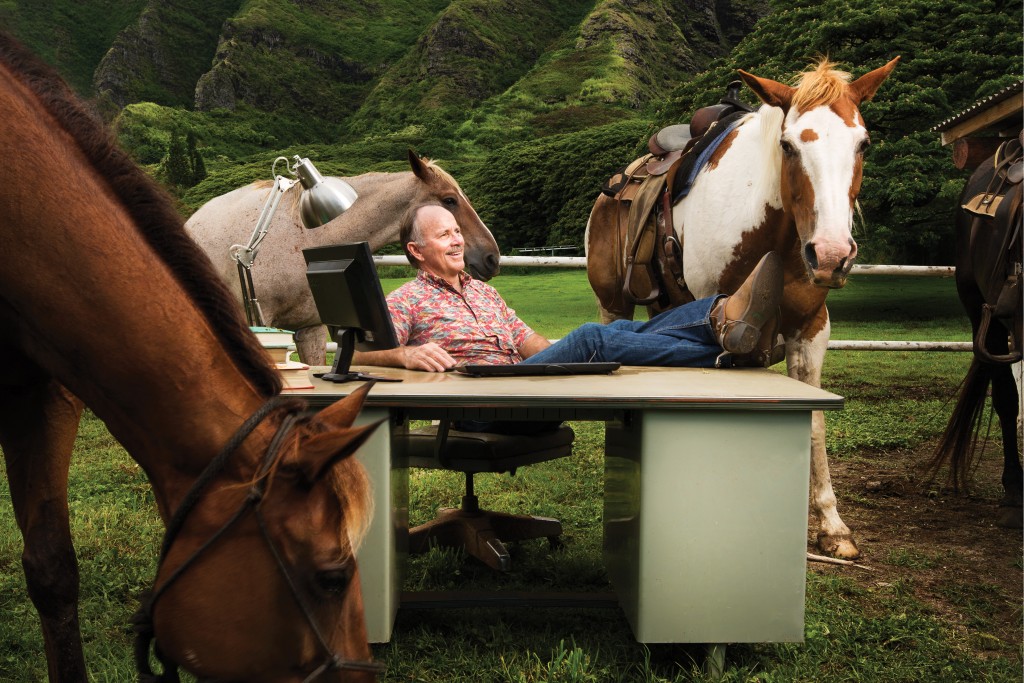 People who work with horses in Hawaii agree on two things: It's a tough way to make a living and a great way to make a living. Tough, because the costs of importing and feeding horses are high and the financial returns are usually low, but great because you spend your day with animals you love.
The most recent USDA Census reported Hawaii had 5,114 horses and ponies in 2012, down from 6,547 in 2007, but well above every other equine census since at least 1992. Horses were originally brought to the Islands to help Hawaiians herd cattle. While they still do that, many horses serve today by giving trail rides and riding lessons, and performing in rodeos and polo matches.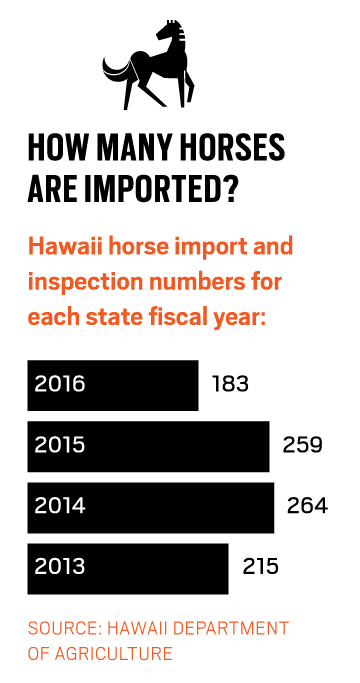 Manuel Himenes is one of Oahu's four equine veterinarians and he also treats horses on Kauai. He says the economic impact of horses is large: Just one can employ as many as half a dozen people. However, the costs can also be huge: While horses can thrive mainly off grass in some areas, their diets still need to be supplemented by hay or grains, which are imported, and Hawaii's humidity can lead to horses getting fungus, which means higher vet bills.
In the past, a dock strike could cut off feed supplies, says Robin Jensen, GM for Haku Baldwin Center, a Maui nonprofit that started by offering therapeutic riding. "So, it's a compromise for people who are boarding or have trail stables who are dependent on feed, instead of using pastures. Or, if we have a tsunami or a hurricane that can shut the docks down, that's a challenge. If you don't have any other feed supply, it's scary."
The big challenge for Kualoa Ranch, in Windward Oahu, is getting good, reliable horses for the 16 trail rides it offers daily, president John Morgan says. Princeville Ranch, on Kauai's North Shore, also has to work hard to keep enough horses to handle as many as 50 trail riders a day, six days a week. Karin Carswell Guest, owner of Princeville Ranch, says riders' safety is the ranch's No. 1 concern, so its employees are particular about the types of horse they buy and their training and disposition. The horses have to be safe to take anyone, from first-timers to experienced riders. The ranch's equine manager, Eileen Donohue, travels to the Mainland at least once a year to bring in new and younger horses to train for the ranch's guests.
Horses are often brought into Hawaii; the state Department of Agriculture says that, since state fiscal year 2013, about 200 horses have been imported each year. At Maluolu Ranch, a boarding, riding lesson and training facility in Waimanalo, horse trainer and manager Angela Woods says about half of the 27 horses housed there came from outside Hawaii. They can be flown or shipped in from the Mainland, which she estimates can cost between $1,500 and $4,000 per horse.
Angela Woods and her mother, Judy Woods, who has been riding since the 1960s, teach riding to about 50 students at Maluolu Ranch. They say demand for their services remains, but Judy Woods cites two signs that Oahu's horse industry is shrinking. Circle C Equestrian Center down the block was recently sold and its land will be used for other purposes, and the future of Koko Crater Stables is up in the air as the City and County of Honolulu might incorporate its land into Koko Crater Botanical Garden.
Angela Woods says, "Every time shipping (costs) go up or the economy is hurting, our horse industry shrinks because the first thing to be cut from people's budgets is typically luxury things and that tends to be horse riding. It's hard for us to recover from that."
Oahu now has aging horse and aging horse-owner populations, because fewer young people are getting into horses, Himenes says. Chris Hause, president of the Hawaii Horse Show Association, says economic downturns in the late 1990s and 2000s reduced Oahu's ridership, which led to fewer horse shows. Judy Woods recalls that, when she was growing up in Hawaii, there would be shows about 22 weeks out of the year. Now, there are about eight weekends of shows, though the Hawaii Horse Show Association plans to increase the number of shows it sponsors next year to try to attract more ridership, according to Hause.
Of course, back when Judy Woods was young, there were more horses in Hawaii: 6,697 were reported by a 1959 Census. The peak was 1920, when Hawaii had 15,947.
Susie Baldwin, who handles sales and marketing for Piiholo Ranch in Makawao on Maui, says it's not easy to make a profit with horseback riding. That's why, in addition to trail rides, the ranch offers a zip line, helicopter tours and cowboy-for-a-day adventure. "We're trying to be creative to get people to have more of an experience when they come up, not just a trail ride."
Owner Peter Baldwin says the ranch also offers riding lessons and will board horses for private owners. Local youngsters come up a couple of times a week to learn roping and barrel racing (a rodeo event in which a horse with rider races to complete patterns around barrels in the best time), but Susie Baldwin says that's not a money maker. "If you're looking to make a profit, you're better off saving the horse's energy for the day for a trail ride versus a lesson."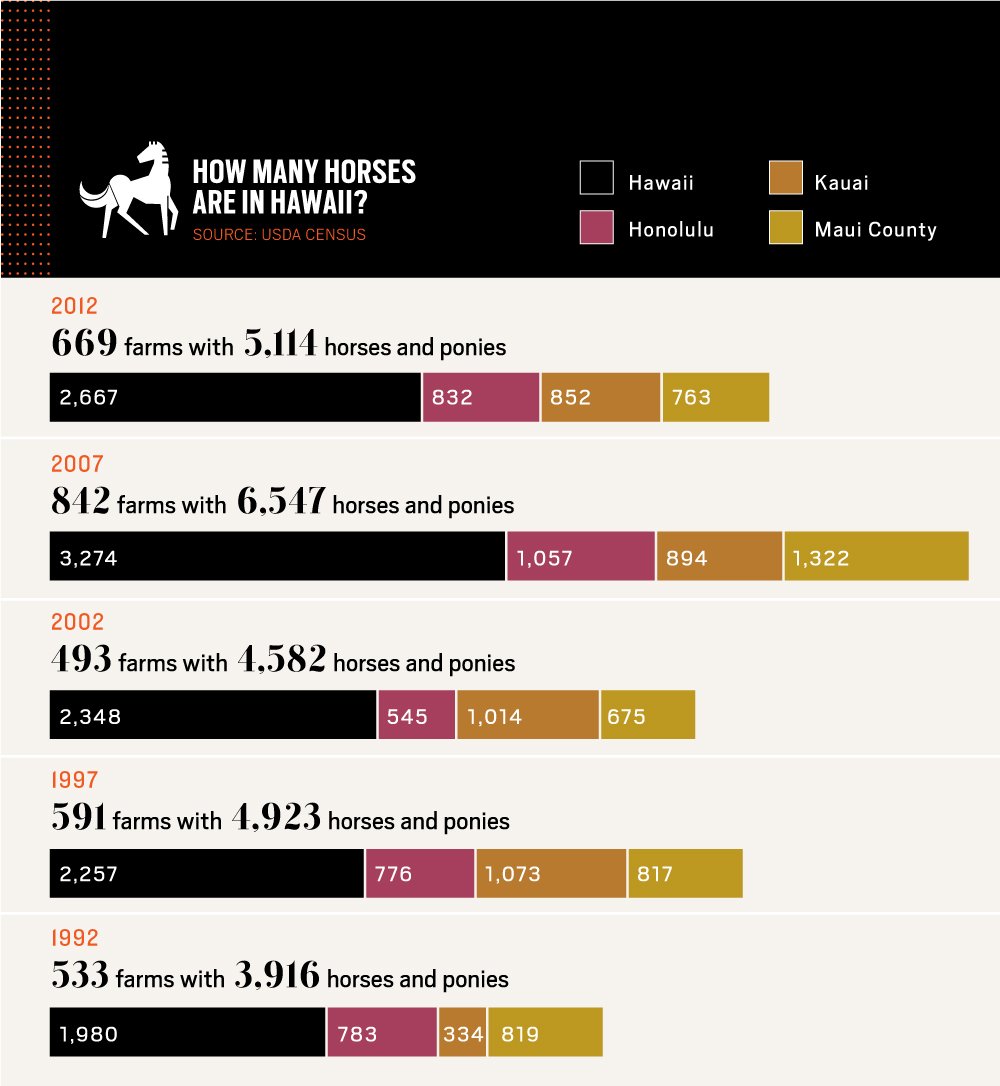 A few miles away is Haku Baldwin Center, a nonprofit that was started by Peter Baldwin's mother, Haku, as a therapeutic riding program and now also offers boarding, training, lessons and education programs. GM Robin Jensen says trail businesses are dependent on tourists: "That's an up and down scale for them. I used to work in the trail business also and you're depending on tourists to pay your workers and buy the feed and everything. So it can be a little difficult."
She has managed the Haku Baldwin Center for 22 years and says the horse industry on Maui is alive and going strong, but, as on Oahu, she now sees fewer children who want to ride and do shows. And, while many people have properties that can house horses, some boarding stables in Upcountry Maui are gone because horse lovers died or moved away, or because the economics of the business did them in.
One person who sees growth is Billy Bergin, who used to serve as Parker Ranch's veterinarian and is now co-authoring a book on the history of horses with his son, Brady. He says the Big Island rodeo industry has grown tremendously over the last 15 to 20 years, adding that Hawaii Island has always taken care of its horse facilities, citing the county's improvements to the Honaunau Rodeo Arena in Kona.
Bergin says horse care and the quality of horses are good in the Hawaiian Islands because the ranches and plantations, which once used horses to plow fields, set high standards for their work horses. But he thinks the riding facilities are struggling. "They're not making money hand over fist. They're happy to be doing what they're doing, but property is expensive, horse feed is expensive, horse care is expensive. And all of that points to a place where we're at a tremendous disadvantage because we have to bring in so much for our horses," he says. "You've got to feed them all twice a day and, if it's a down time when nobody's riding, you're feeding them with really no output."
Kiyo Nakoa, owner of Dahana Ranch in Waimea, agrees that the greatest challenge is "trying to end up with a penny in your pocket at the end of the day. After all of your bills are paid, you are lucky to be able to eat a ribeye. But you have to feel lucky that you've spent your day with your animals and that your animals bring others happiness."