Oceania's Climate Renaissance
Native Hawaiian artist, Solomon Enos creates a dynamic new WaikīkI in the year 2050, a place that has become an amazing model of climate change adaptation.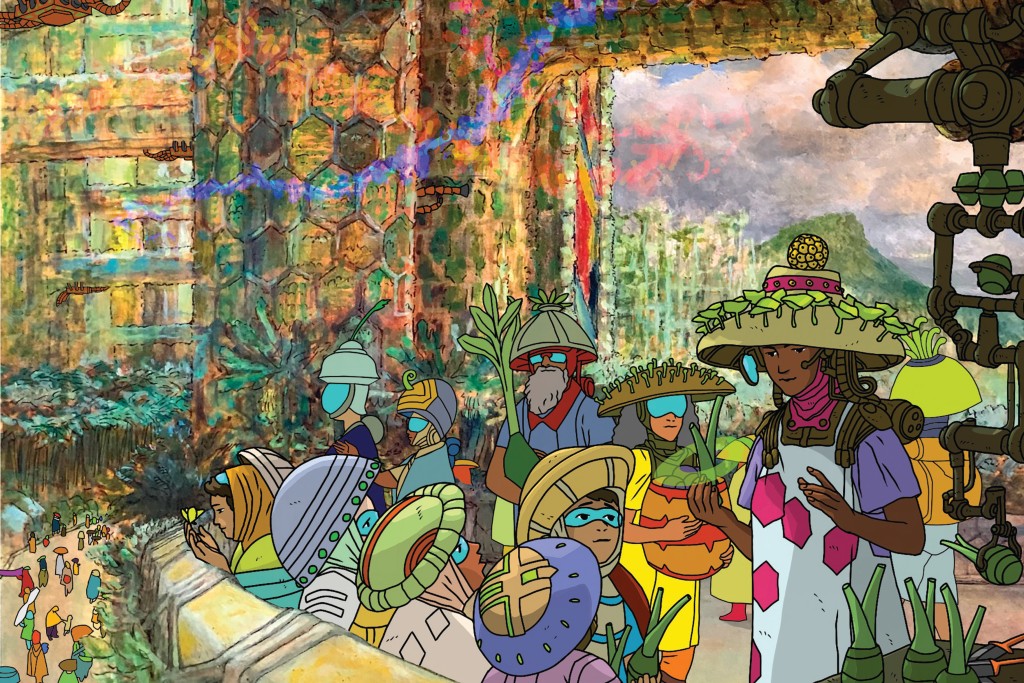 When the sea began to rise, so did our island community, together, in a new era of cooperation.
Twenty years have passed since the Pacific began its slow, sure ascent inland, demanding its preeminence be acknowledged by everybody in its expanse. The greatest minds of Oceania, from Aotearoa to Hawai'i, pooled their political and scientific capital and spearheaded the international effort to stem the tide.
Now, in 2050, after a decade of collective reinvention, we have finally turned a corner on climate. We dream new dreams, and from adaptation blooms solutions in resilience that we gift to our children's future.
Floating promenades bedeck O'ahu's south shore, an ornate shield. As each raised segment of the walkway bobs above the crests and troughs of the king tides, built-in kinetic converters transform wave energy into electricity, powering the pumps that protect coastal infrastructure. We call it The Channel, a place where visitors and residents stroll through artisan maker-markets on sunny afternoons.
After we retired our last fossil-fuel generating plant, Hawai'i began experimenting with new zero-emission solutions. In Waikiki, a new kind of technology is blossoming, one that uses remnants of ancient litter and living flora as building materials in place of mined ores.
In experimental corners of our city, data, water, and energy flow through chloroplast stroma in a vast living network. Root systems move and purify freshwater between buildings, and mycelial threads transmit data faster than fiber optics. One day, the natural chlorophyll of giant leaves will complement solar panels in a single electrical system.
Autonomous, solar-powered gardener-constructor bots superheat plastics reclaimed from ancient ocean debris. They crawl up and extrude plastic lattices directly onto building exteriors, 3-D printing the honeycomb structures that anchor the roots of hanging gardens. Vertical forests rise from the facades of neighboring buildings, cooling non-permeable hardscapes and drinking flood waters.
Bridges 3-D printed between buildings form walk-able common greenspaces high above sea level, adding to the buzz of life in the island city by building up instead of out. On these Highline Constellations, neighbors and visitors meet to peruse locally farmed produce and enjoy public performances.
Now, as before, people come from around the world to tour this awe of nature we call home. Here, in the cradle of the organic tech revolution, practitioners teach groups through immersive experiences. One group of school children visiting from Fiji takes trowels and spades to plant huli on a fourth floor veranda.
A giant technicolor lei swirls above the class and between residences. It is part of the metaverse layer that adorns the town, visible only through augment-ed reality (AR) lenses. Virtual badges like these are earned — and proudly displayed — by neighborhood blocks and hometown businesses for meeting climate and resiliency goals. It's three parts cooperation, one part friendly competition.
Their kumu describes how their plantings will win points for her Kalia neighborhood in this season's Resiliency Games. The students swaddle each kalo shoot in soil and laugh as points ping to life on their AR displays.
---
Solomon Enos
Artist of Oceania's Climate Renaissance
Solomon Robert Nui Enos is a Native Hawaiian artist, illustrator and visionary. He hails from the well-known Enos 'ohana of Makaha Valley on O'ahu and has been making art for over 30 years, exploring a wide variety of media including oil painting, book illustration, murals and game design. A self-described "Possibilist" Solomon's art expresses an informed, aspirational vision of the world at its best via contemporary and traditional art that leans towards Sci-Fi and Fantasy. His work explores themes of collective-consciousness, ancestry and identity, our relationship with the planet, all through the lens of his experience as a person indigenous to Hawai'i.
---
Hawaii Business Magazine, in partnership with Hawaiian Electric, summons the optimistic spirit of practical imagination to think about what Hawai'i would look like in 2050, with special consideration on the challenges of the coming decades in this six-part series titled Hawaiʻi of Tomorrow. Click any title below to explore this series!
Part 1: The Tranquility of Transportation
Join Hawaiian Electric in imagining a future when nights are filled only with the sounds of leaves rustled by tradewinds… read more.
Part 2: Food Powered by ʻĀina
Native Hawaiian self-reliance provides a template for imagining a future of innovative stewardship of our natural resources in part two of Hawaiʻi of Tomorrow, a six-part series presented by Hawaiian Electric… read more.
Part 3: Revitalizing Communities with Streams and Sunlight
"Revitalizing Communities with Streams and Sunlight" and local artist Kate Wadsworth pays homage to the restoration of indigenous systems that have existed for generations in Hawaiʻi… read more.
Part 4: A Hub for Hydrogen Innovation
In this part of Hawaiʻi of Tomorrow, the local artist Lauren Trangmar envisions a future where energy production systems feed back into the ʻāina and power our communities… read more.
Part 5: Oceania's Climate Resistance
Native Hawaiian artist, Solomon Enos creates a dynamic new Waikiki in the year 2050, a place that has become an amazing model of climate change adaptation… read more.