The Tranquility of Transportation
Local artist Kimberlie Clinthorne-Wong, envisions a Hawai'i of 2050 where electric transportation means shorter commute times, more gardens and green spaces, and the sounds of bird-song and laughter instead of the roar of today's traffic.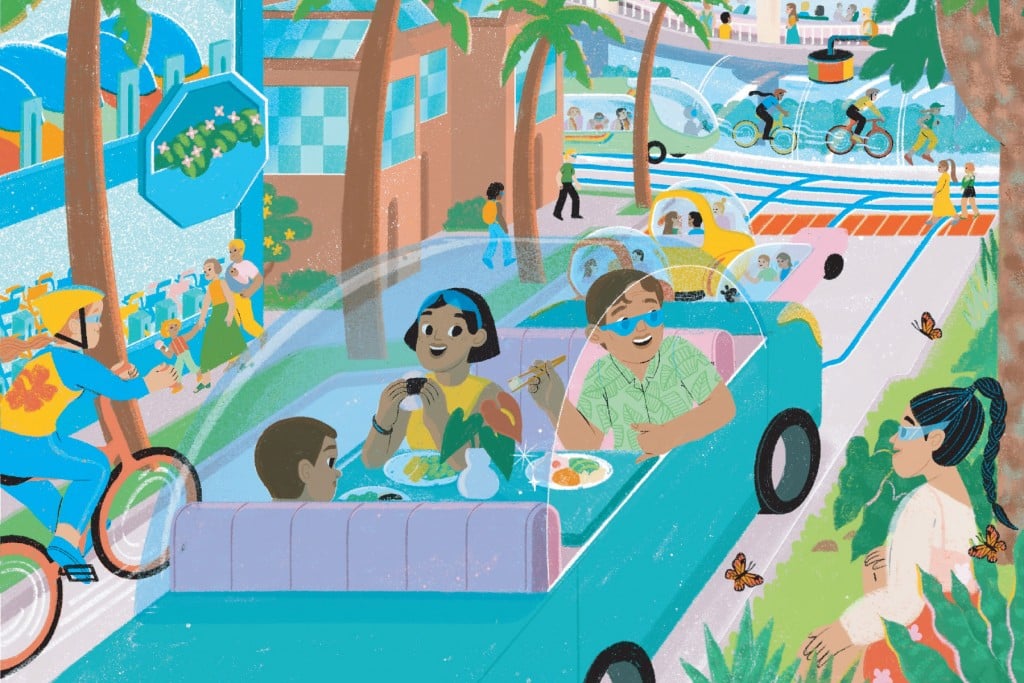 Sleek electric vehicles zoom noiselessly atop Ala Moana Boulevard, barely one meter apart.
Public, app-summoned carpods glide alongside private vehicles and delivery drones. All are piloted autonomously, orchestrated by the DriveGrid to merge, pass, and re-route with optimized synchronicity. Commute times are shorter with each system upgrade, and it's been years since the city's latest traffic fatality.
A thin solar substrate coats each vehicle's tempered glass facade, drinking in sunlight to keep wheels spinning longer. Without bulky engine blocks and steering gears, interiors are roomy and oriented for pau hana conversations and sharing snacks with family on the way home. Smart vehicles valet themselves with inhuman precision into ultra-compact, fast-charging stalls; blocks once used for parking lots have been transformed into neighborhood gardens and agroforests.
"If you ever stand at a corner and listen to what's going on… the sound of transportation can be really loud. It's not natural. Just that sound can be grating to people's psychology. But with clean transportation — whether it's electric vehicles, bicycles, or walking — it's all very quiet. So, instead of having that white noise of buses and cars, hopefully we'll have people laughing, people talking, those types of noises that are more human."

– Aki Marceau, Director of Electrification of Transportation, Hawaiian Electric
By 2050, the melodic trill of 'elepaio birds have replaced the roar of combustion engines in Downtown Honolulu. The rail's Alakea Station has evolved into an urban kīpuka, host to native trees and their natural ecosystems. These days, a rail rider exiting the station can just as easily grab an e-bike from under an 'ulu tree and freewheel to their front yard or hop onto an autonomous electric bus without having to wave a single transit pass.
In the silence of electric streets, most nights are filled only with the sounds of leaves rustled by tradewinds. Even those living near busy roadways sleep soundly and breathe deeply.
---
About the Artist: Kimberlie Clinthorne-Wong
Kimberlie Clinthorne-Wong is an illustrator, designer and ceramicist from Hawai' i. She received a B.F.A. in Drawing from UH Mānoa and a B.F.A. in Illustration from Art Center of Design. Her diverse range of work includes conceptual editorials to whimsically, surreal and playfully imagined worlds for children's illustrations. Select clients include 7-Eleven Hawai'i, Starbucks, The Washington Post and World Vision. She is a co-founder and one of the principal artists of Two Hold Studios, a collaborative ceramic design studio.
kimberlywong.com | @kimiewng | Email
---
Hawaii Business Magazine, in partnership with Hawaiian Electric, summons the optimistic spirit of practical imagination to think about what Hawai'i would look like in 2050, with special consideration on the challenges of the coming decades in this six-part series titled Hawaiʻi of Tomorrow. Click any title below to explore this series!

Part 1: The Tranquility of Transportation
Join Hawaiian Electric in imagining a future when nights are filled only with the sounds of leaves rustled by tradewinds… read more.
Part 2: Food Powered by ʻĀina
Native Hawaiian self-reliance provides a template for imagining a future of innovative stewardship of our natural resources in part two of Hawaiʻi of Tomorrow, a six-part series presented by Hawaiian Electric… read more.