Revitalizing Communities with Streams and Sunlight
At the center of this Hawaiʻi of Tomorrow piece, a continuous stream feeds life everywhere it flows. Local artist Kate Wadsworth illustration pays homage to the restoration of Indigenous systems that have existed for generations in Hawaiʻi.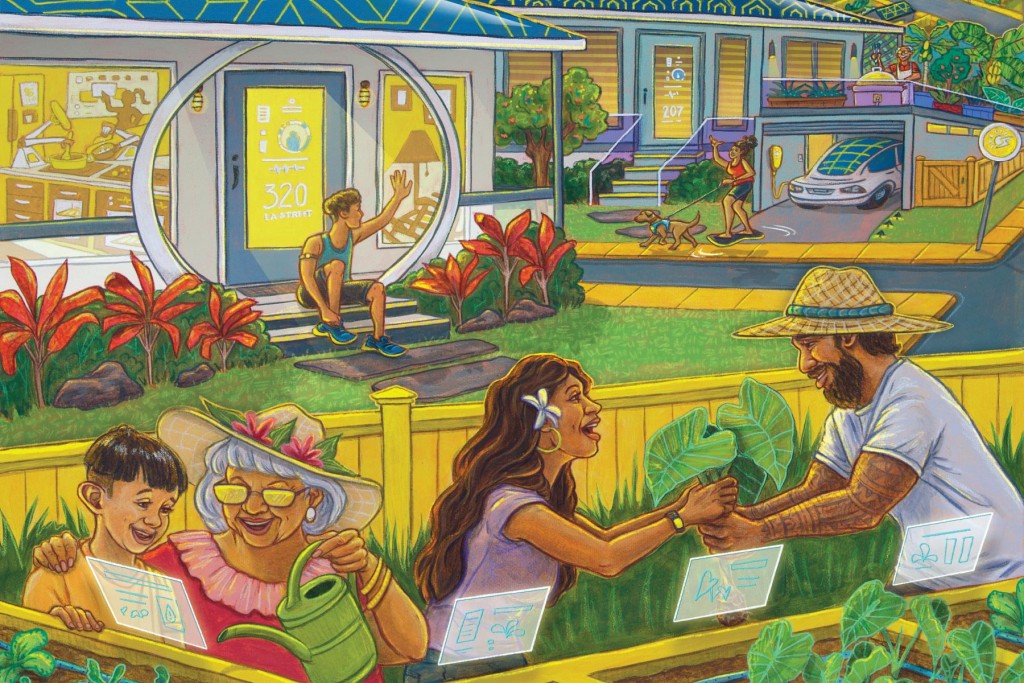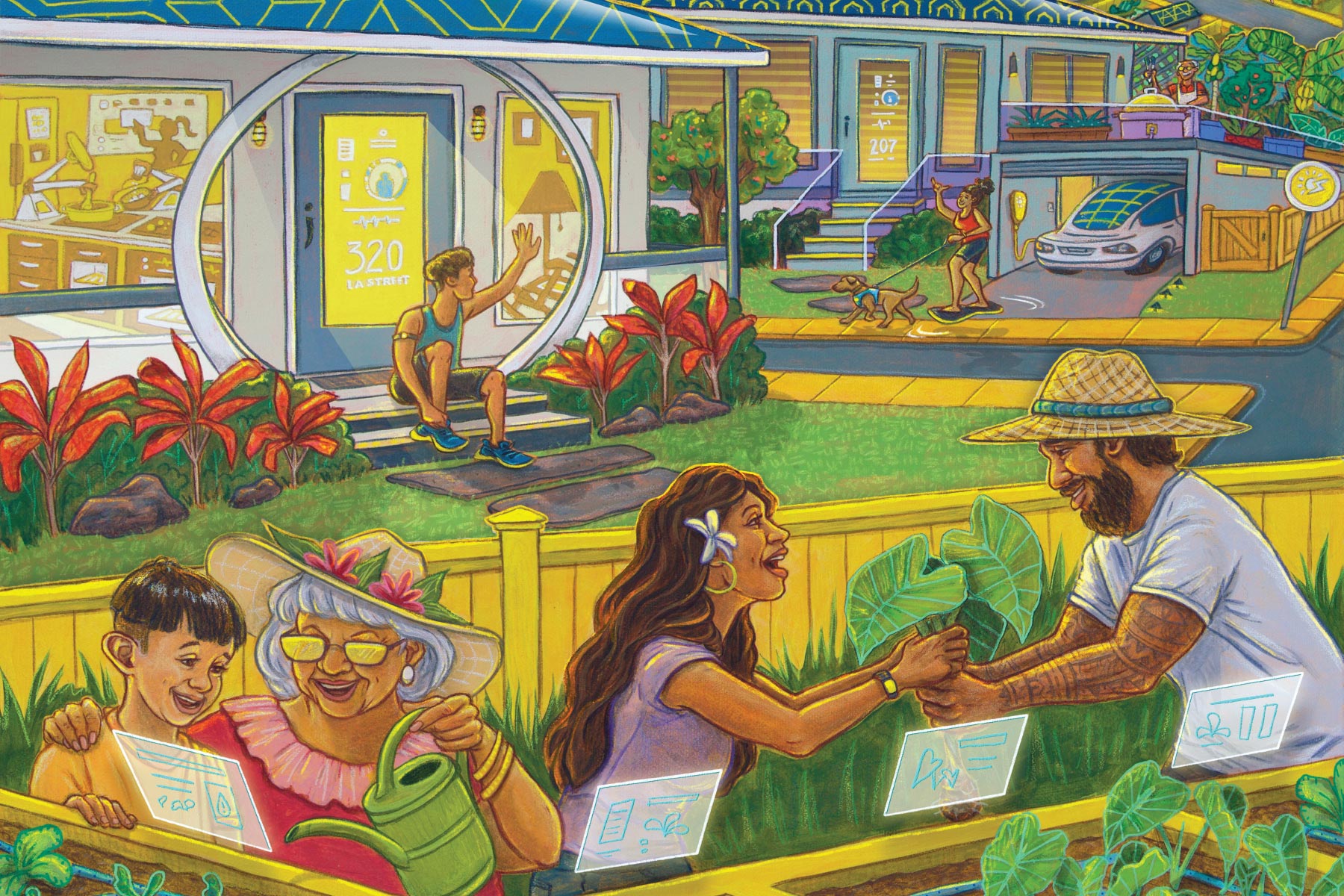 Our town makes and shares much of its own energy. Where we grow our food, where we teach our kids, and where we shop are all close by. And at the center of it all is our stream.
By the year 2050, almost half the island had been re-organized from single-use zoning to mixed-use watershed districts. Keiki who splash in the cool waters on weekends know little of the hard work it took to relink our stream's path from mountain to ocean, nor the scarcity we once felt when seas rose and drinking water dried up. They were born into an age of abundance.
Our stream nourishes us, so we keep areas bordering streamside wetlands sacred, reserved for native parks, museums, schools and art collaboratives. Most of our stream flows natural and uncovered, but solar paneled bridges keep stream segments cool in built areas. Some streamside schools have even begun experimenting with damless micro hydro-turbines.
Neighborhoods and shops are situated a short e-bike ride from the stream. Like the forests do with rainwater at the top of our watershed district, our homes, roads, and walkways absorb the sun's energy from the sky. None is wasted. Oldtimers recognize a bit of each family's personality in the solar shingles they choose for their roof. Each home, each vehicle is a decentralized node in our SmartGrid network of power storage systems. We store our energy as the aquifer beneath us stores and filters rainwater.
The roofs of some homes accommodate solar panels and gardens. Almost all of the multi-story buildings are now kept cool by crowns of fruits and vegetables, leaving the urban zones nearly as green as streamside, despite being furthest from it. Even our windows collect solar heat, the tinted glass adjusting dynamically to keep apartments cooler through the day and also feeding energy to residents' vehicle charging ports.
"Innovation is restoration. And in restoring the indigenous systems that existed, you have access to thousands of years of R&D from people that have proven that regenerative thinking is possible. Framing innovation in this manner allows us to leverage the deeply held traditions still vibrant in the Native Hawaiian community, and invite them to the design process not only as consumers but as equals and co-leaders. We can be an example, a catalyst to empowering other indigenous peoples around the world to be leaders in co-designing their communities' futures." – Kamuela Enos, Director, UH Office of Indigenous Innovation
---
Kate Wadsworth
Artist of Revitalizing Communities with Streams and Sunlight
Kate Wadsworth is an illustrator, graphic designer and muralist from Kailua, Hawai'i. She received her B.F.A. in Communication Arts from Virginia Commonwealth University in Richmond. During her time on the East Coast, she strengthened her interest in   gurative art and urban sketching. Equally inspired by the natural world, she loves to experiment with bold colors, exaggerated shapes and purposeful line work to tell stories with subtle, deliberate symbolism. Recent clients include the Vans Triple Crown of Sur  ng and the Sony Open in Hawaii.
---
Hawaii Business Magazine, in partnership with Hawaiian Electric, summons the optimistic spirit of practical imagination to think about what Hawai'i would look like in 2050, with special consideration on the challenges of the coming decades in this six-part series titled Hawaiʻi of Tomorrow. Click any title below to explore this series!
Part 1: The Tranquility of Transportation
Join Hawaiian Electric in imagining a future when nights are filled only with the sounds of leaves rustled by tradewinds… read more.
Part 2: Food Powered by ʻĀina
Native Hawaiian self-reliance provides a template for imagining a future of innovative stewardship of our natural resources in part two of Hawaiʻi of Tomorrow, a six-part series presented by Hawaiian Electric… read more.
Part 3: Revitalizing Communities with Streams and Sunlight
"Revitalizing Communities with Streams and Sunlight" and local artist Kate Wadsworth pays homage to the restoration of indigenous systems that have existed for generations in Hawaiʻi… read more.
Part 4: A Hub for Hydrogen Innovation
In this part of Hawaiʻi of Tomorrow, the local artist Lauren Trangmar envisions a future where energy production systems feed back into the ʻāina and power our communities… read more.