Rents Soar Across Hawai'i, With No End in Sight
The average rent for a studio apartment on O'ahu last year was up 25% from 2017 and larger rentals were up, too, by at least 17%.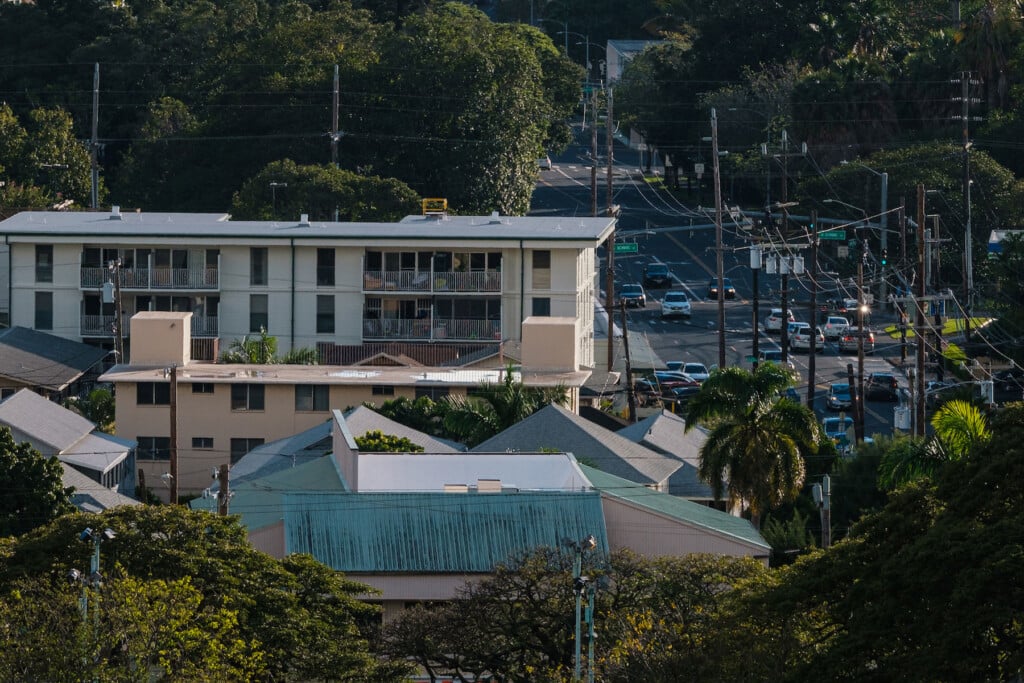 Rents for apartments and condos on Oʻahu jumped during the Covid-19 pandemic, but unlike the recent dip in for-sale home prices, rents have not backed down.
Higher rents mean different things to different people in the housing market, says real estate consultant Ricky Cassiday. For investors seeking cash flow, higher rents could entice them to buy homes, driving up sales. For investors who already own rental units, higher rents may make them less likely to sell, he says.
For renters, higher rents add to their financial burdens but may also spur them to become homeowners. However, there are few homes for sale, the prices have only declined a little and average mortgage rates remain well above 6%, Cassiday says.
Compared to 2017, apartment and condo renters on Oʻahu paid an average of 17% to 25% more in 2022, depending on the size of their rentals, he says, pointing to his analysis of data from the Honolulu Board of Realtors.
During those five years, the average monthly rent for a studio apartment on Oahu had risen 25% – or $329 – to $1,646. That's the highest average increase among rental unit types, according to Cassiday's analysis. Three-bedroom and four-bedroom apartment rentals each saw average increases of 22%, while two-bedroom rents went up by 18%. One-bedroom units saw the smallest average increase at 17%.
From 2021 to 2022 alone, rents on average rose between 8% and 10% for studios, one-bedroom and two-bedroom apartments, while average rents for three- and four-bedroom apartments rose 3% and 4%, respectively.
"To my mind, it's not going to go down," says Cassiday. "It will stay the same or feel the pressure to go up."
Renters on Kauaʻi, Maui and Hawaiʻi Island are having an even tougher time, Cassiday says.
"It's worse on the Neighbor Islands. There's less housing stock and greater demand for labor."
Focus on Lower-Priced Region
He broke out data for West and Central Oʻahu, including everything from ʻAiea and Pearl City to Kapolei and Makakilo, and north to Mililani. The data focuses on less-expensive rentals since it excludes higher-priced markets from Downtown Honolulu to Waikīkī, East Oʻahu and the North Shore.
Higher rents were also the trend for the Central and West Oʻahu market, but larger apartments, townhomes and houses saw the highest increases.
In those areas, the monthly rent for four-bedroom homes shot up an average of 32% from 2017 to 2022, to $3,442. Three-bedroom rents went up an average of 23% to $2,906.
For two-bedroom apartments in West and Central Oʻahu, average rent rose 21% to $2,246, while the average one-bedroom rent rose 16% to $1,751. Average rent for studios in those areas was $1,443 last year, a 17% increase from 2017.
The number of signed leases last year across O'ahu was also significantly higher than in 2017 for all bedroom counts, with studio and one-bedroom units leading the way. Cassiday says that could mean people were moving from their extended family homes or other group settings for safety reasons during the pandemic. It could also reflect migration from the mainland and the effects of the money made available to renters from state and federal Covid relief programs.
Here are the average islandwide rents on Oʻahu in 2022 and the increase from 2017:
Studios: $1,646 in 2022, up 25%.
One-bedroom: $1,991, up 17%.
Two-bedroom: $2,650, up 18%.
Three-bedroom: $3,279, up 22%.
Four-bedroom: $3,698, up 22%.