Hawaii Universities Attract a Global Student Body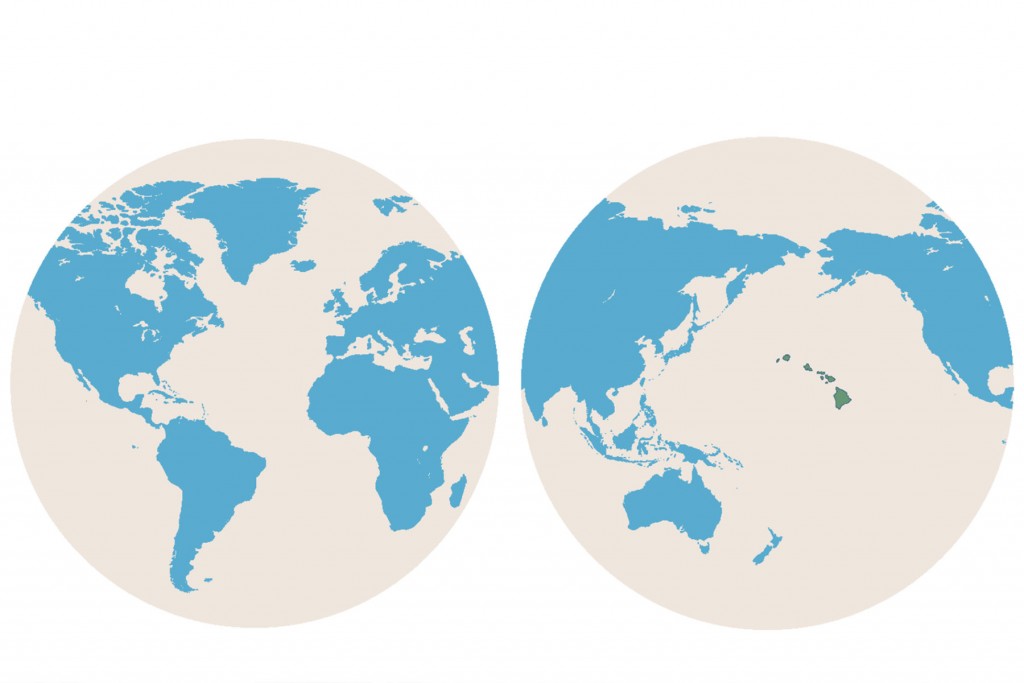 Almost a thousand Japanese are studying in universities here, but so are at least five students from Tanzania, 22 from Saudi Arabia and three from Cameroon. In the 2012-13 school year, Hawaii Pacific University had 210 students from Norway – almost as many as the school had from Japan, China and Korea combined.
Though the vast majority of students on UH's 10 campuses are local or from the mainland U.S., during the fall 2013 semester, the student body included the citizens of 94 foreign countries – that's almost half of the 195 nations recognized by the U.S. State Department. Brigham Young University-Hawaii is also like the United Nations: Almost half of its students during the fall 2013 semester came from 76 foreign countries.
In total, there are 4,450 foreign students attending universities and colleges in Hawaii, according to the Institute of International Education.
The number of foreign students at Hawaii universities is not an accident. The schools eagerly seek foreign students, partly to create cosmopolitan campuses that encourage innovative and global thinking, and partly because of the tuition dollars that foreign students bring. Hawaii residents pay nearly $5,000 a semester at UH Manoa for full-time undergraduate study, while nonresidents pay about $14,000. That rate applies to both mainland U.S. and foreign students. HPU, BYUH and Chaminade say they charge local, mainland and foreign students the same tuition.
Foreign students contribute nearly $109 million to Hawaii's economy through tuition and other spending, according to NAFSA, the Association of International Educators.
HPU is a privately run, nonprofit university based in downtown Honolulu. The website College Factual ranks it as the American university with the sixth most geographically diverse student body.
"This is a commitment to HPU's mission that we have reaffirmed in the university's strategic plan: To leverage HPU's unique location in Hawaii to generate a mix of Hawaii, mainland and international students," says Chris Aguinaldo, HPU's assistant director for media relations.
Calyssa Baig, a junior majoring in international business with a minor in Japanese, loves the geographic diversity of HPU's student body – partly because it reminds her of her hometown.
"Being home in Canada, Toronto itself was just so ethnically diverse," she says. "It was beautiful because when I was growing up with my friends back home in elementary school everybody was from a different country."
HPU and the other universities say they recruit worldwide using a combination of personal visits, recruiting fairs, digital media, support from alumni and other outreach.
Nearly half of the 2,681 students at Brigham Young University-Hawaii are from foreign countries, says Arapata Meha, director of enrollment services. A total of 76 foreign countries are represented on campus, including students from such diverse nations as Hong Kong, Ecuador, Saudi Arabia and Zimbabwe.
The proportion of foreign students is more than half in BYUH's College of Business, Computing and Government. Most are from Korea or Japan, but others are from Malaysia, Uganda and many other nations.
BYUH, which is located in Laie, is operated by the Church of Jesus Christ of Latter-day Saints and most of its students are Mormons. Michael Johanson, the director of communications, says geographic diversity is critical for the university.
"Because of where we're located, we see a great potential to bring students from many places around the world, specifically in the Pacific Rim and Asia and the Pacific," he says, "and then to have them learn and grow in this environment, to see other cultures and other countries represented.
"When they return (home), they have a much broader view of the world around them."
The university has always had a strong international mission that goes back to its founding in 1955, but Johanson says BYUH has never had more international students than now.
Jessica Mijangos, originally from Guatemala, is a junior majoring in hospitality and tourism with a minor in marketing. She chose BYUH because of her major and says Hawaii's tourism industry could open doors for her in the future.
She says the atmosphere at BYUH is different and more relaxed than in her home country. "But you learn a culture and you understand where it comes from," she says.
Nearly 4 percent of the students that attend one of UH's 10 campuses are from outside the United States. That's part of UH's commitment to being an international center of learning.
At the Shidler College of Business on the Manoa campus, 112 of the part and full-time students have permanent residences outside the United States. Vietnam, where Shidler has a satellite campus, has the largest foreign contingent, followed by China, Korea and Japan.
In recent years, the Manoa campus has sent an admissions counselor to Japan, China, Vietnam, Thailand, Indonesia, Malaysia and Singapore. The campus recruits during the fall by participating in Linden Tours and fairs run by the Institute of International Education.
The campus has also recruited in Guam, Saipan and New Zealand and alumni have participated in other fairs.
Lulu Yeager, a graduate of the Master's of Accounting program at Shidler who originally came from Shenyang, China, says the campus' location was very attractive to her.
"Compared to many mainland universities, I feel that UH has more activities, more connection and more focus on the eastern and the western world," she says.
At UH Hilo, chancellor Donald Straney says local students at his campus benefit from the presence of foreign students. "International students at UH Hilo bring perspective and experience that help Island residents understand the opportunities in the world at large," he says.
Chaminade, a private, Catholic Marianist college with 2,739 enrolled students, had 41 international students in fall 2013. But on top of those students, 122 others come from Pacific Islands that have a relationship with the U.S.
To recruit students, Chaminade sent representatives to eight countries and Pacific Island territories during 2009 to 2013, according to Shauna Pimentel-Motooka, the director of undergraduate admissions.
"We're looking at diversity for our student population," Pimentel-Motooka says, and that includes "different ideas, the ability for students to gain not only from their professors but also from their peers and having a different thought process, different culture."
Justin Tuiasosopo, a graduate student studying accounting, says the university's geographical diversity is important to him. At Chaminade, he met students from many countries, including Russia, France, Micronesia and Saipan.
"I didn't have to go to Russia to learn about Russia and its culture," Tuiasosopo says. "I didn't have to go to France or Micronesia or Saipan to learn about their cultures, so that was very important in my college experience."
94 Number of foreign nations represented, UH System Fall 2013
81 Number of foreign nations represented, HPU 2012-13
76 Number of foreign nations represented, BYUH Fall 2013
20 Number of foreign nations represented, Chaminade Fall 2013
28 Number of students from Brazil, UH System Fall 2013
Top 10
Here are the most popular origins of foreign students at four Hawaii universities:
Top 10 for Business Schools
Here are where most foreign students came from for four Hawaii business schools.
Student Diversity