Snapshot of Hawaiʻi's Family Caregivers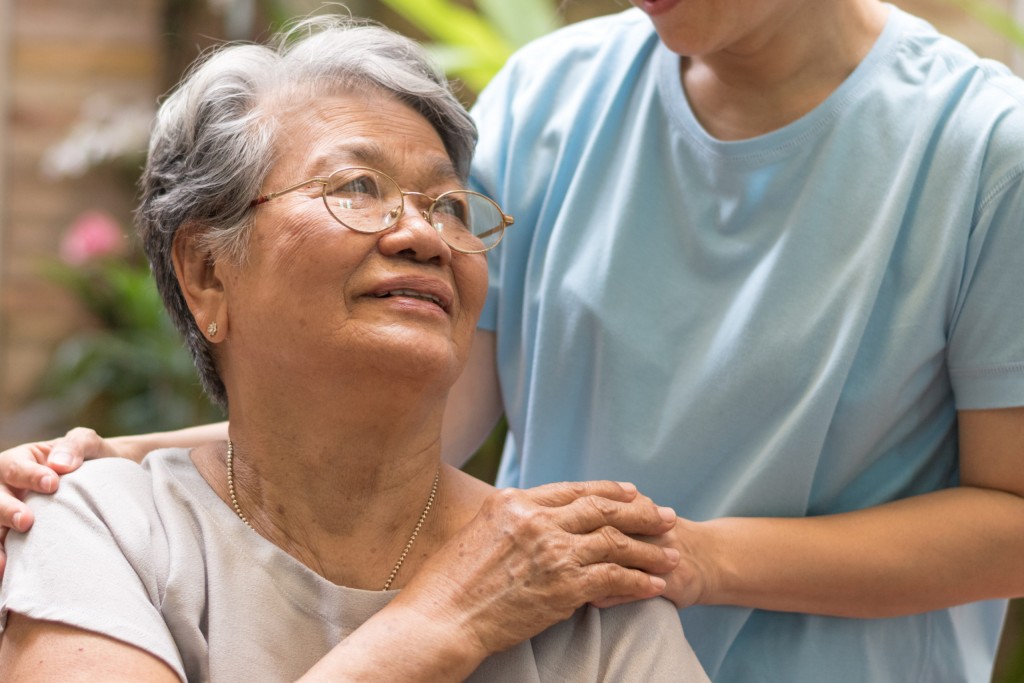 Keali'i Lopez, the Hawai'i director of AARP, has a village to help her care for her 81-year-old mother: her adult son, daughter-in-law and two sisters chip in to provide around-the-clock care, and the family recently hired someone to help twice a week.
Lopez says being a caregiver means she spends more time with her mother, who has vascular dementia, but what's challenging is seeing that her mother no longer finds joy in her favorite things, like making the shell jewelry that Lopez wears.
"That's hard to see," she says. "And at the same time, I think what's nice about being a caregiver is being able to have time with her. It's not the ideal. I'd rather be working with her on the shells than caring for her in bed."
A lot goes into caring for an aging loved one, she says, like tracking behaviors, activity levels and sleeping patterns: "Just as much as a parent you care about your infant child and all the things that can go wrong, it shifts and you have to have that same intensity of care about your loved one or your parent."
Akemi Hata Simon was working on the Mainland as a geriatric social worker when she came home in 1988 to care for her mother.
Hata Simon found work on O'ahu but quit in 1994 after job burnout. From then on, she helped her mother maintain her independence. She became her mother's driver, accompanied her to appointments, managed the house, and took her to personal training and adult day care.
Hata Simon found respite after dropping her mother at the day center, allowing her to raise her son and run longer errands. She says the center was also the best thing for her mother because it filled her days with socialization, activities and singing.
Her mother passed away at 103 at the beginning of 2019, and although her caregiving journey had ups and downs, Hata Simon says, she looks back on that time with appreciation. "This was my second life with my mother," she says.
Poki'i Balaz is the primary caregiver for her 78-year-old father, who has Alzheimer's. She left a career on the Mainland to return home in 2012 after her mother could no longer physically care for him.
Balaz sees caregiving as a way to give back to her father and honor his wish to age in place. The experience also helped her realize her passion for geriatrics and neurology, and today, she shares the lessons she's learned by being a support group facilitator and caregiver trainer. She's also a nurse practitioner at Kokua Kalihi Valley, advocates for the Alzheimer's Association Aloha Chapter, sits on three boards and is pursuing her MBA.
She says while there tends to be a lot of focus on the challenges of caring for a loved one with dementia, there are still bright moments. Her father is bed-bound and cannot move on his own or talk, but his smile is the best part of her day.
"There's a lot of laughter and fun and no matter what stage they're at … if you're a caregiver, there's ways to connect," she says. "Up until three months ago I tossed a ball with my dad and it just made him happy. And it was something simple like that."
---
Read the other parts of this story:
▹ Our Kūpuna, Our Kuleana: Senior Care Crisis in Hawaiʻi
▹ How to Plan for Your Life as a Retired Senior