Hawai'i's Most Charitable Companies 2020
The annual overview shows local philanthropy remained strong in 2019 – an important foundation for local charities considering the difficult challenges they face this year.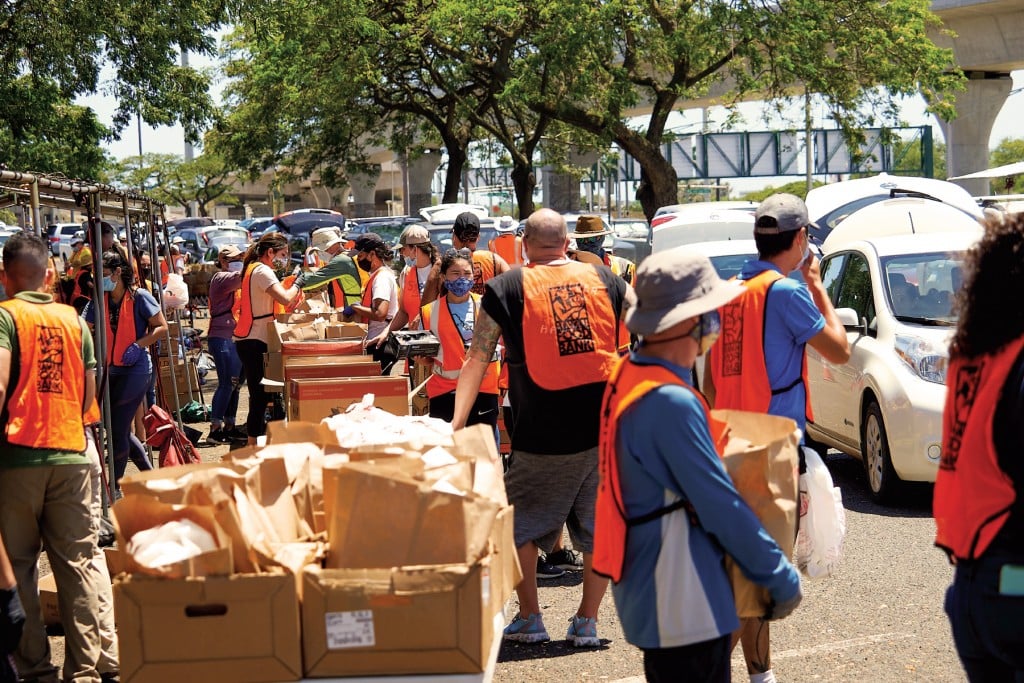 Charities are pivoting this year to meet the need for services. For instance, local food banks are facing hugely increased need yet are not being supplied by traditional food donation drives. 
Hawai'i's generosity shone again in 2019, with another year of benevolent support from companies and nonprofits on our Most Charitable Companies list.
A total of $119.8 million in cash and in-kind donations were given by 90 organizations across O'ahu, Maui, Hawai'i Island and Kaua'i last year. Employees of these organizations gave an additional $4.4 million and 82,374 hours of their time to philanthropic causes.
The list is broken into three categories this time: charities, nonprofit companies and for-profit companies. We wanted to provide an apples to apples depiction of giving by companies with similar structures. Every business is unique, and categorizing is never a perfect science, but we believe this is the best way.
Thirteen nonprofit companies reported total giving of $8.4 million in 2019: $7.6 million in cash and the rest in-kind. Among these companies, the average giving as a percentage of gross annual sales was 0.31%, with a median of 0.23%.
Sixty-nine for-profit companies reported total giving of $28.8 million in 2019. The for-profit companies averaged giving 0.25% of their gross annual sales with a median of 0.1%. The largest percentage was 2.33% – reported by law firm McCorriston Miller Mukai MacKinnon.
Charity Impacts
The eight charities on this list reported total giving of $82.7 million in 2019.  Hawaii Foodbank and Aloha United Way contributed $34.8 million of that total. More companies said they donated to Hawaii Foodbank and its partner organizations Maui Food Bank and Hawai'i County's The Food Basket than any other charity; Aloha United Way was second. The American Heart Association, Child & Family Service and Ho'ōla Nā Pua round out the top five charities that companies donated to in 2019. The Hawai'i Community Foundation did not report its donations to Hawaii Business Magazine this year.
Hawaii Foodbank worked with 51 partner agencies on its 'Ohana Produce Plus program in 2019 to distribute over 2.6 million pounds of produce and 3.7 million pounds of other food across O'ahu and Kaua'i, Danny Schlag, director of marketing and communications for the Hawaii Foodbank, tells Hawaii Business Magazine via email. This program is a primary source of produce for many low-income families, kūpuna, and homeless or disabled people.
A program that saw tremendous growth in 2019 was the Food 4 Keiki School Pantry initiative, Schlag writes. Over a dozen pantries were established during the 2018-19 school year serving 11,702 students with after-school snacks and food bags to share with their families. Two other programs provided over 12,000 kūpuna with vital staple foods last year, he writes.
Food donations remained steady in 2019 and cash donations increased, which was a good thing as 2020 has brought an "unprecedented challenge of providing food to thousands of households newly at risk of experiencing food insecurity," Schlag writes. Since March 2020, Hawaii Foodbank has purchased over $5.25 million in emergency food supplies, compared to a typical $400,000 annually.
Pandemic-related supply chain disruptions and a decrease in food collection drives due to stay at home orders have resulted in low inventories at food banks. "Items that normally take four to six weeks to get to Hawai'i from distributors on the continental U.S. are now taking three to four months to arrive," Schlag writes.
Nonetheless, he says, the food banks are doing their best to meet the massively increased demand.
In April, Hawaii Foodbank committed to purchase $200,000 of local agriculture products in a partnership with the Hawaii Farm Bureau, a strategic effort to help local farms that was already being planned pre-COVID. As of mid-September, the Hawaii Foodbank had actually purchased $900,000 worth of local produce from 24 Hawai'i farms, Schlag writes.
Aloha United Way
Aloha United Way invested $18 million into the community in 2019 through its Community Care Fund. This money was channeled to 324 partner organizations to provide community services – a model that the AUW says allows a quick and nimble response to meet evolving needs of Hawai'i's most vulnerable.
One of the most used services was AUW's 2-1-1 helpline, a call center for individuals who need help to tap into available resources quickly. AUW reports that 82,709 people used 2-1-1 last year.
"In 2019, Aloha United Way celebrated one hundred years of service to our communities. None of that would have been possible without the generosity of community members and partners," President and CEO John Fink says in an email to Hawaii Business Magazine.
AUW's other charitable focuses in 2019 included housing, childcare and early learning, and postsecondary education. These initiatives helped the state's asset limited, income constrained and employed population – the ALICE families – the folks who work in Hawai'i yet do not earn enough to save money.
Fink says 2020 "has proven to be a great test of AUW's mettle. We have created new relationships and strengthened old ones as we partnered with government, business and nonprofit leaders. Working together has enabled us to ramp up support for those in need through our funding services and the AUW 2-1-1 referral service." AUW says weekly call volume to the 2-1-1 helpline increased over 600% since the onset of the pandemic.
The latest figure before this story was published was that $1.68 million has been raised for the Hawaii COVID-19 Response & Recovery Fund. Some of that money went to AUW's COVID-19 rent and utility assistance program, which has saved 665 households statewide from eviction, the charity reports.
---
Methodology: Data for the Most Charitable Companies list was compiled through surveys conducted by Hawaii Business Magazine. All information is self-reported by the organizations on the list. We asked companies to indicate if they are for-profit or nonprofit organizations. We then created three lists: one of for-profit companies, another of charitable nonprofits and a third of nonprofits like credit unions and health insurers.
The charity category includes organizations whose sole purpose is philanthropy and serving the community.
Charity Name
Total 2019 Combined Donations Cash and In-Kind
2019 Cash Donations
2019 In-Kind Donations
Total Giving as % of Gross Annual Sales
Employee
Volunteer Hours On the Job
Employee
Volunteer Hours Off the Job
Cash Donations from Employees
Kamehameha Schools
$39,911,382.00
$39,911,382.00
15.53%
$182,613.00
Hawaii Foodbank Inc.
$21,232,530.00
$21,232,530.00
100
Aloha United Way
$13,518,141.00
$13,099,641.00
$418,500.00
72.86%
450
175
$33,098.00
The Clarence T.C. Ching Foundation
$5,616,130.00
$5,616,130.00
Parker Ranch Foundation Trust
$2,404,558.11
$2,404,558.11
YMCA of Honolulu
$2,250.00
$2,250.00
0.01%
600
500
$71,410.83
Blood Bank of Hawaii
$16,100.00
Child & Family Service
450
$19,486.71
For-Profit Company Name
Total 2019 Combined Donations Cash and In-Kind
2019 Cash Donations
2019 In-Kind Donations
Total Giving as % of Gross Annual Sales
Employee
Volunteer Hours On the Job
Employee
Volunteer Hours Off the Job
Cash Donations from Employees
First Hawaiian Bank
5256986
4250000
1006986
0.0049
8258
13405
815000
Matson, Inc.
3735000
2449000
1286000
0.0011
Bank of Hawaii Corp.
3167256
2391355
775901
0.0031
8960
6506.5
860000
Hawaii Foodservice Alliance LLC
2200000
2200000
Kokusai Kogyo Kanri Kabushiki Kaisha – 
1393579
353369
1040210
0.0005
8303
215194
US Operations
American Savings Bank 
1150030
1150030
0.0036
15025
170633
Alexander & Baldwin Inc.
1020000
1020000
0.0023
MacNaughton
849950.46
848075.46
1875
842
16
18950
First Insurance Company of Hawaii Ltd.
830500
820500
10000
0.0031
750
1250
39244
Hawaiian Airlines
743120
457994
285126
0.0002
10163
97576.2
Central Pacific Financial Corp.
661041.32
661041.32
0.0029
4715
69646.39
Servco Pacific Inc.
623896
617519
6377
0.0003
1500
3500
188730
Enterprise Holdings Foundation & Enterprise, 
600000
525000
75000
2100
3600
275000
Alamo & National Car Rental
Alaska Airlines
581300
130100
451200
0.0002
The Ritz-Carlton Kapalua
568124
72310
495814
712
1786
4415
Pasha Hawaii
548123
247592
300531
0.0004
Par Hawaii, LLC
392277
392277
0.0001
1258
153012
Y. Hata & Co., Limited
382311
195270
187041
0.0006
McCorriston Miller Mukai MacKinnon LLP
350000
350000
0.0233
25000
Hawaiian Telcom
298429
285429
13000
0.0008
7757
18173
Locations
271974
261974
10000
0.0049
1469
283743
Nordic PCL Construction Inc.
251200
231200
20000
0.0014
300
500
40000
Corteva Agriscience
212350
182350
30000
250
25
10000
TD Food Group Inc.
200387
200387
0.0015
33000
Atlas Insurance Agency Inc.
197194
187094
10100
0.007
40
115
Dorvin D. Leis Co. Inc.
181781
166781
15000
0.0009
50
300
12000
American Carpet One – Floor and Home
155000
140000
15000
250
20
50000
Bowers + Kubota Consulting Inc.
153094
43403
109691
0.0009
478
53716
G70 
130900
130900
0.0038
1750
ProService Hawaii
128931
128931
0.0004
Alan Shintani, Inc.
118000
115000
3000
0.0045
500
3970
AHL
106303.15
44666.25
61636.9
0.0017
30
1216.25
Economy Plumbing & Air Conditioning
103000
103000
I. Kitagawa and Co. Ltd.
90000
90000
0.001
Swinerton Builders
81815
28175
53640
0.0002
7200
3600
23740
WATG
80000
60000
20000
0.007
Hensel Phelps Construction Co.
73000
60000
13000
0.0002
200
Pacific Guardian Life Insurance Company, Limited
65000
65000
0.0008
69
9700
JL Capital
64420.98
64420.98
33
Clinical Labs of Hawaii
61446
41850
19596
0.0003
176
20
RAM Corporation
58787.18
58787.18
0.0007
Young Brothers LLC
56400
23750
32650
0.0002
30033.34
Offline Sharks LLC
55000
20000
35000
0.0179
200
RevoluSun Smart Home / RevoluSun LLC
53500
26000
27500
0.0003
20
180
2200
Coconut Condos
51857
49482
2375
0.0112
122
164
100
Better Homes and Gardens Real Estate 
49702
46702
3000
0.0024
249
327
34568
Advantage Realty
Bays Lung Rose & Holma
42550
42550
0.0038
100
Anthology Marketing Group
35000
5000
30000
0.0004
200
200
15000
The Hawaii Group Inc.
35000
35000
0.0069
500
200
1500
Contract Furnishers of Hawaii Inc.
32832
32832
0.001
New York Life Insurance Co.
32500
32500
16757
Tanaka Of Tokyo Restaurants Ltd.
27840
21140
6700
0.0016
61
Aqua Engineers Inc.
25000
25000
0.001
Coffman Engineers Inc.
19000
19000
0.0019
T&T Tinting Specialists Inc.
18000
3000
15000
0.0007
40
1500
S & M Sakamoto, Inc.
15600
15600
0.0007
Elite Pacific Construction Inc.
13000
13000
0.0008
Pacxa
12428.55
11405
1023.55
0.0003
30
375
1000
Alaka'i Mechanical Corp.
10000
10000
0.0002
Alert Holdings Group Inc. dba Alert Alarm of Hawaii
10000
5000
5000
0.0002
250
Bishop & Company Inc.
9217
9217
0.0015
Huber Pools Inc. 
5000
5000
0.0012
Maui Plumbing Inc. 
3725
3725
0.0006
Environmental Science International
2750
2750
0.0004
BeautiGoddess Lash Studio
2000
2000
Glad Life Inc
760
760
118
Admor HVAC Products Inc
70000
Farmers Insurance Hawaii Inc.
203
54
Pflueger Inc.
24
Nonprofit Company Name
Total 2019 Combined Donations Cash and In-Kind
2019 Cash Donations
2019 In-Kind Donations
Total Giving as % of Gross Annual Sales
Employee
Volunteer Hours On the Job
Employee
Volunteer Hours Off the Job
Cash Donations from Employees
Hawaii Medical Service Association (HMSA)
1893825.93
1854427.25
39398.68
0.0005
1200
273734
Hawaii Dental Service (HDS)
1680146
1672363
7783
0.0069
520
14555.08
TMT International Observatory LLC
1397488
1397488
387
375
Kaiser Permanente Hawaii
1321856
1311205
10651
2857
11454
96669
HawaiiUSA Federal Credit Union
482700
304479
178221
0.0034
3100
1034
11760
Kahala Nui
400633.84
276462
124171.84
0.0058
1404
144
2710
AlohaCare
394038
394038
21013
UHA Health Insurance (University Health Alliance)
383500
383500
0.0012
26.25
507
17430
Hawaii Medical Assurance Association (HMAA)
150750
141500
9250
0.0007
468
3463.4
Hawaii Community Federal Credit Union 
148196
143196
5000
0.0061
300
1000
14000
Finance Factors Ltd.
125526
124526
1000
0.0059
1870
200
12864
Pearl Hawaii Federal Credit Union
28500
6000
22500
0.0004
200
200
1900
Hawaii Central Federal Credit Union
2000
2000
0.0002
200
8000