Homelessness in Waikiki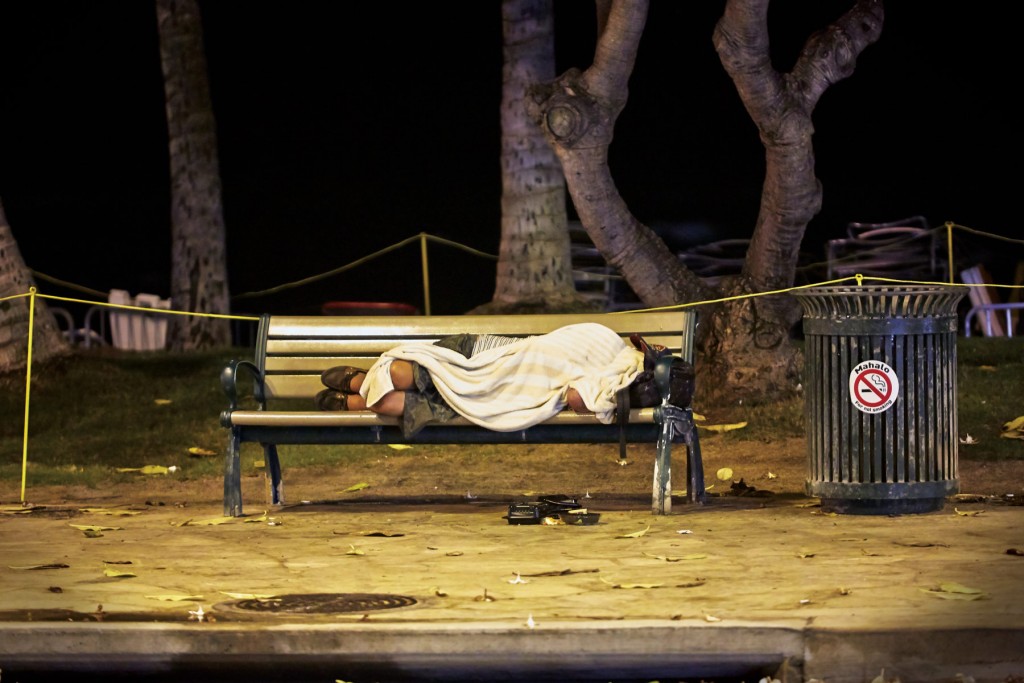 Many of Waikiki's Homeless Are Mainland Snowbirds
Just as tourists trade the cold winters of Minneapolis, Seattle and other cities for the warmth of Waikiki, so do another group of visitors.
"There are homeless people who come here in the winter months, just as tourists who come here when the mainland weather is brutal," says Colin Kippen, the state's homelessness coordinator.
But these Waikiki snowbirds usually don't return home and they comprise a large part of Waikiki's homeless, say Kippen and others who serve the homeless in Waikiki.
"When you first come to Hawaii, Waikiki is where you go," explains Michelle Ip, program supervisor for the Waikiki Health Center's Care-A-Van, a homeless outreach program. "It's a tourist destination. There's always something going on so it's a little more safe. A lot of them don't stay in Waikiki once they become familiar with the island. They'll move to a different neighborhood, but new transients arrive, so the numbers remain steady."
Ip hears as many different stories as there are homeless people. Sometimes, they say their families sent them here or they were homeless on the mainland until cold weather persuaded them to leave.
"They may have sold a few belongings for a one-way ticket or saved up their Social Security earnings. Some have told me they had never been to Hawaii but researched places that offer good social services and ended up here," she says.
Ip knows where Waikiki's homeless dwell.
"During the day, they can be found at Kuhio Avenue bus stops, at Kalakaua's pavilions or along its sidewalks, or at the Waikiki Aquarium, Kapiolani Park and Paki Park," she says. "When Kapiolani Park closes at midnight, you'll see them leaving the park and heading to the mauka side of Kalakaua Avenue. The same pilgrimage happens at 2 a.m. when the pavilions on the makai side close."
Ip refers to what is perhaps one of Hawaii's most bizarre rituals. Each night at midnight, like clockwork, homeless people trek from Kapiolani Park to the mauka side of Kalakaua Avenue to set up makeshift beds on the sidewalk. A similar pilgrimage occurs at 2 a.m. when the beaches and pavilions close and more homeless converge onto Kalakaua Avenue's mauka sidewalks until the park and beaches open again at 5 a.m. You can tell a new transient because that person is the only one left on the beach. But they only do it once because the police roust them the first time.
It's not clear how many homeless there are in Waikiki. A city count on a single day in 2013 found 263 unsheltered homeless people in East Oahu, which runs from Ala Moana Beach Park to Makapuu and includes Waikiki. The 2013 Homeless Service Utilization Report by the UH-Manoa Center on the Family did not have a count for any particular neighborhood, but said 9,525 homeless people used social services on Oahu in 2013.
Along with the mainland transients, the homeless in Waikiki include chronically homeless people who were born and raised in Hawaii or came from the mainland many years ago. Often these people have a drug addiction, mental illness or disability – which makes them the most visible on the streets.
"We get so many complaints from visitors," says George Szigeti, president and CEO of theHawaii Lodging & Tourism Association. "We've had visitors come up to our GMs and tell them how they've been coming to Hawaii for 15 years but they're not coming back anymore because of the homeless."
The state and the city have programs to address the problem, Kippen says, adding that the best approach is to house people as quickly as possible. "We want to substantially reduce the numbers of homeless, but the causes of homelessness don't go away just because we get them off the street," he says. "People will still fall on hard times. But we are creating a systematic way for all service providers to do intake, assessment and referral."
Kippen says the City and County of Honolulu is investing $7 million in a program calledHousing First, considered a national best practice that gets people off the street faster. Many homeless people don't go to shelters because they prohibit drugs and alcohol. Housing First offers a homeless person an apartment with no restrictions on drugs and alcohol. Once they are in stable housing, social workers can address their substance abuse and mental health. Kippen says the model has succeeded in New York City, San Francisco, Los Angeles and other cities.
Tourism leaders and hotel owners welcome these efforts, Szigeti says, but he emphasizes the urgency of the situation. "I was walking to a meeting at eight in the morning the other day and I saw a guy sleeping in the little cubby hole of the Burberry store. He was half-naked, had just defecated as you could see it and visitors were taking pictures of him," he says. "You have to remain compassionate, but you can't ignore there's a problem."
Szigeti says hotel managers have had to find their own solutions to prevent the homeless from hurting their businesses.
"When you find them on the third floor in your banquet line, getting aggressive with visitors, something has to be done," he says. "Hotels have been very lenient in the past, but now they're realizing they need to be tougher. If you don't cite them for trespassing or make them feel uncomfortable, these things will happen."
Many hotels have beefed up security and banned the outside public from restrooms. Instead of watering lawns during the day, some hotels set their sprinklers to go on at 3 a.m. to stop people from sleeping on the grass.
John DeMello, who has been patrolling District 6 Waikiki for all of his 10 years with the Honolulu Police Department, says homelessness is one of the area's biggest problems.
"But it is a socioeconomic matter. We understand homeless people commit crimes and we address it like everyone else who commits a crime. But it is not a crime to be homeless," says DeMello. "We review complaints but if there is no crime committed, we can't just move people."
The city's Bill 7, passed in April, bans any item deemed a "sidewalk nuisance." That includes "any object or collection of objects constructed, erected, installed, maintained, kept or operated on or over any sidewalk, including but not limited to stalls, stands, tents, furniture, and containers, and of their contents or attachments."
So tents can be cleared from sidewalks, but not people. Those sleeping along the mauka side of Kalakaua from midnight until 5 a.m. are not disturbed because they have no tents and their belongings do not make the sidewalk impassable.
"We need to find a balance of being tolerant and respecting the humanitarian side, but also respecting those parks and pavilions as belonging to everyone," Szigeti says. "We don't want it to be a visitor-industry issue, because it's a global issue. But we want to be part of the fix."