What It's Like to Ride the "Skyline"
The head of the Honolulu rail project says the bird's-eye view from the first 10.75 miles is like a "Disneyland ride." Try it yourself starting June 30.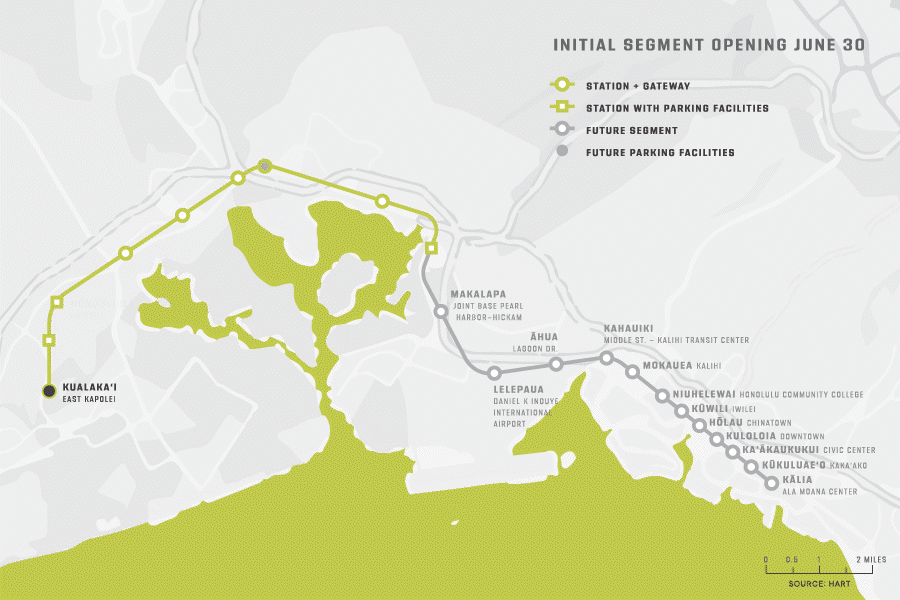 When Lori Kahikina took over the Honolulu Rail project in January 2021, she faced the fallout from more than a decade of bad decisions, billions in cost overruns, scathing audits and public anger.
"(It) was like a big fire drill, constantly. Wherever you turn around, it felt like it was daily, just daggers being thrown at us," she says.
"Everyone we touched was mad at us."
Kahikina could not undo those past blunders, but she and her team at the Honolulu Authority for Rapid Transportation got the rail project moving forward. So you can understand her elation with the opening of rail's first section on June 30.
"When you get on there, it is beautiful," says Kahikina, executive director and CEO of HART.
She calls it a "Disneyland ride" because passengers on the elevated rail line and at the stations can look out the windows for bird's eye views of O'ahu they won't get from a car or bus. The city's Department of Transportation Services now calls the rail system "Skyline."
"A Long Time Coming"
The initial segment runs from East Kapolei to Aloha Stadium, with nine stations spread along that 10.75-mile section. Trains are scheduled to come every 10 minutes and passengers can bring on larger items that are not allowed on city buses such as luggage, coolers – even surfboards. Overhead racks are available and people can bring their bikes on board, too.
"It's such a long time coming and so many people have raised issues and concerns, and it's been delayed," says Rick Keene, deputy director and COO of HART. After numerous trial runs, Keene says he and Kahikina had the confidence to say, "Yes, we're finally going to open that first segment."
Jon Nouchi, deputy director of DTS, says the initial section gives riders the chance to get to know the rail system.
"A lot of people might not use rail every day, but they will find ways to integrate and use it in other things that they haven't imagined yet," he says.
No Cash Accepted; Get the Card
Nouchi says riding Skyline will be like using another route in the city's bus and Handi-Van network. Single fares for the rail cost the same as TheBus and have the same transfer and fare-capping privileges. The main form of payment will be the HOLO card, which is already being used on TheBus.
No cash will be accepted, so occasional riders will still need a HOLO card, which can be purchased for $2 at ticket vending machines at every rail station. Riders must load money into the card, either at the station, participating stores or online at holocard.net.
One-way rides for adults will cost $3 with a daily cap of $7.50, just like on TheBus. The same monthly bus passes, fare capping and reduced fares on TheBus for youth, seniors and people with disabilities will apply to rail.
After riders tap their HOLO cards at a fare gate, they will have 2.5 hours of unlimited rides. Transfers from rail are good on TheBus and vice versa.
There are park and ride locations at three stations: UH West O'ahu, Ho'opili and Aloha Stadium.
For now, Skyline will operate from 5 a.m. to 7 p.m. on weekdays, and 8 a.m. to 7 p.m. on weekends and holidays. Monitors at the stations will show arrival times. Nouchi says the trains will average 30 mph and estimates a trip from East Kapolei to Aloha Stadium will take about 20 minutes.
Each train has four cars and is about 256 feet long – about the length of four 60-foot articulated city buses, Nouchi says. In total, 642 passengers can fit in each train.
HART expects to open the portion of the rail to the airport in 2025, with the remainder of the 18.9-mile system targeted to open in 2030.
City Department of Transportation Services Director Roger Morton says the system is now expected to cost the city $94 million to operate in its first year, including $54 million paid to its operator, Hitachi Rail.
Bus and Rail Integration
Though most of the city's bus routes will be unchanged, the city is adding 60,000 hours of bus service a year at a cost of about $6 million. Nouchi says route modifications and added service will provide "enhanced transit connections" along the first segment of the rail and serve areas where rail has not yet opened.
One revised bus line is Route A, which, for now, runs from Waipahu to UH Mānoa. The new route will start at the Pearlridge rail station and end at UH Mānoa. Nouchi says it will be a faster ride because the new route will not service Waipahu or Kalihi anymore. After it reaches the Aloha Stadium station, the bus will take the freeway to get to Downtown Honolulu.
Commuters on the old Route A line out of Waipahu can opt to take the train from Waipahu to Aloha Stadium, and then switch over to TheBus to continue their commute. Riders who need to go towards Middle Street and King Street can catch the modified Route 1L starting at Aloha Stadium.
Some of the new express bus routes will run from Aloha Stadium to areas in the urban core every 10 minutes or so, according to Nouchi.
Nouchi says buses and trains will be scheduled to arrive at rail stations at similar times, allowing passengers to transfer with minimal delay.
The new bus schedules start on July 1.
The city has a safety plan in case something happens on board the trains, and three levels of security: staff, contracted security and Honolulu police. Although the trains are driverless, security guards will patrol the stations.
The system has about 2,000 surveillance cameras. Riders can press an emergency button on the train if they feel unsafe and emergency call boxes are on station platforms.
"We always rely on them (our riders) to 'If you see something, say something,' " says Nouchi.
If a train stops in the middle of the track, system operators, law enforcement and emergency service agencies can be dispatched to assist.
Help in Construction Areas
Meanwhile, the rest of the rail project is going forward, with most of the construction work making its way toward Downtown Honolulu.
To reduce slowdowns, left turns are restricted in Kalihi from Kamehameha Highway, Dillingham Boulevard and driveways. Only one lane each way goes westbound and eastbound.
Honolulu police and on-site personnel are stationed along the construction route to help motorists and pedestrians who may be confused by the cones, according to Joey Manahan, HART's director of government relations and public involvement.
He says traffic in Kalihi flows at normal speeds on most days, though there may be five-minute delays during peak hours at lunch and in the afternoon. HART worked with the operators of the Google and Apple map apps to show users routes that do not require left turns in the construction area.
Manahan says HART has been in contact with 207 businesses along the Dillingham Boulevard and Kamehameha Highway corridor since construction started last October. Since then, Manahan says, HART has not received any formal complaints from the businesses claiming they lost revenue because of the construction. HART teams help those businesses by coordinating access entries, signage and maps.
Kahikina believes HART's reputation "has improved dramatically" over the past two years, though project "naysayers" remain.
"This is a major infrastructure project, and so people don't realize the things that we're dealing with on a daily basis," she says, like a concrete shortage or contractors hitting a sewer line.
"There are always going to be things that go wrong, and it happened to us with the hammerheads and with the wheels," says Keene. "It will happen again, and the difference is how you deal with those problems."