Honoring Hawaii's Top Real Estate Agents of 2017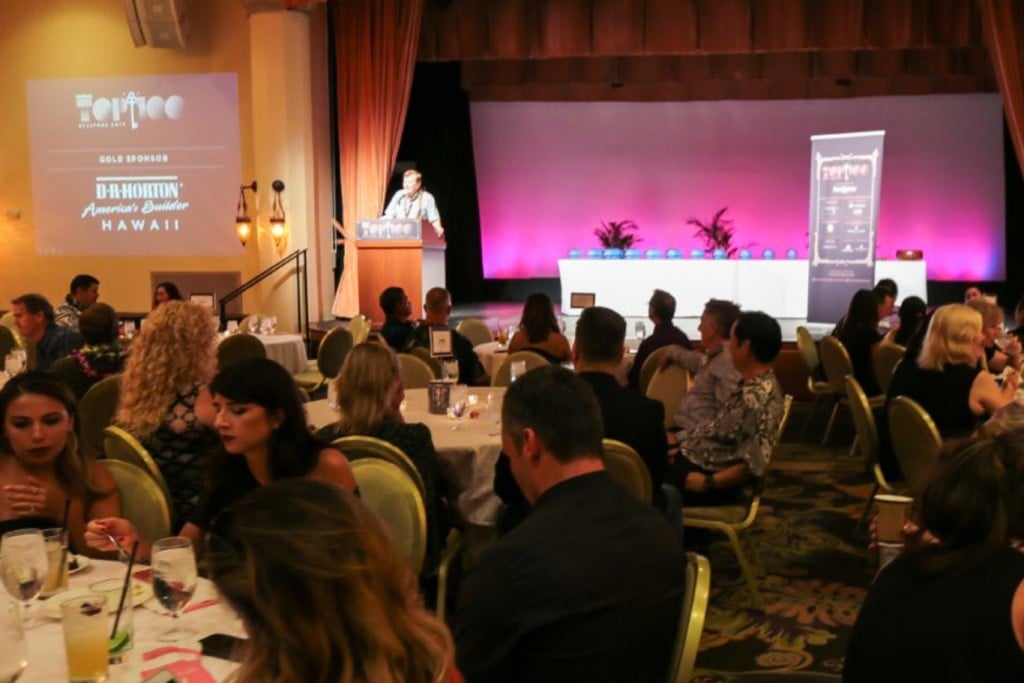 Friday, January 6, 2017, –
For many of Hawaii's top real estate agents, Thursday night was a time to celebrate at the Royal Hawaiian Hotel.
About 400 people gathered for Hawaii Business' 11th annual Top 100 Realtors Awards. Among them was Yvonne Summerfield, from RE/MAX Kauai Living, who made the Top 100 list this year for the 10th time.
"I think it's just gratifying to be recognized for doing the best that you possibly can and to help the consumer," Summerfield said. "And doing a good job, you get more business. The better you do, the harder you work. I feel it's good for you and it's good for the consumer and the people you share your talent with."
Jaymes Song, from Better Homes and Gardens Real Estate Advantage Realty, agreed, adding that his team members and administrative staff contribute to his success. Song said he's also thankful for his clients, noting that technology is changing the real estate industry by adding virtual tours and videos and making more information available online. "But they'll always need a good Realtor to make their transaction go well," he said.
The Hawaii Business Top 100 Realtors list ranks real estate agents based on transactions that closed in Hawaii last year. The list is compiled from sales information that agents input into the multiple listing service database on each island. The Honolulu Board of Realtors, the Realtors Association of Maui and Hawaii Information Services store these numbers, and each January, Hawaii Business sends these numbers to Spire Hawaii LLP, an accounting firm based in Honolulu, to assemble the list.
Thursday's ceremony also recognized Kamehameha Schools as the Developer of the Year. The school has a 1,500-acre commercial real estate portfolio, which includes redevelopments in Kakaako and Kapalama, to support its mission of educating Native Hawaiian children.
"A Native Hawaiian child cannot be successful just coming to our school and going home. That really it's the community around them that needs to be improved – a Native Hawaiian community," said Walter Thoemmes, managing director of commercial real estate at Kamehameha Schools.
"And where is that? Where is the Native Hawaiian community? What we've learned is that Native Hawaiians are everywhere, and so if we work to improve the community for everyone, in places like Kakaako, Kapalama and Waianae, our mission to educate kids will be expanded through that."
Mary Flood, senior VP of sales and marketing at D.R. Horton Hawaii, received the Lifetime Achievement Award. She has worked at the real estate development company for about 25 years and said one of her proudest accomplishments is that the company has provided more than 10,000 homes for working families in Hawaii.
"They say that you never have to work a day in your life if you love what you do, and I love my job. And I hope it continues and I've been privileged to work with a great team at D.R. Horton," she said. "… What really keeps me going and makes my heart warm is every time we … see a new family move into their first home and knowing that we provided a better life for that family."