How One Local Effort Brings Many Together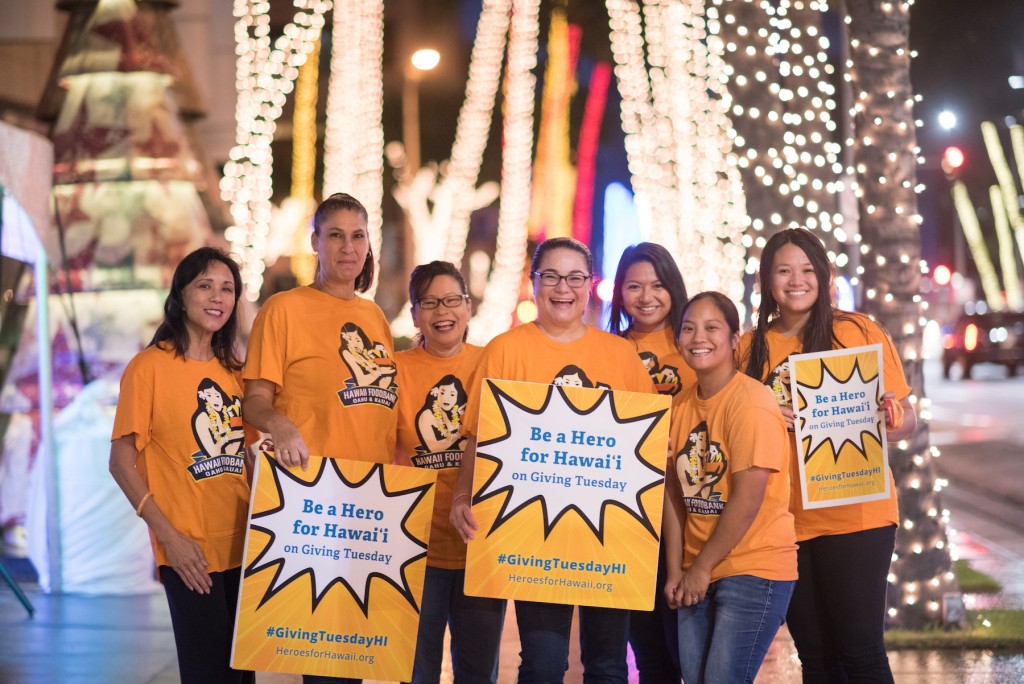 The holidays have a way of inspiring people to reach across the divides that often separate us. And Giving Tuesday, which is right in the heart of the holiday season, is sure to bring people together again in 2019.
For the past two years, banks, businesses, and nonprofits—many who compete at other times—have come together in Downtown Honolulu to demonstrate that we all have a role to play in strengthening our communities through our actions and generosity.
Each year, the local effort known on social media as #GivingTuesdayHI, has grown to include more community members than the year before. Maybe it's the downtown event that starts in the wee hours of the morning.
Volunteers show up with Giving Tuesday signs, big smiles, and their best dance moves as Chef Russell Siu provides breakfast treats and nonprofit orgs explain their great work to the Hawaii News Now tv cameras. Some organizations bring puppies who are training to be Assistance Dogs one day, while other organizations demonstrate how they bring beauty to the world through their artistry, like Iona Contemporary Dancers.
Support Nonprofits
This year, everyone can join in and bring about positive CHANGE in Hawai'i by donating gifts of time, treasure, and talent to their favorite nonprofit organizations through CHANGEforHawaii.org.
Want to join #GivingTuesdayHI in person?
You can help kick-off Hawai'i's Giving Tuesday with local businesses and community members on Dec. 3, 2019, from 6 a.m. – 9 a.m., where all four corners of Bishop and King streets intersect. This year will also include a second location at the American Savings Bank campus at 300 Beretania Street. HCF, together with many partners, will transform Downtown Honolulu into a celebration of the power of giving. The event will include fun and festive elements including a business card drawing that will give $1000 grants to a nonprofit of the winner's choosing.
"We want people to support your malama organization in your community," said Puni Jackson of the local nonprofit Kokua Kalihi Valley, who made a traditional Hawaiian healing compound from turmeric for Giving Tuesday participants in 2018.
"You can donate with your own work, with your hands, with your love, with whatever resources you have."
Want to participate in #GivingTuesdayHI from home, work or a different city/island? Here are two ways to join in:
Log onto Facebook, Twitter, or Instagram and create a post using the hashtag #GivingTuesdayHI with information about your favorite nonprofit organization.
Visit the Star-Advertiser Facebook page at 7 AM and 8 AM to view the Facebook Live broadcast and leave a comment. Be sure to leave a comment with the nonprofit you would like to give a gift to, and why.
Social media participants could win a grant for a nonprofit organization of their choice. Winners will be announced on December 4.
#GivingTuesdayHI Partners
Aio Foundation/Hawai'i Gives Back Magazine
American Savings Bank
Bank of Hawaii
Catchafire
Central Pacific Bank
First Hawaiian Bank
Hawai'i Community Foundation
Chef Russell Siu, 3660 on the Rise, Kaka'ako Kitchen
Hawai'i News Now
HANO
Honolulu Star-Advertiser
HONOLULU Magazine
Joseph Esser Photography
Show and Tell AV
---
For more information, visit HawaiiCommunityFoundation.org.