28 Companies and Nonprofits Honored at Hawaii Venture Capital Association Awards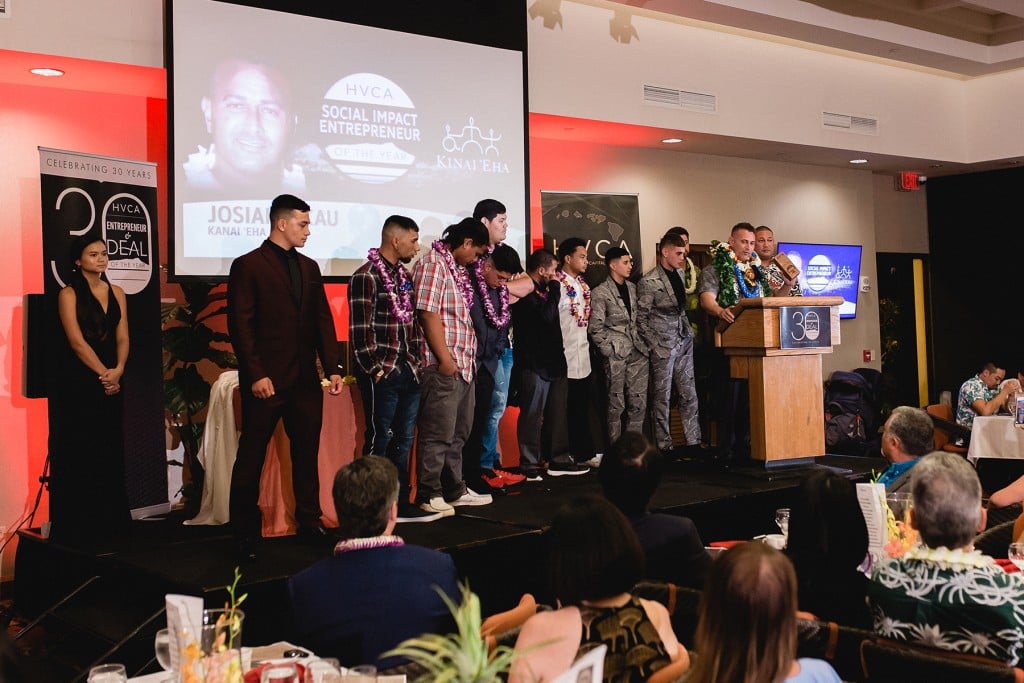 Carbon Lighthouse, Shaka Guide and Lanikai Brewing Co. were among 28 people, businesses and nonprofits honored Friday night at the 19th Annual Hawaii Venture Capital Association Awards Gala.
The keynote speaker, Elizabeth Burton, chief investment officer for the Employees' Retirement System of the State of Hawaii, talked enthusiastically about the "importance of innovation" and encouraged listeners to defy the limitations of their fields.
HVCA President Meli James lauded the "diversity" of this year's award winners and finalists and also celebrated the greater number options for startups seeking investment capital and financing.
Carbon Lighthouse won for Agriculture or Clean Tech Entrepreneur of the Year. "Every day we're excited to work toward a fossil-fuel-free future," said executive account manager Louis Concato.
Shaka Guide co-creator Andrew Fowers accepted the award for Tech Entrepreneur of the Year. Shaka Guide is an app that provides GPS-enabled audio tours for Oahu, Maui, Kauai and Hawaii Island, and is expanding to new markets. "I'm really passionate about telling stories and about telling stories at the right place and time," Fowers said.
The emotional highlight of the night came when Josiah Akau of Kinai Eha was named Social Impact Entrepreneur of the Year, and he was joined on stage by about a dozen young men who had been helped by his nonprofit. Kinai Eha renovates homes to make them accessible for the physically challenged while providing training in construction trades and personal development for youth in need of second chances. Several of the young men explained that they had come from difficult circumstances or made bad decisions, yet the program "made it possible to be anything and everything," according to one young man who identified himself as Koa.
Brynn Foster won Island Innovator of the Year for Voyaging Foods, a company creates flour and baked goods out of the traditional Hawaiian crops of taro, sweet potato and breadfruit.
Steve Haumschild of Lanikai Brewing Co. was named Entrepreneur of the Year, Flowater won Deal of the Year for a huge new infusion of capital that it earned in 2018, and the three founders of Blue Startups – Henk Rogers, Maya Rogers and Chenoa Farnsworth – won as Investor of the Year.
To learn more about all 28 people or companies that were winners or finalists, go to this report that appeared in the March issue of Hawaii Business Magazine.