"I Love My Job"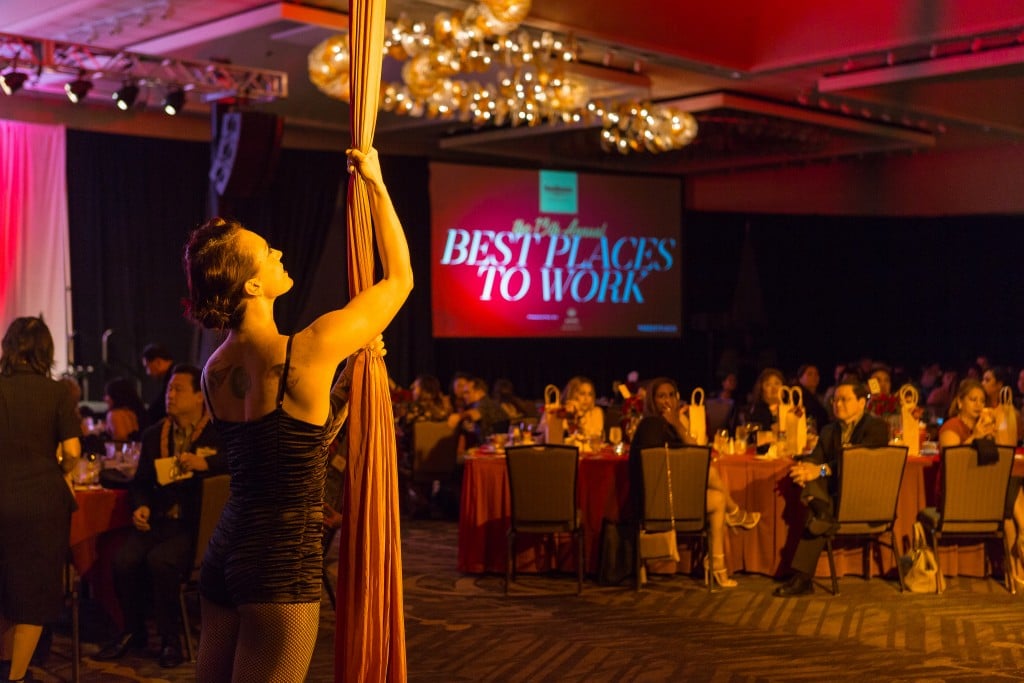 It's not easy for a company to inspire employees who are engaged, willing to put in extra effort and truly trust their organization.
---
Nominate your organization for the 2018 Best Places to Work here: www.hawaiibusiness.com/bptw2018
But 72 companies and nonprofits have done just that and were recognized at Hawaii Business' Best Places to Work event Thursday night at the Hilton Hawaiian Village.
"You guys are amazing," said Peter Burke, president of Best Companies Group, the research firm that Hawaii Business partners with each year to administer the Best Places to Work survey. "As winners, you are shining examples for the rest of the world that there is no downside to focusing on the employee experience."
More than 500 people attended Thursday's event, celebrating their colleagues, their leaders, the companies they work for and the hard work it took for their organizations to get where they are today.
As Hawaii Business editor Steve Petranik puts it, being a Best Place to Work is "not a matter of luck or happenstance." It's about building trust, caring for your employees, working as a team and liking the people you work with.
Companies recognized as Best Places to Work were vetted by a rigorous two-step process: a confidential survey of employees and an extensive questionnaire filled out by HR. Seventy-five percent of a company's score comes from the 78 questions and open-ended statements sent to employees; the confidentiality of the survey guarantees honest answers from employees gauging whether they would give extra effort to see their organization succeed, if they believe their work really matters and if they enjoy going to work everyday. According to Burke, research indicates that only 41 percent of the U.S. workforce can answer "yes" to these questions. At the Hawaii Best Places to Work, that level of engagement averages 89 percent.
"You did it. You have figured out what most have not," Burke told the audience. "You focused on the employee experience. You hired employees who fit in with your team, your mission and your core values. And you understand what drives employee engagement in your organization. Keep doing more of that and we'll see you next year."
Monsanto Company was recognized as the top place to work in the large company category. For Dan Clegg, the Hawaii business operations lead, that's a huge honor: "It means that our employees actually appreciate what we're doing in the workplace. It's their vote. They're the ones that decide. So I'm very proud of that."
He credits the company's recognition to Monsanto's team atmosphere and giving employees a voice to help decide what the company should look like in the future and shape what kind of workplace they want.
It's the same for Express Employment Professionals, said Lisa Daijo, the staffing company's co-owner. The company was recognized as one of the top three Best Places to Work in the small company category.
Take the company's team-building exercises as an example. Last year, the company took its employees to Camp Erdman in Waialua to complete the ropes course, letting employees have fun and learn to depend on each other to get through it.
The goal is to do activities like that each quarter, and other activities have taken the form of karaoke, soccer golf and movies – and the team decides what to do together. Daijo said she sees the immediate impact such activities have on her employees and attributes her company's low annual turnover rate largely to them: "The only way you're going to succeed is as a team. It's really hard to have a successful business all by yourself, so it's really important."
Check out a full recap, produced by RKT Media:
---