Inspiring a Love for the Arts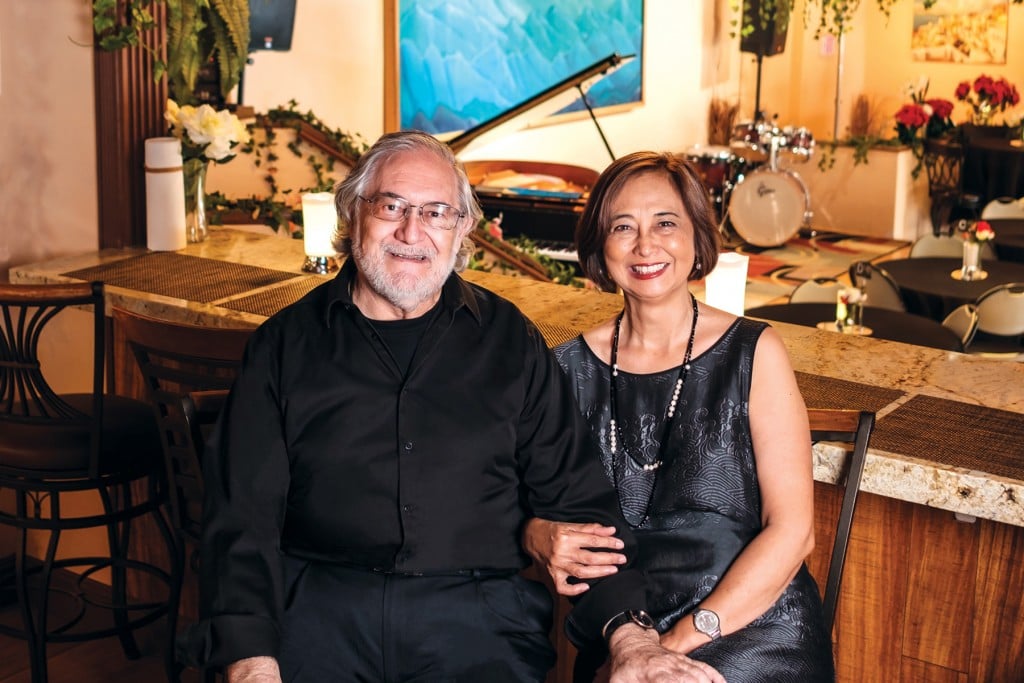 Manoa School of Music and the Arts: Providing youngsters "with a refreshed brain for life"
Tim Stanton says the Manoa School of Music & the Arts is unique: It's "the only school in America that has a liquor license and a restaurant" – referring to Medici's supper club above the school that Stanton co-owns with his wife, Carolyn.
Carolyn founded Manoa Piano School in the couple's Mānoa home in 1988. It added three teachers and grew to about 80 students, she says, so "it was a natural progression to move the school to Mānoa Marketplace" in 2012.
Today they offer classes in dance, acting, art and music, including everything from piano and bassoon to cello and 'ukulele. "It was founded on our love of and belief in creativity. It doesn't matter what subject you're taking; creativity provides a youngster with a refreshed brain for life," says Tim.
Carolyn, 64, was born and raised in Kalihi and received her master's in piano pedagogy and performance from the University of Texas at Austin in 1980. She's taught piano internationally and at Punahou School.
Tim, 73, is from Leicester City, England, and studied industrial design at the Royal College of Art and received his master's in educational psychology from Birmingham University in 1967. He was a curriculum development officer for the arts in Papua New Guinea and a single parent of two young children from a previous marriage when the family stopped in Hawai'i in 1981 and stayed.
"Carolyn and I met at the Aloha Stadium Swap Meet. I was selling art supplies, and I sold Carolyn an oil painting kit. I also made sure I got her phone number – I was looking for a piano teacher for the children." The couple married in 1988. They have two grown children of their own; a third passed away in 2012.
Two-Year Renovation
Tim was selling art materials at a stall in Mānoa Marketplace in 2010 when the property manager offered him the space formerly occupied by Egan Inoue's martial arts school. Tim says renovations on the 4,700-square-foot space cost the couple $470,000 and took two years. They used their savings and mortgaged their house, though Tim says he did a lot of the work himself.
The business has eight music studios – each equipped with Yamaha grand pianos – and a recital hall downstairs; an art and dance studio in the mauka space above; and the supper club in the makai space above, "which can accommodate weddings, receptions or corporate events," Carolyn says.
The inspiration for the club came from Tim's love of Tuscany, Italy. "We want to offer the music, the arts, the ambience for local people. In no way do we want to compete with Waikīkī," he says.
Tim also doubles as Medici's chef, though he now has a bar manager who is also a chef. "My mother was a good cook so I learned from her, and as a single parent you have to learn to cook. I try to serve healthy food, such as baked dishes, curries, clam chowder and salads."
Jazz, Blues and More
As for the musical menu at the 112-seat venue, "There's tango on Tuesdays; Fridays and Saturdays is for jazz and blues; and we just started a Wednesday karaoke night," says Tim.
The couple are the school's only employees, but there are 14 independent teacher contractors, Tim says.
"(Carolyn) teaches from a curriculum standard known as the Royal College of Music, and the students compete against themselves – like playing golf. They grow internally and mentally. She's the first teacher in Hawai'i to use this method."
Many students begin in kindergarten and stay for at least 10 years, according to Carolyn. "One year I heard that three students from Hawai'i had gotten early admissions into Yale, and all three were either my current or former piano students."
There are about 300 music students at the school, including some who attend for free. "One mother – a single parent – asked me to teach her daughter who was 5 years old and blind, who she thought had perfect pitch. She played for me for 45 minutes straight, all by ear!"
"Really Good Teacher"
Sara Jo Buehler's son, Andrew, started taking piano lessons from Carolyn when he was in kindergarten, then switched teachers for a while, and went back to Carolyn in the fifth grade. He's now a senior in high school.
"Mrs. Stanton is a really good teacher," says Buehler, who owns her own law firm. "She is patient and encouraging. She holds several recitals a year and allows my son to perform and listen to other students and see how far he has progressed.
"The lessons have taught him discipline, a love of music and that hard work pays off."
Rick Ralston, the former owner of Crazy Shirts, has been a Medici's customer for three years.
"This place is a hidden gem: There's a great spread of food, Tim's a super chef and there's music here like no place else! They're friendly and helpful. It's in a nice neighborhood – I hate going into Waikīkī.
"I highly recommend it to others who like jazz and good food."