Investing in People, Companies and the ʻĀina
The pandemic accelerates new ways of lending, financing and investment in the Islands.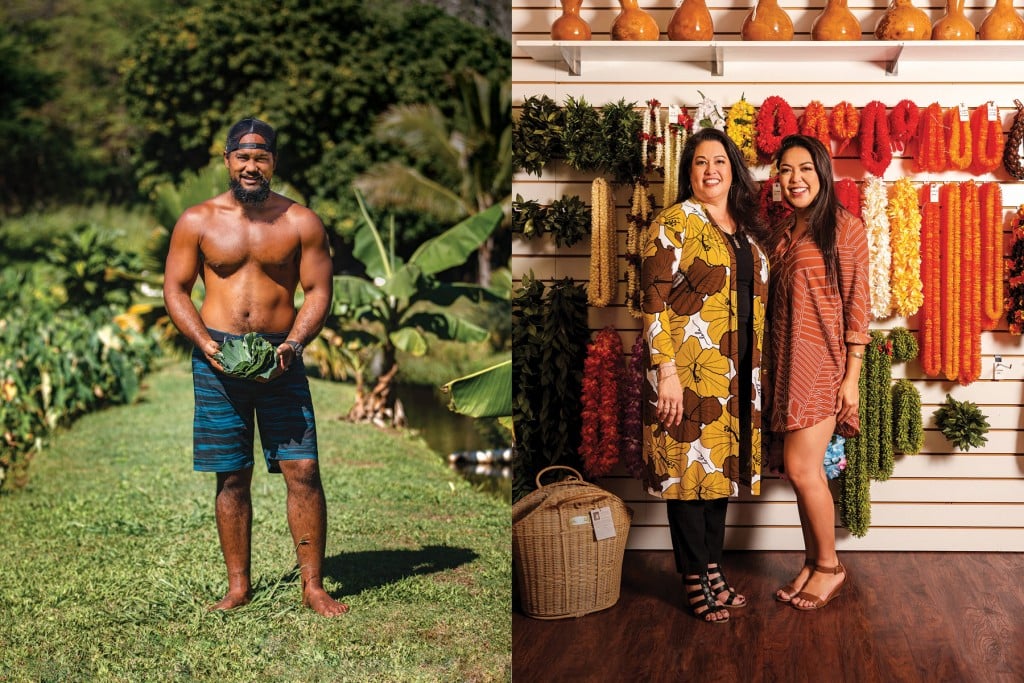 PART 1: Loans for people who can't otherwise get loans
Community development financial institutions lend money to people who can't get bank loans, including struggling business owners. Yet their delinquency rates are surprisingly low. These growing nonprofits provide one way for more people to bounce back from hardship.
Lei Agcaoili, a hardworking single mother in Kauaʻi was already struggling to pay her bills before the pandemic, but things got even worse in March when she was laid off from her restaurant job. Where would the money come from to pay her rent and other bills?
Hawaiʻi Community Lending came to her rescue. The community development financial institution gave her a $4,800 emergency loan through the Kauaʻi County Emergency Loan Program to cover her rent, utilities and child care payments.
"Hawaiʻi Community Lending was basically the miracle I needed when I needed it," Agcaoili says. "The money was only enough to cover like a month and a half of expenses. And it doesn't seem like much, but when you start to realize that all you can really do is take it one day at a time, it gave me the peace of mind to get through the next month." That funding kept her afloat while she waited for other assistance to come through.
Community development financial institutions, or CDFIs, are another leg of the financial system in Hawai'i and around the nation. These institutions help people who are unable to qualify at banks and most credit unions by providing loans and financial education to help them buy homes, start or save their businesses, and get back on their feet.
More people have been needing their services during the pandemic, and several local CDFIs are preparing for that increased demand to continue even after the pandemic ends and Hawai'i's economy starts to recover. Before COVID-19, 42% of Hawai'i's 455,138 households were below the poverty line or otherwise struggling to afford essentials like housing, food, child care, transportation and health care, according to Aloha United Way. In June, the Hawaii Data Collaborative estimated that 78,000 additional households joined this group.
"We have a whole host of people who couldn't qualify at banks and credit unions before COVID-19 and now we have even more," says Jeff Gilbreath, director of lending and development at Hawai'i Community Lending, a subsidiary of Hawaiian Community Assets.
"They're going to need an open door to go through. They're going to need the financial education, technical assistance that CDFIs provide."
Community Financing
CDFIs are specialized institutions that provide credit and capital in low-income communities. There are over 1,000 CDFIs certified by the U.S. Treasury Department's CDFI Fund across all 50 states, the District of Columbia, Guam and Puerto Rico. Hawai'i's certified CDFIs include six community loan funds and four credit unions. Credit unions, which are regulated by the National Credit Union Administration, can be certified as CDFIs to access funding, training and technical assistance. This story focuses on the community loan funds, which are nonprofits and have to raise their own capital.
Customers of these institutions are often considered "unbanked" or "underbanked" – individuals not financially solvent enough to qualify for products at mainstream banks. Keoni Lee, CEO of local accelerator Hawaiʻi Investment Ready, says these people have few places to go when they need help, so they might take on credit card debt or go to payday lenders. Both of those options impose much higher interest rates than CDFI loan rates.
"What CDFIs can do is they can help to bridge people out of those situations where they are in a vicious cycle financially, help them to reorganize their debt, restructure their debt, refinance things, get personal loans that they can actually afford," he says. "And they also provide financial literacy and financial education alongside their financial products and services, so that it really empowers folks to get themselves out of the situation that they're in."
He adds that CDFIs do not compete with mainstream banks and credit unions. Instead, their work is complementary and can help low-income and other disadvantaged communities and individuals become future bank borrowers and account holders.
Alternative Lenders
CDFIs offer many of the same products that you'd find at a traditional financial institution, including lines of credit, personal and business loans, construction loans and commercial real estate loans. The difference is CDFIs have more flexibility in how they structure, underwrite and price their products.
Traditional banks, for example, are federally insured and regulated, so they have added responsibilities to protect their depositor and investors' interests, writes Heather Piper, executive director of local CDFI Hawaii Community Reinvestment Corp., in an email. CDFIs, on the other hand, are not subject to the same level of oversight, so they can offer more flexible terms, such as longer amortizations or higher loan-to- values. A loan-to-value is the amount of money a person can borrow based on the value of collateral.
"If a bank can only lend 80% of the appraised value to meet regulatory requirements, a CDFI might lend 85% or 90% of the value because we don't have the same regulatory restriction," she writes.
Kūhiō Lewis is president and CEO of the Council for Native Hawaiian Advancement, a CDFI and U.S. Department of Housing and Urban Development-certified housing counseling agency that has loaned out over $9.5 million since the inception of its loan fund in 2010. He says that CNHA creates unique products to fit the needs of applicants and tries to accept everyone who seeks its help. When an applicant doesn't qualify for a loan because of debt or bad credit, the organization will provide financial coaching.
"We're not going to wait for them to get their credit up," he says. "As long as they have the tools they need to manage their money in a way that is necessary to support a loan, we would loan them the money. So in other words, we can change products based on the environment, based on the economy, without approval from some kind of insured agency like the Federal Deposit Insurance Corp."
Lewis attributes CNHA's relatively low delinquency rate of 2.3% to its relationships with its borrowers. Hawaiʻi Community Lending's rate is about 3%, though Gilbreath anticipates that number will increase in 2021 after U.S. CARES Act dollars end. The Federal Reserve reported that the seasonally adjusted delinquency rate for leases and loans (real estate, consumer, commercial and industrial, and agricultural) at insured, U.S.-chartered commercial banks was 1.59% in the third quarter of 2020.
When people have trouble repaying their loans, CNHA can temporarily reduce or defer monthly payments until the borrowers get back on their feet. Lewis adds that part of his CDFI's flexibility comes from its loan loss reserve fund, which allows CNHA to cover money borrowers fail to repay. CNHA sets aside 10% of its loan funds for this purpose, and the money comes from a portion of loan interest payments.
Loan rates vary depending on the CDFI and product. CNHA's business and nonprofit loans range from 5% to 8% and its consumer home repair and renovation loans range from 5% to 10%. Gilbreath adds that CDFI loan rates are not necessarily lower than those found at mainstream banks and credit unions. Hawaiʻi Community Lending's emergency loan rates range from 10% to 15%, and its consumer loans from 8% to 12%. These rates, he says, reflect the higher risk in serving folks who don't qualify at traditional institutions, though it can work with other organizations to lower those rates. The average credit card interest rate nationally is 17.98% per year for new offers and 14.58% for existing accounts, according to WalletHub. The rate on payday loans is usually far higher.
In 2020, Hawaiʻi Community Lending administered the Kauaʻi County Emergency Loan Program, which deployed $275,000 in no-interest loans to 184 island residents who lost income during the pandemic. The program was funded by the county and Hawai'i Community Foundation, and loan interest rates were subsidized through partnerships with the foundation and Hawaiʻi Pacific Health.
"So we go out there and advocate on behalf of all the borrowers and applicants. We have to try and leverage that so we can get a better interest rate using grants or whatnot from other institutions," Gilbreath says.
Helping the Community
Robin Danner is CEO of the Homestead Community Development Corp., which in 2019 began the process of establishing itself as a CDFI to help Hawaiian home land residents statewide access capital. The organization moved to become a CDFI after seeing that few traditional lenders had "a deep expertise in the trust land status of our lands established under the Hawaiian Homes Commission Act of 1920," Danner writes in an email. The Kaua'i-based CDFI is applying for certification through the U.S. Treasury Department.
"Lack of expertise can often lead to an invisibility by lenders of our community, which, of course, leads to poor access to capital, a life blood to any community," she writes.
The CDFI began originating loans in 2020 with $400,000 in startup loan capital sourced from off-island and national philanthropic organizations, investors and banks. Danner says the anecdotal impacts are easy to cite: Borrowers have added home offices and made coronavirus-needed improvements to their businesses, added bedroom space for kūpuna, made down payments to purchase homes, and purchased used vehicles for employment.
Other CDFIs have had similar impacts. Kaina Makua, owner of Aloha Aina Poi Co., received a $60,000 loan from Hawaiʻi Community Lending last summer so he could purchase a 1-acre parcel of land on Kauaʻi's west side that was initially offered to him 10 years ago.
"I waited 10 years just to figure out funding to make this work," he says, adding that it took a year and a half of working with Hawaiʻi Community Lending to get the money for the purchase. The land is undeveloped and needs to be cleared, he says, but his goal is to eventually build affordable housing so his workers can stay in the community they grew up in.
Funding for the loan came from Hawaiʻi Community Lending's Hawaiʻi Affordable Housing Fund, which it launched in October 2019 with local and national partners to help residents build, preserve or access affordable housing. And Kolaiah Jardine, owner of HI Home Resolutions, received an $85,000 loan from the fund to purchase three condo units in Hilo. After rehabilitating them, he sold one unit and rented the others at affordable prices.
On Oʻahu, the pandemic severely disrupted Aloha Hula Supply's retail store and online orders, says owner Sue Eldredge. The business used a U.S. Paycheck Protection Program loan to keep afloat in the spring, but once it ran out in the summer, Eldredge had to lay off all 15 of her employees. CNHA helped Aloha Hula Supply by acting as a sounding board as she tried to figure out what to do next.
She's since made several changes, including revamping the company's website to include a worldwide directory of hula studios and Polynesian businesses, and a worldwide events calendar. She's also launching a service in which customers can sign up for monthly subscriptions and receive access to how-to videos, free and paid workshops, and talk-story sessions with kumu hula and businesses.
"Say there's 5,000 people who ordered off my website; if I can reach 10% of them or 500 of them at $25 a head, that can turn into something that allows us a little bit more breathing room," she says. "We're going to have to be creative in our process because they're not walking in the door anymore."
CNHA also helped by giving Eldredge another sales channel through its online marketplace, called the Pop-Up Mākeke, and by approving her for a loan. Eldredge, who has yet to cash in on the loan approval, has other obligations to pay off, such as funding from the U.S. Economic Injury Disaster Loans Program and a line of credit with her bank.
"But I know it's there and it actually gives me comfort, because if I get desperate, I know I can go to them. … It is my safety net," she says.
More Capital Needed
Several CDFIs interviewed for this story pivoted into crisis lending after the pandemic hit the Islands in March, and their work shows they have an important role to play in Hawai'i's economic recovery, Gilbreath says.
"The numbers are just through the roof," Gilbreath says of Hawai'i Community Lending's work. In the past six months, "we've basically done the same amount of lending that we did in the first five years of the organization."
In fiscal year 2020, the CDFI deployed $1.2 million in loan capital and closed on 248 loans. In fiscal years 2015 through 2019, it deployed a total of $879,000 and closed 251 loans. These numbers are for Hawaiʻi Community Lending's emergency, consumer, affordable housing and small business loans, and don't include emergency grants.
Gilbreath and other CDFIs are anticipating that more people will need their services as the pandemic continues, and that more capital will be needed to meet that increased demand.
"We are going to see a new, very large group of businesses and individuals that will be considered 'post bankable,' " Piper writes in an email. "A year ago, they were bankable and could have gone to any bank and been approved for a small business loan or personal loan. A year from now that may not be the case."
"Anemically Funded"
Lisa Kleissner is president of the KL Felicitas Foundation and a co-founder of Hawai'i Investment Ready. She says Hawai'i's CDFIs are "anemically funded" because many people do not understand what CDFIs are and the impacts they have on local communities. That unfamiliarity can cause investors to turn away because of perceived risks.
"It's just we look different and people may not know us, but I think there's this misconception that if you're lending not just for profit but for social good, that it's somehow risky," Gilbreath says. "But our experiences show that that's not the case at all."
Hawai'i Community Lending has $2.1 million in capital under management and its fund is fully deployed at all times. The CDFI's typical loans average about $5,000, and as people pay their loans back, that money is loaned to other people. He says the organization hasn't had to wait-list anyone so far because of lack of funding, but it's getting close to that point.
"We're not hurting for numbers of people or projects that need funding," Gilbreath says. "We're hurting because we don't have the type of investments that we need to meet that huge demand."
To help fill that need, Hawai'i Community Lending created an individual impact investor note, where anyone could invest at least $1,000 for a minimum of five years to help people in need. In return, individual investors receive a modest interest, which ranges from 1% to 3%, depending on how long they invest their money.
Hawai'i Community Lending has so far raised $70,000 – mostly with $1,000 notes from everyday people, says Gilbreath. These contributions have since led to additional investments from several institutions.
"This is the power of leverage – individuals coming first in line with small investment amounts that move from the bottom up to institutional investors with larger investments," he writes in an email. "With philanthropic organizations investing in us, now we need to keep the momentum from the bottom up to attract capital from banks, public institutions, and private national and global investors."
On the Mainland, CDFIs are often supported by banks, philanthropic organizations and investors. Hawai'i's philanthropic organizations and banks, Danner writes, have yet to build a robust understanding and investment strategy toward CDFIs, though efforts are underway to improve that.
Hau'oli Mau Loa Foundation recently began partnering with Hawaii Community Reinvestment Corp. by providing a multiyear operating grant and a low-interest loan that the CDFI can use for its own loans. Janis Reischmann, the foundation's executive director, says that partnership is a way for the foundation to help grow the local CDFI industry and learn about impact investing. Impact investments are defined by the Global Impact Investing Network as investments "made with the intention to generate positive, measurable social and environmental impact alongside a financial return."
$1 Million Donation
Hawaiʻi Community Foundation recently established a social impact investment fund, which it will use to make low-interest loans to local CDFIs, says Michelle Kauhane, senior VP of community grants and initiatives. The foundation has already raised $2.75 million for the fund; the goal is $5 million.
One contributor to Hawai'i Community Foundation's social impact investment fund is Bank of Hawaii, which gave $1 million million. Scott Fujii, VP and Community Reinvestment Act officer at Bank of Hawaii, says the bank and its foundation have had a good relationship with Hawai'i's CDFIs since the 1990s and have made loans or grants for loan capital to seven CDFIs totaling over $20 million. In an email, Momi Akimseu, senior VP and president of Bank of Hawaii Foundation, adds that the bank's support of CDFIs is based on its desire to do what it can to help the local community. (Read more about impact investing in Part II of this report.)
The Harry and Jeanette Weinberg Foundation has also been supporting CDFIs locally and nationally through grants. In an email, Marisa Hayase, the foundation's Hawai'i program director, says the foundation's trustees recently approved $7.5 million in grant funding to three CDFIs, including one in the Islands.
"When CDFIs receive operating grants, it strengthens their balance sheets and they can lower interest rates, lengthen repayment terms, take on riskier loans, and help smaller nonprofits," she writes. "The CDFIs Weinberg Foundation is working with have an interest in racial equity and working with more Black-led and Indigenous-led nonprofits, which tend to have been under-resourced and less able to access loan capital with favorable terms."
Capacity Building
HHOC Mortgage is a nonprofit mortgage broker affiliated with the Hawaii HomeOwnership Center. Executive Director Reina Miyamoto says the CDFI does not have enough money for major loans, so instead, HHOC Mortgage connects borrowers to third-party lenders. HHOC Mortgage will only use its own capital for loans in certain situations, such as when a borrower needs a smaller, second mortgage to purchase a home.
She says the nonprofit's long-term goal is to have its own loan portfolio of $10 million. That would enable the CDFI to focus solely on funding second mortgages with its own capital and even serve as a third-party lender. "If we were able to build our loan portfolio, we'd be able to play a different role, I guess, in the whole financing scheme of Hawaiʻi."
HHOC Mortgage is one of six Hawai'i-based CDFIs involved in a three-year capacity building program led by The Kresge Foundation, a private national foundation that provides grants and social investments in arts and culture, education, environment, health, human services and community development.
Joe Evans, social investment practice portfolio manager at Kresge, says the purpose of the program is to provide training to six local, certified CDFIs and help them get more funding from the U.S. Treasury Department's CDFI Fund, which was created in 1994 to promote economic revitalization and community development through assistance and investment in CDFIs.
The state's CDFIs, he says, are "not at the scale they need to be in relation to the problems that Hawaiʻi faces around housing and entrepreneurship and access to capital for Native Hawaiians and low- and moderate-income people generally."
In addition to HHOC Mortgage, other CDFIs in this cohort include Hawaiʻi Community Lending, the Council for Native Hawaiian Advancement and Hawaii Community Reinvestment Corp. Evans says he hopes the six CDFIs can collectively bring in $5 million in federal funds during the three-year program.
"It's like we're building an ecosystem, we're building a social impact investment ecosystem, and the CDFIs as kind of the linchpin players," he says. As the CDFIs build better systems and submit better applications for the grant money, he adds, they'll also then be able to present better packages to the foundations or banks that might be interested in investing in them. That means more capital to help local people in need.
Hawai'i Investment Ready's Lee says a lot of people have a hard time understanding how helping low-income people helps the state's economy.
"The answer is because it takes a lot of pressure off," he says. "Right, like their need for services goes down, their health improves, their employment improves, their housing situation improves. When we help people on the margins, we uplift everybody."
Back on Kauaʻi, things are looking up for Agcaoili. She's starting to think about what her next steps might be and is even planning to return to Hawaiʻi Community Lending for help buying a house.
"It's funny, too, they were there all along," Agcaoili says. She just didn't know about them until she needed them, she says. "It kind of led me to think, 'What other resources are there for people like us who do need it?' "
PART 2: A New Way to Create Positive Change
The goal of impact investing is not to make the most money but to help create an important positive impact. Instead of making a charitable donation, you invest in projects that tackle social and environmental problems. The usual goal is to make a little money, or at least get back what you put in, so you can invest in other worthwhile projects.
Most of us start investing to build our wealth, but the state's economic crisis might change our minds about where to put our money.
Impact investing refers to investments that are meant to generate financial returns and accomplish some social or environmental good. The practice is relatively new in Hawai'i but is growing as organizations collaborate to share lessons learned and involve others.
"It's sort of a growing recognition from the investment community and the corporate world that you can't just look at financial returns, that we have to pay attention and we have to balance financial returns with social and environmental and community returns," says Chris van Bergeijk, SVP and chief impact officer at the Hawaiʻi Community Foundation.
Others say impact investing challenges long-held notions that only philanthropic and government dollars can solve Hawaiʻi's social and environmental challenges. Impact investing is already helping a Wai'anae farm unlock commercial capital so it can expand food production and mentor more youth. And it's funding clean energy solutions and helping community development financial institutions deliver loans and financial counseling to residents and businesses in need. Advocates say impact investing can do even more.
"We're definitely dealing with some very significant economic duress in our state and all over, but definitely in Hawai'i we're so much more susceptible because of the economic makeup of our community," says Lauren Nahme, VP of strategy and transformation at Kamehameha Schools. "And so therefore, I think that impact investing could be a superhero if we do it right."
Funding for Impact
Impact investments can be distinguished from traditional investments because they put impact first, not the highest return on investment, says Keoni Lee, CEO of local accelerator Hawaiʻi Investment Ready. The term is defined by the Global Impact Investing Network as investments made "with the intention to generate positive, measurable social and environmental impact alongside a financial return."
These investments are being made around the world by fund managers, development finance institutions, financial institutions, private foundations, pension funds, insurance companies, family offices, individual investors, nongovernmental organizations and religious institutions. The Global Impact Investing Network estimates that the global impact investing market has $715 billion in assets under management.
But impact investing is still a nascent sector, especially in the Islands, Lee says. One challenge is that its impacts are not as easy to measure as those of traditional investing, which focus on how much profit the investor makes.
"Impact investing is a little less clear and a little less exact, because you're measuring non-financial returns," he says. "So it's really challenging for people who need clear and easy metrics and measurables to base their performance. … The art, science and practice of impact measurements is an emerging and evolving practice."
There are several ways to define impact, says Heather Piper, executive director of the community development financial institution called Hawaii Community Reinvestment Corp. Say a nonprofit receives a loan to build solar panels on its building. The impact of the investment is its contribution of renewable energy to Hawai'i's grid, which can be measured in kilowatts of clean energy or by the amount of reduced carbon emissions. Another example: funding affordable housing. The social impact is the number of affordable housing units that were built.
The pandemic has upended the state's tourism-dependent economy and increased the number of people experiencing financial hardships. Lee says this has shown that Hawai'i can no longer expect philanthropic grants and government dollars to solve the state's social problems. That's why Hawai'i Investment Ready started a program called Leveraging Hawai'i Capital with the support of organizations like Kamehameha Schools and Ulupono Initiative. The idea is to develop Hawai'i's impact investing ecosystem, share best practices and build relationships. The group hosts quarterly workshops on impact investing.
"Impact investing is not the silver bullet that's going to solve our economy, but it does provide a pathway, it provides tools, approaches," Lee says. "But more importantly it provides that mindset and intentionality grounded in wanting to do good, wanting to address the problems, wanting to provide equity, justice, sustainability."
Gray Space
In the last 20 years she has been with the Hawaiʻi Community Foundation, van Bergeijk has seen growing interest in how foundations can more effectively use their assets to invest in the community.
"It's pushed foundations to get more serious about measuring impact, tracking results, evaluating outcomes and I think Hawai'i Community Foundation has moved right along with it," she says, adding that part of the push for impact investing comes from donors.
Impact investing essentially fills a gray space between philanthropy and traditional investing, says Lisa Kleissner, president of the KL Felicitas Foundation and co-founder of Hawai'i Investment Ready. It allows investors to focus on the impact they want to make and then use the investing tools that will help them and their investees achieve those goals. For example, a nonprofit might not be able to repay a loan, but a grant could help it fulfill its mission. On the other hand, a business might need an equity investment that will later enable it to take on commercial debt.
"It's not a grant or a return with an upside on the capital," Kleissner says. "It's more like, 'What's the mission you want to achieve and what are the right tools and right type of capital instruments that are going to help that enterprise achieve those goals?' That's how we look at it." The California-based KL Felicitas Foundation has been doing impact investments since the mid-2000s. Today, the foundation's $10 million portfolio is almost 100% committed to impact investments.
Impact investments can come in many forms, including loans, loan guarantees, deposits, bonds and equity investments. They can also be made across a variety of asset classes, such as private equity, fixed income, real estate and cash. When impact investments provide a financial return on the investments, or its loans are repaid, the money can be reinvested elsewhere.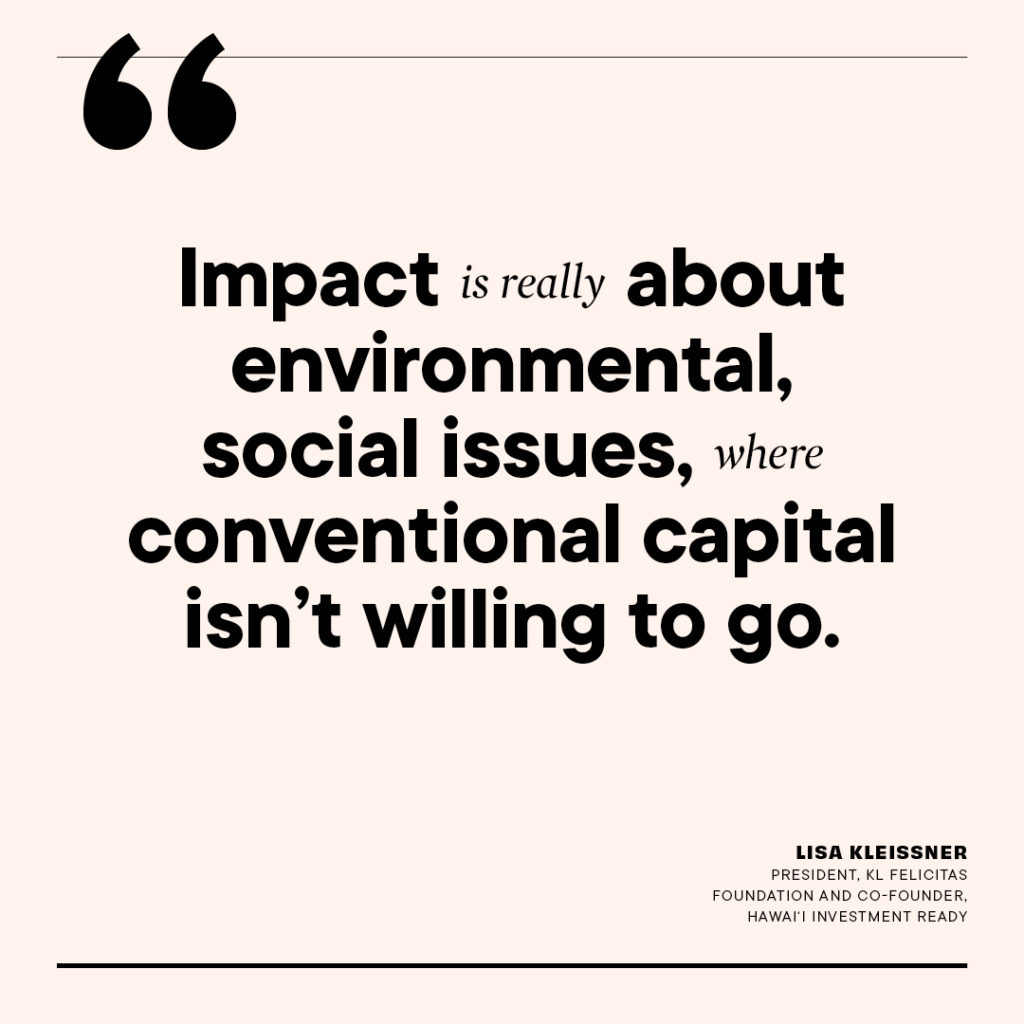 Hawaiʻi Community Foundation has long been known for the grants it provides to the community and is just starting to venture into impact investing with a three-year pilot project. In 2020, it launched a social impact investment fund that will enable it to make low-interest loans. The foundation is looking for at least a return of principal and a small level of interest, so it can recycle the funds. Its first recipients will be two Hawai'i community development financial institutions.
"We see now more than ever that in light of COVID, the need to capitalize CDFIs is even more important to us because we believe strongly that they will play a critical role in economic recovery," says Michelle Kauhane, the foundation's senior VP of community grants and initiatives. During the pandemic, CDFIs have provided residents with needed financing and financial counseling so they can stay in their homes, pay their bills, finance their businesses and get back on their feet.
This pilot project is meant to be a learning experience for both the foundation and its investees, Bergeijk says. The foundation has to build its internal processes and get comfortable using a financial tool that's not a grant. The broader goal is to support five impact areas: small-business supports, early childhood, the environment, affordable housing and sustainable food systems.
Jessica Scheeter, executive director of the Johnson Ohana Foundation, which has made investments in Hawai'i and California, writes in an email that the long-term goal of those interested in growing the state's impact investing sector is to get foundations to consider the additional social and environmental benefits they can support with impact investments.
"Starting small with a dedicated percentage earmarked for impact investments is a good first step, while continuing to learn and explore the landscape," she writes. "It is not typical for a foundation to dedicate their entire endowment for impact investment, but the goal is to continue analyzing investment ready enterprises and increasing that slice of the pie as the foundation gets more comfortable with the process and returns."
Paving a Path
Kamehameha Schools has been talking about impact investing for close to 10 years and more actively within the last five as the school implemented its 2015-2020 strategic plan, Nahme, the schools' strategy and transformation VP, says. The school sought to build more partnerships and look at different ways of leveraging its capital to have more impact for the next generation of Native Hawaiians.
"It's not easy to make some of those transitions because traditionally, it's either you're spending on your mission or you're in philanthropy or you're in program or you're just focusing on the highest return you can get," she says. "And talking about the things in the middle is very nerve-wracking to everybody because it just complicates things."
Kamehameha Schools has created a central office for community investing, built partnerships and relationships with collaborators, and completed some demonstrations to test the waters. In those experiments, the trust used some of its grant-making money to provide a local CDFI with seed capital and guaranteed a $3.4 million loan that Ma'o Organic Farms received from Central Pacific Bank to acquire more land.
Claire Sullivan, director of development and impact at Ma'o Organic Farms, says that guarantee enabled a commercial bank to participate in a transaction that might not have otherwise been viable for it.
"That's really the power of the guarantee," she says. "It's leveraging access to capital that's in our community but traditionally inaccessible to a social enterprise or to a nonprofit that for example can't afford market rates of return or that might have presented a higher perceived risk when assessed through the due diligence by the commercial banks. So it's serving as an unlocking tool."
Michael Kim is VP and business banking team manager at Central Pacific Bank. He writes in an email that his bank was encouraged by Kamehameha Schools' approach to improving Hawai'i's educational ecosystem by looking for innovative ways to empower community champions: "Alongside Kamehameha Schools, we feel it is our responsibility (kuleana) to stand with community partners like Ma'o who work to strengthen their communities and ultimately the entire lāhui."
Kamehameha Schools' Nahme adds that the guarantee is a way to share the risk among different partners to accomplish a social and environmental good.
"The bank taking some risk, us taking some risk, and Ma'o taking up most of the risk, I think is a way that we should do more. We all should do more," she says.
Ma'o has since raised $11.45 million over the past three years from 27 organizations, agencies and individuals to expand its farm and build a new processing facility. Some of the contributions included mission-aligned debt, government grants, private contributions and a recoverable grant. Not all of these are explicitly impact investments, Sullivan says, but they will collectively accomplish a social good by allowing the farm to create 75 more jobs, produce 10 times as much food and help four times as many youths to receive college degrees and mentoring.
"Impact is really about environmental, social issues, where conventional capital isn't willing to go," Kleissner says. "But impact capital is, and it's willing to take the risk and willing to be more creative with the use of capital and the structuring of that capital as well."
Impact investors also can help "de-risk" new technologies by supporting pilot projects. Accelerator and nonprofit impact investor Elemental Excelerator takes an equity stake and provides up to $1 million in funding for later- stage companies in mobility, water, food and agriculture, energy and the circular economy to help them develop scalable business models and reduce the risk of product deployments, says Danya Hakeem, director of innovation, agriculture and circular economy.
Elemental Excelerator has awarded $36 million to 99 portfolio companies that have raised $790 million in follow-on funding. Hakeem says the nonprofit accelerator prioritizes impact first before financial returns. "We're looking at what are the biggest challenges in Hawai'i and is this company the right one to solve them," she says.
Murray Clay is president of Ulupono Initiative, an impact investing firm working to help Hawaiʻi in four areas: increasing the amount of locally produced food, renewable energy and clean transportation, and improving water and waste management. Since its establishment in 2009, it has committed $79 million in investments, trials, grants and donations to local organizations to find solutions. The firm seeks market returns on its impact investments in for-profit organizations to show that its investees are profitable; that may draw in further investors and help the companies to grow.
"If a company can't prove that it will be profitable and that it can make a go of it financially, then all that extra – what I call normal capital, regular for-profit investment capital – won't come in and do it," he says. "Look at solar and renewable energy. If that never penciled out and we were still trying to push for more incentives and things like that, we wouldn't be where we are today."
He adds that impact investors have to be comfortable with failure because some business models and technologies won't work out: "If you're too afraid of failure, you won't ever get into this space. You won't be willing to take that early risk to try to encourage what I call the normal capital, the normal investors to come into these sectors to invest."
Growing Sector
Kleissner writes in an email that it is too early to write the impact report for impact investing in Hawai'i: "Impact investments typically take seven to 10 years to fully mature," she says. "Not all, but most deep impact ones take time."
In the meantime, Hawai'i's impact investing ecosystem continues to grow as foundations and organizations form hui and gather to share experiences and lessons learned. Those involved say growing the practice further will require more successful deals and more partnerships.
"We need to create more good return experiences for investors here in Hawai'i because this social signaling will create a flywheel of additional investment," Hakeem says. "Essentially the more a peer group has proof points with good return experiences, the more likely they are to explore this space. And that's what we're building with Elemental and it's working."
Partnerships will be key, especially across sectors. Clay says Ulupono's goals are so high that it's impossible for the firm to accomplish them on its own.
"It sort of forces you to really look for partners and allies and figure out how you can work together to get it done because we're not getting it done alone," he says. "It's just not possible."
He cites the example of the state's Da Bux Double Up Food Bucks program, where recipients of the Supplemental Nutrition Assistance Program (SNAP or what is sometimes still called food stamps) will get twice as much food per dollar when they buy local produce and food products. Ulupono, working with other partners like the Stupski Foundation, Kamehameha Schools and The Harry and Jeanette Weinberg Foundation, raised $500,000 to match the state government's $500,000 contribution. The program improves access to affordable and healthy food, expands the customer base for farmers, and keeps food dollars in the local economy.
Kleissner says the coronavirus has provided Hawai'i with an opportunity to rethink its use of capital for the benefit of the community.
"People are seeing (2021) will be an incredibly challenging year for nonprofits, so we need to learn to stretch our dollars individually and collectively. That's what impact investing can do for Hawaiʻi right now."
Essential follow-up reads:
What Does it Mean to be a CDFI and a Credit Union?
Deep Dive: Impact Investing