Is That Really A Service Dog?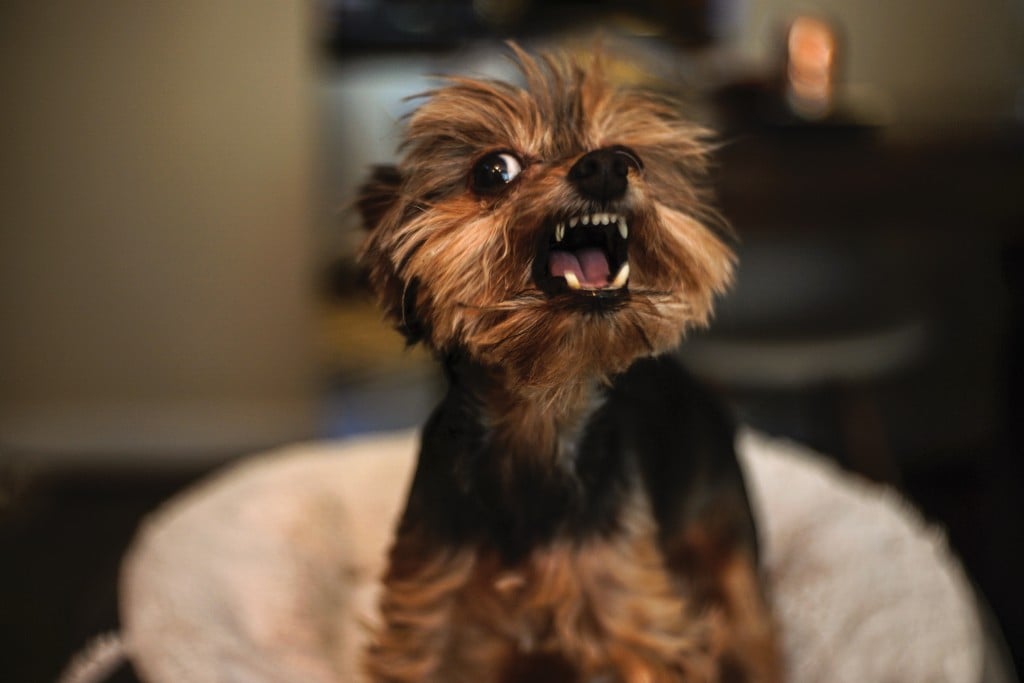 Brian Kajiyama, an instructor in UH's Department of Special Education, who has cerebral palsy, has an undeniable need for his trained service dog, Zeus. Such dogs get years of training so they can help their human partners, and Zeus can pick up things when Kajiyama uses sign commands.
Together, he says, they have encountered dogs whose owners masquerade them as trained service dogs. Some are tiny dogs wearing red vests with "service dog" patches that bark at Zeus – a behavior that a true service dog would not do in such circumstances.
"Of course my dog reacts, as he's protective and also curious," says Kajiyama, "but this places my legitimate service dog at risk for being seen as untrained or not as professional."
The prevalence of fake service dogs means Kajiyama is sometimes asked to show credentials for his dog: Once at Kualoa Beach and another time at a Kmart store, he says. Both times, employees explained there had been increases in people bringing in dogs they labeled falsely as service dogs.
"It's good (the Kmart employee) asks more questions, but that means anyone with a real service dog needs more time just to do their shopping," he says.
As long as a dog is a real service dog, it can accompany its owner anywhere the public is allowed to go under the Americans with Disabilities Act (ADA). However, there are no requirements to be licensed, registered, certified or professionally trained as such.
Louis Erteschik, executive director for the Hawaii Disability Rights Center, a nonprofit social service agency, says, "A lot of people sometimes wish they did have something like that. … It would look like a driver's license or some type of card or certificate that would clearly say, 'This is my certified service dog.' But the federal law doesn't really work that way."
In 2014, Rep. Angus McKelvey introduced HB 1420 at the state Legislature, which would have made it a violation to present an animal as a service animal if it is not individually trained to work or perform tasks for the benefit of a disabled person.
"There are a lot of people bringing their pets out there and they're claiming that they're service dogs."

— Susan Luehrs, Founder, Hawaii Fi-Do
"By focusing on the health, safety and training standards of the animal rather than the disability of the owner, we can ensure that the health and safety of other patrons and members of the public are not going to be burdened by an animal that is purported to have training but (doesn't, and) not let owners get away with calling their pets service dogs," McKelvey says.
Part of the confusion, he says, has been created by trying to find a way to discern an illegitimate service dog without discriminating against the owner for using such an animal. He says the owner should be required to show the animal has been trained by an accredited organization for the owner's disability.
The bill was deferred in 2014 and McKelvey does not plan to reintroduce it this year.
Francine Wai, executive director of the state's Disability and Communication Access Board, says her office receives an average of two to three calls a day asking how to identify and certify service dogs. The office's response: When inquiring whether a dog is a service dog, ask what behaviors are appropriate for it – such as obedience, being house trained and under the control of the handicapped person.
"So when the criteria for being a qualified service animal is really broken down, it's a performance criteria. And the only way that you know that is by watching the animal," she says.
Service dogs are not required by the ADA to wear vests or other means that identify them as working animals. In fact, such vests can be bought online by anyone. Wai was able to buy one herself: "I don't even have a dog, and it's that easy to get a vest."
Wai notes there are two possibilities when a dog is misrepresented as a service dog:
• The person can be misrepresenting himself or herself both as being disabled and having a service dog; or
•  The person has a legitimate disability, but the animal isn't a trained service dog.
"So that's one of the concerns … Are you looking to punish, penalize somebody for false representation of themselves as a person with a disability? Or are you saying that, if it's a person with a disability, but they falsely represent themselves as having a service animal, then that is equally the same or distinctively different?"
The Americans with Disabilities Act only allows two questions when inquiring whether a dog is a service dog: "Is the dog required because of a disability?" and "What work or task has it been trained to perform?"
Wai says that, when the Department of Justice was looking at revising some ADA rules, her office was not opposed to state certification and suggested a system similar to getting a disabled-person parking permit. The disability would have to be verified, as would the animal's function and behavior.
However, the Department of Justice did not move forward with the idea. According to its final rule, imposing formal training requirements would not serve the "full array of individuals with disabilities who use service animals, since individuals with disabilities may be capable of training, and some have trained, their service animals to perform tasks or do work to accommodate their disability." The department also felt a training requirement would increase the expense of acquiring a service animal as well as limit access to them. 
True service dogs are trained, but the Hawaii Civil Rights Commission has a separate definition for "assistance animals" as animals that work, assist or perform tasks for the benefit of a person with a disability, including animals that provide emotional support, therapy and comfort. These animals don't need to be trained and are recognized under federal law only by the Fair Housing Act and the Air Carrier Access Act.
"A lot of people sometimes wish they did have something … like a driver's license or some type of card or certificate that would clearly say, 'This is my certified service dog.' But the federal law doesn't really work that way."

— Louis Erteschik, Executive director, Hawaii Disability Rights Center
Under the commission's interpretation of Hawaii Revised Statutes Chapter 489, assistance dogs should be allowed in public, as well as in housing, employment and state-funded services, as a reasonable means of accommodation. The commission's executive director, William Hoshijo, says this is the enforcement position of the executive director and has not been addressed in a commission decision or rule. It has also not been addressed by state courts.
"Our state nondiscrimination laws prohibiting disability discrimination provide consistent protection in all areas, rather than carve out diminished protections as established under federal law," he says. "In this and other respects, Hawaii state antidiscrimination laws have offered and continue to offer stronger protections than federal law."
An example is when a person with a disability has a companion animal. Under federal Department of Transportation regulations, the animal can accompany its owner on a flight. However, under the ADA, that person could be denied transit to the airport in a taxi with his or her companion animal.
In housing, Hoshijo says, the federal law allows for a discussion. When a housing provider is asked to waive its no-pet rule, the provider can ask for documentation from a health-care provider to confirm the person has a disability and the animal helps to alleviate one or more symptoms.
The state Department of Health does bar assistance animals from food establishments; only true service dogs are allowed. DOH Sanitation Branch manager Peter Oshiro says this rule was adopted from the federal Food and Drug Administration's 2009 Food Code.
---
Years of Training
Three times a week, adult correctional officer Patrick Hamlow and his 3-year-old labradoodle go to Liberty Dialysis Center for a five-hour procedure. Hamlow lost both of his legs and now rides in a scooter with Umi, who is trained to retrieve items he drops – one of 250 hand and voice commands Umi knows.
They met when Hamlow was recovering in the hospital and Umi was in training. Hamlow helped teach the dog how to ride alongside his scooter and wheelchair.
"He is the first service dog in the state of Hawaii allowed to ride into the dialysis center," Hamlow says. "So, besides being my service dog, he plays therapy dog to the other patients."
---
Need for Trained Dogs
Hawaii Fi-Do, the Kahuku-based organization that helped train Umi, teaches its dogs more than 80 commands, including basic hand signals.
"I can go to Ala Moana Center with him and leave him down by Macy's and go down by center stage and give a hand signal, and he'll either stay there, depending on the signal that I give him, or come to me carrying his leash. And he'll ignore anybody in his way to get to me," Hamlow says.
Under the Americans with Disabilities Act, service animals are defined as dogs or miniature horses that are "individually trained to do work or perform tasks for people with disabilities."
Hawaii Fi-Do founder Susan Luehrs describes the value of such dogs as priceless: "Many recipients feel (the dogs are) a family member. … They give them independence that they didn't have before."
The wait for a service dog in Hawaii and nationwide is typically a couple of years, she says.
Each year, Hawaii Fi-Do graduates about four or five dogs, but receives 200 to 300 requests for dogs to help people with disabilities.
At Makawao-based Assistance Dogs of Hawaii, executive director Mo Maurer says the wait for a dog is about one year. The organization graduates about 10 to 12 dogs each year after a year or two of training. The cost to train a single dog and provide lifetime follow-up support is about $20,000. That includes the purchase price of the puppy, veterinary expenses, insurance, equipment and supplies, all of which are covered by the organization.
Once training is complete, dogs are matched with individuals based on the individual's need, lifestyle and environment.
Luehrs and Maurer both acknowledge the shortage of trained service dogs, but they also agree that fake service dogs in public places pose dangers to people with disabilities.
"There are a lot of people bringing their pets out there and they're claiming that they're service dogs. This turns around and directly reflects on our dogs, who are skilled," Luehrs says.
Hawaii Fi-Do is an accredited program of Assistance Dogs International and certifies that its dogs have gone through two years of training and know at least 80 commands.
"There are so many people out there scamming, and we want to show that we are a viable program (with) … very high standards of training and that we're doing it the right way," Luehrs says.