My Job Is Running a Successful Calligraphy and Bottle-Painting Business
Michelle Clemen left a nursing career for creative work, and assures the skeptical that "you can make a living from being an artist."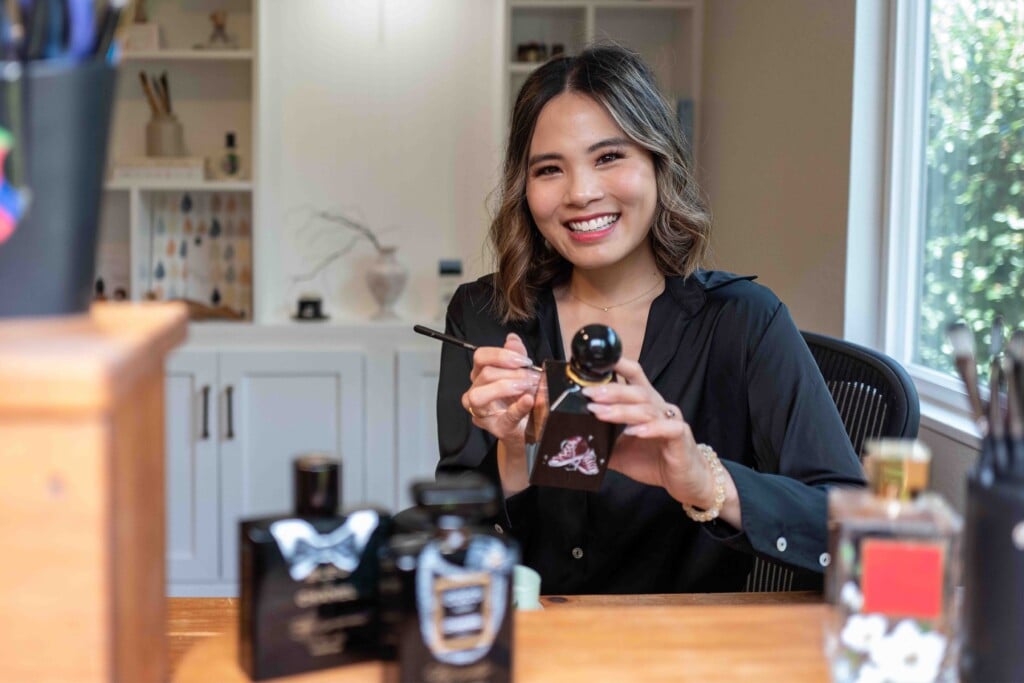 Name: Michelle Clemen
Job: On-site calligrapher and bottle painter
Company: Juniper Calligraphy
Beginnings: "I learned how to do calligraphy for my own wedding invitations," says Michelle Clemen, who was married in January 2018.
After seeing the self-made invitations, friends asked her to write invitations for their weddings. Clemen formed Juniper Calligraphy that year as a side hustle to her full-time nursing career.
"Covid was when I quit my job and said I'm gonna try really hard for one year. If I don't make it in one year, then I'll go back to nursing." She has been doing creative work full time ever since.
Niches: "I have different niches: calligraphy, engraving and bottle painting."
Her work includes live, onsite painting and calligraphy for luxury brands like Neiman Marcus, Tiffany and Louis Vuitton. Customers can have products such as glass perfume bottles customized after purchase.
In the last year, Clemen also launched an online "fundamentals of bottle painting" course.
"I saw a gap in the market where people would be doing calligraphy on bottles but not painting.
So I said, why don't I teach people? "I think this is like a niche within a niche within a niche."
Working Quickly: When she is working on-site, she must work quickly. "The fastest for me is flowers. I can paint a flower within five to 10 minutes.
"It's very stressful, actually, because if there's more than one bottle, you have to schedule your time so that you can finish each one."
Misconceptions: "I feel like being in a creative business comes with so much more than just doing my art. People think I just paint all day, but a lot of it is administrative work or communication. I think I paint less than 30% of my time."
Making A Living: Working in creative fields can come with a stigma, Clemen says. "Most people don't think that you can make money from it.
"I want to show people that we can change that. You can make a living from being an artist if you have the right tools."
Best Day: Clemen loves being on-site and talking to her clients. "My favorite thing is when I'm done with the bottle and I hand it off to the client, and they're just so excited, so happy. That excites me, that keeps me going."
She also enjoys live parties on Zoom with her online students. "Once a month we meet and I teach them a new painting skill. I have a lot of clients who are on the mainland, or even in different countries. So that's kind of how we stay connected."
What it Takes: "Discipline is the number one skill. You need to want it, you need to be able to get up every morning and continue practicing, put yourself out there.
"You need to enjoy and love what you do to be successful. And then from there, the money will start to come.
"Failure is part of the whole process. Do not be afraid of failing. As long as you have a clear goal of where you want to be, you will make that happen, no matter how you get there."