Kahala Renaissance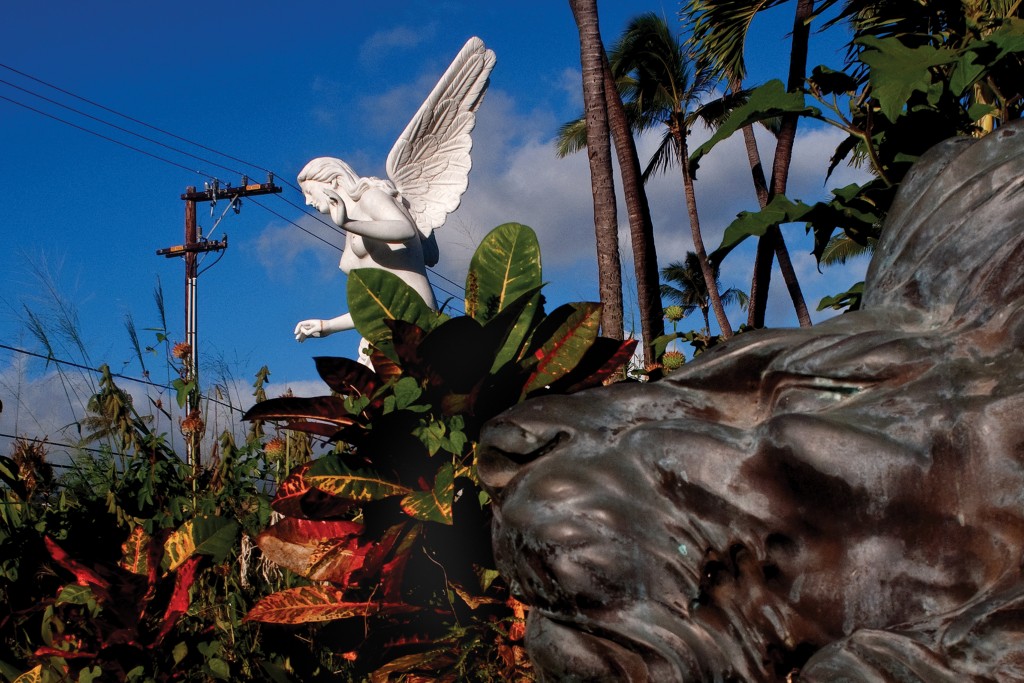 If your realtor suggest you buy on a street now vibrating with jack hammers, buzz saws, chain saws and tree grinders – including the requisite oversize, loud-mouth backhoes and flatbeds, blackdust barricades and huge chunks of derelict homes being hauled out for recycling – you might think you failed to make it clear what you want in a home.
Anne Hogan Perry's initial pitch to Tracy Allen and Beth Chang: "Let's merge and get this business."
When this realtor also mentions that the street is a local gathering spot, where 5Ks, 10Ks and marathons come running through almost monthly, there's a golf course and hotel at the far end, and tour buses sometimes lumber by, you might be inclined to find a new Realtor.
But when that street is today's Kahala Avenue, you'd be wrong. And, in just a few years, you'd almost certainly be kicking yourself if you had the cash and didn't seize the day.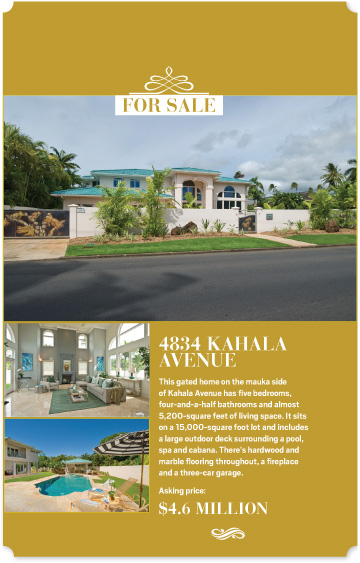 "Smart money is to buy on Kahala Avenue today," says Anne Oliver, one of Honolulu's top luxury market Realtors and a regular on Hawaii Business' annual Top 100 Realtors list. "Today's land values there, compared to where it will be in seven years – values are going to catapult."
The Avenue, to old-timers and Honolulu connoisseurs, gracefully leading to The Hotel, where deals were sealed, marriages were celebrated and tea was served on the lanai. It was Honolulu in its fi nest regalia, a storied enclave of homes and visitors and beautiful sand beach cherished by those lucky enough to call it home as well as those who visited from time to time.
In the mid-2000s, paradise faltered. Just as the Joker set his eyes on Gotham City, Japanese investor Genshiro Kawamoto's sleight of hand claimed 16 percent of the parcels in the heart of this charmed community, including 25 percent of its most valued beachfront homes, allowing him to wreak his own brand of havoc. Kawamoto made global headlines when he leased three of the homes to homeless families, rent-free for years. The rest of his 30 properties were left to decay, vacant and unkempt. Swimming pools were filled with rocks; vandals found ready prey; scores of statues sprouted up on weed-infested lawns, and one home was purportedly flled with the eccentricities of an eccentric man, with rumored plans to one day open as a museum.
"Now, when I drive down the avenue, it doesn't look like bombed-out London."
Fast-forward to late 2013 and, just as in the movie, Batman swept in. Under a cloak of secrecy, A&B Properties slipped over to Japan and sealed the deal it had been quietly pursuing for four years, to buy those Kahala properties and sell them off one by one. And, just like Batman, A&B honored the leases of the homeless families and helped them relocate.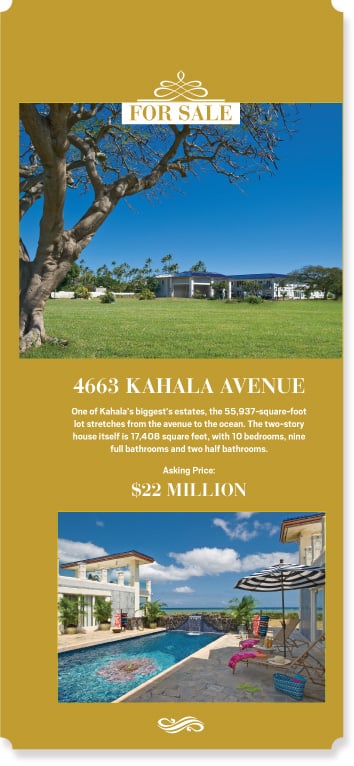 Kawamoto's spending spree wreaked havoc on the community and property values. All totaled, he shelled out around $170 million for the 30 properties, reportedly grossly overpaying and underpaying, depending on the whim. A&B's 2013 acquisition totaled $98 million, and it recouped $53 million of that investment within weeks through the sale of the first 10 lots.
For the residents of Kahala Avenue today, those jack hammers and backhoes are the sounds of property values – and their property taxes – finally going up again. To them, it's the sound of pure joy. A&B worked quickly to raze the homes that couldn't be salvaged, renovate those that could, and clean up the detritus that had gathered along the street. At press time, over half of the 30 properties have either been sold or are in escrow.
"For A&B, it was a value proposition," said Lance Parker, senior VP for acquisitions, explaining that the purchase complemented A&B'S other Oahu projects and its underwriting confirmed the deal was a win-win. What he didn't expect was the welcome-wagon greeting. "I'm not sure we really realized until we got in there how badly the neighbors had been impacted by it all."
News of the A&B acquisition sent the neighborhood – and the local real estate community – buzzing. Real estate agents are a competitive bunch. While the lock boxes hanging on their listings have a secret code shared among agents, their real treasures – their client lists, prospects and the whisperings of who might be looking to buy or sell – are kept vaulted away from the prying eyes and lurking curiosity of their competitors. Like airlines sharing tarmac space and gates at the airport, they are cordial, cooperative and reciprocal because that's how business gets done. But when gates open, it's a fierce race to see which airline gets it first. For Coldwell Banker agent Anne Hogan Perry, that race meant pulling o the road and making quick calls.
"I heard the news about A&B's acquisition half an hour before it was publicly announced," Perry says, "and I knew it was a once-in-a-career opportunity." She didn't call her broker or her assistant. Instead, she called her two fiercest competitors – Beth Chang and Tracy Allen. All three are top-producing Coldwell Banker agents, from three different offices, and all three women consistently make the Top 100 Realtors list. They routinely go head to head with competing clients and competing interests.
"In this business, you almost always have to leave a message," Perry says, laughing, knowing exactly how her competitors perceived her. "I knew they were screening my call and thinking, 'What does she want?' or 'What mood is she in today?' " But within minutes they both called back. Anne's message to both: "Let's merge and get this business."
For these three top agents, this wasn't just another deal. It was personal. All three women live in Kahala and had sold Kahala homes to some of their best clients, many of whom became friends over the years. With values stagnant and the Avenue looking more like a junkyard than a signature address, these women found themselves cringing when they ran into old clients-turned friends in the aisles of Safeway. "We wanted our old Kahala back," Allen says.
The challenges of putting together a team of top agents are not insignificant. That's where their bosses stepped in. Lael Wheeler and Patti Nakagawa (of the Coldwell Banker Kahala and Honolulu o¬ffices, respectively) both say they got onboard immediately. "Teams aren't an easy thing to do," Nakagawa says. "It takes a high level of trust and synergy and complementary skill sets." But both Wheeler and Nakagawa immediately realized the benefits this team could bring to clients, and what a trophy the A&B business would be. "We wanted to make it seamless for them between the two o¬ffices," Nakagawa says. The three-agent team now shares two offices, two brokers, five assistants and the depth of the Coldwell Banker back-of-house marketing. And, according to all of them, it works.
A&B took its time figuring out exactly how to take the properties to market and with whom. Parker recalls that choosing listing agents was a difficult decision and that initially A&B chose three – the Coldwell Banker team, Pat Choi and Sotheby's – to list the first five homes. But when those listings expired, the next decision was easy. "Three successful agents who saw this as a project and took the initiative to come together …" Parker says, "that they could put their egos aside on behalf of the client. That's what impressed me the most." The Team of the Avenue, as they call themselves, signed on to perhaps one of the most coveted pieces of Honolulu residential real estate in a lifetime – becoming the exclusive agent to carry this landmark project through to the very last closing.
As for life along the Avenue now, the consensus is resounding.
"It's just all good," Oliver says. "The community is euphoric, the embarrassment is gone, and clients who wouldn't even consider Kahala before are now coming back." As for property value, "It's definitely going up."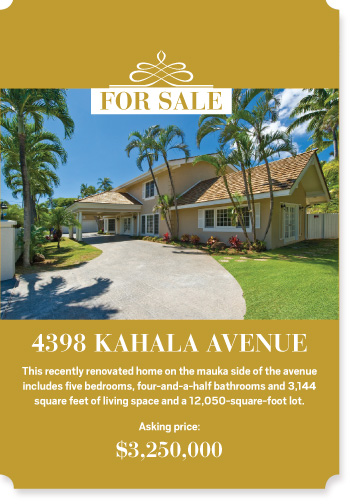 For Perry, Allen and Chang, there's a palpable pride in what's being accomplished. They are quick to point out the diversity of the buyers – not just wealthy Asian investors, but also a mix of local families, mainlanders, Europeans and Australians. They see their neighborhood coming together again.
"I don't want to sound Pollyanna about it," says Richard Turbin, a long-time Kahala resident, "but it really is a renaissance for Kahala. Now, when I drive down the avenue, it doesn't look like bombed-out London. I can feel good, not sick to my stomach anymore."
---
---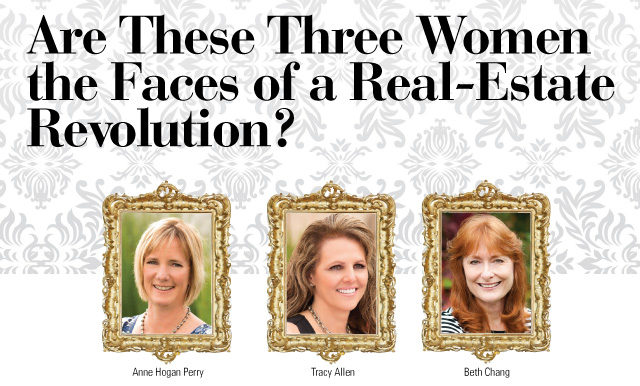 I caught up with Anne Hogan Perry, Beth Chang and Tracy Allen at 4834 Kahala Ave., one of the homes they've renovated and staged for their client, A&B. "We're starving, so we're bringing you a salad from Diamond Head Market," Allen says when she calls me to confirm our rendezvous.
They swoop in with an air of purpose and synchronicity, setting the table to make sure we didn't leave a mess, yanking salads and drinks out of bags, and pulling out piles of papers and maps and marketing materials. Meanwhile, they speak a language known only to them, a shorthand that conveys details about each home, with code names for buyers, previous owners and neighbors. No sentence is ever completed; it isn't needed. They know. Sometimes pursed lips or a raised eyebrow or a knowing giggle says what needs to be said. Eighteen months old, and this team has its own language.
"I'm sure all our competitors thought we'd kill each other," Perry says with a laugh. But there wasn't time. To get this business, they had work to do. They met daily. They walked the beach and the street, taking photos of each property and making notes, all the while trying not to be too conspicuous. They compiled a dense 6-inch binder detailing each property, its history and its value nuances to share with A&B. With an almost fierce tone, particularly for someone seemingly so demure, Chang says, "We wanted them to know that we knew this stuff. We knew their product and we wanted them to know that."
Their skillsets appear to blend well. "Beth is the queen of disclosures," Perry says, she and Allen both pointing out Chang's meticulous attention to contracts, details and negotiations. Allen and her husband, a contractor, have built homes together for years, so she's the one to call the shots on remodels and staging. Ask Chang and Allen about Perry and they just laugh. She's the visionary the one who knows who to call, how to make the deal work.
Perhaps one of the unexpected benefits of their teaming has been the discovery of time. Being a real estate agent is a 24/7 job and, for these women, it's been their lives for a combined career span of almost 80 years. Now they can lean on each other to find more time for a life. Allen tells the story of the impending arrival of Perry's first grandchild. "She told us, 'I'm not going, I won't be doing anything and I should be here.' But there was no way we were letting that happen!" Allen says.
Perry did as told, heading to Maui for the grand arrival. "I got to live the life I'd never lived before," Perry says, her voice softening just a bit. "I got to stay at home with my daughter and her new baby."
Before I can ask the question, Perry pre-empts me. "We realized we don't want this to end. It works, and we bring triple the expertise and experience and dedication to the clients – for the price of one of us." Perry Allen Chang (or PAC for short) is now a permanent team under the Coldwell Banker umbrella. Merging their books of business, their clients and their best practices, their goal is to bring a new level of sophistication and client service to the Hawaii market.
"There's no glass ceiling in our business," Perry says, her two partners nodding. "And what a wonderful thing at this point in our careers, to find something new, so rewarding, so challenging and so much fun."
Three successful, strong women – one an Ironman competitor, one a ballroom dancer and one a builder of homes and mother of five – took each others' calls one day and are now partners looking to offer something they call "a client experience beyond expectation." If the Kahala project is their proof of concept, they may be on to something.
---