20 for the Next 20: Keoni Lee, Hawaiʻi Investment Ready
The CEO of Hawai'i Investment Ready aims to create a more sustainable future for the next generation.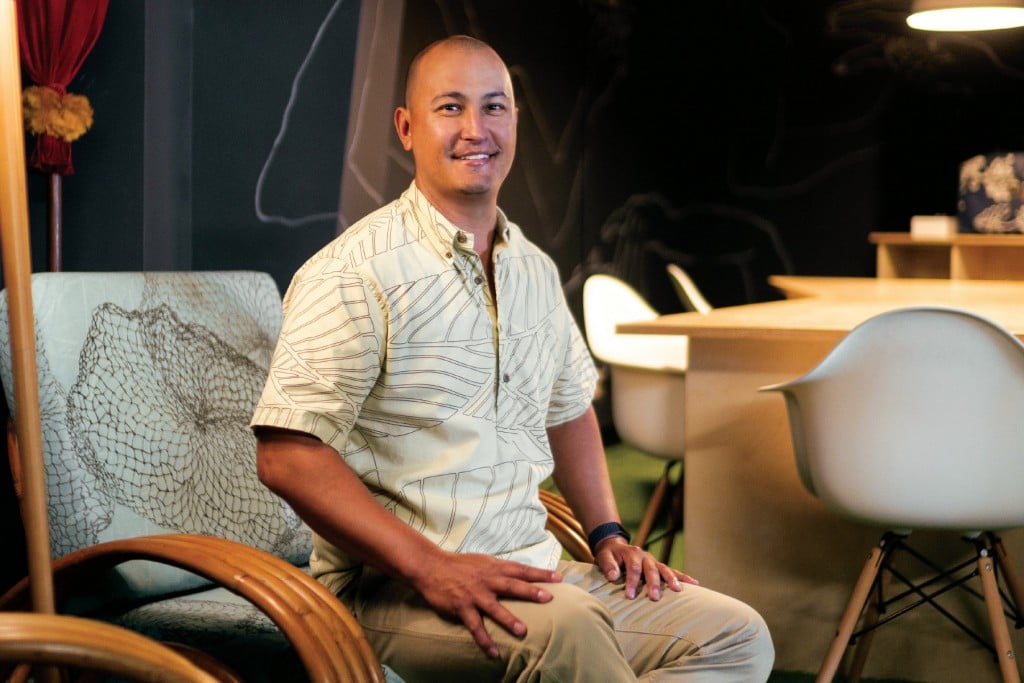 Keoni Lee
CEO, Hawaiʻi Investment Ready
Keoni Lee has no interest in pinning blame on anyone for the way the world operates, but he is striving to change it.
"When my first child was born and I looked him in the eyes," he says, "I just started thinking about what kind of Hawai'i will he inherit? How is he going to afford to live here? What kind of natural resources that me and my ancestors have been able to enjoy, will he have?
"And in that moment, I knew I was going to commit the rest of my life to changing how our financial system works, in the hope of creating a more sustainable future for the next generation."
Lee was born on O'ahu, grew up in Mililani and graduated from Kamehameha Schools Kapālama and Oregon State before getting his MBA at UH's Shidler College of Business. Today, Lee is CEO of Hawai'i Investment Ready, an indigenous-led accelerator that supports people and organizations who address Hawai'i's social and environmental issues.
In two years at HIR, Lee has amplified the organization's impact, tripled its staff and put it on the map, says Lisa Kleissner, HIR's board chair.
"He is not only entrepreneurial – he is a serial entrepreneur. He not only has vision, but he can execute on his vision," she says.
"He is actively connecting his ancestral wisdom tap root to his 21st century actions as a leader. All of this comes with humility and a deep sense of responsibility and compassion for his community."
In 2007, Lee helped start 'Ōiwi TV, a Hawaiian language and culture media channel. Through storytelling, building relationships and learning about issues, successes and leaders, Lee says, he had a front-row seat to what was happening in Hawaiian communities and indigenous communities internationally.
"They are instituting community- based solutions to managing their resources, educating their youth and reclaiming their languages," he says.
"I started to see how money and profit extraction, how imperialist capitalism is at the root of a lot of the problems that indigenous communities were trying to solve," he says, adding, "The people who are in power are not bad or wrong."
"I truly believe we are a community, here in Hawai'i. We care about each other and about this place in deep and profound ways that are connected to our identity. … It's about kuleana and trust. Change happens at the speed of trust. If we can focus on that as our foundation, then we can have the right kind of approach, the mindset and the leadership to walk the path toward change, a resilient economy and a resilient future for Hawai'i."