Kona Coffee Farmers Favor 100% Labeling Rule
These farmers want the Kona name to be reserved only for 100% Kona coffee.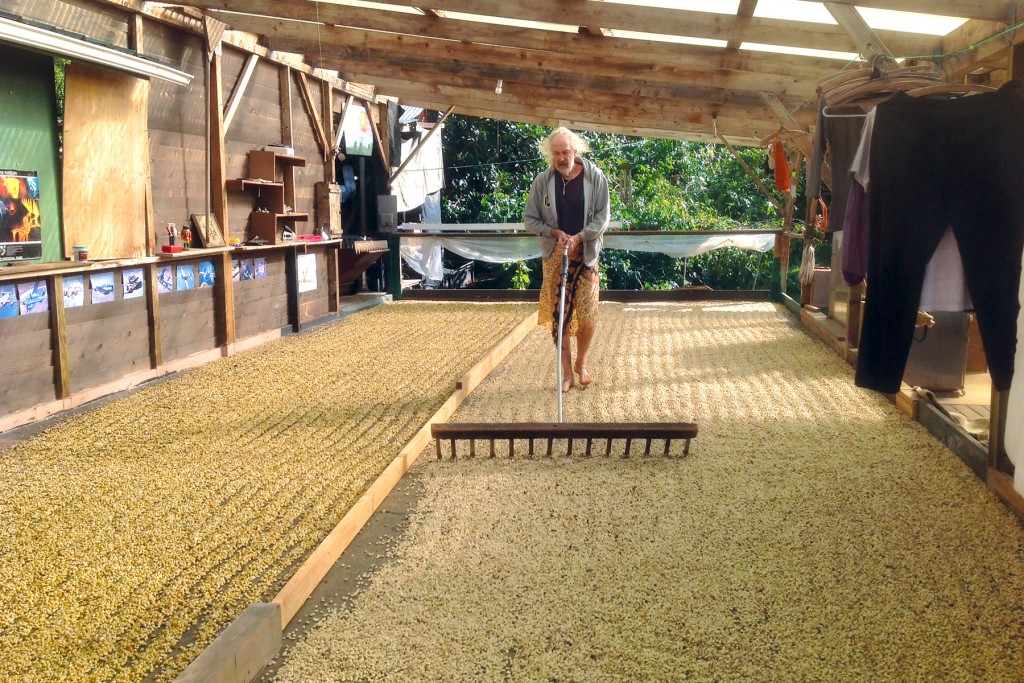 The coffee aisle at the KTA Super Store in Kailua-Kona looks a lot like the one in your supermarket.
Your aisle contains many brands that bank on the global reputation of Kona coffee, with names like "Kona Gold," "Royal Kona" and "Kona Blend." And without studying the label, you might not realize they contain only 10% Kona coffee mixed in with cheaper non-Hawaiian coffee.
Farmers Terry and Susan Fitzgerald consider this coffee fraud. The owners of Da'Kine Coffee used to sell their 100% Kona coffee in the KTA store. But because it sold for a few dollars more per pound than the Kona blends, sales were low and they pulled their product.
"How many people read the label anyway to find out that they're only getting 10%?" Terry Fitzgerald asks. "They see Kona written in big writing obviously and the 10% will be in the smallest font legally."
"The price, too, will directly affect us farmers," Susan Fitzgerald adds.
The issue of Kona coffee labeling is back at the Legislature this year. House Bill 1886 would have required any product labeled Kona coffee to have 51% of its beans come from Kona, up from the current 10% rule. That bill did not pass the House Judiciary Committee, but another bill might be rewritten to include that change.
Many Kona coffee farmers think the Kona coffee label should only be allowed for 100% Kona products; they argue that coffee blenders and distributors cheapen Kona coffee's reputation by blending it with imported coffee of lesser quality yet labeling the mix as Kona. Some farmers back the 51% rule as a compromise on the path to a future 100% rule.
Kona coffee is legally reserved for coffee cultivated on the slopes of Hualālai and Mauna Loa in North and South Kona on Hawai'i Island. Nestled at an altitude of 1,500 feet in South Kona's Hōnaunau area is the 4-acre Da'Kine Coffee farm. Terry and Susan Fitzgerald recently added another 1.5 acres nearby, containing coffee trees and a mostly-off -the-grid house that is now their home.
To get there, drivers must turn onto a rough unpaved road off the Hawai'i Belt Road and look for a small yellow sign that says "Da'Kine Coffee."
Terry Fitzgerald says the 51% rule called for in House Bill 1886 might have been a good start, but it would have still hurt Kona coffee farmers and deceived coffee drinkers.
"You're still asking to be called Kona coffee, but you're not really delivering Kona coffee. I mean it's an advertising trick," he says,
"We cannot compete with 10% Kona coffee blend or even 51%," Susan Fitzgerald says. "That's why 100% is the only way." John Trowbridge, owner of Mountain Thunder Coffee Plantation, favors a 100% rule. "I think any product, particularly agricultural products, lend themselves to being mislabeled," he says. "I'm not happy with the market the way it is because I think that consumers are taken advantage of."
Mountain Thunder processes and sells coffee that it and others grow. Trowbridge says any coffee that does not meet its retail standard is sold at wholesale, "generally to folks who make the Kona coffee blend."
Trowbridge has mixed feelings about HB 1886 because he thinks a 51% rule wouldn't really affect farmers significantly enough to make a difference and if it did, it would be for the worst. "If the blend percentage was increased beyond whatever the magic number is that causes sales to crash, it would be more difficult to sell the off-grade coffee, and could likely put financial pressure on the farmer.
"If you raise the blend percentage to 51% and the consumer stops buying it, then the farmer … may not have the outlet for the off-grade coffee."
He says consumers can be confident of buying 100% Kona coffee if they buy directly from the farmers. Most of the 600-plus Kona coffee farms have websites that allow people to buy directly.
"That has the least risk to it," Trowbridge says. "If you buy the coffee at the grocery store, I'm not saying it's all bad … but I'm saying there's risk. You haven't met the men and women that grew the product and processed it and can answer your questions and tell you all about it and show you the trees they came from."
Other states have laws against misleading marketing of their specialty crops, including Idaho potatoes, California's Napa and Sonoma wines, and Vermont's maple syrup.
Hawai'i County Council member Rebecca Villegas says commodities produced in the Hawaiian Islands are unique and should be protected. She says there will be sacrifices along the way, but she favors an increase from the 10% rule, "even if it requires a couple of years of transition time."
"I think for the greater good … and the longevity of an industry, a crop and a product that is so unique and of such superior quality, it behooves us to continue navigating this pathway, to protecting this industry, the farmers that grow the product and the trees themselves."