Kukulu Hale Awards 2023
Recognizing excellence in Hawaiʻi's commercial real estate industry with NAIOP Hawaii's 26th annual Kukulu Hale Awards.
NAIOP Hawaii has served as the state's foremost association of development industry leaders and decision-makers since 1988.
Our annual Kukulu Hale Awards program celebrates the best of Hawaii's commercial real estate industry, honoring individuals and organizations that have enriched our community through their projects, professional achievements and civic service.
We invite you to read about this year's awardees and distinguished entries below. Special honorees include Hunt Development Group, Developer of the Year; Harry A. Saunders, Lifetime Achievement; Corbett Kalama, Outstanding Service Award; and PBR Hawaii, Design Firm of the Year.
On behalf of our board of directors and NAIOP Hawaii's 180-plus members, I extend deepest gratitude to our Kukulu Hale sponsors, jurors and committee members. Their generous support makes this year's program possible. Mahalo!
Jennifer Camp, AIA
2023 President, NAIOP Hawaii
2023 Kukulu Hale Jurors
Francisco Gutierrez
SVP, Development Alexander & Baldwin
George Leong
SVP & Team Leader, Commercial Real Estate Division, First Hawaiian Bank
Troy Miyasato, AIA
Principal, Ferraro Choi
Tammie Oka
Proposal Lead, Pacific District, Hensel Phelps
Liz Parrish
Vice President and Commercial Real Estate Loan Officer, Bank of Hawai'i
Kukulu Hale Awards Committee
Jennifer Camp and Catherine Camp, Co-Chairs
Liana Dietz, Francisco Gutierrez, Ken Hayashida, Larry Heim, Mike Imanaka, Glen Kaneshige, Bryan Li, Mele Pochereva, Barbie Rosario, Sunny Rosario, Leighton Yuen
---
Developer of the Year – Ku Hoʻokela Award: Hunt Development Group
With more than 30 years of service in Hawai'i, Hunt Development Group has long been recognized for its innovative use of underutilized government properties and its commitment to creating premier master-planned communities that complement the cultural and geographical riches of the Hawaiian Islands.
To date, Hunt has developed eight projects on four islands and has grown to become the second largest owner of multi-family homes in the state. These projects reflect the company's deep roots in public-private partnerships and pioneering projects.
Since 2009, Hunt has invested tens of millions of dollars to redevelop Kalaeloa, adding hundreds of new jobs in West O'ahu and attracting local businesses like Servco Pacific, Five Star Transportation and DTRIC Insurance as well as essential community services like Tripler Army Medical Center's Warrior 'Ohana Medical Home and DreamHouse Charter School, which opened its campus in 2019 to serve Leeward families.
By far Hunt's most ambitious undertaking in Hawai'i is the development, revitalization and management of more than 500 entitled acres and 500,000 square feet of industrial and commercial space in Kalaeloa (formerly Naval Air Station Barbers Point). In June 2021, Hunt began infrastructure construction and significant road improvements in Kalaeloa to prepare the area for the future Daniel Kahikina Akaka Department of Veterans Affairs Community-Based Outpatient Clinic and 389 new homes being built by Gentry Homes.
Over the next two decades, the company will continue to transform Kalaeloa into a thriving, mixed-use community with new housing and jobs for local residents.
Hunt is as committed to giving back to the community as it is to creating new communities.
In 2022, Hunt Hawai'i supported the community with over $117,000 in donations to Hawaii nonprofits, primarily in the areas of education, the environment and protecting Hawai'i's heritage. This included the donation of 3,000 gallons of water every week to Kalaeloa Heritage Park, and continues in 2023, to protect the park's cultural, historical and archaeological landscape. Hunt's Hawai'i team participates in 35 Hawai'i organizations, serves on 17 boards of directors, and attended 22 Neighborhood Board Meetings in 2022.
"For more than 30 years, Hunt has endeavored to be an industry leader in development, while also making a positive mark on our island community," said Steve Colón, president of Hunt Companies' Development Division in Hawai'i. 'Over these three decades we've had successful projects in every county across the state, allowing new entrepreneurs to open businesses, providing homes for working families and creating truly unique environments for students to live and learn.
"This would not have been possible without an outstanding team that is absolutely committed to Hawai'i. Real estate development is extremely challenging – as anyone involved in NAIOP knows – but our team understands how to face adversity and find innovative strategies to deliver on our projects.
"I'm also incredibly proud that our culture at Hunt encourages giving back. Each and every one of our team members is engaged in supporting the community, through volunteer service on boards and other nonprofit initiatives. Hawai'i is our home and we are committed to working and living with aloha."Recognizing excellence in Hawaiʻi's commercial real estate industry
Highlights of Hunt's Current Projects
Wākea Garden Apartments
Wākea Garden Apartments is Hunt's first residential project in Kalaeloa. Formerly a bachelor officers' quarters for the U.S. Navy, Wākea opened in June 2015 and was renovated in 2020. The company invested approximately $12 million to transform the dilapidated property into a 100-unit reserved-housing rental complex for local families.
Āhuimanu
'Āhuimanu is a new, 42,000-square-foot retail center on the Garden Island featuring a mix of businesses and community services. Anchored by the 12,700 square-foot grocery store-restaurant, Kīlauea Market + Café, tenants are established Kaua'i companies expanding their operations from other parts of the island to better serve customers on the North Shore or new local small businesses. As of June 2022, 'Āhuimanu is fully leased, despite the economic challenges and disruptions over the pandemic.
Hālawa View Apartments II
Hunt is partnering with Pacific Development Group to develop Hālawa View Apartments II, a new 300-unit affordable rental community located in 'Aiea. Construction of the $168 million project is slated to begin in May 2023 and finish in early 2025.
University of Hawai'i Residences for Innovative Student Entrepreneurs (RISE)
Opening to students in fall 2023, RISE is a first-of-its-kind "live-learn-work" student housing community developed through a public-private partnership between Hunt Development Group, University of Hawai'i and the University of Hawai'i Foundation. The $70 million project features dormitory residences and an innovation and entrepreneurship center that will bring together students from a variety of academic disciplines to collaborate, create and build their own startup companies. RISE also will be home to the Pacific Asian Center for Entrepreneurship (PACE).
Daniel Kahikina Akaka VA Community-Based Outpatient Clinic
The Daniel Kahikina Akaka Department of Veterans Affairs Community-Based Outpatient Clinic in Kalaeloa will be a nearly 90,000 square-foot multi-specialty Veterans Affairs clinic providing primary care, mental health care, x-ray, laboratory, diagnostic, pharmacy and specialty care for Hawai'i's veterans. Once complete, the clinic will provide essential services to an estimated 87,000 veterans on O'ahu.
---
Lifetime Achievement Award – Holo Pono Award
Harry A. Saunders
President, Castle & Cooke Hawai'i
During a remarkable career that now spans nearly five decades, Harry Saunders has learned the ins and outs of real estate development from the bottom up. He was 25 years old when he joined Castle & Cooke in 1975 as a salesperson for Mililani Town, the company's flagship project and Hawai'i's first master-planned community. Harry Saunders ascended to his current position in 2001, and along the way gained experience in land planning; entitlement; site design and construction; project management; construction; and even warranty and customer service well after the completion of a project.
During his tenure, Harry Saunders has overseen 15 development projects, and the company has provided 13,616 homes for Hawai'i families, of which 6,879 were affordable homes. He has learned from, and provided input to, five Hawai'i governors and 13 mayors: 7 on O'ahu, 3 on Maui and 3 on Hawai'i Island. Harry Saunders Harry A. Saunders President, Castle & Cooke Hawai'i also has been instrumental in setting a path of diversification needed to sustain Castle & Cooke into the future. He spearheaded the company's expansion of agritourism with the development of Dole Plantation and was very involved in converting the island of Lāna'i from a single-industry pineapple plantation into a visitor destination with two hotels and golf courses while also overseeing the island's operations and civic services.
A native of Hawai'i and a product of Hawai'i's public school system, Harry Saunders upholds a deep passion and commitment to make Hawai'i a better, sustainable, enjoyable place for those who live here.
NAIOP Hawaii asked him to share other highlights of his career.
What was it like being involved in the development/sales for Mililani Town, Hawai'i's first master-planned community?
HS: Working for the developer first as a salesperson, then sales manager then onto a larger role in all the operations of Castle & Cooke Hawai'i was a great opportunity to learn not only the people side of our industry, but I was able to learn from some of the brightest and most talented people in the industry with a long history in Hawai'i. I got to see many aspects of community development, in both the residential and commercial sectors.
Did you ever imagine you would still be at Castle & Cooke 45+ years later – and leading its Hawai'i operations?
HS: I never thought I'd be with the company this long and never considered running the Hawai'i operations for 20+ years. When I was first hired and going through the onboarding I remember the director of human resources discussing the benefits of the company such as health care and the pension plan that I totally tuned out. I was 25 years old, in perfect health, and retirement was not even in my thoughts. Just goes to show how much you know at 25, as I'm still here! I still haven't figured out retirement, so I guess it'll be a while before I truly understand the company retirement benefits.
What have you found most rewarding about your work?
HS: The opportunity to work with so many amazing and smart people, both within our company and throughout the community. I have been able to help complete one huge community (Mililani) and start another master-planned community (Koa Ridge), all for the residents of Hawai'i. I have overseen land management of large tracts of agricultural lands and helped to promote agriculture in Hawai'i. I was smart enough to heed the wise counsel of one of my main mentors, Mr. Wally Miyahira, to give back to our community via involvement in the many non-profit organizations serving our community. I have greatly enjoyed working with many boards including Chamber of Commerce, Hawaii Business Roundtable, Hawaii Nature Center, Bishop Museum, Hawaii Employers Council, Military Affairs Council, UH Foundation, and HomeAid Hawaii.
At the end of the day, I have never been bored and love the challenge of giving back to our home state of Hawai'i and its people.
Is there a "secret" to your success that others might learn from?
HS: Love what you do, do it with patience, do it with persistence, do it with integrity and honesty, and always greet the day with a smile and a laugh, and don't stop.
Outstanding Service Award
Corbett Kalama
Corbett Kalama often credits his humble childhood and his parents' deep-rooted native Hawaiian culture for the person he is today. As one of 11 children, he grew up in a family that didn't have material wealth but was enriched by community-centered values that later would inform his successful business career, including respect for all people and taking care of those less fortunate.
Following 32 years of service with First Hawaiian Bank, where he rose to the position of executive vice president and manager of the bank's Wealth Management Group, Kalama joined the Hawai'i Office of the Harry and Jeanette Weinberg Foundation in 2013, serving as vice president of real estate investments and community affairs. In 2018 he was promoted to executive vice president, responsible for management of all Hawai'i operations, including its $1 billion-plus real estate portfolio, which funds a large portion of the foundation's grantmaking nationwide, including the annual distribution of $12 million in grants to local nonprofits. During his tenure, Kalama also was the foundation's key public representative in the state's business, philanthropic and government sectors. He retired from the Weinberg Foundation at the end of last year.
A story by Hawaii Business Magazine Managing Editor Cynthia Wessendorf ("Passing the Torch at the Weinberg Foundation"), describes Kalama's enduring impact on the foundation and its philanthropic contributions in the areas of housing, health, jobs, education and community services. And the story shares insights from the two executives who now co-lead the foundation's Hawai'i office: Giorgio Calderone, vice president of Hawai'i operations and real estate, and Marisa Castuera Hayase, managing director of Hawai'i programs and communications.
"Corbett has got an amazing heart and is a tireless advocate for anyone who is less fortunate," Caldarone told Hawaii Business. "He is also a warrior who fights for what is right."
"He really operates from a sense of valuing every person in our community," Hayase added. "He's just as likely to seek counsel from a neighbor who's unsheltered and living on the streets as he is from a banking president. I wish there were more leaders like him who really cared deeply about listening to so many different perspectives from people of so many different walks of life."
Kalama came out of his brief "retirement" in March to take the helm of Resco, Inc., the parent company of locally owned real estate brokerage Locations. As president and CEO he oversees the overall operations of the company, including the firm's core brokerage activities, and institutional and developer relationships.
He remains actively involved with numerous boards and community organizations. He serves as a director on the boards of the Harold K.L. Castle Foundation and the First Hawaiian Bank Foundation, and he is president of Friends of Hawaii Charities.
---
2023 Kukulu Hale Award Winners
New Project Award – Commercial/Other Over 40,000 SF
Hale Makana O Maili
Entrant: AHL
Co-Developer/Owners: Ikenakea Development (Hawaii Community Development Board, 3Leaf Holdings, Pacific Development Group)
Lead Design Firm: AHL
General Contractor: Moss & Associates
Hale Makana O Maili is an affordable garden-style housing complex that builds community, respects culture, and invests in sustainability. The project provides the Wai'anae community with 52 residential units: 25 one-bedroom, 20 two-bedroom, and 7 three-bedroom units for individuals and families. The siting of six buildings encourages a sense of community. The dwellings face an interior garden park that includes a trellised picnic area, a children's playground, a tot lot that allows kids to play in a safe environment, and provides an outdoor gathering space.
New Project Award – Commercial/Other 40,000 SF or Less
311 Puuhue Place
Entrant: Bank of Hawai'i
Developer/Owner: HNL Development LLC
Lead Design Firm: Interlock LLC
General Contractor: IC Construction Inc.
311 Puuhue Place is the first bill 7 project completed in the City and County of Honolulu through recently approved legislation that encourages developers to increase the affordable rental housing inventory through various incentives. Located in Lower Liliha, this newly constructed 5-story true walk-up apartment building comprises 25 one-bedroom aff ordable rental units and nine parking stalls. The project is situated at the former site of an abandoned single-family home built in the 1940s and was redeveloped on just 5,000 square feet of land.
Renovation Award – Commercial/Other Over 40,000 SF
Turtle Bay Resort Renovation
Entrant: Albert C. Kobayashi, Inc.
Developer/Owner: BRE Turtle Bay Resorts LLC
Lead Design Firm: WCIT Architecture
General Contractor: Albert C. Kobayashi, Inc.
Turtle Bay Resort's biggest renovation since opening in 1973 re-invents the North Shore's only full-service resort into a vibrant gathering place for visitors and kama'āina. Nearly every aspect of the hotel experience has been transformed to immerse guests in the area's dramatic landscape and rich culture. The renovation's intuitive design encompasses a light-filled lobby with panoramic windows that heighten the expansive ocean views. Refreshed guestrooms and luxuriously appointed ballrooms further convey Hawai'i's sense of place.
Renovation Award – Commercial/Other 40,000 SF or Less
Servco Pacific Office
Entrant: G70 & Allied Builders System
Developer/Owner: Servco Pacific
Lead Design Firm: G70
General Contractor: Allied Builders System
The Servco Pacific Office renovation breathes new life into an old office, making it light and bright, and creating space for the community of Servco to gather, work and collaborate. The modern design embraces the industrial community of Mapunapuna in which this office is set, honors the history of Servco Pacific and its many companies and services that it has shared with us over the past 100+ years, and celebrates where the company is heading into their next century of work and community.
Renovation Award – Commercial/Other 40,000 SF or Less
Waikiki Market by Food Pantry, Ltd.
Entrant: Swinerton Builders
Developer/Owner: Food Pantry, Ltd.
Lead Design Firm: Lowney Architecture
General Contractor: Swinerton Builders
Waikiki Market by Food Pantry, Ltd. . is Waikīkī's only full-service, locally owned grocery store. The new two-story, 32,000-square-foot complex is located in the new Lilia Waikiki apartment building. This high-end market includes a 2,800-square-foot second-floor mezzanine and a 19,000-square-foot second-floor retail and restaurant space. Residents have access to restaurants with indoor and outdoor seating and four fresh food prep stations. Waikiki Market includes a general grocery section, seafood and meat departments, and a fresh produce section.
Public/Government Project Award
Hale Kalele/Hale Hilina'i
Entrant: Bank of Hawai'i
Developer/Owner: Kobayashi Group
Lead Design Firm: Design Partners Incorporated
General Contractor: Albert C. Kobayashi, Inc.
Hale Kalele/Hale Hilina'i transformed an underutilized state land parcel into an innovative mixed-use development featuring an affordable rental tower, Juvenile Services Center, and six-story parking garage. The project was a collaboration between the State Judiciary, Kobayashi Group, and the Hawai'i Housing Finance and Development Corporation. The project focuses on sustainability, and Kobayashi Group was able to expedite the project's execution so that construction began less than 10 months after the HHFDC financial award.
Nonprofit Project Award & Green Building Award
Nohona Hale
Entrant: EAH Housing
Developer/Owner: EAH Housing & Bronx Pro
Lead Design Firm: WCIT Architecture
General Contractor: Swinerton Builders
Transformed from a surface parking lot, Nohona Hale provides 110 modern micro-unit apartments and a one-bedroom manager's unit, along with common area amenities that include laundry facilities, a shared kitchen, meeting area/lounge and outdoor lanai, fitness room, and urban garden plots, along with bicycle, moped, and surfboard storage. Nohona Hale's green features include natural ventilation from floor-to-ceiling window walls that lead to a lanai, LED lighting, low-flow water fixtures, vertical solar panels on the side of the building, rooftop solar water heating panels, rainwater catchment for landscape and urban farm irrigation, and no resident parking, encouraging walking, biking, transit or ride share use.
Design Firm of the Year
PBR HAWAII
Since 1970, PBR HAWAII has influenced almost every aspect of land use in Hawai'i and other Pacific locations. Its projects have directed community growth, created sustainable communities, landscaped world-famous destination resorts and iconic parklands, and provided for the stewardship of the natural and built environments.
In Hawai'i alone, the company has guided the use and stewardship of more than 1.35 million acres – about 30 percent of total lands in the state. Its broad expertise encompasses land use master-planning; landscape architecture; environmental impact statements; entitlements/permitting, and graphic design. For decades the company has incorporated culturally appropriate, sustainable design into its work, based on an understanding of a location's natural environment (ecosystem and natural resources), its people, local history, and culture.
Imbedding Cultural Sensibilities
A landscape master plan update for Thomas Square in urban Honolulu, completed in 2021, tells the story of the park's history in relation to the 1843 restoration of the Hawaiian monarchy. Purposeful and symbolic design elements underscore the significance of the historic events at Thomas Square, not just for O'ahu, but for all of Hawai'i.
Wide Reach in Resort Sector
PBR HAWAII shaped the look and feel of many of the state's top visitor destinations, including the long-range master plan for the Ko Olina Resort on O'ahu; the Four Seasons Resort O'ahu at Ko Olina; the Kā'anapali Beach Resort on Maui; Kukui'ula on Kaua'i; and the Mauna Kea Beach Hotel on Hawai'i Island.
Premier Shopping Destination
Over the years PBR HAWAII played an integral role in the transformation of Ala Moana Center into a modern shopping and dining destination with extensive native Hawaiian gardens and ponds. The landscape design for the 'Ewa expansion included the creation of a new anchor court – a popular gathering place for families and visitors.
Education Influencer
PBR HAWAII has significantly influenced educational spaces in Hawai'i, including master planning two new Kamehameha Schools K-12 campuses and the University of Hawai'i – West O'ahu campus, and providing sustainable landscape design for Leeward Community College Education and Innovation Instructional Facility. At Punahou School, the firm was instrumental in the design teams for the Omidyar K-1 Neighborhood, Case Middle School, and Kosasa (Grades 2-5) Neighborhood campuses.
Leaving a Legacy for the Future
To ensure the continued excellence and leadership of its profession, PBR HAWAII established two endowed scholarships (totaling $100,000) at the University of Hawai'i, for students pursuing landscape architecture degrees and urban and regional planning degrees.
"Over the last 53 years, we have been blessed with extraordinary employees that take great pride in their work and continue to provide quality design and planning services," said PBR HAWAII President R. Stan Duncan, ASLA. "We are fortunate to have worked with a number of great clients on many exciting projects that have contributed to enhancing Hawai'i's built and natural environments.
"We are proud of the recognition our firm has received, both nationally and by our local Hawai'i chapters of the American Planning Association and American Society of Landscape Architects, and by the Historic Hawai'i Foundation and now, by Hawai'i's commercial real estate industry as NAIOP Hawaii's 2023 Design Firm of the Year."
---
Distinguished Entries
AlohaCare Tenant Improvement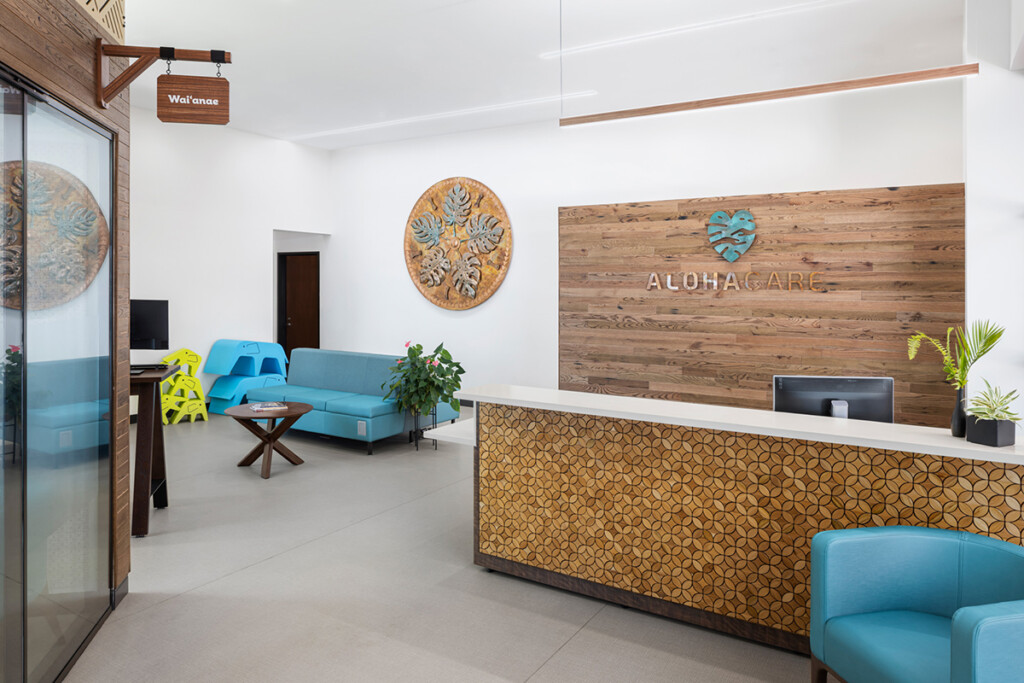 Entrant: AHL
Developer/Owner: AlohaCare
Lead Design Firm: AHL
General Contractor: JW Inc.
Architects Pacific Inc. Office
Entrants: J3 Construction & Cathy Lee Style
Developer/Owner: Architects Pacific Inc.
Lead Interior Design Firm: Cathy Lee Style
General Contractor: J3 Construction Inc.
Cottages at Mauna 'Olu
Entrant: American Savings Bank
Developer/Owner: Stanford Carr Development
Lead Design Firm: Alakea Design Group LLC
General Contractor: Coastal Construction Company & JJS Construction
County of Maui Service Center
Entrant: G70
Developer/Owner: County of Maui – Department of Management
Lead Design Firm: G70
General Contractor: Jacobsen Construction Co., Inc.
Elemental Excelerator
Entrant: Dean Sakamoto Architects LLC
Developer/Owner: Elemental Excelerator
Lead Design Firm: Dean Sakamoto Architects LLC
General Contractor: J. Kadowaki, Inc.
F-22 Fighter Alert Facility at Joint Base Pearl Harbor Hickam
Entrant: Nordic PCL Construction, Inc.
Developer/Owner: US Army Corps of Engineers
Lead Design Firm: KAI Hawaii, Inc.
General Contractor: Nordic PCL Construction, Inc.
FAI Architects New Office
Entrant: FAI Architects
Developer/Owner: FAI Architects
Lead Design Firm: FAI Architects
General Contractor: BLCA Company, Inc.
Girl Scouts of Hawai'i STEM Center for Excellence
Entrants: G70 & Hensel Phelps
Developer/Owner: Girl Scouts of Hawai'i
Lead Design Firm: G70
General Contractor: Hensel Phelps
'Iolani School – Kaneshiro Science and Innovation Center & the Sidney and Minnie Kosasa Performance Studios
Entrant: G70 & Allied Builders System
Developer/Owner: 'Iolani School
Lead Design Firm: G70
General Contractor: Allied Builders System
Ka'anapali Beach Hotel Renovation
Entrant: Swinerton Builders
Developer/Owner: KBHL, LLC dba Ka'anapali Beach Hotel
Lead Design Firm: FSC Architects
General Contractor: Swinerton Builders
Koloa Village
Entrant: American Savings Bank
Developer/Owner: Mike Serpa
Lead Design Firm: Suzuki Morgan Architects
General Contractor: Shioi Construction, Inc.
Ko'ula
Entrant: The Howard Hughes Corporation
Developer/Owner: The Howard Hughes Corporation
Lead Design Firm: Studio Gang
General Contractor: Hawaiian Dredging Construction Company
Lilia Waikiki
Entrant: Brookfield Properties
Developer/Owner: OliverMcMillan Kuhio LLC dba Brookfield Properties
Lead Design Firm: Solomon Cordwell Buenz
General Contractors: Nordic PCL Construction & Allied Builders System
Lili'uokalani Trust, Lydia House
Entrant: Ferraro Choi And Associates Ltd.
Developer/Owner: Lili'uokalani Trust, Lydia's House
Lead Design Firm: Ferraro Choi And Associates Ltd.
General Contractor: Gateside Inc.
Na Lei Hulu Kupuna
Entrant: American Savings Bank
Developer/Owner: Na Lei Hulu Kupuna Senior Rentals LP
Lead Design Firm: InForm Design
General Contractor: Lindemann Construction, Inc.
Outrigger Reef Waikiki Beach Resort
Entrant: Bank of Hawai'i
Developer/Owner: Outrigger Resorts & Hotels
Lead Design Firm: Hart Howerton
General Contractors: Nan, Inc. (guest rooms) & Hawaiian Dredging Construction Co. (public areas)
Papa Pilialoha – the Friendship Floor
Entrant: Ferraro Choi And Associates Ltd.
Developer/Owner: Central Pacific Bank
Lead Design Firm: Ferraro Choi And Associates Ltd.
General Contractor: J. Kadowaki Inc.
The Ritz-Carlton Kapalua | Luxury Hotel Renovation
Entrant: Layton Construction
Developer/Owner: BRE Hotels and Resorts LLC
Lead Design Firm: WCIT Architecture
General Contractor: Layton Construction
The Ronald McDonald House Charities of Hawaii: Family Recreation Center
Entrants: Cathy Lee Style & J3 Construction Inc.
Developer/Owner: Ronald McDonald House Charities of Hawaii
Lead Design Firms: Architects Pacifi c Inc. & Cathy Lee Style
General Contractor: J3 Construction Inc.
Ulana Ward Village Sales Gallery
Entrant: InForm Design
Developer/Owner: The Howard Hughes Corporation
Lead Design Firm: InForm Design
General Contractor: J Kadowaki Inc.
Waikiki Beach Marriott Resort & Spa Queensbreak Pool and Amenity Deck
Entrant: G70
Developer/Owner: Atrium
Lead Design Firm: G70
General Contractor: Nan, Inc.
WonderClub
Entrant: The Vanguard Theory
Developer/Owner: Highgate Hotels L.P.
Lead Design Firm: The Vanguard Theory
General Contractor: PVH Construction
World Language Center Niu Valley Middle School
Entrant: Dean Sakamoto Architects LLC
Developer/Owner: State of Hawaii Department of Education Lead
Design Firm: Dean Sakamoto Architects LLC
General Contractors: S&M Sakamoto, Inc. & Close Construction, Inc.
---
Chapter Awards
2022 Members of the Year
Glen Kaneshige
President, Nordic PCL Construction
George Leong
SVP & Team Leader, Commercial Real Estate Division, First Hawaiian Bank
Glen Kaneshige and George Leong stood out for their dedication to the chapter and ensuring its financial stability during a year of continuing challenges throughout the economy. Beyond their respective roles on NAIOP Hawaii's board, as a director and treasurer, Glen and George are always ready to lend a hand on any committee or task that elevates our organization.
2022 Member Company of the Year
NAIOP Hawaii salutes the team at Imanaka Asato LLLC for their continued support on the legislative front. Their guidance brings our members and sponsors a better understanding of legislative initiatives impacting the real estate industry, and their counsel allows NAIOP to effectively navigate the legislative process and collaborate with City and State government.
2022 Developing Leader of the Year
Evan K.C. Oue
Associate Attorney, Imanaka Asato LLLC
Evan is thoughtful and genuinely engaged with the legislative work he does for NAIOP. He also is recognized as a hard-working and effective member of the DL Steering Committee where he looks for ways to get other DL members involved in legislative projects for NAIOP and to build relationships with legislative counterparts.
---
About NAIOP Hawaii
NAIOP, the Commercial Real Estate Development Association, is the leading organization for developers, owners and investors of office, industrial, retail and mixed-use commercial real estate. NAIOP comprises 20,000+ members and provides strong advocacy, education and business opportunities through a powerful North American network. Its sister organization, the NAIOP Research Foundation, is one of the industry's leading think tanks dedicated to conducting research assessing the trends, economic viability and needs of the built environment.
The Hawai'i Chapter of NAIOP was chartered in 1988 and began with only a handful of members. Today, the chapter has more than 180 members, including many of Hawai'i's most influential developers, owners, investors, lenders, designers, attorneys, asset managers and other industry leaders. As the recognized forum for current issues that impact commercial real estate in Hawai'i, NAIOP Hawaii strives to play an active role in our members' professional development by sharing information on best practices, legislation and the latest developments in the real estate community and by providing numerous opportunities for networking at both the local and national levels.
Contact Us:
NAIOP Hawaii
PO Box 1601
Honolulu HI 96806