How a Law Student is Breaking into Venture Capital
Madonna Castro Perez, who grew up on Guam, is rising fast in a male-dominated world.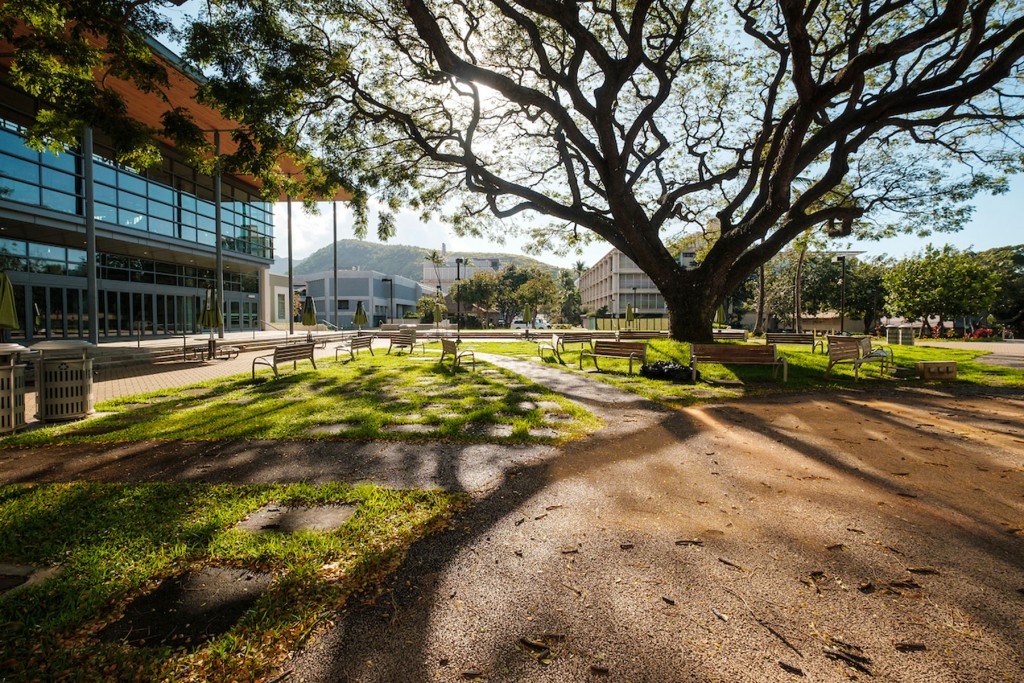 On a humid afternoon in Mānoa, Madonna Castro Perez, a third-year law student, was rushing to get to Fukuya, a traditional Japanese deli. She had insisted on bringing me lunch for our interview because, after all, sharing food is a big part of her life.
In February 2021, Castro Perez became vice chair of the UH student-run venture fund for which I am the chair. Before that, she was part of a team that won the UH Venture Competition. She was a civil rights advocate at the Legal Aid Society of Hawaii, then an intern at Blue Startups, all while attending law school. She is breaking into the clubby, male-dominated world of venture capital – while maintaining a personal style that includes sharing lunch along the way.
Castro Perez grew up in Sinajana, the smallest of the 19 villages on Guam. She was surrounded by her Chamorro family: Her neighbors were aunties and uncles, and her earliest memories were of crossing the street to play with her cousins.
A meal was often the highlight of those days. Her parents grew local fruits and vegetables and some of her older relatives fished, exchanging the bounties among themselves. Every weekend, her auntie hosted a dinner, where 20-30 people gathered to eat.
Wanted to be a Philanthropist
When Castro Perez was 11, she moved to Northern California with her parents; her older brothers and sisters had already moved there for their careers. At that time, she wanted to be a philanthropist, inspired by the documentaries about starving children in Somalia that her mother forced her to watch.
"I was like: 'Wow, what a cool thing to just give money away,' " she says. "But then I was like: 'Oh wait, I don't have any money.' "
After high school, Castro Perez realized she wanted to better understand Guam and its place in the world. She attended the University of California, San Diego, with a focus on international relations. She graduated in 2006, then continued her education at UH Mānoa, earning a master's degree in Pacific Islands studies. After that, for 10 years, she worked at Legal Aid Society of Hawaii. In 2019, she enrolled at UH's Richardson School of Law.
On one of her first days of law school, Castro Perez was late to class. Harley Broyles, a classmate, remembers her entering the classroom, scrambling to find a seat and blurting out Broyles' name.
"She has an abrupt personality," Broyles says. "She just comes out of nowhere and is loud, but I love that about her."
They became best friends, leaning on each other to survive law school. "She's always the person that I can go to when I'm feeling crappy," Broyles says.
Won a UH Competition
Improvised conversations help direct Castro Perez's path forward. At Legal Aid, she would often trade ideas for food businesses with co-worker Christilei Hessler. Eventually, Hessler introduced her to her brother, Peter Hessler, who was running a small coffee syrup business.
Castro Perez wanted to join him in the business. After meeting at an outdoor market at UH, she pushed Peter Hessler to enter the 2020 UH Venture Competition with her. Christilei Hessler also joined the team, and the trio won $10,000 for the business.
That thrust Castro Perez to the forefront of the entrepreneurial ecosystem at UH. Within a few months, she was nominated as vice chair of the student-run Calvin Shindo Student Venture Fund. However, she was new to venture capital, so to learn quickly she talked to leaders of the student-run funds at Cornell and UC San Diego, rented books, and enrolled in relevant courses taught by professors from UC Berkeley and UH.
During the summer of 2021, she interned at Blue Startups, an accelerator based in downtown Honolulu. She screened applicants and enrolled in the apprenticeship program, which allowed her to work with startups in that year's cohort.
Austin Yoshino, one of the founders she worked with, says her "brain is very structured and operational thinking … Every week I'll run things by her and have her poke holes, and she'll be like: 'What about this? How about this? What about that?' "
Despite her quick ascent, Lada Rasochova, a UC San Diego professor, reminded her that being a woman puts her at a disadvantage. For instance, investors repeatedly rejected Rasochova while she was trying to raise capital for her startup because, the professor said, they did not perceive her as serious.
"I question that sometimes," Castro Perez says. "Why are there not a lot of women involved in venture capital?"
Some progress has been made. There were fewer than 100 female angel investors in the U.S. as late as 2010, according to a report by Pitchbook. But over the last decade, the number of active female angels grew tenfold, and the number of female general partners at venture firms has risen by about 3.5% since 2019, the report says.
Interested in Food Tech and Ag Tech
Castro Perez hopes to work in venture capital law after passing the bar exam. She says she would like to join a firm, either in Hawaiʻi or California, that specializes in venture capital law. At some point, she wants to start her own fund, focusing on food tech and ag tech.
On the day of our interview, she has a theoretical investment thesis for a firm she named "Pepitas Capital." It's loaded with statistics about the food market, but her overall investment ethos is to lower the cost of food production to make it more accessible to everyone.
She looks at her plate, then back at me. "Food is life," she says.