Hawai'i's Top Leadership Conference Helps Point the Way Forward
Navigating the coronavirus pandemic requires leaders to be relentlessly curious, emotionally intelligent, vulnerable and authentic.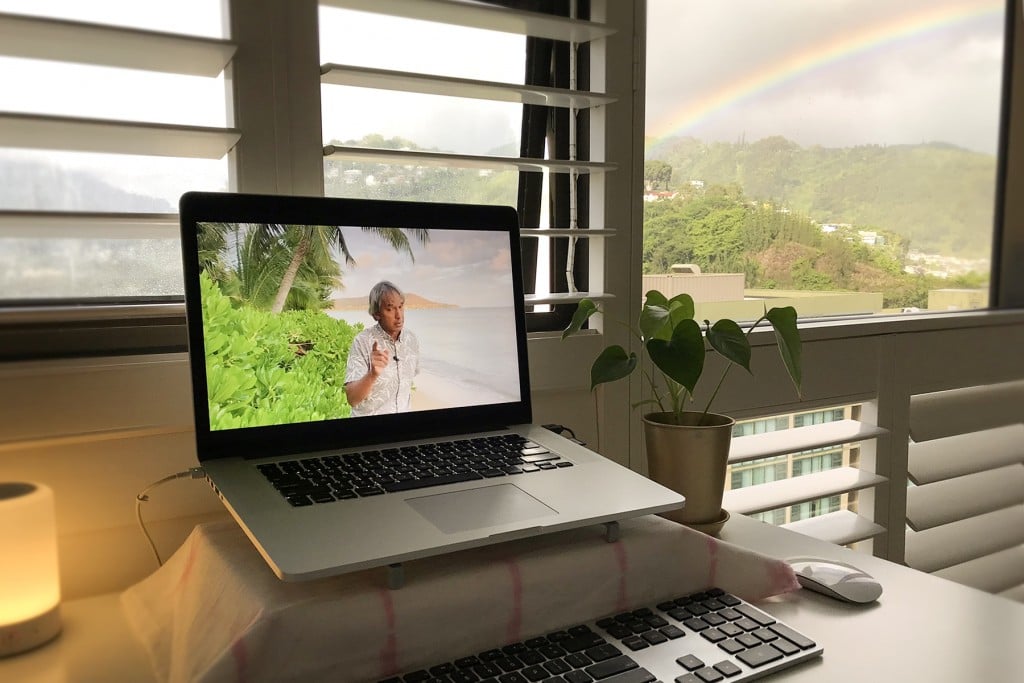 "Authenticity is something that, I think, we're responsible, as Hawai'i's leaders, to share with the rest of the world," said Duane Kurisu, chairman and founder of aio, during Hawaii Business Magazine's 7th annual Leadership Conference, which was held virtually from July 28 to 30. "Because when we make decisions coming from authenticity, when we make decisions coming from who we are – we're the Hawai'i soul – we can never go wrong."
Sixty-five speakers in 15 sessions covered topics such as fostering inclusivity in the workplace, leading in a virtual work environment, sustaining the giveback movement and educating in a new world. The sessions were designed to be informational, educational, timely and inspiring, said Cheryl Oncea, publisher of Hawaii Business, during the conference.
"In other words, this is the leadership conference you would expect in unexpected times," she said.
The conference attracted over 1,000 attendees – the highest attendance to date. Registrations came from O'ahu, Hawai'i Island, Kaua'i, Maui and Moloka'i, plus several states across the Mainland and Guam and New Zealand.
Unlike the in-person event, this is also the first time that attendees can listen to all of the conference's offered sessions. Session recordings will be available until the end of September for those who purchased a full conference ticket. Tickets to watch the replays are available here.
First Hawaiian Bank was the conference's presenting sponsor for the seventh year in a row. Bob Harrison, chairman, president and CEO of First Hawaiian Bank, said during the conference that Hawai'i will come out of this pandemic stronger and better than ever, but it will take different tools, strengths and ways of collaborating in the workplace.
"Those strengths are built on the people, and the people are what's most important," he said. "That's why we're here today at the Leadership Conference."
Here are four takeaways from the three-day event:
1. Creating a diverse and inclusive workplace starts with leadership creating the space for employees to have conversations about these topics.
Beth Whitehead, executive VP and chief administrative officer at American Savings Bank, said inclusion is good for a company in several ways: "It's not just the right thing to do morally. But from a business perspective, it's also good for your bottom line.
"You have a team that feels included, they have a sense of belonging, their work ethic is better because they have a sense of ownership. 'This is my company, I belong here, and I'm going to make this place better.' "
2. There are many creative ways to give back during the pandemic, even if you're having a hard time yourself.
John Fink, CEO of Aloha United Way, suggested calling organizations like the Waikīkī Community Center, Catholic Charities Hawai'i, Meals on Wheels and others who might be looking for volunteers and ask how you can help.
Ron Mizutani, president and CEO of the Hawaii Foodbank, added that he has been blown away by the community's charitable response during the pandemic. For example, some individuals have donated their federal stimulus checks to help his organization feed people in need.
Fink asked: "Pretend it's 2023 and you're looking back at the coronavirus. What will you say that your part in the coronavirus was? Will you be one of those that said, 'Well I got by' or will you be one of the ones who said, 'I helped make an impact.'
"If you can help make an impact, I think there's a moral obligation to do that. If you can't do that, then just be strong and be there for your family and yourself and do the best you can and know there is help, but you can get through this."
3. Look at failure as an opportunity to grow and learn.
"Without failure there is no growth," said Vincent Kimura, CEO of Smart Yields.
Peter Rowan, executive director of UH Mānoa's Pacific Asian Center for Entrepreneurship, agreed and said he shares his own failure stories with PACE students. Part of being an entrepreneur is learning from mistakes.
"There tends to be a highlight on the successful outcomes in the world that are almost always outliers to some extent," Rowan said. "Anyone that tells me a story about their amazing straight path from idea to huge success with no trouble, they're not telling the truth about what they experienced and what they did."
4. Given the world's present challenges with climate change and the coronavirus pandemic, the world needs leaders to create positive change, said Nainoa Thompson, president of the Polynesian Voyaging Society, during the conference's closing general session. He often used the terms navigators and leaders interchangeably.
"The world now needs navigators more than anything," he said. "And to be able to look tomorrow and start mapping for tomorrow. Every sunrise, sunset is the way we predict tomorrow in the navigation world. The world needs millions of navigators to come together and show a better path."