Learning by Building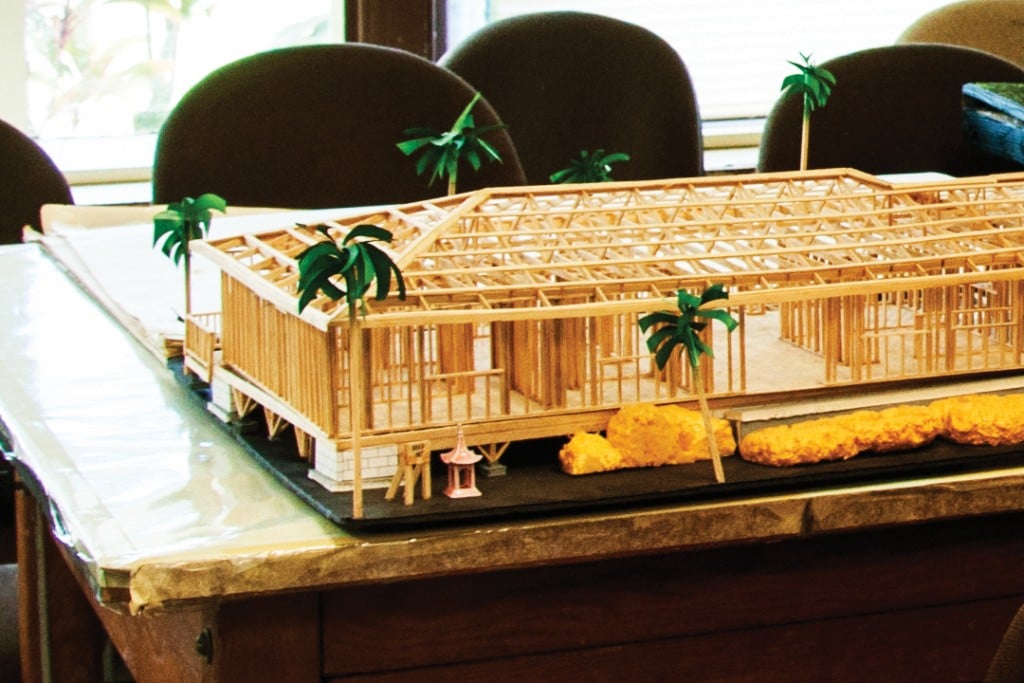 A young girl on a pink bike zooms past the newest custom-built home in her close-knit Hawaiian community in Hilo. The single-story, three-bedroom and two-bath home with a beige exterior and metal roof has taken dozens of workers more than a year to conceptualize and construct, and it's almost finished. One of the few things left to do: Install a front door.
It's the 49th house in the Model Home Project, a partnership between Hawaii Community College and the Department of Hawaiian Home Lands. Through it, students in the school's trade programs in carpentry, drafting, welding, electrical installation, diesel mechanics and agriculture/landscaping get college credit and real-world experience building a home for a Native Hawaiian family on the waiting list for DHHL land.
The family of four that is moving in didn't have a say in the color of the carpet or the home's layout – that was up to the students and their advisors – but they will purchase it for just under $200,000, little more than the cost of the materials.
"None of the homes are the same, they all look different and we build them in an (academic) year," says Joel Tanabe, chair of HawCC's Applied Technical Education Division. "The timeline is strict, and a big part of our success is community and local-business support."
Tanabe has been involved in the Model Homes project for decades. He was a drafting student who designed the 1975 home and an architecture and engineering student on the 1982 home. "The project allows students to learn things that are hard to teach on campus, like the craft of building and installing a door or a window frame," Tanabe says.
"It's been a practical way to show students the application of their skills."
The Model Homes have become increasingly energy efficient, and, since 2011, each has been a net-zero-energy home. A lot of planning and work went into creating that efficiency. For instance, the rectangular home is oriented so the longer dimension faces north and south, taking advantage of the trade winds and ensuring that less of the day's heat enters through the windows and walls on the shorter sides when the sun rises in the east and sets in the west.
JUST UNDER $200,000

is the amount new homeowners will pay for the house
This orientation also offers a long roof surface facing south for the best exposure for the installed photovoltaic panels and for solar hot water panels that might come later. The house also incorporates Energy Star lighting and appliances, and a radiant-heat barrier between the ceiling and roof.
"Energy savings become important when you talk about the long-term maintenance costs of the house," says DHHL chair Jobie Masagatani. "The homes have a reputation of quality because they're being done under supervision … they are very functional homes. I wish we could do more."
Tanabe says students like working on the projects. "Many students have told me they've driven past years later and said to their own families, 'I built that,' " he says. "There is a lot of pride and satisfaction in this work."
---
DID YOU KNOW:
➽ SMALL IS NO. 1: Hawaii is still the land of small business. Out of 31,622 registered businesses in 2013, 16,268 had fewer than five employees. Only 29 had more than 1,000. – Dennis Hollier
SOURCE: U.S. CENSUS VIA 2014 HAWAII STATE DATA BOOK