Legalizing Civil Unions – Boon or Bane for Hawaii's Economy?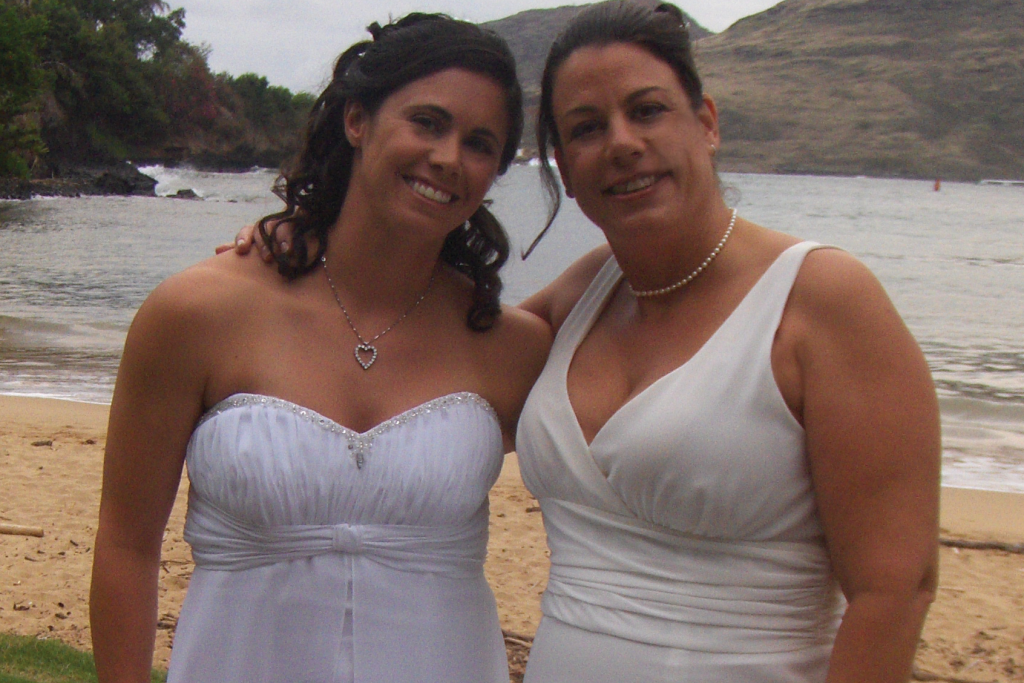 If civil unions for same-sex couples became legal in Hawaii, what would be the added financial burden on local businesses?
A major study on the issue says the average business would face a small increase in the cost of employee benefits – 1 percent or less.
What about the impact on the local tourism industry, which earns a lot of money from weddings in paradise? How many gay couples would visit the Islands for civil-union ceremonies, and possibly invite friends and family to attend?
A second study says the answer to that question is also small: About $4 million to $40 million in visitor spending during the first four years after civil unions became legal. No chump change, but a tiny part of an industry that totaled about $12 billion in 2010.
However, the Hawaii Employers Council cites a substantial list of legal obligations that companies would face if civil unions become law – obligations to spouses that would have to be extended to civil union partners.
Last year, the state Legislature passed a bill that would have granted all the rights, benefits and obligations of marriage to same-sex couples who formally enter into civil unions. Then-Gov. Linda Lingle vetoed the bill, but similar legislation will likely be introduced in this year's Legislature, especially because the new governor, Neil Abercrombie, says he would sign such a bill.
Before Lingle acted last year, the Hawaii Business Roundtable asked her to veto the legislation. After several Roundtable members objected, a second letter was sent explaining that the Roundtable had no direct opinion on civil unions but did have technical and logistical concerns about the bill, which was hurriedly passed in the final days of last year's legislative session.
The second letter reflects the Roundtable's current position, says executive director Gary Kai.
"We have not taken a position on civil unions," Kai says. "As long as we have a law we can work with, we will be perfectly happy with it.
"I guess it is an emotional issue and we got caught up in the emotion of it" last year, he adds.
Strong emotions and moral concerns motivate people on both sides of the issue, but two academic studies indicate that the economic impact of civil unions on local business, government tax revenues and programs, and the overall economy will be minimal.
"A reasonable expectation from the experience of other states enacting civil unions is that the state of Hawaii's adjustment to the passage of civil-union legislation will be smooth and cost little," concludes Sumner La Croix, an economics professor at the University of Hawaii-Manoa. La Croix, along with Kimberly Burnett of the University of Hawaii Economic Research Organization, recently completed a study analyzing the impact of civil unions on Hawaii's economy and government.
"There are people who believe that same-sex marriage will be a huge bonanza for the state. I don't believe that," says La Croix. "On the other hand, I don't think there will be a big penalty."
La Croix and Burnett's analysis was seconded in a separate academic paper from the Williams Institute on Sexual Orientation Law and Public Policy at the University of California, Los Angeles.
Those studies say there would be little impact for these reasons:
• Few couples: There are an estimated 2,472 same-sex couples in Hawaii in a population of 1.3 million people – about one-third of 1 percent of the population. Based on experience in other jurisdictions, about one in nine of those homosexual couples would opt for civil-union status within the first year of legalization, or around 272 couples. Because of Hawaii's isolation, the authors say, the number may be higher.
• Unchanged benefits: Civil unions will likely add only a tiny cost to Hawaii's businesses for "spousal" benefits; many of the couples who form civil unions would simply keep the benefits they already get at their separate workplaces, rather than apply for benefits enjoyed by married couples.
And some local companies already offer spousal benefits to same-sex couples, says Max Clini, a human resources consultant at Altres Staffing. On top of that, fewer and fewer Hawaii businesses actually offer spousal and dependent benefits; for example, state law requires companies to provide health insurance only to their full-time employees, not to employees' spouses or dependents.
"Many employers are starting to scale back or fully disengage from offering benefits for spouses" to save money, Clini says.
Companies that offer benefits to spouses will likely be required to provide them to civil-union partners, if a civil-unions law passes. The UCLA study, citing several other studies, concludes that employers who offer spousal benefits would see a 0.3 percent to 1 percent increase in the overall cost of their benefits. Those costs might be offset by increased retention of gay employees, the study suggests.
• Tax revenue: The state may gain revenue because couples that enter into civil unions could get hit with the "marriage penalty" on state income taxes – a higher tax bracket for couples. "The gain (in state tax revenue) will not be trivial but relatively small," La Croix says.
Also, any civil-union "commitment" ceremonies and honeymoons by visitors will add to fees and taxes collected, but, again, the impact likely will be small.
• Lower government costs: Civil unions may save the state government a little money. For example, partners in civil unions will become responsible for each other's obligations and care in the same way as married couples.
For instance, the state would realize savings in means-tested benefits programs such as Medicaid, since both partners' income and assets would be measured in a civil-union couple as opposed to two single people. After New Hampshire legalized civil unions and, later, same-sex marriages, the state government saved about $400,000 a year on Medicaid.
Supporters of same-sex unions point out another potential economic benefit to Hawaii if the law passes – and possible harm if it does not: Hawaii's ability to attract trained, skillful and creative people. No one has hard statistics, but some gay couples might choose to come to Hawaii if the law is passed, or leave Hawaii if civil unions remain illegal. (Of course, Hawaii might also lose some people who would object if civil unions become legal, but there are no statistics for that, either.)
The issue is not an abstract matter to some gay couples. It is very real to Alan Spector and Jon-Paul Bingham, of Kaneohe. Spector is a social worker; Bingham is a prominent biochemist at the University of Hawaii who specializes in poisonous snails, which are potentially valuable for their medicinal properties.
When Bingham was recruited by the UH several years ago, the couple was living on the East Coast and had a tough decision to make. They were already legally married and enjoying all the benefits and obligations of marriage, and so their move came at a cost.
"We left a jurisdiction in New York that recognized our marriage. When we got here, our marriage was voided," Spector says. The couple applied for reciprocal benefits as a fallback and were astonished to be told they were not eligible because they were already married somewhere else. That bureaucratic snafu has been worked out, but Spector has been actively campaigning for the far more sweeping coverage of civil unions.
"I feel like I'm working for a cause," Spector says. "Hawaii is a national priority for the gay movement. They know Hawaii can pass it."
Celebration Bump
One argument for civil unions is that they will produce a boom for tourism, as same-sex couples fly to the Islands to get hitched. But UH economist Sumner La Croix cautions not to expect much. "There will be a small burst of activity here, but nothing dramatic," he says.
To put these celebrations in context, about 1 percent of all travel to Hawaii today is for the purpose of getting married – a small but significant part of the overall tourism market.
A UCLA study on civil unions in Hawaii concludes:
• From 589 to 1,285 same-sex couples would enter into civil unions in the first four years in which registration is available.
• Those unions will create spending of between $4.2 million and $30.8 million on celebrations by out-of-state visitors. If friends and family fly to the Islands to join in the festivities, visitor spending over four years could reach between $17.8 million and $40.3 million, exclusive of gifts.
• Such spending will result in between 193 and 333 new jobs over four years.
• Over four years, spending on celebrations by same-sex couples might result in a boost in general excise taxes of up to $1.6 million.
• Same-sex couples can already marry in five states and the District of Columbia, or enter similar relationships in other jurisdictions, so there won't be a flood of gay couples coming to Hawaii for formal celebrations.
Among those focused on gay couples who will come here to marry will be Larry LaSota of Kauai, whose company, Profile Video Productions, films and records weddings on the Garden Island. LaSota is also a licensed "officiant" and has done several thousand weddings since he began in 1973.
In general, he says, 2005 was the "peak" for the wedding business on Kauai, both for heterosexual couples and those seeking less-official "commitment" ceremonies. Since then, the numbers have gone down, a reflection of the general economy and, to a small degree, national publicity over Lingle's veto of the civil unions bill. In 2009, there were 2,417 weddings on Kauai. Of those, perhaps a "couple a week" were between same-sex couples, LaSota says.
He expects those numbers to jump if the "controversy" in Hawaii over civil unions ends. He notes that, when California moved to legalize same-sex relationships several years ago, the numbers of people coming to Hawaii for their celebrations dropped significantly.
"If this controversy goes away, I can see a gain of substantial numbers," LaSota says.
La Croix says the overall economic impact will depend on whether Hawaii moves early or late. Once same-sex unions are common nationwide, he says, there will be no incentive to come to Hawaii for the event other than it is a beautiful place for a wedding.
Other Consequences
Businesses will have several issues to consider if civil unions are legalized.
"For instance, if they have a pension plan and it is covered under state law and if they need to treat a domestic partner as a spouse, there will be some transaction costs," says UH economist Sumner La Croix. "But we're talking about such small numbers."
The bill that then-Gov. Linda Lingle vetoed last year would have placed other new obligations on Hawaii's businesses, according to the Hawaii Employers Council. If a similar bill becomes law this year, many benefits or employer obligations now required for spouses would also have to be offered to partners in civil unions – at an undetermined cost to companies. The council says these benefits and obligations would include:
1. Hawaii Family Leave Law:
Eligible employees of employers with 100 or more workers will be able to take up to four weeks of leave per year to care for a civil-union partner.
2. Workers' Compensation Law:
A number of provisions cover benefits for spouses of deceased employees.
3. Wages of deceased employees:
Employers may pay the final wages of a deceased employee up to $2,000 to the surviving spouse, with a supporting affidavit of relationship.
4. Victims' leave:
The law allows victims of domestic or sexual abuse to take protected leave.
5. Unemployment insurance:
Hawaii law allows individuals to get benefits if they voluntarily separate from employment for "compelling family reasons," which include a spouse's job transfer to a location from which it is impractical for the partner to commute to work.