Got $20 Million or More to Spare? Sorry, Hawai'i Has Only a Few Homes for You
After a flurry of ultra-high-end sales over the past few years, just seven homes in that rarified price range are up for sale now.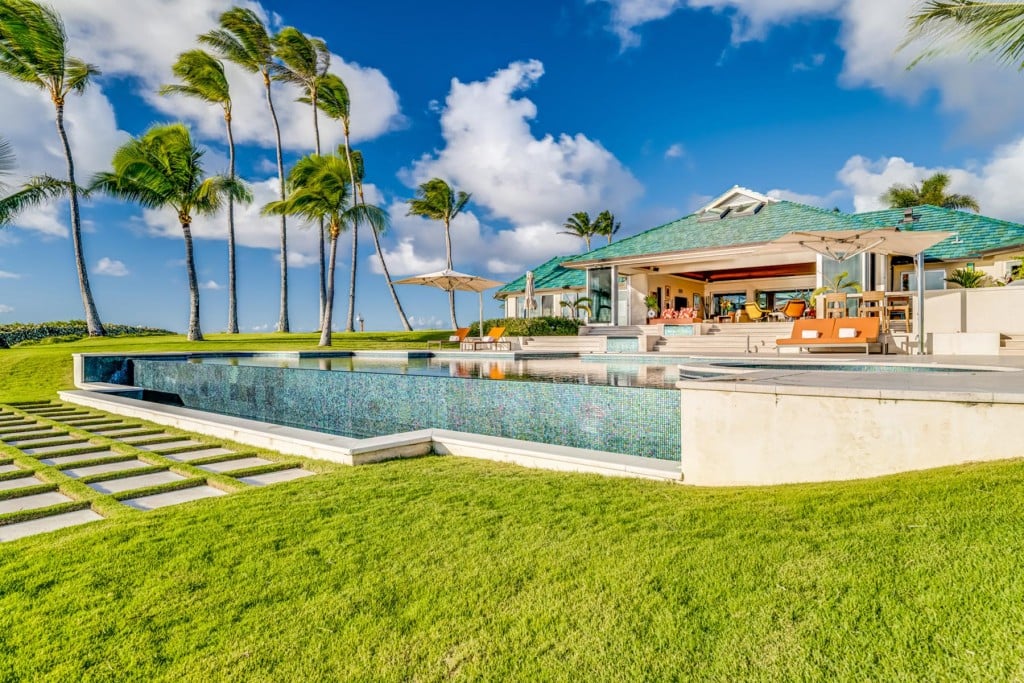 A unique oceanfront property next to the Montage Kapalua Bay resort on Maui has a new listing with a new price of $41.9 million, the highest right now in Hawaiʻi for a single-family home in a market with a tight inventory of ultra-high-end properties.
The home at 9 Bay Drive sits on 9.9 acres on Hāwea Point and has seven bedrooms, 10 baths, a private gym and a three-car garage with a Tesla charger. Tyler Coons of Welcome Hawaii Properties listed it last week for the seller, blockchain entrepreneur Jonathan Yantis.
Yantis bought the Kapalua estate a little less than two years ago for $24 million. He first listed it for sale in December of last year for $59.5 million, around the same time he paid $12.5 million for a Colorado mansion outside Denver, then dropped the price to $49.5 million in July, according to the price history listed on Zillow. Yantis was also in the news earlier this year because of a dispute with a group of local teenagers over access to the shoreline at Hāwea Point, also called Cliff House.
Coons spent part of this month in California marketing the property to luxury real estate brokers from La Jolla to Beverly Hills. He says he's already gotten strong interest in the property, which he says will appeal to someone who's a "business mogul, an A-list celebrity type of person," even in an economy where the stock market has entered bear market territory.
"Good properties are still selling," Coons says. "The really unique properties are still selling, the legacy type properties."
And no wonder: After record numbers of sales above the $20 million mark over the past two years – at least eight homes on the North Shore of Kauaʻi alone each sold for more than $20 million in 2021 – only a handful of homes in that price range are currently on the market.
Hundreds of Acres on Each Site
The second-highest listing price on Maui is for a five-bedroom, seven-bath modern estate on a 26,136-square-foot lot on Poʻolenalena Point in Mākena that was listed earlier this month with Chelsea Dimin of Compass for $35 million. An eight-bedroom, 10-bath house in Kā'anapali has been on the market for $24.5 million since April.
The other Hawaiʻi properties with ultra-high-end listing prices are large properties of more than 200 acres:
So far this year, the highest sale price for a residential property is $36.1 million for a 34-acre estate on the North Shore of Kaua'i sold by Hawai'i Life's Norman, who represented the buyer and the seller.
The highest price so far this year on Maui is $26.5 million for a beachfront home in Mākena that sold in May. Mark Waite of Beachology represented the seller; the buyer was represented by Zorah Meyer of Corcoran Pacific Properties, who was with Keller Williams Realty at the time.