Local Girl to Lead Saks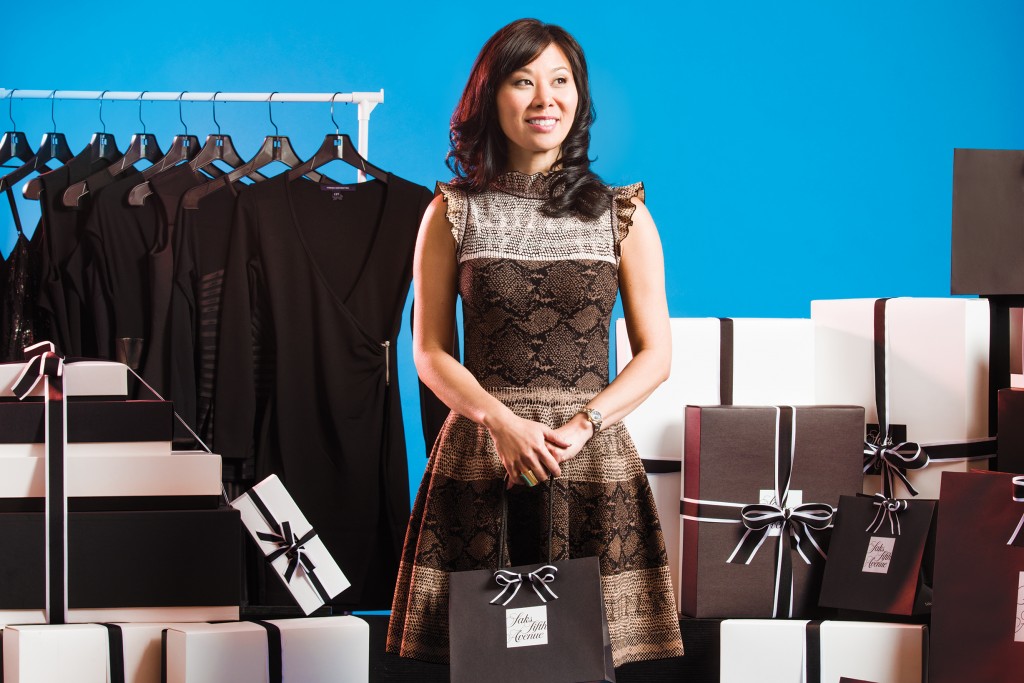 When the doors open at Saks Fifth Avenue Hawaii on August 25 at the redesigned International Market Place, it will be a homecoming for vice president and general manager Shelley Tadaki Cramer.
Cramer was born and raised in Honolulu, then spent 18 years on the Mainland honing her skills in high-end retail. She worked in management at Louis Vuitton, Max Mara and Montblanc. For the past four years, she served as assistant general merchandising manager at Saks Fifth Avenue San Francisco, where she managed store operations and a team of 150 employees.
"It's exciting coming home after 18 years and to bring back my experience and serve the local community," says Cramer.
Cramer attended Sacred Hearts Academy and graduated from Maryknoll School. She is thrilled that her daughters, Juliette, 11, and Ava, 5, will be attending Sacred Hearts in the fall. She holds an MBA and bachelor's of business administration in marketing and finance from Gonzaga University.
After college, Cramer returned to Hawaii to work in the buying office at Liberty House, which, at the time, was a rite of passage for almost any local person with an eye on high-end retail. Then opportunities on the Mainland beckoned.
She has been trying to move home for years "When I found out Saks was opening in Honolulu, I said, 'Bring me home!' " Cramer exclaims, raising her hand like an anxious student.
"I don't want this to be solely a tourist destination," she says.
"We want to make sure the local customers experience the aloha spirit, feel invited and welcome. We want to be their destination of choice."
The store, she says, "Will have a calm, inviting feel to it."
To this end, Saks "will hire 99.9 percent local people who understand the culture of Hawaii," Cramer says. She is aware of the impact of online shopping and says the best way to succeed in retail today is to establish a personal relationship with the customer. She points out that only about 5 percent of Waikiki shoppers are local, but "I want to take that to double digits."
To help that happen, Saks will have 700 parking stalls, with valet parking on the third level. In a nod to our climate, the swim department will be extensive and the shoe department will take up a third of the third floor.
The only local product in Saks when it opens will be an exclusive collection of Tori Richard aloha shirts. However, there will be local art on the walls; Saks is partnering with the Honolulu Museum of Art to select work that will resonate with its customers.
Cramer's family is as excited as she is about her return to Honolulu. Her husband, Michael Cramer, is a Nintendo systems analyst who will work from home. "He feels Hawaii is a great place to raise children and he's excited for the girls to grow up here. He already bought two surfboards and plans to take quick dips during his lunch breaks," she says. He left his wetsuits behind in San Francisco.
Cramer's parents are doubly happy because her brother, Dr. Carl Tadaki, a general surgeon specializing in bariatrics, is also returning to Honolulu this year. It will be the family's first holiday season spent together in 18 years.
For the Tadaki family, the "island brain drain" is clearly in reverse.
---
DID YOU KNOW
Millionaires? We Got Plenty
➤ Hawaii ranks third among the states for the highest proportion of millionaires, according to a 2015 report by Phoenix Marketing International.
The report says 7.25 percent of Hawaii's households have more than $1 million in investable assets, which does not include a person's residence. Hawaii was No. 1 on the list in 2010, but Maryland has been at the top every year since.
– Beverly Creamer
The State That Used to Vote
➤ Hawaii is infamous for having some of the lowest general-election voter turnouts in the nation – CNN once called us "The State That Doesn't Vote." But it wasn't always this way: Between 1990 and 2000, registered voter turnout fell by about 26 percentage points. In 1960, 93.1 percent of registered voters cast a ballot. And in 1990, the rate was still 78.1 percent. But in 2014, we hit 52.3 percent.
– Lavonne Leong