A Special Lei For You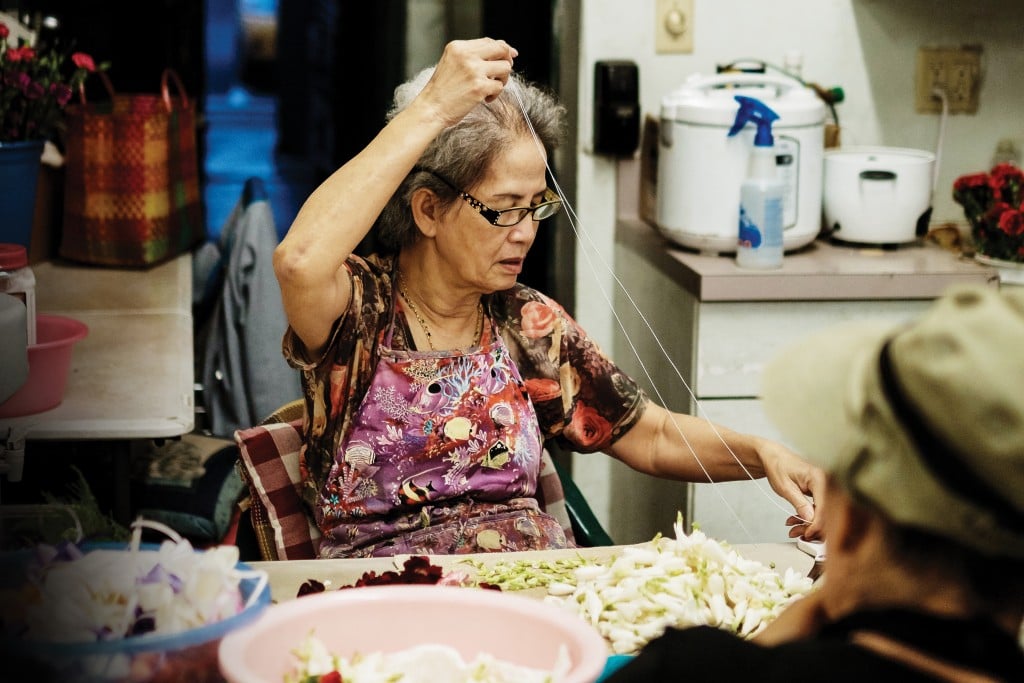 Many people think of flowers during February because of Valentine's Day, but Francis Wong, owner of Jenny's Leis & Flowers, says his busy season actually occurs a few months later.
"April through August are very busy for us," explains the 82-year-old Kamehameha Heights resident. "They make up for all the other months that are slower. Valentine's Day is not that busy, but Mother's Day is the top one for us – we can take in double what we usually make on that day."
Jenny's Leis carries a variety of lei, arrangements and cut flowers, but mainly pikake, tuberose, carnation and white ginger lei. A lei maker who specializes in haku lei comes in once a week. Through local wholesalers, the shop orders premade cigar flower lei and imports orchid lei from Thailand. Otherwise, Wong's wife, Pickoun, 69, the store's sales manager, makes all of the lei and arrangements.
"We have a limited selection," Wong says of his narrow Chinatown store, "but what we make is good. People like us because we're cheap, and we have better quality."
Wong retired from being a math teacher at Kaiser High School in 1989. In the '60s and '70s, he served seven years as a subject-matter consultant for the U.S. Agency for International Development's team from Hawaii trying to establish secondary schools in Laos. That's where Wong and Pickoun met and married. They have a grown son, Grantland. The family members were the first evacuees arriving back in Hawaii after the communist takeover of Laos in 1975.
Some of Pickoun's early jobs in Hawaii were at flower and lei shops, including one next door at what is now called Island Gifts & Flowers.
Wong says his wife always wanted to run her own flower shop, so when she heard Lloyd Roberts, the original owner of Jenny's Leis for 27 years, wanted to give up the business due to family health issues in 2006, she convinced Wong to come out of retirement to take it over. (Many folks thought the shop was named after Roberts' wife, Janet, but Wong says Roberts once told him he just picked the name at random.) In an unusual arrangement, Roberts didn't ask for payment in exchange for the company, but only that Wong continue to pay rent. The Roberts family owns the building.
"It's a tough business," Wong points out. "It's long hours, 365 days a year. At the beginning, we could make enough to travel, but now it's slower so we can't." The couple is there from 7:30 in the morning to 7 at night, Mondays through Saturdays. On Sundays, they close at 5 p.m. They have one part-time sales assistant.
The couple used their savings at the beginning, according to Wong, and it helped that Pickoun had about 30 years in the floral industry. "She already knew all the names of who to contact for flowers."
The shop sources from local nurseries and floral wholesalers, "but sometimes they're short due to the season or the weather is bad," says Wong, "but most of the flowers we use here are year-round."
Jenny's brings in a small amount of cut flowers – such as red ginger or bird of paradise – on Fridays, but they sell quickly, according to Wong. Arrangements can be done with a week's notice.
"It's usually busy in the mornings, and sometimes in the late evenings when people are pau work, and each store has its own regular customers," Wong says of the friendly competition of the surrounding flower shops in Chinatown.
The store fulfills several weekly standing orders for another lei company for resale, and Manoa Valley Theatre places large orders of orchid lei several times a year for its opening nights. "Most of our customers are local, with tourists dropping by once in awhile."
Sandy Vincent, a Hawaiiana crafter and lei reseller at various hula competitions, has been a customer of Jenny's for over 25 years. "I love that their flowers are always fresh and fragrant and their service is always prompt. My favorites are the pikake lei, ginger lei and the double tuberose.
"I recommend them to my friends. I love their service – they're friendly and they always return my calls."
Wong says he enjoys the flower business because "you get to meet a lot of good people."
There's no family to take the business over, Wong says, so he'd consider selling when the time is right.
---
JENNY'S GEMS
Pikake Lei
"We specialize in pikake," says Francis Wong. "That's rope pikake, three-strand pikake and pikake with rose."
Feather Ginger Lei
"Feather" ginger is made by stringing the flowers so the petals "hug" each flower closely, giving the lei a "fluffy" look. "Not too many people make this because it's harder to prepare."
Haku Lei
"This is very popular. We make about a dozen on Wednesdays, then by the next week they're all gone."
---
Jenny's Leis & Flowers
65 N. Beretania St.
(808) 521-1595