Love, Honor and Collaborate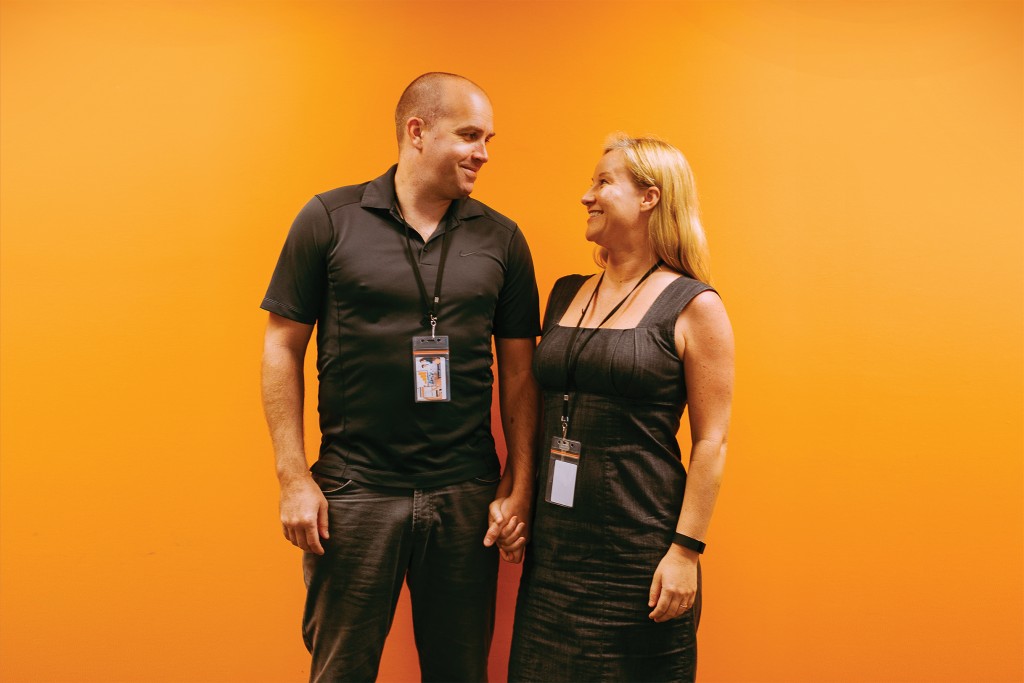 Personal relationships seem more complicated today because of social media, 24/7 work lifestyles and high divorce rates, but what happens if an additional complication is added, such as starting a business with your spouse?
"Being married and working together takes a lot of commitment to each other, and a desire to be successful at work," says Mike Miyahira, owner of Business Strategies and a consultant to family-owned businesses for 16 years. "It requires complete honesty and respect for each other and an ability to communicate well."
Miyahira says another must is that "business issues stay at work. Couples, like everyone else, need personal time to deal with their families' needs as well as their own personal needs. Sometimes it's unavoidable that business needs spill over into personal time."
Hawaii Business talked to three couples with startups based at the Manoa Innovation Center (MIC) – from relative newlyweds to a couple married for more than two decades – about the joys and challenges of being in business together.
Goma Games LLC
Jon and Kelli Borgonia met through a mutual friend while Jon was a partner and Web developer at a small marketing agency, and was looking for a graphic artist for a video game.
"We worked together for a month," recalls Kelli, 29, "then we started dating. I remember asking when we first went out, 'This is a business meeting, right?!' "
Jon proposed to her in 2011 via an iPad video game in which his avatar proposes to hers, a princess, and they married in 2013.
Goma Games LLC launched four years ago out of the couple's shared vision of a hobby: to create positive, educational video games for children. But the company's actual bread and butter is in web development and software applications. It's currently working on a public release of a content-management system it designed, called AirshipCMS, which uses a flexible and reusable code base to make it easier for Web designers and content administrators to use.
"All of the components of AirshipCMS have 'air' in the name," explains Kelli. "We wanted to convey the theme of 'flight' and that the system is 'lighter than air' and easy to use for both developers and administrators."
At first, they worked from home. But, because Jon, 32, has been an instructor at the DevLeague coding school since 2014, the couple was later able to share office space at MIC with that coding school until they got their own office there in 2015.
"I remember once hearing a relationships speaker who said you actually need an imbalance in a loving relationship, because 'equality neutralizes intimacy."

— Kelli Borgonia,Goma Games
"MIC is good for startups," Kelli reflects, "because they have a tiered system of affordable rental rates, and they support us with meeting spaces and access to office equipment and business workshops."
All of Goma Games' clients come via word of mouth. It targets small to medium businesses that are looking to grow. The company currently has two or three Web development customers and two or three software customers.
As for their business relationship, Kelli owns 51 percent of the company and Jon the remainder, so Kelli is the COO or "boss at work," but Jon is the CEO or "boss at home," according to Kelli. "I handle all the money and the organizational tasks, but Jon handles the sales and talking to clients. This is deliberate.
"I remember once hearing a relationships speaker who said you actually need an imbalance in a loving relationship, because 'equality neutralizes intimacy.' Someone needs to be more dominant and the other more passive.
"Also, one of the biggest things is to keep home and work separate, and to be able to switch modes, but to keep each mode separate. That was harder to do when we were working from home.
"There might be a gray area when we get into the car, but we try to stop talking about work once we get home."
If the couple has a disagreement, they say, they don't move forward without talking it out and coming to a consensus. And they try to do that right away.
According to Kelli, "Good communication and transparency pay off in the end."
However, stopping work once they're home is harder to do.
"We love work and we have fun at what we do," Jon admits. "So instead of saying, 'Do you want to go out?', we'd say, 'Hey, do you want to go and work on Airship?' "
Meetingsift
MeetingSift is a software platform that enables organizers to plan and host more productive meetings. It allows for meeting invitations; collaborative group activities, such as brainstorming, ranking and polling; live visualizations, such as graphics and summaries of group collaborations; and instant reports of participant contributions, decisions and minutes.
"Potential clients would see our software used at events, then contact us later to subscribe," explains co-owner and chief technology and innovation officer Alex Bergo.
Some of the startup's national and local customers are L'Oreal, Entrepreneurs Foundation Hawaii, Think Tech Hawaii and Hawaii Business magazine.
Bergo, 41, and his wife, Viil Lid, founded the company in 2013, based on previous smaller collaborations. It had been part of the 2014 cohort at startups accelerator Blue Startups, then moved into MIC in 2015.
"We realized we had to finally put it all into the company in order to get it to really take off," explains Lid, 43, chief product and science officer.
Bergo says the software fits perfectly into the research they both had been doing during their work on doctoral degrees: artificial intelligence and natural language processing for Bergo, and human-computer interaction and organizational communication for Lid.
"Although we have overlapping areas of expertise," says Lid, "we have complementary skill sets, both technically and personally.
"And, because this company is our work, as well as our hobby and our social life, if we weren't a married couple it would be difficult to see each other as much as we do. We can have lunch together, we get to drive together to work, we attend work-related events together.
"There's also the benefit that you can partner in the company with someone you've known so well you can trust them. A business partnership is like a marriage; when you already have that relationship, you know you can get through it."
The couple met in 1998 while they both attended the University of Bergen in their native Norway, came to UH as grad students in 2001, then married in 2006.
They sometimes have disagreements, they acknowledge, but they also have a larger leadership team to help them make decisions.
"We vote and discuss it out as a group," Lid explains.
"We also try to separate our roles as much as possible. I sometimes say, 'I need to talk to my husband now,' if something personal comes up at work. Or, 'I need to talk to my business partner now,' if there's an important business decision to discuss at home. Sometimes you just have to state that up front – which role or capacity you need the person to fill."
"I sometimes say, 'I need to talk to my husband now,' if something personal comes up at work. Or, 'I need to talk to my business partner now,' if there's an important business decision to discuss at home."

— Viil Lid, MeetingSift
Do they ever get tired of seeing each other?
"We're not together all the time," says Lid. "And there are other team members we interact with.
"But, then, when you're in the same field as your spouse, you also get to admire them for what they know. If we were in different professions, we might not be interested in the work the other was doing."
And Bergo is quick to assure, "On the social side, we also have date nights or cooking nights, so it's not just all work."
As for the company, MeetingSift is definitely in a growth stage. "Just this year, we grew from the two of us to 10 employees," Lid shares. "But we don't yet have a set size we want to be."
CyThera Pharmaceuticals
"Repurposing" a drug does not have the same meaning as the everyday term "recycling."
"There are many drugs created for a particular purpose for which other benefits are later found," explains Reinhold Penner, 58, co-founder of CyThera Phamaceuticals. "For instance, Viagra was originally designed to treat angina in the heart. But when doctors found it was ineffective for angina and asked the patients to return the drug, they wouldn't.
"When they asked the patients why, the doctors discovered the drug had a different benefit – for people's love lives."
Through screening thousands of drugs to suppress the body's immune response to certain diseases, he didn't find the target drug he was originally looking for, but instead found one that affected the immune response in a similar way that was useful.
Thus, Penner co-owns the patent (along with The Queen's Medical Center, where the discovery was made) to develop a topical cream for psoriasis, based on an FDA-approved drug against leprosy. A pill is also being developed to fight multiple sclerosis and rheumatoid arthritis.
Penner, director of research at Queen's, and his wife, Andrea Fleig, 53, director of clinical research at Queen's, founded CyThera in 2014 to address commercial licensing issues that arose once the drug's alternate use was discovered.
"There were three attempts by others to license the drug, but they abandoned it for different reasons," Penner recalls. "Eventually we thought we should take it on ourselves, since we understand the drug the best."
Although Fleig already held multiple doctoral degrees in the sciences, in 2013, she went back to UH for her MBA, in order to better understand the business world.
Most of the lab work for the drug is pau, but what remains are clinical trials, fundraising and marketing to a large pharmaceutical company for production.
Therefore, CyThera joined an incubator program sponsored by the Hawaii Technology Development Corp., requiring only a "virtual" presence at MIC for postal mail, support, etc.
Fleig says the couple had the "first platonic email relationship on the planet, even before Tom Hanks and Meg Ryan in 'You've Got Mail.' This was back in '91, when email was mainly for academics."
Fleig was invited to the Max-Planck Institute for Biophysical Chemistry in Germany for a post-doctoral position, where Penner was a professor. They were introduced through a colleague, then kept in touch via email.
The couple married in 1993 and came to Hawaii to live when Penner was offered a position at Queen's in 1997 and Fleig was offered a position the next year.
They don't have any children "by choice," says Fleig, "because we have enough post-docs and graduate assistants to mentor, and then there are career demands.
"But we learn a lot from each other. I was a weak scientific writer, but I've become better due to Reinhold."
There's also a deliberate division of labor. "Andrea's better at administrative tasks and management, so she's the CEO, whereas I like to do research and be a lab rat, so I'm the CSO (chief scientific officer)," quips Penner.
"But we're both the face of the company. When we talk to investors or others, we always do it together. We constantly give feedback to each other about how to improve, but we do it in a rational way.
"We have very few arguments and they're resolved very quickly. We try to discuss things out until we come to an agreement. We're absolute equals – there's no ego involved – and we know who has the right set of skills for any particular task, and we're happy with our roles."
Yet the couple can't seem to leave work at work, and they admit to having many work discussions at home because they love what they do.
"It's not really work, and most of what we do is also our hobby," Penner says.